A projector is an excellent way to get big screen entertainment in your home theater, but not every model is designed to compete with ambient light. The best projector for bright rooms is one with a powerful lamp that can keep the contrast high and the colors saturated, no matter what light conditions you're working in.
All of the projectors on this list are designed for bright rooms, with a brightness rating of at least 3,800 lumens. That doesn't mean they're all made for the same type of space, though. While the ViewSonic PX748-4K is our top pick for home theater use (>>> Find it on Amazon), the Epson EX5280 is a better choice for presentations and classrooms, and for small spaces the Optoma GT780 is the one you want.
Best Projector for Bright Rooms in 2022 – Top Picks:
| | ViewSonic PX748-4K | Optoma UHD38 | Epson Pro EX9240 | Epson EX5280 | Optoma GT780 | Optoma W400LVe |
| --- | --- | --- | --- | --- | --- | --- |
| | | | | | | |
| Resolution | 3840x2160 | 3840x2160 | 1920x1080 | 1024x768 | 1280x800 | 1280x800 |
| Brightness (Lumens) | 4,000 ANSI | 4,000 ANSI | 4,000 ANSI | 3,800 ANSI | 3,800 ANSI | 4,000 ANSI |
| Contrast Ratio | 12,000:1 | 1,000,000:1 | 16,000:1 | 16,000:1 | 25,000:1 | 25,000:1 |
| Throw Distance | 3.2' - 24.7' | 4.0' - 32.7' | 4.7' - 28.8' | 3.6' - 29.6' | 1.3' - 11.1' | 3.6' - 32.9' |
| Screen size | 30" - 301" | 33" - 300" | 30" - 300" | 30" - 300" | 35" - 302" | 30" - 301" |
| Speakers | 10.0 Watts Mono | 10.0 Watts Mono | 16.0 Watts Mono | 2.0 Watts Mono | 10.0 Watts Mono | 10.0 Watts Mono |
| Today's Best Price | BHPhotoVideo.com | BHPhotoVideo.com | | | Check on Amazon | BHPhotoVideo.com |
Video Quality
For presentations, a WXGA resolution will be plenty sharp enough for legible text and clearly visible graphics, so the projector's resolution isn't as much of a factor. If you plan to watch movies or play graphic-intensive games, however, anything lower than full HD will look a bit blurry and soft compared to what you're used to.
If your main concern is picture quality, you'll want to go with a 4K projector. The Optoma UHD38 is a strong performer, with a high image contrast that brings equal detail to the darker areas of the screen. That said, the SuperColor feature of the ViewSonic PX748-4K puts it slightly ahead, especially since it matches the Optoma in contrast and image definition.
Best video quality:  ViewSonic PX748-4K
Throw Distance
Most of these projectors use a standard throw distance. In layman's terms, that means you'll need a good amount of space between the lens and the screen—anywhere from 8 to 12 feet for a 100" image, depending on the projector.
For smaller spaces, the short-throw Optoma GT780 will be the most convenient projector. It needs half the space or less to produce the same image size as other models on the list, which can make it easier to set up quickly on a table or other surface, along with giving it more versatility for smaller rooms.
Shortest throw distance: Optoma GT780
Input Lag and Gaming
All projectors add a delay between your input and what you see on the screen. This is measured in milliseconds, and most people watching TV or movies won't even notice it. For gaming, though, it can be very distracting, and most gamers look for an input lag of 30ms or lower when they're shopping for a projector.
There are three projectors on this list that have a measured input lag in the single-digits. The Optoma GT780 measures around 8.4ms, while the ViewSonic PX748-4K and Optoma UHD38 measure an impressive 4.2ms. Those last two also have a 240Hz frame refresh rate in 1080p, so they have a processing speed to match their user responsiveness.
Best for gaming: ViewSonic PX748-4K, Optoma UHD38
Portability
While none of these projectors are especially bulky, if you need to travel with it a lot, it helps to find the lightest, slimmest one you can. The Optoma GT780 and W400LVe are strong contenders here, but the title of most portable projector goes to the Epson EX5280, at only 5.5 pounds and just over 3 inches tall.
Most portable projector: Epson EX5280
---
ViewSonic PX748-4K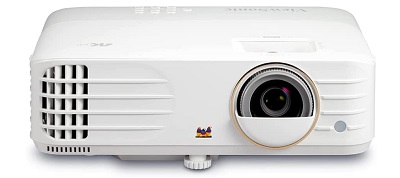 The ViewSonic PX748-4K is a versatile and powerful projector capable of fulfilling all your home entertainment needs. Its sharp Ultra HD resolution and HDR support give users a sharp, accurate image for movies and TV shows. The SuperColor enhancement is another great feature for bright spaces, optimizing the color to match your space's light level. For gamers, the high 240Hz refresh rate and single-digit input lag mean no delays or other issues that will impede your play.
The connectivity of the ViewSonic PX748-4K is just as versatile as its performance. Along with dual HDMI inputs, it supports content from devices through USB-C, and can charge your phone, tablet, or gaming system while you're using it to play games or movies. It can also be connected to networks and home automation systems through LAN or the 12V trigger input, good news for smart home owners.
Setting up the ViewSonic PX748-4K is fairly easy. It does have a standard throw distance, so you'll need around 8-10 feet for a 100" screen. This limitation aside, it has a good array of alignment options, including automatic keystone correction, an anti-warp tool, and 1.3x manual zoom. Click here for our more in-depth ViewSonic PX748 review.
Pros
Sharp true 4K resolution
SuperColor technology
Low input lag and high frame rate
Automatic keystone correction
Compatible with LAN-controlled home automation systems
HDMI and USB-C connectivity
Cons
Streaming dongle must be purchased separately
Not ideal for small spaces
---
Optoma UHD38
The Optoma UHD38 is another option that's perfect for gamers. It boasts an input lag as low as 4.2ms, with a 240Hz frame rate in full HD for smooth, blur-free visuals that let you get immersed in your game. The high dynamic contrast is another plus for gamers, helping you see every detail even in dark areas of the screen.
Home theater users will find as much to love about the Optoma UHD38. It has a native 4K resolution to go with that high dynamic contrast, and is compatible with visual technology like HLG and HDR10. Along with that, it has full support for 3D content, so you can truly recreate the movie theater experience at home.
As far as the set-up, the Optoma UHD38 isn't difficult to install, though you will need a larger room for it. You'll also need to be fairly precise when you install the ceiling-mount. While it has a wide keystone correction for squaring the image geometry, its zoom is narrow and it lacks features like lens shift that can help fine-tune the alignment. Click here for our more in-depth Optoma UHD38 review.
Pros
Sharp 4K resolution
High dynamic contrast with HDR10 support
Low lag is ideal for gamers
Full 3D compatibility
Versatile connectivity
Cons
Needs a larger room for a big image
Limited image alignment options
---
Epson Pro EX9240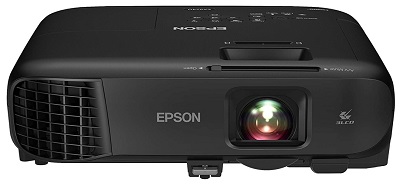 You don't need to spend a fortune to get a projector for a bright space. The Epson Pro EX9240 is designed for use in conference rooms, classrooms, and other group settings, and it excels in this context. Its full HD resolution means crisp graphics and legible text, even from the back row, while the 16-watt speakers have enough power to make sure the whole room hears video presentations or Zoom calls.
The Epson Pro EX9240 can also work in a home theater. Its lack of 4K support is its main limitation in this context, though it otherwise produces a detailed, colorful image. The 3-chip LCD display provides a smoother color gamut than 1-chip designs. While it's not the fastest projector on the list, its input lag is still low enough most gamers won't have an issue.
We also appreciate how fast and easy the Epson EX9240 is to install. It has a sensor on the front to analyze the picture and automatically square it to the screen. There's also a slider and 1.6x zoom for manual fine-tuning. You'll also get more ways to connect your content devices, with support for Miracast in addition to dual HDMI ports.
Pros
Vibrant color with no rainbow effect
Screen mirroring through Miracast
Low enough lag for most gamers
Easy installation and image alignment
Automatic image skew correction
Good speaker output for business or classroom use
Cons
No 4K capability
High fan noise in higher performance modes
---
Epson EX5280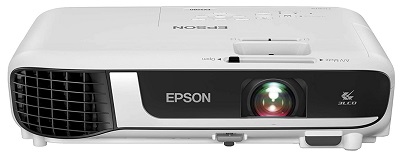 The Epson EX5280 is a great option for teachers or business leaders. Its bright lamp and straightforward set-up are ideal for classrooms and presentations. It's also one of the lightest business projectors you'll find at just over 5 pounds, with a slim 3.2" profile that won't add much bulk to your gear. The included carrying case is a helpful accessory for on-the-go users, and includes a pouch to organize the cable and remotes.
Unfortunately, the Epson EX5280 doesn't perform as well for home theaters. It uses a standard XGA resolution and 4:3 aspect ratio, so while it will play HD content it's not going to look its best. For image and text-based uses, however, its display has good text clarity at all screen sizes. Since it uses a similar 3-chip display to what you'll find in Epson's home theater projectors, the EX5280 produces bold, accurate colors, making graphics pop off the screen.
For simple set-ups, the Epson EX5280 has the connectivity you need. It's well-suited to set-ups using devices like DVD players and camcorders that use an RCA connection, an option you won't find on most projectors. There's only one HDMI port, however, and it lacks wireless connection options, so it's not as flexible when you're playing content through sources like phones and computers. For our more in-depth Epson EX5280 review, click here.
Pros
Lightweight and portable
Vibrant 3LCD color
Sharp, crisp text and graphics
Fast and easy to set up
Comes with a carrying bag
Most affordable option
Cons
Resolution is low for home theater uses
Limited connectivity for modern devices
---
Optoma GT780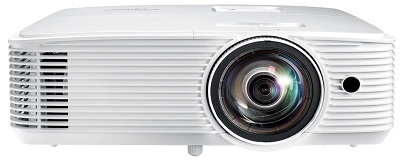 The Optoma GT780 is only a bit over 4" tall, and weighs less than 7 pounds, plenty light enough to consider it a portable projector. It also has a short throw distance, producing a 100" image from less than 4 feet away. Together, this makes it an ideal option for RVers, camping trips, or backyard movies.
The 10-watt speaker on the GT780 puts out a good amount of sound, enough you can use it on its own, and there's an audio out jack for connecting an external speaker if you prefer. It doesn't quite have all-in-one capability since you will still need a content source, but with options of HDMI, VGA, or RCA inputs, it works with a wide range of devices—though only one at once if you're using HDMI, which can be a bit annoying, depending on the number and type of devices you plan to use with the projector.
Now the Optoma GT780 does have one of the lower image quality scores on the list. It can play HD content but has a standard definition resolution (WXGA), so movies and shows won't look quite as sharp as on other projectors. The color performance is on par with most HD projectors, however, and it can still play 3D content, with a single-digit input lag for gaming, so it's a versatile option if you're not picky about the picture. Click here for our more in-depth Optoma GT780 review.
Pros
Slim and lightweight
Short throw distance
Full coverage of Rec.709 color gamut
Speakers have a good output
Responsive with low input lag
Cons
Low resolution
Only one HDMI port (1.4a)
---
Optoma W400LVe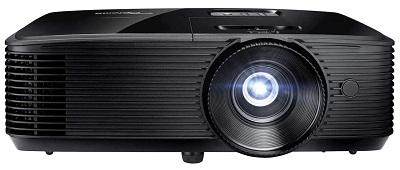 Rounding out the list, the Optoma W400LVe is another great projector for teachers, public speakers, and other professional users. It's relatively slim and light, less than 4 inches tall and under 7 pounds. The built-in 10-watt speaker has good mid-range clarity for video calls or recorded training materials. It's also relatively easy to set up, though it doesn't have many options for adjusting the image alignment, which can make it tricky to install in ceiling-mounted setups.
Like other presentation projectors on the list, the Optoma W400LVe uses a standard WXGA resolution, so video content won't look as sharp as on full HD or 4K displays. On the plus side, the combination of a bright lamp with a high contrast brings exceptional clarity to text and presentations, with full coverage for the HDTV standard Rec.709 color spectrum.
The rear panel of the Optoma W400LVe has RCA, HDMI, and VGA inputs for content, along with an audio output, so while it's limited in the number of devices you can connect, it has good versatility for working with different types of devices. It's also one of the most affordable options on the list, good news for budget-conscious users who want to put on big presentations. Click here for our more in-depth Optoma W400LVe review.
Pros
Good clarity for presentations and text
Speaker is powerful enough to use on its own
Compact and portable
Fast set up
Works with wide variety of content sources
Excellent value
Cons
Low video resolution
Limited image adjustment options
---
So What's the Best Projector for Bright Rooms?
The answer to that question depends on how you plan to use it. Movie watchers and gamers will want to check out the ViewSonic PX748-4K (>>> Check on Bhphotovideo) or Optoma UHD38, both of which offer 4K resolution and a lightning-fast input lag. Teachers and presenters will likely prefer the portable Epson EX5280 or Optoma GT780. Whichever one you buy, you won't need to turn the lights off when you use it.