Finding an affordable, high-quality projector for a multi-purpose home entertainment center isn't always straightforward. In this extensive review, we dive deeper into the ViewSonic PX748 4K projector, a device that combines versatility and advanced technology, promising to excel in various spaces and situations. With its powerful lamp, sharp 4K resolution, and impressively low input lag, the ViewSonic PX748 4K is a potential frontrunner for your consideration. (>>> Check on Amazon).
ViewSonic PX748 4K: A Comprehensive Look at Main Specs
To help you make an informed decision, we've compiled a comparison table that gives a detailed overview of the ViewSonic PX748 4K's main specifications.
| | ViewSonic PX748 |
| --- | --- |
| | |
| Resolution | 3840x2160 |
| Contrast | 12,000:1 |
| Brightness (Lumens) | 4,000 ANSI |
| Input Lag | 4.2ms |
| Throw Distance | 3.2' - 24.7' |
| Screen size | 30" - 301" |
| Speakers | 10.0 Watts Mono |
| Today's Best Price | BHPhotoVideo.com |
Understanding Space and Set-Up Requirements for Optimum Performance
The ViewSonic PX748 4K projector's 4,000-lumen lamp boasts a brightness that competes admirably with any indoor ambient light level. This ensures there's no loss of clarity or saturation in the image, even in a well-lit room.
The Impact of the 4,000 ANSI Lumens Lamp
An essential aspect of the ViewSonic PX748 4K projector is its powerful 4,000 ANSI lumens lamp. This feature allows the projector to maintain a high picture quality even when competing with various indoor ambient light levels.
Dynamic Images: Space and Distance Considerations
However, to achieve a large screen, you need a fairly large space since the projector uses a standard-throw lens. For a 100" image, approximately 9 feet of distance between the wall and screen is required. It's feasible in most living rooms, game rooms, and other spaces, but it does rule out smaller, compact spaces.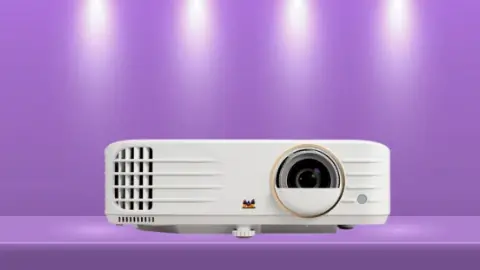 Pros
True 4K resolution
Realistic hues with SuperColor technology
Powerful lamp works in any light level
Easy set up 4-corner adjustment and anti-warp tool
Excellent gaming performance
Good range of wired and LAN connectivity
Cons
No built-in streaming or voice control
Not suitable for smaller spaces
Mounting and Image Adjustment: Ensuring the Best Experience
Given its long throw, most users will prefer to ceiling-mount the PX748, but its lightweight and compact design ensures compatibility with standard projector mounts.
Picture Clarity Adjustments: Keystone Correction and Warping Tool
The ViewSonic PX748 4K projector comes equipped with standard image adjustment features like a 1.3x zoom and 2D keystone correction, as well as a warping tool for squared, accurate images even on irregular surfaces.
Lamp Life: The Importance of Precision in Projector Mount Placement
However, to optimize lamp life and ensure the best image sharpness, precision in projector mount placement is necessary. This is because the PX748 lacks lens shift or similar features to rectify alignment errors.
The Role of Sound: Built-in Speaker and External Options
The 10-watt speaker built into the PX748 is decent, if not exceptional. It's loud and clear enough for watching TV or playing games without external sound sources. However, for an immersive soundscape or surround sound experience, pairing it with a soundbar or sound system is recommended.
Image Quality: A Closer Look at the ViewSonic PX748
Where the PX748 really shines is in its picture quality. It utilizes a DLP display with XPR technology for sharp, true 4K resolution, ensuring dynamic images that stand out.
Boosting Picture Quality: HLG, HDR Technology, and SuperColor
Enhancing its sharpness and accuracy is the support for HLG and HDR technology. The frame refresh rate is on par with the top performers in the home theater space, at 240Hz, maintaining clarity even during fast-paced content viewing. Additionally, ViewSonic's proprietary SuperColor technology, employed in the PX748 4K, broadens its color gamut beyond most projectors at a similar price point. This technology maintains vibrant colors at any light level, enhancing image quality further.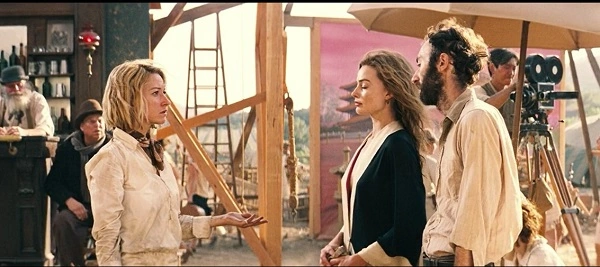 SuperColor technology, employed in the PX748 4K, broadens its color gamut beyond most projectors at a similar price point. This technology maintains vibrant colors at any light level, enhancing image quality further.
Gaming Performance: Input Lag and Refresh Rate
With a 240Hz refresh rate and measured input lag as low as 4.2ms, the ViewSonic PX748 4K projector is an excellent choice for gaming. Such low input lag is almost instantaneous, satisfying even competitive online gamers.
Input Lag and Direct Streaming: Ideal for Console Gaming
The projector is also ideal for console gaming. It features a USB-C input for devices like the Nintendo Switch, which it can charge while you're playing. This combined with the low input lag ensures smooth and direct streaming of your favorite games.
Connectivity Options: Wired Content Sources and Network Hookups
The ViewSonic PX748-4K projector is best utilized with wired content sources. It is equipped with dual HDMI ports and two USB ports for peripherals. However, it lacks integrated streaming platforms and other wireless content options found in many modern projectors.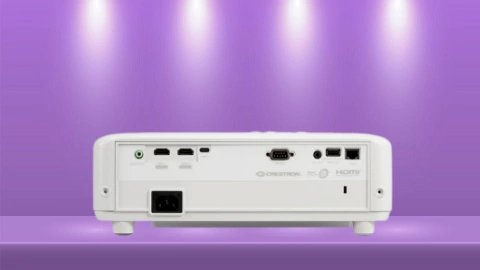 Limitations: No Built-In Streaming or Voice Control
While it does have network hookups for LAN-based home automation systems, it falls short for Alexa or Google Assistant based smart home entertainment setups due to its lack of built-in streaming or voice control.
Summing Up: The ViewSonic PX748 4K Projector Review
The ViewSonic PX748 4K is a competitively priced 4K projector, offering excellent value when considering its bright lamp and low lag. These features are rarely found together in this price point. However, it does have limitations. Its lack of wireless connectivity could be an issue for modern home entertainment setups, and its longer throw distance limits its use in smaller spaces. Yet, for many users, its responsiveness and picture quality make it an attractive option.
Investing in the ViewSonic PX748 4K projector could be a smart move, especially if high image quality, low input lag, and direct streaming are your top priorities. The brightness offered by the 4,000 ANSI lumens lamp also adds to its appeal. While it may not be perfect for all, it's definitely worth considering for your home entertainment needs. (>>> Find on B&HPhotoVideo)
REFERENCES AND FURTHER READING: