Having a golf simulator in your home or office can be a great way to relax and work on your shot when you can't make it out to a green. With the array of high-tech projectors available today, you can create a massive picture that makes it feel more like you're playing for real. The best projector for golf simulator use has similar requirements to other gaming applications, namely a high-quality image and a quick response.
If pressed to pick a favorite, the Optoma UHD38 has everything you need for a golf simulator set-up. A combination of a bright lamp, high image quality, 240 Hz refresh rate, and low input lag gives you great image quality in any room with no annoying delays. (>>> Find the current price on Amazon)

Want to find out if this is the right option for you? There's an ideal projector out there for any space or budget. Let's take a closer look at the best models and the differences between them!
Best Projectors For Golf Simulators 2022:
| | Optoma UHD50X | Optoma UHD38 | Optoma UHD30 | BenQ TH685i | Optoma UHD35 |
| --- | --- | --- | --- | --- | --- |
| | | | | | |
| Resolution | 3840x2160 | 3840x2160 | 3840x2160 | 1920x1080 | 3840x2160 |
| Brightness (Lumens) | 3,400 ANSI | 4,000 ANSI | 3,400 ANSI | 3,500 ANSI | 3,600 ANSI |
| Contrast Ratio | 500,000:1 | 1,000,000:1 | 500,000:1 | 10,000:1 | 1,000,000:1 |
| Input Lag | 16ms | 4ms | 16ms | 8ms | 4ms |
| Refresh Rate | 240Hz | 240Hz | 240Hz | 120Hz | 240Hz |
| Throw Distance | 4.0' - 26.6' | 4.0' - 32.7' | 4.2' - 33.0' | 3.2' - 24.6' | 4.0' - 32.7' |
| Image Size | 34" - 302" | 33" - 300" | 34" - 302" | 30" - 300" | 33" - 300" |
| Built in Speakers | 5W | 10.0 Watts Mono | 5W | 5.0 Watts Mono | 10.0 Watts Mono |
| Price | Check on Amazon | Check on Amazon | Check on Amazon | Check on Amazon | Check on Amazon |
Lag Time
The lower the input lag, the less of a delay there will be between what you do and what you see on the screen. Serious gamers look for an input lag of 30ms or less and that's a good benchmark for a golf simulator, as well, giving you a feel that's as close as possible to being out on a real course.
All of these projectors come in below that 30ms standard. That said, some of them are faster than others. The 4.2ms of the Optoma UHD35 and UHD38 is the fastest, with the BenQ TH685i coming in at a close third with 8.3ms.
Lowest lag time: Optoma UHD35, Optoma UHD38
Brightness
If you have a completely dark room, a lamp brightness as low as 1,500 lumens can be acceptable. Most people don't want to use their golf simulator in a completely dark room, though. If you want to keep the lights on without washing out the picture, a lamp that puts out a minimum of 3,000 lumens is recommended. The brighter your space, the more lumens you'll need to compete with it.
At 4,000 lumens, the Optoma UHD38 is bright enough to use even in partially-outdoor spaces or rooms with lots of bright, natural light. This versatility is the primary reason we consider it the best projector for golf simulators.
Brightest lamp: Optoma UHD38
Image Quality
If you want the sharpest possible picture, you're looking for a 4K projector. This resolution has 4 times the pixels of traditional HD and can provide incredibly realistic, clear, and detailed images at any screen size.
The contrast ratio and color accuracy are just as important when using a golf simulator. A high contrast ratio ensures the shadows and darker areas of the screen have the same crisp detail as the rest of the picture. From a color standpoint, you're looking for a color reproduction that's at least equal to Rec. 709. This will give you the true-to-life hues on the greens and fairways that make you feel like you're really out there on the course.
Best image quality: Optoma UHD50X
Throw Distance
All of these projectors have a standard throw distance, but within that range there's a lot of variation. A shorter throw distance isn't just a benefit in small spaces. It also speeds up installation and gives the projector more flexibility when you're figuring out where to put the ceiling mount.
The BenQ TH685i produces a 100" screen with as little as 8 feet of distance, a couple of feet shorter than what you'll get from the other models from the list. While you'll still probably need to mount it, you'll find the installation process simpler overall, especially since it also includes helpful features like automatic keystone correction.
Shortest throw distance: BenQ TH685i
Best Projector for Golf Simulators: Full Reviews
Optoma UHD50X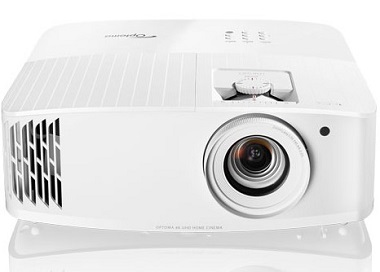 For those seeking the absolute best picture quality for their golf simulator, the Optoma UHD50X is one you should look into. It starts with a true native 4K resolution that produces about 8.3 million pixels, four times what you'll get in 1080p. Along with this, you'll enjoy Optoma's top of the line image technology, which includes Dynamic Black for higher contrast and an UltraDetail 8-segment color wheel.
The Optoma UHD50X is also well-equipped for gamers. The input lag ranges from 16ms to 26ms, depending on how you set the resolution—not the fastest projector out there, but still low enough there's no noticeable delay. A high frame refresh rate ensures no on-screen blur or other image issues when you're tracking your ball on-screen.
With a 3,400 lumen lamp, this projector is bright and versatile enough for use with lights-on gaming. The robust alignment and adjustment options also give you more set-up flexibility. Just about the only down-side of the Optoma UHD50X is its higher price. At around $1,500, it may be more than you want to spend just for the projector aspect of your golf simulator. Our more detailed Optoma uhd50x review can be found here.
Pros
True 4K resolution for the most possible on-screen detail
Compatible with both HLG and HDR10
No lag or blurring during play
Higher contrast thanks to Dynamic Black technology
Flexible, easy installation
High color accuracy with no rainbow effect
Cons
---
Optoma UHD38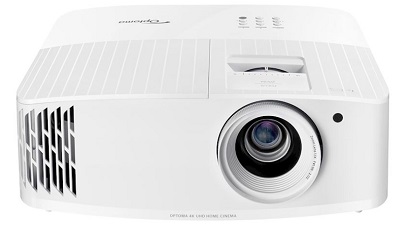 The Optoma UHD38 is arguably the best projector for gamers in the mid-range price point. Putting it in Enhanced Gaming Mode drops the input lag into the single digits, and its 240Hz refresh rate ensures blur-free action, giving you an immersive and realistic playing experience.
The picture quality of the Optoma UHD38 is ideal for golf simulators, as well. Its native 4K resolution combines with the high Dynamic Black contrast to give you excellent detail and clarity, with an 8-segment color wheel for vibrant, realistic colors. With the right simulator, it can feel like you're really out on the green. The bright lamp helps here, too. It puts out an impressive 4,000 lumens, plenty for lights-on viewing or partially outdoor spaces.
Since it's a standard throw projector, you'll likely need a ceiling mount for the Optoma UHD38. You'll need to be fairly precise with your placement, too, since it lacks features like lens shift and has a limited zoom. On the plus side, its lightweight build makes it easy to mount, and it has broad horizontal and vertical keystone correction. It also offers a range of input options beyond HDMI, helpful for plugging in peripherals or using PC-based simulators. Click here for our more in-depth review of this projector.
Pros
Lowest input lag on the list
True 4K resolution with Dynamic Black contrast
Cinematic color with HDR10 and HLG support
Bright lamp can be used in all light environments
Horizontal and vertical keystone correction
Good variety of input options
Cons
Throw distance is on the long side
Can be tricky to install
---
Optoma UHD30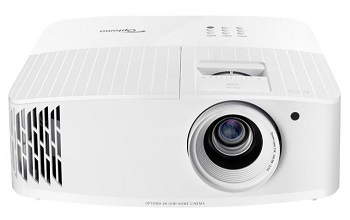 Here's another great choice from Optoma with true native 4K resolution. The Optoma UHD30 has similar image quality specifications to the UHD50X above. This includes Dynamic Black contrast and an 8-segment color wheel for vivid, vibrant hues.
The Optoma UHD30 has a similar input lag to the UHD50X, as well. You don't have to sacrifice image clarity for lag-free gaming with this model, since the lag stays low even at 4K resolution. A 240Hz processor gives you smooth on-screen transitions and eliminates blurring.
With a wide array of connection options and a simple set-up process, you'll find it quick and easy to get started with the Optoma UHD30. It's not quite as flexible from an installation standpoint as other options. The zoom is limited and there's no lens shift for fine-tuning. That said, it does still include a vertical keystone correction to prevent warping, and has a nice, bright lamp, so it will still work nicely in the vast majority of spaces. Click here for a full review of Optoma uhd30.
Pros
Native 4K resolution
8-segment color wheel with HDR10 and HLG support
Keystone correction for easy ceiling mounting
Lamp is bright enough to use in well-lit rooms
Wide range of connection options
Low maintenance with long lamp lifespan
Cons
No lens shift
Fan is on the loud side
---
BenQ TH685i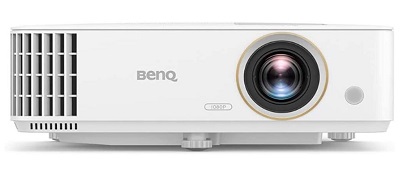 For those who are on a tighter budget, the BenQ TH685i is likely the best gaming projector you'll find in the under $1,000 price point. Its input lag is an impressive 8.3ms in Game Mode, which adds other enhancements like the LumiExpert brightness control that prevents eye strain during play.
The built-in wireless connectivity of the BenQ TH685i also gives you more ways to connect to content sources. Along with wired inputs like USB, VGA, and HDMI, you can mirror content from other devices using AirPlay or Chromecast, or stream it directly through the Android operating system. This gives it good versatility as a home theater projector, too, if you want a multi-purpose projector.
The main sacrifice you make for the comparatively low price of the TH685i is resolution. While it supports 4K input, it has a maximum resolution of 1080p (full HD). It also has a lower contrast and smaller color gamut than other projectors on the list. On the plus side, it has a robust array of alignment and installation features, including an automatic keystone correction and vertical lens shift. Click here for our more in-depth BenQ TH685i review.
Pros
Highly responsive with low lag
Bright enough for most lighting scenarios
Shortest throw distance on the list
Built-in Android operating system
Easy installation with lens shift and automatic keystone correction
Compatible with Chromecast and AirPlay
Excellent value
Cons
Lower resolution (max of full HD)
Color and contrast aren't as strong
---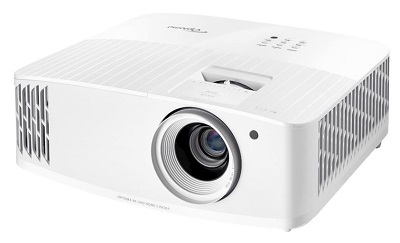 The Optoma UHD35 ties with the UHD38 for the lowest input lag on the list, at 4.2ms in 1080p. Even if you play in 4K, that only goes up to about 16ms, still well within the range for gaming. It also boasts a 240Hz refresh rate, so you won't experience motion blur or frame tearing.
The Optoma UHD35 is another excellent option if you want a truly realistic playing experience. Its 4K resolution, high contrast, and 8-segment color wheel produce a detailed and vibrant image, with a 3,600 lumen lamp that keeps that image saturated even in spaces with lots of light. It even has full 3D capability if you want to go fully-immersive with your experience.
One consistent strength of Optoma UHD projectors is that they're relatively lightweight and compact. This makes the UHD35 an excellent multi-room option, especially considering its high performance in a home theater context. The only caveat here is that it's not the easiest projector to set-up and align, with a long throw distance and somewhat limited alignment options.
Pros
True 4K resolution
High Dynamic Black contrast
Low lag and high refresh rate
Excellent lamp brightness
Lightweight and portable design
Cons
Can be trickier to install
No wireless connectivity
---
How to choose the best projector for a golf simulator
A quick response is honestly the most important quality to look for in a projector for a golf simulator, in our opinion. Even though it's not a fast-paced multi-player game, it can still be very frustrating if what you see on the screen doesn't coincide with what you're doing.
Beyond that, it all comes down to the quality of the image that you see. Remember that this isn't only a factor of the projector itself. It's also about how the projector works within your space.
Even standard indoor lighting can make it hard to see some dimmer projected images, so if you want to be able to play with your lights on, make sure you get a projector whose lumens are on the high side.
While the Optoma UHD38 is the strongest choice across all categories, the truth is it depends on what you're looking for. (>>> Find the current price on Amazon) The flexible installation and wireless connectivity of the BenQ TH685i gives it the highest marks for usability, while the impressive picture quality of the Optoma UHD50X is ideal for those who want the most realistic and immersive image.
Any one of the projectors above is the right one for a certain kind of user. Use the feature breakdown and reviews here to decide which one you need!
REFERENCES AND FURTHER READING