Having a golf simulator in your home or office can be a great way to relax and work on your shot when you can't make it out to a green. With the array of high-tech projectors available today, you can create a massive picture that makes it feel more like you're playing for real. The best projector for golf simulator use has similar requirements to other gaming applications, namely a high-quality image and a quick response.
If pressed to pick a favorite, the Optoma UHD50X has everything you need for a golf simulator set-up. A combination of short throw, high image quality, 240 Hz refresh rate, and low input lag gives you great image quality in any room with no annoying delays. (>>> Find the current price on Amazon)
Want to find out if this is the right option for you? There's an ideal projector out there for any space or budget. Let's take a closer look at the 5 best models and the differences between them!
Best Projectors For Golf Simulators 2021:
| | Optoma UHD50X | Optoma GT1080HDR | Optoma UHD30 | BenQ TH685 | Optoma HD28HDR |
| --- | --- | --- | --- | --- | --- |
| | | | | | |
| Resolution | 3840x2160 | 1920x1080 | 3840x2160 | 1920x1080 | 1920x1080 |
| Brightness (Lumens) | 3,400 ANSI | 3,800 ANSI | 3,400 ANSI | 3,500 ANSI | 3,600 ANSI |
| Contrast Ratio | 500,000:1 | 50,000 : 1 | 500,000:1 | 10,000:1 | 50,000 : 1 |
| Input Lag | 16ms | 8.4ms | 16ms | 8.3ms | 8.4ms |
| Refresh Rate | 240Hz | 120Hz | 240Hz | 120Hz | 120Hz |
| Throw Distance | 4.0' - 26.6' | 1.3'-11.1' | 4.2' - 33.0' | 3.2' - 24.6' | 3.3' - 32.2' |
| Image Size | 34" - 302" | 36"- 306" | 34" - 302" | 30.16" - 300" | 28" - 300" |
| Built in Speakers | 5W | 10W | 5W | 5W | 3W |
| Price | Check on Amazon | Check on Amazon | Check on Amazon | Check on Amazon | Check on Amazon |
Lag Time
The lower the input lag, the less of a delay there will be between what you do and what you see on the screen. Serious gamers look for an input lag of 30ms or less and that's a good benchmark for a golf simulator, as well, giving you a feel that's as close as possible to being out on a real course.
All of these projectors come in below that 30ms standard. That said, some of them are faster than others. The 8.3ms offered by the BenQ TH685 is the fastest by a hair, just beating out the 8.4ms you'll get from the Optoma GT1080HDR and the Optoma HD28HDR.
Lowest lag time: BenQ TH685
Brightness
If you have a completely dark room, a lamp brightness as low as 1,500 lumens can be acceptable. Most people don't want to use their golf simulator in a completely dark room, though. If you want to keep the lights on without washing out the picture, a lamp that puts out a minimum of 3,000 lumens is recommended. The brighter your space, the more lumens you'll need to compete with it.
At 3,800 lumens, the Optoma GT1080HDR is bright enough to use even in partially-outdoor spaces or rooms with lots of bright, natural light. This versatility is the primary reason we consider it the best projector for golf simulators.
Brightest lamp: Optoma GT1080HDR
Image Quality
If you want the sharpest possible picture, you're looking for a 4K projector. This resolution has 4 times the pixels of traditional HD and can provide incredibly realistic, clear, and detailed images at any screen size.
The contrast ratio and color accuracy are just as important when using a golf simulator. A high contrast ratio ensures the shadows and darker areas of the screen have the same crisp detail as the rest of the picture. From a color standpoint, you're looking for a color reproduction that's at least equal to Rec. 709. This will give you the true-to-life hues on the greens and fairways that make you feel like you're really out there on the course.
Best image quality: Optoma UHD50X
Throw Distance
A standard-throw projector can work for a golf simulator since you'll need a decent amount of space for your swings anyway. That said, it also necessitates a ceiling-mounted installation, something not everyone wants to deal with.
A short throw distance speeds up the installation process and allows the projector to be more flexible for working with oddly-shaped or smaller spaces. It's not something we'd call a necessity for a golf simulator, but it can be a big advantage for those who don't want the extra hassle of a ceiling mount.
Shortest throw distance: Optoma GT1080HDR
Best Projector for Golf Simulators: Full Reviews
Optoma UHD50X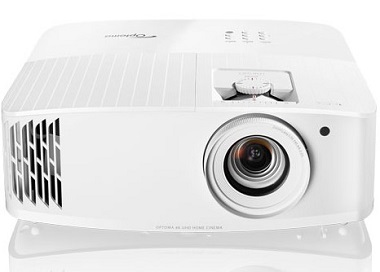 For those seeking the absolute best picture quality for their golf simulator, the Optoma UHD50X is one you should look into. It starts with a true native 4K resolution that produces about 8.3 million pixels, four times what you'll get in 1080p. Along with this, you'll enjoy Optoma's top of the line image technology, which includes Dynamic Black for higher contrast and an UltraDetail 8-segment color wheel.
The Optoma UHD50X is also well-equipped for gamers. The input lag ranges from 16ms to 26ms, depending on how you set the resolution—not the fastest projector out there, but still low enough there's no noticeable delay. A high frame refresh rate ensures no on-screen blur or other image issues when you're tracking your ball on-screen.
With a 3,400 lumen lamp, this projector is bright and versatile enough for use with lights-on gaming. The robust alignment and adjustment options also give you more set-up flexibility. Just about the only down-side of the Optoma UHD50X is its higher price. At around $1,500, it may be more than you want to spend just for the projector aspect of your golf simulator. Our more detailed Optoma uhd50x review can be found here.
Pros
True 4K resolution for the most possible on-screen detail
Compatible with both HLG and HDR10
No lag or blurring during play
Higher contrast thanks to Dynamic Black technology
Flexible, easy installation
High color accuracy with no rainbow effect
Cons
---
Optoma GT1080HDR
The main reason the Optoma GT1080HDR is perfect for golf simulators is its remarkably low input lag. Its response time of only 8.4ms is as close to instant as you'll find in a projector. This means no delay between your swing and what you see, giving you the most accurate simulation of a real game.
We also love the high brightness of the Optoma GT1080HDR. You don't need to worry about controlling the light level before you play—a necessity for a golf simulator, letting you see where you're swinging both on the screen and in the room.
The visual quality of the Optoma GT1080HDR is equally impressive. It uses HDR10 technology for vibrant, deep colors that are true to life. A high contrast ratio also gives deep blacks and shadows. This on-screen detail is key for seeing your way around the virtual course. You can find the full review of the Optoma GT1080HDR projector here.
Pros
Low input lag for instant response
High brightness won't get washed out from ambient light
Excellent screen detail and color accuracy
Connects easily to game systems through dual HDMI
Includes vertical keystone correction for more set-up flexibility
Easy to set up and use
Short throw is easier to fit in smaller spaces
Cons
Low sound quality from built-in speakers
Only supports 1080p (no 4K resolution)
---
Optoma UHD30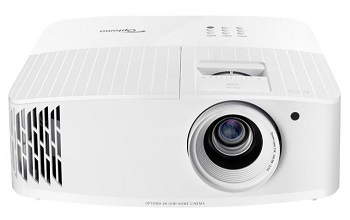 Here's another great choice from Optoma with true native 4K resolution. The Optoma UHD30 has similar image quality specifications to the UHD50X above. This includes Dynamic Black contrast and an 8-segment color wheel for vivid, vibrant hues.
The Optoma UHD30 has a similar input lag to the UHD50X, as well. You don't have to sacrifice image clarity for lag-free gaming with this model, since the lag stays low even at 4K resolution. A 240Hz processor gives you smooth on-screen transitions and eliminates blurring.
With a wide array of connection options and a simple set-up process, you'll find it quick and easy to get started with the Optoma UHD30. It's not quite as flexible from an installation standpoint as other options. The zoom is limited and there's no lens shift for fine-tuning. That said, it does still include a vertical keystone correction to prevent warping, and has a nice, bright lamp, so it will still work nicely in the vast majority of spaces. Click here for a full review of Optoma uhd30.
Pros
Native 4K resolution
8-segment color wheel with HDR10 and HLG support
Keystone correction for easy ceiling mounting
Lamp is bright enough to use in well-lit rooms
Wide range of connection options
Low maintenance with long lamp lifespan
Cons
No lens shift
Fan is on the loud side
---
BenQ TH685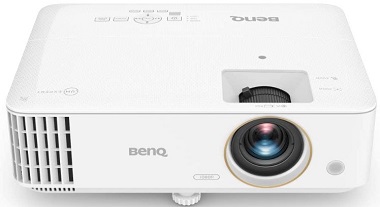 The easy set-up of the BenQ TH685 is the first thing you'll notice about it. There's a lens shift function to accommodate different projection heights, along with an automatic keystone correction so the screen won't warp if you can't install it completely level. While the throw distance is on the long side, this isn't much of an issue for a golf simulator projector—after all, you'll need quite a bit of space for the simulator, too.
One thing that's great about the BenQ TH685 is that it's designed as a gaming projector. The main advantage of this is its ultra-low input lag, which at 8.3ms is among the lowest you'll find on the market. It also has a dedicated Game Mode for the picture. This enhances the clarity and contrast on-screen so you can see your gameplay better.
You won't get the absolute most detailed image from a 1080p projector like the BenQ TH685. While you'll get a better picture quality from other options on the list, though, they're also about twice the price. If you're looking to set up a golf simulator at a great value, the BenQ TH685 is an excellent way to go. Click here if you want to learn more about the BenQ TH685 projector.
Pros
Super-low input lag
Lens shift and auto keystone correction for easy set-up
Long lamp lifespan, especially in lamp-saver mode
Bright lamp stays clear and vibrant even in ambient light
HDR color support
Dedicated game mode optimizes picture for gameplay
Cons
Longer throw distance than other options
No 4K resolution
---
Optoma HD28HDR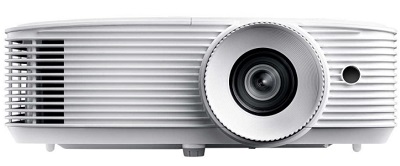 Those who want the best bang for their buck will love what they get with the Optoma HD28HDR. It's arguably the best value on the list, especially considering it has many of the same features you'll find on more expensive Optoma projectors. This includes a super-low input lag, a high frame refresh rate, and Dynamic Black contrast.
The speakers on the Optoma HD28HDR were the only thing we found truly lacking about this projector. They're both weak and rather tinny, easily getting overpowered by the sound of the fan. The native 1080p resolution doesn't have the same detail as a 4K projector, either, though given the price that's unsurprising.
There's a lot to love about the Optoma HD28HDR from an installation standpoint, too. It has a bright lamp and robust alignment features, so while it is a standard throw projector it's more flexible than most in terms of how you install it. Overall, it's the most affordable projector suitable for a golf simulator we've yet to find on the market. Click here for our full Optoma HD28HDR review.
Pros
Enhanced Gaming Mode gives fast response time
6-segment color wheel with HDR10
Excellent value
High contrast and color accuracy
Good refresh rate and input lag for golf simulators
1.3x zoom and vertical lens shift
Cons
Lower resolution than other models
Longer throw distance
---
How to choose the projector for golf simulator
A quick response is honestly the most important quality to look for in a projector for a golf simulator, in our opinion. Even though it's not a fast-paced multi-player game, it can still be very frustrating if what you see on the screen doesn't coincide with what you're doing.
Beyond that, it all comes down to the quality of the image that you see. Remember that this isn't only a factor of the projector itself. It's also about how the projector works within your space. Even standard indoor lighting can make it hard to see some dimmer projected images, so if you want to be able to play with your lights on, make sure you get a projector whose lumens are on the high side.
While the Optoma UHD50X is the strongest choice across all categories, the truth is it depends on what you're looking for. (>>> Find the current price on Amazon) You'll get the shortest throw distance from the Optoma GT1080HDR, for example. On the other hand, players with a tight budget will love the Optoma HD28HDR.
Any one of the projectors above is the right one for a certain kind of user. Use the feature breakdown and reviews here to decide which one you need!
REFERENCES AND FURTHER READING