Having a golf simulator in your home or office serves as an excellent opportunity for relaxation and to fine-tune your golfing techniques. However, to fully immerse yourself in the virtual green, you need more than just a golf simulator. You need a high-quality projector that will turn your golf simulation sessions into thrilling, real-life experiences. The best golf simulator projectors provide high-quality images and a quick response, akin to other gaming applications.
Our Favorite Pick: Optoma CinemaX D2
Our top choice is the Optoma CinemaX D2, the best golf simulator projector on the market (>>> Find the current price on Amazon). Its standout features include a 240Hz refresh rate and low input lag, which ensure that you experience no annoying delays while playing.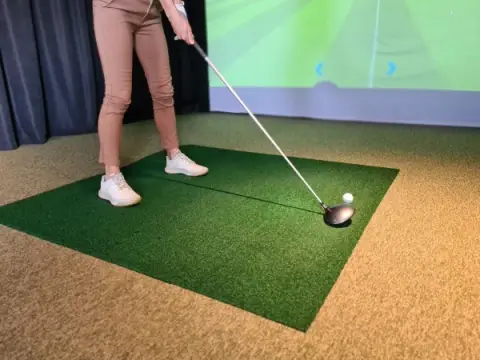 The bright lamp, versatile setup options, and high-quality, true-to-life image make it easy to become absorbed in your golf simulation, irrespective of your simulator's location. The projector's ultra-short throw and advanced geometric correction features enable flexible placement.
Are you wondering if the Optoma CinemaX D2 is the perfect choice for your golf simulator setups? We've got you covered. There's an ideal projector for any space or budget. Join us as we delve deeper into the best models available and the unique characteristics that set them apart.
Analyzing the Best Golf Simulator Projectors 2023 – Top Picks
Let's take a look at the top choices for the best golf simulator projector:
| | Optoma CinemaX D2 | Optoma UHD38 | Optoma GT1090HDRx | BenQ TK700STi | Optoma UHD35 | ViewSonic PX748-4K |
| --- | --- | --- | --- | --- | --- | --- |
| | | | | | | |
| Resolution | 3840x2160 | 3840x2160 | 1920x1080 | 3840x2160 | 3840x2160 | 3840x2160 |
| Brightness (Lumens) | 3,000 ANSI | 4,000 ANSI | 4,200 ANSI | 3,000 ANSI | 3,600 ANSI | 4,000 ANSI |
| Contrast Ratio | 1,800,000:1 | 1,000,000:1 | 300,000:1 | 10,000:1 | 1,000,000:1 | 12,000:1 |
| Input Lag | 4ms in 1080p; 16ms in 4K | 4.2ms in 1080p; 16.7ms in 4K | 8.2ms in 1080p | 4ms in 1080p; 16ms in 4K | 4.2ms in 1080p; 16.7ms in 4K | 4.2ms in 1080p; 16ms in 4K |
| Refresh Rate | 240Hz | 240Hz | 60Hz | 120Hz | 240Hz | 240Hz |
| Throw Distance | 1.5' - 2.2' | 4.0' - 32.7' | 1.3' - 10.9' | 2.4' - 19.6' | 4.0' - 32.7' | 3.2' - 24.7' |
| Image Size | 85" - 120" | 33" - 300" | 37" - 301" | 30" - 300" | 33" - 300" | 30" - 301" |
| Built in Speakers | 10.0 Watts × 2 | 10.0 Watts Mono | 10.0 Watts × 2 | 5.0 Watts Mono | 10.0 Watts Mono | 10.0 Watts Mono |
| Price | Check on Amazon | ProjectorScreen.com | ProjectorScreen.com | ProjectorScreen.com | Check on Amazon | Check on Amazon |
The Importance of Lag Time in Golf Simulator Projectors
Input lag refers to the delay between your action and its appearance on the screen. Low input lag is a crucial factor to consider when choosing a golf simulator projector. The lower the input lag, the less delay you experience, which makes the golf simulation feel more like playing on a real course.
For a smooth, lifelike golf simulation experience, consider projectors with an input lag of 30ms or less. Serious or competitive players are advised to go for projectors with an input lag of 16ms or lower for optimum performance.
Among the projectors listed, all come in at or below the 16ms standard. However, some projectors perform better than others, with 5 options providing an input lag around 4ms in full HD. These include the BenQ TK700STi, Optoma UHD35, Optoma UHD38, Optoma CinemaX D2, and ViewSonic PX748-4K.
The Optoma CinemaX D2 stands out with a low 16ms lag time for 4K content, as well as a 240Hz refresh rate for 1080p, making it the most responsive overall.
Best for Lowest Lag Time: Optoma CinemaX D2
Considering Brightness for Your Golf Simulator Projector
Brightness is another crucial factor when selecting the best projector for golf. If your golf simulator setup is in a completely dark room, a projector with a lamp brightness as low as 1,500 lumens may suffice. However, if you prefer playing golf simulation with some ambient light, a minimum lamp brightness of 3,000 lumens is recommended.
The Optoma UHD38 and ViewSonic PX748-4K are worth considering, as both projectors boast 4,000 lumens, making them ideal for spaces with natural light or partially outdoor areas. However, if you need the brightest projector, the Optoma GT1090HDRx stands out with its impressive 4,200 lumens.
Brightest lamp: Optoma GT1090HDRx
Evaluating Image Quality of Golf Simulator Projectors
For the ultimate golf simulation experience, image quality is essential. A 4K projector provides four times the pixels of traditional HD, offering incredibly realistic, clear, and detailed images at any screen size.
When considering image quality, the contrast ratio and color accuracy are equally vital for a golf simulator projector. A high contrast ratio guarantees that shadows and darker areas are as clear and detailed as the rest of the picture. From a color standpoint, look for projectors that provide color reproduction equal to or better than Rec. 709 to ensure true-to-life hues on the greens and fairways.
Best image quality: Optoma CinemaX D2
Understanding Throw Distance in Short Throw Projectors
A short throw projector isn't just advantageous in small spaces. It can also expedite installation, offer greater flexibility for ceiling mount placement, and maximize the image brightness since the light doesn't travel as far before reaching the screen.
Among the list, the BenQ TK700STi, Optoma GT1090HDRx, and the ultra-short throw Optoma CinemaX D2 are notable short throw projectors. The Optoma CinemaX D2 stands out by producing a 100-inch image with less than 2 feet, making it particularly useful for golf simulator setups in compact spaces like offices.
Shortest throw distance: Optoma CinemaX D2
---
Best Projectors for Golf Simulator: Full Reviews
Optoma CinemaX D2 Smart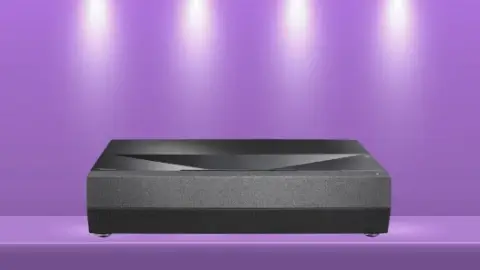 Pros
True 4K image with excellent color and contrast
Responsive with single-digit lag
Ultra-short throw distance
Ideal brightness for most indoor spaces
Flexible installation with anti-warp and wall color adjustment
Includes a streaming stick with voice control
Supports 3D content
Cons
Streaming interface isn't built in
The Optoma CinemaX D2 checks all the boxes that gamers look for in a projector, and that makes it an ideal choice for golf simulators, too.
It has the responsiveness you need for modern gaming, first of all, with an input lag as low as 4ms for Full HD content and a lightning-fast 240Hz frame refresh rate to ensure the on-screen action is smooth.
Along with this, its high dynamic contrast ratio adds sharpness and realism to the picture so you can track every swing with confidence.
Another plus of the Optoma CinemaX D2 for golf simulators is its space versatility. Its laser phosphor light source puts out 3,000 lumens, enough to keep the picture clear and colorful even when you leave the lights on.
This is paired with an ultra-short throw distance, producing a massive 120 inch screen with just over 2 feet of distance.
The Optoma D2 is also an ideal choice for those who want to use their projector for things beyond their golf simulator. The included Android TV stick adds an advanced streaming interface and Google Assistant voice control, with powerful built-in speakers that round out its all-in-one capability. Our more in-depth review of the Optoma CinemaX D2 Smart.
---
Optoma UHD38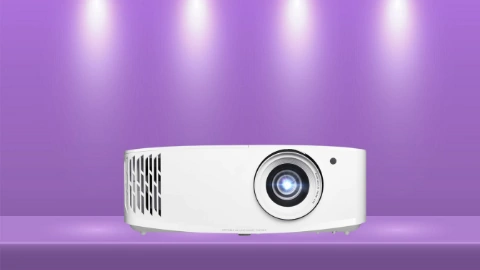 Pros
Lowest input lag on the list
True 4K resolution with Dynamic Black contrast
Cinematic color with HDR10 and HLG support
Bright lamp can be used in all light environments
Horizontal and vertical keystone correction
Good variety of input options
Cons
Throw distance is on the long side
Can be tricky to install
The Optoma UHD38 is arguably the best projector for gamers in the mid-range price point. Putting it in Enhanced Gaming Mode drops the input lag into the single digits, and its 240Hz refresh rate ensures blur-free action, giving you an immersive and realistic playing experience.
The picture quality of the Optoma UHD38 is ideal for golf simulators, as well. Its native 4K resolution combines with the high Dynamic Black contrast to give you excellent detail and clarity, with an 8-segment color wheel for vibrant, realistic colors.
With the right simulator, it can feel like you're really out on the green. The bright lamp helps here, too. It puts out an impressive 4,000 lumens, plenty for lights-on viewing or partially outdoor spaces.
Since it's a standard throw projector, you'll likely need a ceiling mount for the Optoma UHD38. You'll need to be fairly precise with your placement, too, since it lacks features like lens shift and has a limited zoom.
On the plus side, its lightweight build makes it easy to mount, and it has broad horizontal and vertical keystone correction.
It also offers a range of input options beyond HDMI, helpful for plugging in peripherals or using PC-based simulators. Click here for our more in-depth review of this projector.
---
Optoma GT1090HDRx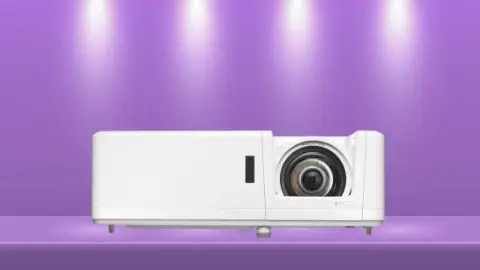 Pros
Colorful and high-contrast full HD image
Single-digit input lag
Short throw distance
Low maintenance with long lamp lifespan
Accepts 4K and 3D content
Excellent value
Cons
Can't display 4K resolutions
No wireless connectivity or voice control
The Optoma GT1090HDRx strikes an ideal balance between affordability and image quality. It supports 4K content as well as image technology like HLG and HDR10, with a sharp dynamic contrast and impeccably accurate colors.
Now, the caveat here is that the maximum display resolution is 1080p. This may be a concern for home theater use but isn't such an issue for golf simulators since many of these programs are designed for Full HD displays.
The DuraCore laser in the Optoma GT1090HDRx puts out an impressive 4,200 lumens. That's bright enough you can use it even in spaces with natural daylight or semi-outdoor spaces without losing the image quality.
It maintains a consistent brightness from edge to edge at screen sizes up to 301 inches and doesn't need a ton of space to get there, producing a 300-inch image in the same amount of space a standard throw projector needs to fill a 100-inch screen.
With a single-digit input lag, the Optoma GT1090HDRx is certainly responsive enough for golf simulators, or any other type of game you want to play through it.
It also has built-in stereo speakers with a high enough output and audio quality you won't need external speakers unless you want full surround sound.
It's also basically maintenance-free once it's installed, with a long 30,000 light source lifespan and IPX6 dust resistance.
---
BenQ TK700STi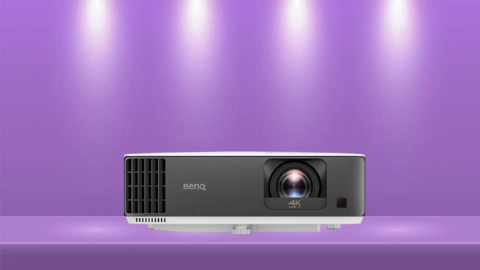 Pros
Sharp true 4K resolution with crisp contrast
Realistic and bright colors
Dedicated picture modes for different game styles
Short throw distance
Bright enough lamp for lights-on play
Easy to install and adjust the image
Cons
Streaming dongle takes up an HDMI port
Weak built-in speaker
The BenQ TK700STi is designed with gamers in mind, and that makes it an ideal fit for a golf simulator. It has a super speedy input lag, for one thing, as low as 4ms when you're gaming in full HD.
This is paired with dedicated picture modes for sports games, RPGs, and first-person shooters, optimizing the already high picture quality to match the style of game you're playing.
For a golf simulator, this means realistic on-screen details with no motion blur or other glitches that can interrupt your play.
The BenQ TK700STi also offers great versatility for use in a variety of spaces. Its short-throw lens means it can generate a 100" image with as little as 6.5 feet, and its 3,000-lumen lamp produces a bright, saturated image even in rooms with moderate ambient light.
Features like automatic keystone correction and corner fit correction streamline the setup process, making it one of the easiest options on the list to install in your playing area.
If you only plan to use the projector for a golf simulator, there's no significant cons to the BenQ TK700STi. However, it does have some limitations for multi-use setups.
For our more in-depth review of BenQ TK700STi click here.
---
Optoma UHD35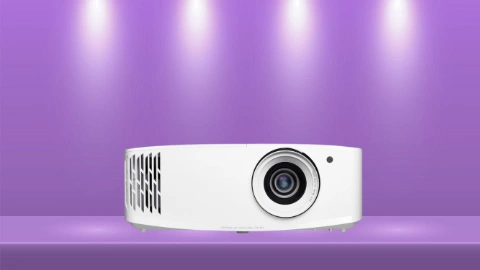 Pros
True 4K resolution
High Dynamic Black contrast
Low lag and high refresh rate
Excellent lamp brightness
Lightweight and portable design
Cons
Can be trickier to install
No wireless connectivity
The Optoma UHD35 ties with the UHD38 for the lowest input lag on the list, at 4.2ms in 1080p. Even if you play in 4K, that only goes up to about 16ms, still well within the range for gaming. It also boasts a 240Hz refresh rate, so you won't experience motion blur or frame tearing.
The Optoma UHD35 is another excellent option if you want a truly realistic playing experience.
Its 4K resolution, high contrast, and 8-segment color wheel produce a detailed and vibrant image, with a 3,600 lumen lamp that keeps that image saturated even in spaces with lots of light. It even has full 3D capability if you want to go fully-immersive with your experience.
One consistent strength of Optoma UHD projectors is that they're relatively lightweight and compact. This makes the UHD35 an excellent multi-room option, especially considering its high performance in a home theater context.
The only caveat here is that it's not the easiest projector to set-up and align, with a long throw distance and somewhat limited alignment options.
---
ViewSonic PX748-4K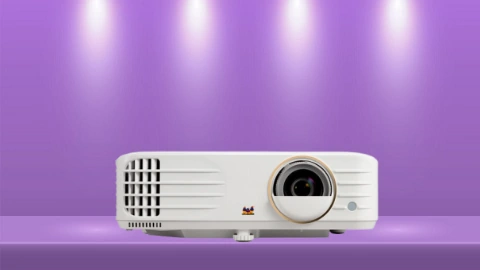 Pros
4K resolution with HDR and HLG support
SuperColor technology for a vibrant picture
Robust connectivity, including smart home integration
Powerful lamp suitable for any light level
Single-digit input lag with high refresh rate
Good range of image adjustment features
Cons
Long throw distance
No built-in streaming interface
With its 4,000-lumen light source, the ViewSonic PX748 is bright enough for use in any indoor light environment, and can even maintain a saturated, detailed picture in semi-outdoor spaces during the daytime. This is good news for golf simulator owners, letting you keep the lights on while you play, and accommodating a wider range of setups and spaces.
Now you will need a good amount of space for the ViewSonic PX748, which uses a standard throw distance. Of course, you'll need a large space for the golf simulator in general, so this isn't an issue for most users.
Its installation is very flexible even aside from its bright lamp, with a 1.3x zoom, anti-warp capability, and 2D keystone correction. It's equally flexible from a connectivity standpoint, with dual HDMI ports as well as USB inputs and networking connections that make it easy to integrate into LAN-based home automation systems.
The sharp Ultra HD resolution and HDR contrast of the ViewSonic PX748 are perfect for golf simulators, bringing a level of realism and detail to the picture you won't get from less sophisticated projectors.
It's just as impressive from a color standpoint thanks to its SuperColor technology. It's responsive, too, with a measured input lag as low as 4.2ms and the 240Hz refresh rate that's the standard for high-end gaming projectors.
---
Choosing the Best Projector for a Golf Simulator
In our view, a swift response is the most significant factor to consider when choosing a projector for a golf simulator. It can be frustrating if your actions and their representation on the screen are not synchronized. Besides responsiveness, the image quality you perceive also plays a significant role.
Don't forget that the perceived image quality depends not just on the projector's capability, but also how the projector performs within your space. Even standard indoor lighting can compromise some dimmer projected images. Therefore, if you prefer playing with lights on, it's essential to opt for a projector with higher lumens.
Our Verdict
While the Optoma CinemaX D2 stands out as the best golf simulator projector across all categories, the right projector for you ultimately depends on your specific needs (>>> Find on Projectorscreen).
Budget-conscious buyers might find the Optoma GT1090HDRx attractive due to its affordable price. The ViewSonic PX748-4K, on the other hand, combines a bright lamp with 4K resolution and sharp contrast, providing an immersive image across various viewing environments.
Remember, the best golf simulator projector for you depends on your specific needs and preferences. Use the feature breakdown and reviews here to decide which one suits you best!
FAQs
What kind of inputs do I need for a golf simulator?
Most modern golf simulators are designed to connect through HDMI, just like other gaming systems and A/V equipment. Older models might use a VGA or composite hookup, which may necessitate an adapter to connect to a projector.
What kind of screen should I use for a golf simulator?
Many full simulator kits come with an appropriate screen included. However, you can also purchase standalone golf simulator screens, such as those offered by HomeCourse and SwingBay.
Golf simulator screens are specially designed to withstand repeated impacts from golf balls. They often come with enclosures that prevent balls from bouncing back or flying off into your walls and ceiling, thereby safeguarding your space from potential damage.
REFERENCES AND FURTHER READING: