Having a golf simulator in your home or office can be a great way to relax and work on your shot when you can't make it out to a green. With the array of high-tech projectors available today, you can create a massive picture that makes it feel more like you're playing for real. The best projector for golf simulator use has similar requirements to other gaming applications, namely a high-quality image and a quick response.
If pressed to pick a favorite, the Optoma GT1080HDR Short Throw Gaming Projector has everything you need for a golf simulator set-up. A combination of short throw, high brightness, and low input lag give you great image quality in any room with no annoying delays.
Want to find out if this is the right option for you? There's an ideal projector out there for any space or budget. Let's look at the full reviews of the five best options on the market to help you make your decision.
Best Projectors For Golf Simulators 2020
| | Optoma GT1080HDR | Optoma GT1080Darbee | BenQ HT2150ST | Optoma HD243X | ViewSonic PX706HD |
| --- | --- | --- | --- | --- | --- |
| | | | | | |
| Resolution | 1920x1080 | 1920x1080 | 1920x1080 | 1920x1080 | 1920x1080 |
| Brightness (Lumens) | 3800 | 3000 | 2200 | 3300 | 3000 |
| Contrast Ratio | 50,000 : 1 | 28,000 : 1 | 15,000 : 1 | 24,000 : 1 | 22,000 : 1 |
| Input Lag | 8.4ms | 16ms | 16ms | 16ms | 16ms |
| Throw Distance | 1.3'-11.1' | 1.6' - 11.0' | 3.6' - 15.1 | 3.3' - 32.2' | 3.6' - 6.0' |
| Image Size | 36"- 306" | 45.16" - 302.90" | 59.72" - 300.31" | 28.05" - 301.59" | 59.72" - 120.12" |
| Built in Speakers | 10W | 2 x 10W | 2 x 10W | 10W | 5W |
| Price | Find Best Price | Find Best Price | Find Best Price | Find Best Price | Find Best Price |
The main reason the Optoma GT1080HDR is perfect for golf simulators is its remarkably low input lag. Its response time of only 8.4ms is as close to instant as you'll find in a projector. This means no delay between your swing and what you see, giving you the most accurate simulation of a real game.
We also love the high brightness of the Optoma GT1080HDR. You don't need to worry about controlling the light level before you play—a necessity for a golf simulator, letting you see where you're swinging both on the screen and in the room.
The visual quality of the Optoma GT1080HDR is equally impressive. It uses HDR10 technology for vibrant, deep colors that are true to life. A high contrast ratio also gives deep blacks and shadows. This on-screen detail is key for seeing your way around the virtual course. You can find the full review of the Optoma GT1080HDR projector here.
Low input lag for instant response
High brightness won't get washed out from ambient light
Excellent screen detail and color accuracy
Connects easily to game systems through dual HDMI
Includes vertical keystone correction for more set-up flexibility
Easy to set up and use
Short throw is easier to fit in smaller spaces
Low sound quality from built-in speakers
---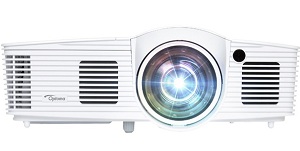 When it comes to short-throw gaming projectors (>>> Check projectors & TVs gaming experience comparison), the Optoma Darbee has pretty much become the industry standard because it checks off all the boxes of a great gaming projector. In terms of price, it's in a comfortable mid-range—you can find gaming projectors cheaper (and can certainly pay more if you want to), but the Darbee will give you a quality piece of equipment that is, in our mind, the top pick for golf simulators and other similar gaming applications.
The most impressive thing about this projector is the DarbeeVision processor that's inside. This gives you an incredible amount of detail without slowing down your game or causing any kind of lag. It even has a designated game mode, which can be great for something like a golf simulator, making it feel even more like you're playing in real life. Adding to this is the fact that the Darbee supports all currently standard formats of 3D, whether that's in a movie or in your game. When you're playing on this projector, you'll feel like you're really on the green.
DarbeeVision processor gives you better depth and texture
Gaming Mode gives you a super-fast response
Supports all 3D format including those from gaming consoles
28,000:1 contrast ratio means deep, rich dark tones
sRGB colors for a bright, vibrant image
Low-maintenance with a long-lasting bulb
Some users report graininess at larger sizes
The lamp that comes installed on this projector isn't just bright (up to 3,000 lumens), it's also efficient. The energy-saving settings on the Darbee can extend your lamp life to as much as 8,000 hours. This makes it a very cost-effective option in the long term, both in how much energy it uses and because you won't have to replace the bulb as often. Taking all these factors together is what makes the Darbee our top choice. Find the comparison of the newest Optoma GT-series projectors here.
---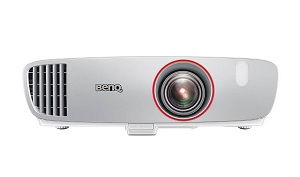 Here's a similar option from the brand BenQ, coming in at a comparable price point and offering similar features to the model above. Also like the model above, this one is designed specifically for gaming, though it can be used just as well for other home theater applications. The quality of the image is really where this one excels. Giving you one of the best contrast ratios on the market so you can use your projector in any light level.
When a projector says it's designed for gaming that usually means it has a relatively low lag time. That's at least the case with this BenQ projector, which has a specific gaming mode designed to provide an immersive, smooth play experience. The different modes on this projector also give you different color profiles so your display will be ideal for your purpose. The cinematic color option is perfect for movies, for example, and there's a different color profile for your games. Whichever mode you're in, the advanced color wheel system guarantees the accuracy of the hues.
InHome Golf Simulators - Are you ready?
Being able to see details clearly is another thing that's important when you're playing a game like a golf simulator, and this projector provides you with that benefit, as well. The lamp brightness of 2,200 lumens means you don't have to play in the dark. Even with ambient background light, you'll be able to track your shots on the screen, and the high resolution ensures it'll never be fuzzy.
High brightness and contrast ratio gives you a sharp image
Short throw projection of up to 100"
Gaming mode with reduced lag for a smooth playing experience
Different color modes tailor the screen for different uses
Sharp, crisp image with great details in all modes and screen sizes
Calibrating the correct screen size can be tricky for some users
Contrast ratio isn't as high as with the Optoma projectors
---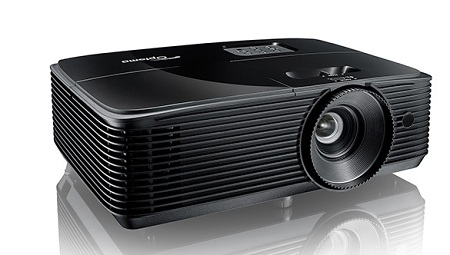 If you're looking for the top of the line in home theater projection, the Optoma HD243X is a very appealing option. It has the features you need for a golf simulator, too, including a low input lag and a high image quality.
You'll get an incredibly realistic image from this Optoma projector. It has a high color accuracy and a sharp, detailed picture—you'll be able to track your shots the whole way to the green. Deep black levels and a high contrast ratio add to the realism of the picture. The brightness of 3,300 lumens is nice, too, since you won't have to turn down the lights too much when you play.
You can get a pretty large screen using the Optoma HD243X—up to 301" diagonally, which is as big as you're likely to find among home theater projectors. Keystone adjustment allows you more set-up flexibility, too.
The only thing lacking from the Optoma HD243X is sound. There aren't any speakers, so if you want to hear the simulation you'll need external speakers. Considering most projector speakers aren't that great anyway, this isn't a huge loss in our opinion. Overall, we'd still call this projector one of your best options when you're setting up a golf simulator. (Find more detailed review of this projector here).
Highly detailed, sharp picture
Bright enough to compete with ambient light
Low input lag for instant response
Easy to set up and operate
Long lamp life, especially in Eco mode
---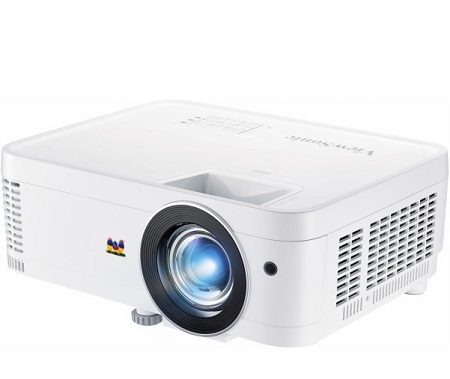 If you want to set up a golf simulator in your office—or a similarly small space—a short-throw projector will get you the biggest screen with the least distance. The ViewSonic PX706HD can give you an image of 100" at just a few feet from the screen and can go as big as 300" if you do have a bit more space.
The ViewSonic PX706HD doesn't disappoint when it comes to image quality, either. It has a high brightness and contrast ratio, with realistic, cinema-quality colors. The image is smooth, too, and there's absolutely no delay between your movements and the response on the screen. You'll be able to immerse yourself fully in your simulator with this projector controlling the image.
The on-board speakers also help the ViewSonic PX706HD give you an immersive gaming experience. (Find our top choices of 4K gaming projectors) The sound quality is much higher than we usually expect from a projector. You'll probably still want external speakers for watching movies, but for a golf simulator, they're plenty loud as-is.
If you're looking for convenience in your golf simulator projector, this ViewSonic is the one for you. It has a portable, compact design and can work in pretty much any space. Thanks to the speakers, you also won't need any external sound. It's not the cheapest projector out there, but the features make it worth the investment.
Short throw ratio makes it ideal for offices and small spaces
Low 16ms input lag
Bright, sharp images in most lighting conditions
High-quality built-in speakers
Automatic vertical keystone for more set-up options
Compact and portable
Replacement bulbs are on the pricey side
Fan is noisier than other models
---
How to choose the projector for golf simulator
A quick response is honestly the most important quality to look for in a projector for a golf simulator, in our opinion. Even though it's not a fast-paced multi-player game, it can still be very frustrating if what you see on the screen doesn't coincide with what you're doing.
Beyond that, it all comes down to the quality of the image that you see. Remember that this isn't only a factor of the projector itself. It's also about how the projector works within your space. Even standard indoor lighting can make it hard to see some dimmer projected images, so if you want to be able to play with your lights on, make sure you get a projector whose lumens are on the high side.
While the Optoma GT1080HDR is the strongest choice across all categories, any one of the projectors above is the right one for a certain kind of user. Best of luck choosing your perfect projector!
REFERENCES AND FURTHER READING