If you're looking for a projector that equally impressive for movie watching and gaming, the Optoma UHD35 is a model you should consider. With true 4K resolution and an ultra-low 4.2ms input lag, it's a great way to get a big, beautiful picture with a smooth on-screen response to please even the most serious gamer. Of course, no projector is perfect, and you want to make sure it will fit in your viewing space before you buy it. We've broken down its key features in this Optoma UHD35 review so you can decide if it's the right choice for your home. (>>> Check the current price on Amazon)
Optoma UHD35 Review Review of Main Specs:
| | Optoma UHD35 |
| --- | --- |
| | |
| Resolution | 3840x2160 |
| Brightness (Lumens) | 3,600 ANSI |
| Contrast Ratio | 1,000,000:1 |
| Input lag | 4.2ms |
| Throw Distance | 4.0' - 32.7' |
| Screen size | 33" - 300" |
| Speakers | 10.0 Watts Mono |
| Price | BHPhotoVideo.com |
Installation
The four-corner keystone correction on the Optoma UHD35 makes it easy to correct the screen geometry even if you can't install the projector head-on to the screen. It's a standard throw projector, so you will still need a larger space to use it, but this gives it more flexibility than other projectors.
Wall color adjustment is another unique and helpful feature on the UHD35. It has 6 options that let you adjust the color gamut to non-white walls, allowing screen-free viewing even if your walls are blue or gray.
The Optoma UHD35 has all the inputs most people will need, including 2 HDMI ports and a VGA input. Its only noticeable lack here is that it doesn't have built-in wireless or Bluetooth connectivity. You'll also probably want to use external speakers with it. The 10-watt speakers that are built in are fine for casual TV viewing but they're not powerful enough to give you the immersive sound most people want in a home theater.
Picture Quality
The DLP display on the Optoma UHD35 produces a sharp true 4K image, with 8.3 million on-screen pixels so you'll see every detail of your content. It supports HDR and HLG technologies, giving the picture more texture, depth, and realism. Check comparison vs. UHD55
The color performance of the UHD35 matches its other picture stats. It covers the full Rec. 709 color gamut, the international TV standard for cinematic color. Those who like to tweak their color settings will love the Color Management System (CMS), which gives users a flexible array of fine-tuning options. The saturation level is superb, with a powerful lamp that keeps them vibrant during both day and night viewing, with dedicated viewing modes for each.
Pros
True 4K resolution
Excellent color with HLG and HDR support
Wall color adjustment lets you use it without a screen000
Bright lamp works even in well-lit rooms
Full 3D support
Super-low input lag
Easy four-corner correction
Cons
Needs a lot of space to work
No wireless connectivity
Gaming Performance
The Optoma UHD35 isn't just a gaming projector, it blows other gaming projectors out of the water. The 2.4ms input lag is the lowest you're likely to see on the home projector market and is functionally instantaneous when you're playing. Even competitive and professional gamers will be able to play on the big screen using the UHD35 and never worry their equipment will cause frustrating lag.
The on-screen action of the Optoma UHD35 is equally smooth, with a 240Hz refresh rate that ensures you'll see every movement that happens in the game. Its high contrast ratio helps you see more details in dark screen areas so you don't miss loot or enemies. The bright lamp is helpful here, too, since you won't need to play in the dark to see every detail. Click here for our top gaming projectors options.
3D Capability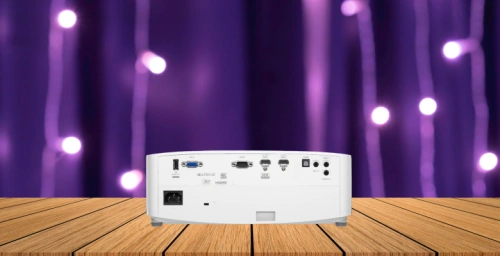 Many projectors that advertise themselves as 3D are just 3D-ready. For some, you need to buy an adapter or external system before you can watch 3D movies, and even then many will only play certain 3D formats. The Optoma UHD35 comes fully 3D compatible, so you can watch whatever content you want right out of the box. Click here for our 3D projectors buying guide.
The Bottom Line: Optoma UHD35 Review
The Optoma UHD35 is missing some of the convenience features you'll find on other projectors. The lack of wireless connectivity means no screen mirroring, voice control, or direct streaming. It also uses a standard throw ratio, so its max screen size may be limited in smaller spaces. Most users won't find these to be deal-breakers, though, especially if you already have gaming systems or other content sources you plan to use.
For most living rooms, home theaters, and other viewing spaces, the Optoma UHD35 is an ideal fit. It's super-responsive and flexible to install, with a bright lamp and dedicated day and night picture modes that keep the picture sharp and saturated in all light conditions. The full 3D support and 4K resolution make it the perfect way to recreate the movie theater in your living room. (>>> Check on Bhphotovideo)
REFERENCES AND FURTHER READING: