To truly replicate the movie theater experience at home, 3D capability is a must-have feature for your projector. Once an option only found on the most expensive high-end projectors, today you'll find 3D-ready models at every price point. Of course, all that variety can also make it hard to decide which one is the best 3D projector for you.
Based only on its 3D performance, our top pick is the BenQ TH685P (>>> Check the current price on Amazon). It supports the most 3D transmission formats, with a low lag and high frame refresh rate to keep the on-screen action smooth for all types of content.
That doesn't necessarily mean the TH685P is the best choice for everyone. The ultra-short throw ViewSonic X2000B-4K and Optoma P2 both combine a flexible installation with a sharp 4K resolution and have exceptional built-in sound to boot.
The truth is, every projector on this list has its strengths. Let's take a look at the top models with 3D support and compare their key features so you can decide which one is right for you.
Best 3D Projector 2023 – Top Picks:
| | Optoma CinemaX P2 | Optoma UHD50X | Epson 2250 | BenQ TH685P | ViewSonic X2000B-4K | ViewSonic X2 |
| --- | --- | --- | --- | --- | --- | --- |
| | | | | | | |
| Resolution | 3840x2160 | 3840x2160 | 1920x1080 | 1920x1080 | 3840x2160 | 1920x1080 |
| Brightness (Lumens) | 3,000 ANSI | 3,400 ANSI | 2,700 ANSI | 3,500 ANSI | 2,000 ANSI | 1,300 ANSI |
| Contrast Ratio | 2,000,000:1 | 500,000:1 | 70,000:1 | 10,000:1 | 3,000,000:1 | 3,000,000:1 |
| Throw Distance | 1.5' - 2.2' | 4.0' - 26.6' | 4.7' - 29.0' | 3.2' - 24.6' | 1.0' - 2.4' | 1.8' - 15.0' |
| Screen size | 85" - 120" | 34" - 303" | 30" - 300" | 30" - 300" | 65" - 150" | 30" - 300" |
| Input Lag | 67ms | 16ms | No data | 8.3-16ms | 40ms | 8.3ms |
| Speakers: | 20.0 Watts × 2 | 5.0 Watts Mono | 10.0 Watts Mono | 5.0 Watts Mono | 50W Watts | 6.0 Watts × 2 |
| Price | ProjectorScreen.com | BHPhotoVideo.com | Check on Amazon | Check on Amazon | ProjectorScreen.com | BHPhotoVideo.com |
3D Compatibility
There are 4 common transmission formats for 3D content: Frame Sequential, Frame Packing, Checkerboard, and Side-by-Side. The main difference between them is how the frames are positioned on the screen, which dictates the kind of glasses you'll need to use to see the 3D effect.
Most 3D home theater projectors are 3D Ready. These use a Frame Sequential transmission, allowing them to project content from 3D systems like Nvidia 3D Vision. Unfortunately, they can't play 3D content directly from many Blu-ray players, cable boxes, and other content sources.
Full 3D projectors, on the other hand, support multiple 3D transmission formats. This gives them more versatility for accessing 3D TV shows and movies without buying any extra accessories. They'll also work with a wider variety of 3D glasses, including the ones you get free at the movie theater.
The Optoma UHD55 can play most 3D content, including frame packing formats, giving it an edge over many 3D-ready projectors. For the widest 3D support, though, the BenQ TH685P is the winner, supporting all 4 common 3D formats.
For the widest 3D support, the BenQ TH685P is the winner, supporting all 4 common 3D formats.
Widest 3D Format Compatibility: BenQ TH685P
Responsiveness
If you plan to use the projector for gaming, a low input lag is a crucial stat. Anything under about 30ms is considered fast enough for gaming, with no noticeable delay between your input and the on-screen response.
A high frame rate is also important, preventing motion blur and keeping the action smooth. This is a good thing for 3D content, too, producing a sharper and clearer picture. Ideally, you want a frame rate of 240Hz at Full HD, though anything above 60Hz will be fast enough for most.
The Optoma UHD50X, ViewSonic X2, and BenQ TH685P all meet these criteria and are suitable gaming projectors. Of the three, the ViewSonic has the lowest measured input lag thanks to its 3X Fast Input option, which can be used with any picture settings.
Most responsive projector:  ViewSonic X2
Installation Flexibility
Most people don't have a dedicated home theater space and need a projector that can work with their home environment. If your space has a lot of ambient light, you'll need a brighter lamp. Anything over 3,000 lumens should do fine in most indoor environments.
The throw distance of the projector is a factor here, as well. This specification tells you the relationship between the screen size and the distance between the screen and lamp. Most standard throw projectors will need around 8-10 feet of distance to produce a 100" image, limiting their use in smaller spaces.
Both the Optoma CinemaX P2 and ViewSonic X2000B-4K have an ultra-short throw distance, able to produce a massive image with around 2 feet of distance. Where the ViewSonic takes the edge is its advanced 4-corner adjustment system, which can be used to get a square, distortion-free image on any surface, even walls that are angled or curved.
Most flexible projector: ViewSonic X2000B-4K
---
Optoma CinemaX P2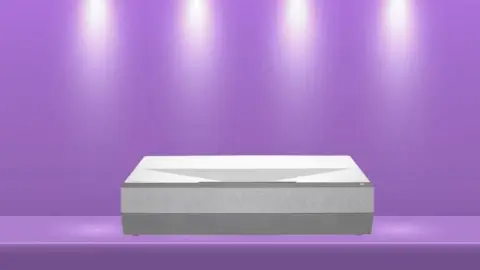 The Optoma CinemaX P2 is the best 3D projector for a smart home entertainment system. Its built-in Android interface lets you download streaming apps right on the projector, no need for a streaming stick.
Along with that, it's compatible with multiple voice control systems and can be used with IFTTT. That allows you to link the projector to other devices like smart lights and doorbells, as well as create customized routines and commands.
Installing the Optoma P2 is easy, too. It has an ultra-short throw distance, producing a 120" image with just over 2 feet between the lens and screen. For most users, that means no need for a ceiling mount or other hardware.
Along with that, the Optoma SmartFIT app automatically corrects the image geometry, eliminating warp and squaring the picture to the screen. It even has a built-in 40-watt soundbar with Dolby Digital support, with high enough quality and output you don't necessarily need to use external speakers.
Along with all these convenient features, the Optoma CinemaX P2 is an excellent choice if you want the best picture quality. Its laser light source is backed by HDR10 and PureMotion technology, with a 6-segment color wheel whose color gamut exceeds the Rec. 709 spectrum. With true 4K resolution and a high contrast ratio, you'll get a sharp, detailed, and realistic picture from the CinemaX P2. Read our full review of the Optoma P2.
Pros
True 4K resolution with high dynamic contrast
High frame rate with PureMotion technology
SmartFIT app and automatic focus for easy installation
Ultra-short throw distance
Compatible with Google and Amazon voice control
Supports IFTTT for smart home integration
Built-in soundbar with good volume and audio quality
Cons
Higher cost than other options
Limited app support through Android interface
---
Optoma UHD50X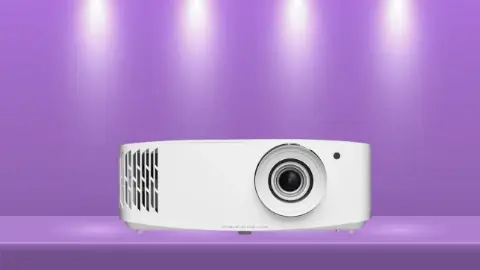 Those looking for a projector that can both play 3D movies and be used for gaming, the Optoma UHD50X is an excellent choice. It's one of the most responsive mid-range projectors on the market, with a fast 240Hz frame rate and an input lag as low as 16ms in Enhanced Gaming Mode. The input lag is slightly higher in 4K but it's still under 30ms, making it suitable even for serious gamers.
With its cinema-quality picture, the Optoma UHD50X offers the same exceptional performance to home theater users as it does to gamers. The DLP display uses an 8-segment color wheel with 10-bit color processing.
Along with rich colors, the high dynamic contrast ratio produces deep blacks and keeps the image sharp, supporting the clarity and realism of the 4K resolution.
The Optoma UHD50X is relatively versatile. Since it has a bright lamp, you won't need to worry too much about light control in your viewing area. It does have a longer throw ratio which could limit its use in smaller rooms.
That said, it has a wide vertical keystone correction and vertical lens shift along with a 1.3x zoom, so as long as you have the space it gives you good installation flexibility.
Pros
True 4K resolution
Low input lag is ideal for gamers
Wide color gamut with HDR10 and HLG support
Bright lamp suitable for lights-on viewing
Flexible installation
Full HD resolution for 3D content
Cons
Longer throw distance
Relatively short lamp life (4,000 hours in high-performance modes)
---
Epson Home Cinema 2250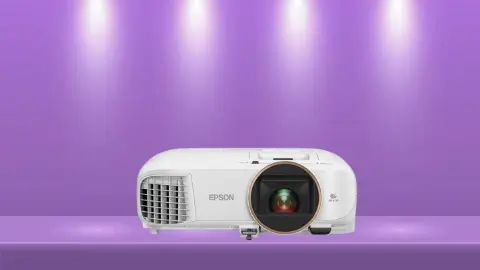 Here's a streaming projector for buyers on a budget. The Epson Home Cinema 2250 is one of the best 3D projectors in the under-$1,000 price range, especially for those who want to stream content right on their projector.
It uses an Android TV system with Google Assistant voice control. You can watch shows and movies through Hulu, HBO, and more, and search for content on all of them with your voice through the included remote.
From a picture quality standpoint, the Epson 2250 is impressive for the price, if not as stellar as the projectors above. One advantage it has is the use of a 3LCD chip system for the color production.
That's especially good news for those sensitive to the rainbow effect, and gives viewers more consistent overall color saturation and brightness. On the other hand, the lamp brightness, resolution, and contrast are lower. You'll still get full HD resolution, and the dynamic iris makes the most of the 2,700 lumens put out by the lamp.
The Epson Home Cinema 2250 is an ideal choice for living rooms and home theater spaces. It uses a standard throw ratio and may need some light control, especially if your space has a lot of windows, but the set-up is fairly easy with a good range of adjustment features.
We also appreciate the portability of the 2250, which weighs less than 10 pounds and has a compact, rugged design. That makes it a good choice for indoor/outdoor use around the house, especially since it can produce images up to 300". A more detailed Epson 2250 review.
Pros
Vibrant colors with no rainbow effect
Stream content through Android TV interface
Built-in voice search with Google Assistant
Compact, portable design
Full HD 3D support
Great value
Cons
Needs a lot of space
Maximum resolution of Full HD (no 4K)
---
BenQ TH685P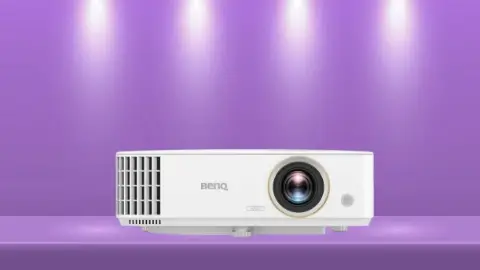 The BenQ TH685P is another great option for gamers as well as 3D movie buffs. Activating Game Mode drops the input lag to single digits with a 120Hz frame refresh rate. It also adjusts the image to add more detail to dark screen areas, helpful for spotting enemies in FPSs or loot in RPGs.
Another advantage of the BenQ TH685P is its price. Not only is it the best 3D projector under $1,000, but it also outperforms more expensive projectors in its 3D format compatibility. It supports all four major 3D formats from any content source, including gaming consoles or Blu-ray players.
The main sacrifice you'll make for this value is the resolution, which maxes out at Full HD (1080p). On the plus side, it still has the robust image technology you'd expect from a BenQ projector, with a color gamut covering 95% of the Rec.709 spectrum.
It's also relatively flexible to install, with a shorter throw distance than most lamp-based projectors and a bright lamp so you can use it with the lights on. Our more in-depth BenQ TH685P review.
Pros
Compatible with multiple 3D formats
High-contrast, colorful full HD image
Great choice for gamers
Reasonable throw distance and easy installation
Excellent value
Cons
No 4K resolution
No built-in wireless connectivity
---
ViewSonic X2000B-4K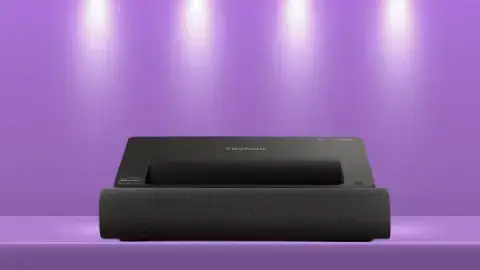 The ultra-short throw of the ViewSonic X2000B-4K makes it easy to use in any room, and maximizes the visible brightness of the lamp. In a standard-throw projector 2,000 lumens would be on the lower side, but since the light doesn't have as far to travel it's less prone to wash-out.
You can also project on any surface, with a 60-point anti-warp adjustment that maintains the image quality even on curved or angled walls.
The ViewSonic X2000B-4K's powerful speakers help give it a fast set-up, too, since you can use it without an external sound systerm. The integrated 50-watt Harman Kardon stereo speakers use dedicated tweeters and woofers, producing a clear sound that's well-balanced across the frequency range.
The DLP display of the ViewSonic X2000B-4K produces a true 4K image with frame interpolation to reduce motion blur. It also uses ViewSonic's Cinema SuperColor+ technology, exceeding the Rec.709 color gamut for more nuanced, life-like hues. Add in support for visual technology like HLG and HDR, and it's a great way to enjoy immersive content, both in 3D and standard formats.
Pros
True 4K resolution
Excellent color and contrast
Ultra-short throw distance
Flexible installation, even on curved surfaces
Excellent sound from built-in speakers
Embedded Wi-Fi for screen mirroring
Cons
No voice control capability
Input lag on the high side for gaming
Full review: ViewSonic X2000B
---
ViewSonic X2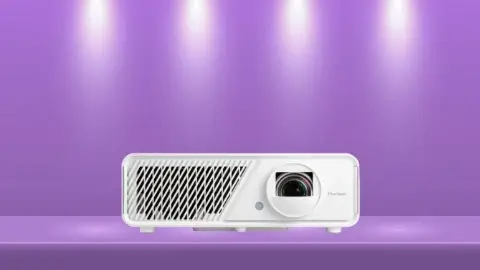 The ViewSonic X2 is another flexible option for watching 3D content. Its short throw distance is paired with 4-corner correction, zoom, and lens shift, letting users easily align the image to their screen. Its connectivity is just as flexible, with embedded W-Fi for mirroring and streaming as well as dual HDMI ports.
Now, you will want to use the ViewSonic X2 in a dim to dark space. It uses an LED light source and only produces around 1,300 ANSI lumens, not enough to compete with bright ambient light. The advantage of this light source is its color performance, with a color gamut wider than the Rec.709 spectrum and HDR10 support to ensure the accuracy of those hues.
The ViewSonic X2 is also a great choice for gamers who want 3D capability. It has a measured input lag as low as 8ms, providing seamless responsiveness for all game types and systems. Its high contrast helps here, too, ensuring you see every detail even in dark areas of the screen.
Pros
Colorful, high-contrast full HD image
Great choice for gaming
Short throw with 4-corner correction
Embedded Wi-Fi and Bluetooth connectivity
Accepts 4K content
Cons
No built-in streaming interface
Relatively low lamp brightness
Full review: ViewSonic X2
---
The Bottom Line
As you can see, each of these projectors has its advantages. While the BenQ TH685P has the widest 3D compatibility, all of them will play 3D content in full HD (>>> Find the price on Amazon).
Consider your viewing area and how you'll use the projector before making your decision. Whether you're a gamer, a smart homeowner, or a movie buff (or a mix of all three), one of the options above is sure to meet your needs.
FAQs:
Are 3D projectors worth it?
If you want to watch 3D movies at home then yes, they're worth it. These days, 3D capability doesn't cost a ton to add, so you don't necessarily need to pay any extra to get this feature than you would for a similar projector without 3D capability.
Do 3D projectors need a special screen?
No, a 3D projector will work with any kind of screen, or even setups that project straight onto a wall or another object like a sheet. Now, there are some screens that have features that enhance the image to make it more immersive and realistic, but these aren't necessary to achieve a 3D image.
 
The exception to this is if you're using a dual-projection 3D setup. This is a more advanced system that utilizes two projectors, each targeting a specific eye, whose projected images are overlaid to present a single image with a 3D effect. These setups are a bit more complicated, and often do require the use of a special screen. None of the projectors on the list are in that category, however, so you don't need a special screen for them.
Do you need glasses for 3D projectors?
Yes, you'll need 3D glasses for a projector, the same as you would in a movie theater. These glasses basically function to direct the alternating images on the screen to the correct eye, creating the 3D effect that you see.
 
REFERENCES AND FURTHER READING: