To truly replicate the movie theater experience at home, 3D capability is a must-have feature for your projector. Once an option only found on the most expensive high-end projectors, today you'll find 3D-ready models at every price point. Of course, all that variety can also make it hard to decide which one is the best 3D projector for you.
Based only on its 3D performance, our top pick is the BenQ TH685P (>>> Check the current price on Amazon). It supports the most 3D transmission formats, with a low lag and high frame refresh rate to keep the on-screen action smooth for all types of content.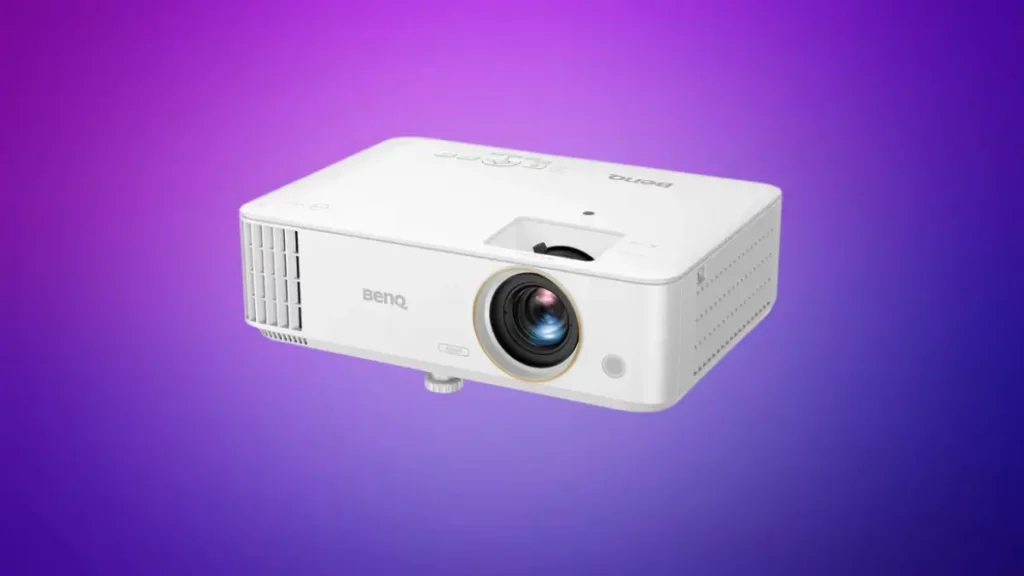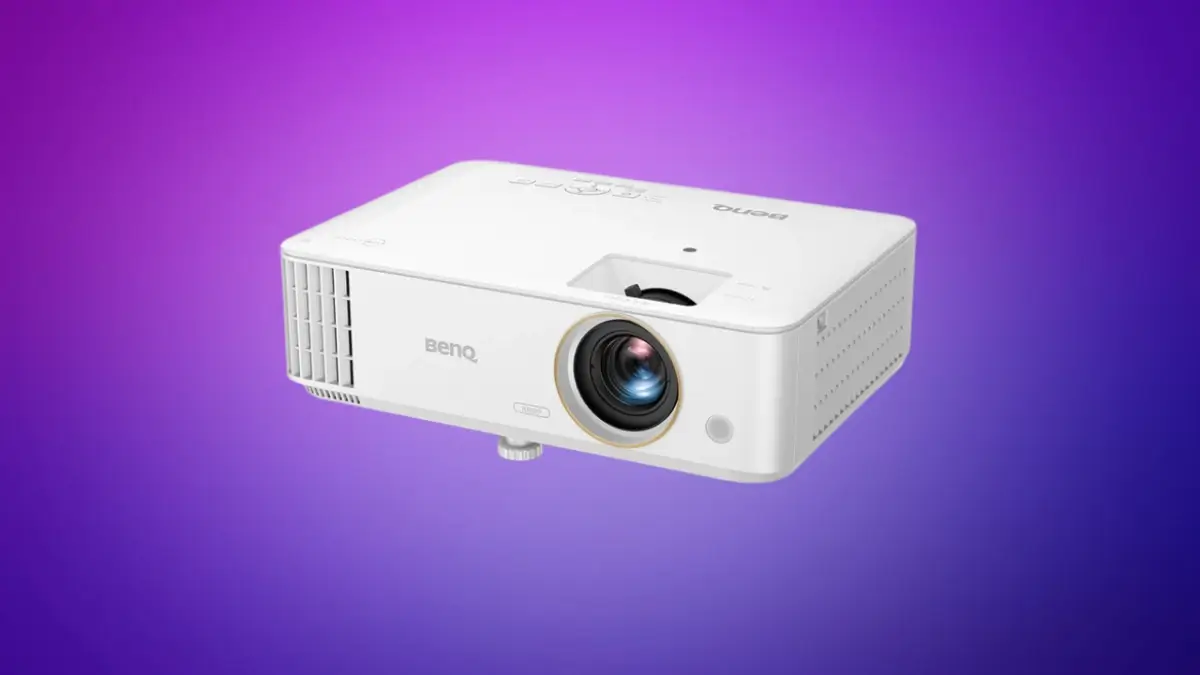 That doesn't necessarily mean the TH685P is the best choice for everyone. The ultra-short throw ViewSonic X2000B-4K and Optoma D2 both combine a flexible installation with a sharp 4K resolution and have exceptional built-in sound to boot.
The truth is, every projector on this list has its strengths. Let's take a look at the top models with 3D support and compare their key features so you can decide which one is right for you.
Best 3D Projectors 2023 – Top Picks:
| | Optoma CinemaX D2 | BenQ HT2060 | Optoma UHD35x | BenQ TH685P | ViewSonic X2000B-4K | ViewSonic X2 |
| --- | --- | --- | --- | --- | --- | --- |
| | | | | | | |
| Resolution | 3840x2160 | 1920x1080 | 3840x2160 | 1920x1080 | 3840x2160 | 1920x1080 |
| Brightness (Lumens) | 3,000 ANSI | 2,300 ANSI | 3,600 ANSI | 3,500 ANSI | 2,000 ANSI | 1,300 ANSI |
| Contrast Ratio | 1,800,000:1 | 500,000:1 | 1,000,000:1 | 10,000:1 | 3,000,000:1 | 3,000,000:1 |
| Throw Distance | 1.5' - 2.2' | 3.3' - 25.1' | 4.0' - 32.7' | 3.2' - 24.6' | 1.0' - 2.4' | 1.8' - 15.0' |
| Screen size | 85" - 120" | 30" - 300" | 30" - 300" | 30" - 300" | 65" - 150" | 30" - 300" |
| Input Lag | 4 - 16ms | 16.7 - 33.4ms | 4.2ms | 8.3-16ms | 40ms | 8.3ms |
| Speakers: | 10.0 Watts × 2 | 5.0 Watts x 2 | 10.0 Watts Mono | 5.0 Watts Mono | 50W Watts | 6.0 Watts × 2 |
| Price | ProjectorScreen.com | BHPhotoVideo.com | BHPhotoVideo.com | Check on Amazon | ProjectorScreen.com | BHPhotoVideo.com |
Optoma CinemaX D2 3D Home Theater Projector
Unboxing and First Impressions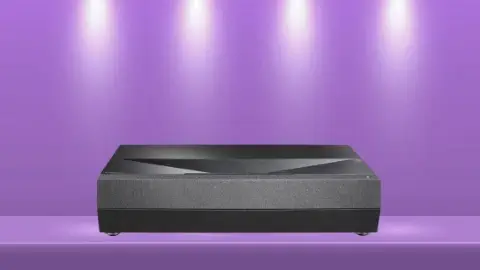 Upon unboxing the Optoma CinemaX D2, we were immediately struck by its sleek, modern design. Despite its substantial weight of 18.5 lbs, the projector exhibits a compact and practical form that effortlessly complements any home theater setup. Its fixed legs gave it a sturdy feel, and the array of connection ports promised versatility. Included in the box were the power cord, remote control, and a detailed user manual. Initial impressions underscored its promise as a high-end, feature-rich projector designed to deliver an unparalleled viewing experience.
Pros
Exceptional 4K UHD resolution for immersive viewing.
Superior gaming mode with ultra-low input lag.
Straightforward and quick setup process.
Offers stunning and realistic Full HD 3D experience.
Impressive in-built speaker sound quality.
Cons
Performance could improve in brightly lit rooms.
Front legs are fixed, limiting placement options.
3D Experience
The Optoma CinemaX D2 has a Full HD 3D support. We decided to put this to the test and were utterly mesmerized by the depth and realism of the images. The 3D mode not only added an extra layer of immersion to our favorite movies but also significantly improved our gaming experiences. With 8.3 million onscreen pixels and the laser technology in place, we observed that every detail stood out, and each scene came alive as if we were part of the action. The result was a 3D experience that rivalled those offered by many high-end commercial theaters, proving to be an unforgettable viewing experience right in the comfort of our own home.
Stunning Visuals and Performance
As proud testers of the Optoma CinemaX D2, we find that the projector has truly enhanced our home theater experience. Its impressive 4K UHD resolution, coupled with its high brightness and premium DuraCore laser technology, delivers a truly immersive cinematic experience. With a brightness of 3,000 ANSI Lumens and a dynamic contrast ratio of 1,800,000:1, every image projected is vibrantly detailed.
Gamers' Paradise
As avid gamers, we were thrilled by the projector's 'enhanced gaming mode'. With a 16ms response time at 4K/60Hz and an ultra-fast 4ms at 1080p/240Hz, we found our gaming sessions blur-free and phenomenally responsive, offering a significant competitive edge. Our Call of Duty marathon on a 120-inch screen was nothing short of breath-taking.
Ease of Use and Setup
The setup of the CinemaX D2 was straightforward. Placing it just 15 inches away from the wall effortlessly transformed it into a 120-inch screen. However, one minor drawback is that the front legs of the projector are non-removable, which some users may find inconvenient.
Light Conditions and Sound Quality
Although a physical TV might outshine the CinemaX D2 in brightly lit rooms, in the right light conditions, this projector delivers a brilliant performance. Furthermore, its built-in speakers deliver 10 Watts of power each, producing a rich audio output, elevating our movie and gaming experiences.
Final Thoughts
In summary, the Optoma CinemaX D2 Ultra Short Throw Projector truly exceeded our expectations. Its impeccable 4K UHD picture quality, outstanding 3D capabilities, stellar performance in gaming mode, and straightforward setup make it an ideal choice for anyone looking to significantly upgrade their home theater system.
---
BenQ HT2060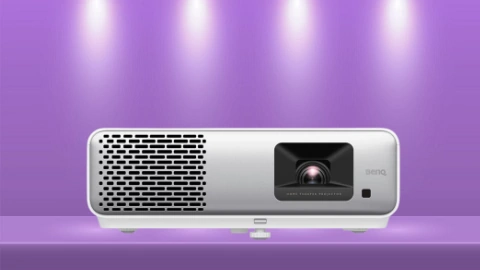 Unboxing and First Impressions
Upon opening the box of the BenQ HT2060 projector, we were greeted with a sleek and compact device that spoke of quality. The design was elegant and its weight of 7.9 lbs suggested a substantial, well-built product.
Pros & Cons:
Pros
Brilliant display with 2,300 ANSI Lumens brightness.
Impressive Full HD 3D viewing capabilities.
Effective Filmmaker Mode enhances movie viewing.
Long-lasting LED lamp with energy-saving modes.
Deep contrast and rich color performance.
Cons
Noticeable color shifts in Smart Eco mode.
Audio experience could be improved.
3D Viewing
It was easy to set up and offered a convincing depth of field, bringing movies and games to life. The 3D effect was smooth and, despite the glasses, remarkably comfortable, with virtually no ghosting or flickering.
Even with fast-paced action sequences, we found the input lag to be more than acceptable at 4K/60: 33.4ms and 1080p/60: 16.7ms. This kept our gaming and 3D movie watching experiences smooth and enjoyable.
The BenQ HT2060, with its compelling 3D functionality, truly shines in providing a genuinely immersive viewing experience. It's an ideal choice for anyone looking to elevate their home theater or gaming setup to include high-quality 3D projection.
Performance
During our testing period, we found ourselves continually impressed with the HT2060's performance. With a brightness of 2,300 ANSI Lumens and a 1080p resolution, it offered a vibrant and crisp display. In practical use, the projector's picture quality was simply outstanding when we played a variety of content ranging from high-definition movies to streaming content.
One customer review particularly echoed our experience. They mentioned that they had been using the Filmmaker Mode with Blu-ray DVDs, and the results were spectacular. We couldn't agree more. The Filmmaker Mode, which disables all image enhancements and preserves the original aspect ratios, colors, and frame rates, truly brought a cinematic feel to our home theater experience. It felt like a sneak peek into the filmmaker's vision, and we were enthralled.
Enhanced Visuals and Sound
The HT2060's LED lamp provided rich DCI-P3 and 98% Rec.709 color coverage performance. Paired with its 500,000:1 dynamic contrast ratio, the colors on the display were rich and vibrant, while the blacks were deep, adding a profound sense of depth to the visuals. It was this aspect that a satisfied user remarked on, highlighting the beautiful contrast.
But it wasn't just the visuals that impressed us. The projector's internal speakers, offering 5.0 Watts x 2, provided a decent audio experience as well. However, we recommend connecting to an external speaker system for a more immersive sound experience.
Conclusion
The BenQ HT2060 projector serves as an epitome of quality, showcasing a blend of robust specifications and practical features that ensures an immersive viewing experience. The brilliant display, the effective Filmmaker Mode, and the Full HD 3D capability all come together to create a spectacular home theater setup.
The 3D functionality is a standout, enhancing both gaming and movie viewing experiences with its compelling depth of field and minimal input lag. These attributes coupled with the customer reviews underscore the projector's ability to exceed expectations consistently.
Check our more in-depth review of the HT2060, here.
---
Optoma UHD35x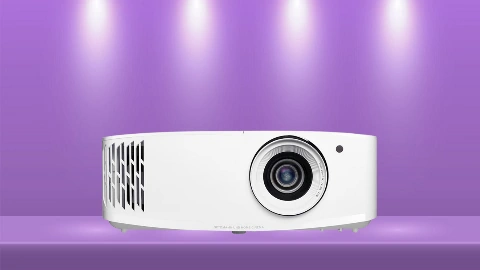 Initial Impression and Setup
From the moment we unpacked the Optoma UHD35x, we could appreciate its sturdy, professional design. Despite its weight of 8.8 lbs, the setup was relatively straightforward, and the array of connectivity options, including dual HDMI 2.0 ports, mini jack audio out, and USB, made for an easy integration into our home theater system.
Pros & Cons:
Pros
Exceptional input lag and refresh rate for competitive gaming.
Supports Full 3D for immersive viewing experiences.
Multiple connectivity options, including dual HDMI ports.
Cons
Subpar brightness in well-lit environments affects visibility.
Resolution not as sharp as some higher-end 4K projectors.
3D Capabilities
One of the standout features of the Optoma UHD35x is its Full 3D compatibility. It flawlessly projected 3D content from various sources during our testing, and the depth of the images was genuinely impressive. Paired with the right 3D glasses, this projector has the ability to turn your living room into a mini 3D cinema. However, remember that to fully enjoy the 3D experience, you'll need a sufficiently dark room. In well-lit settings, the image quality does tend to suffer, as we mentioned earlier. But overall, for those who still love 3D movies and games, the UHD35x holds an appealing advantage in this niche market.
Performance and Resolution
The Optoma UHD35x boasts a 4K UHD resolution, which, theoretically, should have produced detailed, crystal-clear images. During our testing, we found the picture quality to be satisfactory in a darkened room, with the HDR and HLG compatibility contributing to vibrant colors and a notable dynamic contrast ratio of 1,000,000:1.
However, some users, like one customer we came across, found the projector's resolution questionable when compared to other 4K projectors. In our experience, the resolution was noticeably above 1080p, although not quite as sharp as some of the higher-end 4K projectors we've tested.
Brightness and Visibility
With a specification of 3,600 ANSI Lumens, we expected a high level of brightness from the UHD35x. But like the customer who found the brightness un-viewable in daylight, we too found that the projector struggled to maintain clear images in well-lit environments.
Gaming and Input Lag
A major strength of the UHD35x is its ultra-low input lag of 4.2ms and a high refresh rate of 240Hz, promising a competitive gaming advantage. We can confirm that in real-world testing, these figures translate into a smooth, responsive gaming experience, which hardcore gamers will appreciate.
Conclusion
The Optoma UHD35x presents a mixed bag. It offers superb features like a low input lag and good resolution, making it great for gaming and movie nights in a dark room. However, it falls short on its brightness capabilities, especially in well-lit environments. If you're a gamer or primarily watch in a dark room, this could be a great option. But, if your viewing environment tends to be well-lit, you might want to consider other alternatives.
Check our more in-depth review of the Optoma UHD35x.
---
BenQ TH685P 3D Projector – Best Overall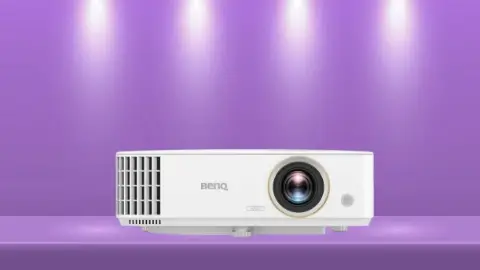 The BenQ TH685P is another great option for gamers as well as 3D movie buffs. Activating Game Mode drops the input lag to single digits with a 120Hz frame refresh rate. It also adjusts the image to add more detail to dark screen areas, helpful for spotting enemies in FPSs or loot in RPGs.
Another advantage of the BenQ TH685P is its price. Not only is it the best 3D projector under $1,000, but it also outperforms more expensive projectors in its 3D format compatibility. It supports all four major 3D formats from any content source, including gaming consoles or Blu-ray players.
The main sacrifice you'll make for this value is the resolution, which maxes out at Full HD (1080p). On the plus side, it still has the robust image technology you'd expect from a BenQ projector, with a color gamut covering 95% of the Rec.709 spectrum.
It's also relatively flexible to install, with a shorter throw distance than most lamp-based projectors and a bright lamp so you can use it with the lights on. Our more in-depth BenQ TH685P review.
Pros & Cons:
Pros
Compatible with multiple 3D formats
High-contrast, colorful full HD image
Great choice for gamers
Reasonable throw distance and easy installation
Excellent value
Cons
No 4K resolution
No built-in wireless connectivity
---
ViewSonic X2000B-4K – Short Throw 3D Projector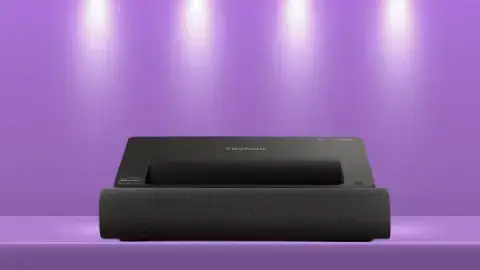 The ultra-short throw of the ViewSonic X2000B-4K home theater projector makes it easy to use in any room, and maximizes the visible brightness of the lamp. In a standard-throw projector 2,000 lumens would be on the lower side, but since the light doesn't have as far to travel it's less prone to wash-out.
You can also project on any surface, with a 60-point anti-warp adjustment that maintains the image quality even on curved or angled walls.
The ViewSonic X2000B-4K's powerful speakers help give it a fast set-up, too, since you can use it without an external sound system. The integrated 50-watt Harman Kardon stereo speakers use dedicated tweeters and woofers, producing a clear sound that's well-balanced across the frequency range.
The DLP display of the ViewSonic X2000B-4K produces a true 4K image with frame interpolation to reduce motion blur. It also uses ViewSonic's Cinema SuperColor+ technology, exceeding the Rec.709 color gamut for more nuanced, life-like hues. Add in support for visual technology like HLG and HDR, and it's a great way to enjoy immersive content, both in 3D and standard formats.
Pros & Cons:
Pros
True 4K resolution
Excellent color and contrast
Ultra-short throw distance
Flexible installation, even on curved surfaces
Excellent sound from built-in speakers
Embedded Wi-Fi for screen mirroring
Cons
No voice control capability
Input lag on the high side for gaming
Full review: ViewSonic X2000B
---
ViewSonic X2 – Affordable 3D Projector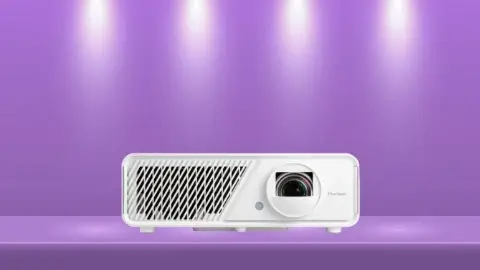 The ViewSonic X2 is another flexible option for watching 3D content. This short-throw projector is paired with 4-corner correction, zoom, and lens shift, letting users easily align the image to their screen. Its connectivity is just as flexible, with embedded W-Fi for mirroring and streaming as well as dual HDMI ports.
Now, you will want to use the ViewSonic X2 in a dim to dark space. It uses an LED light source and only produces around 1,300 ANSI lumens, not enough to compete with bright ambient light. The advantage of this light source is its color performance, with a color gamut wider than the Rec.709 spectrum and HDR10 support to ensure the accuracy of those hues.
The ViewSonic X2 is also a great choice for gamers who want 3D capability. It has a measured input lag as low as 8ms, providing seamless responsiveness for all game types and systems. Its high contrast helps here, too, ensuring you see every detail even in dark areas of the screen.
Pros & Cons:
Pros
Colorful, high-contrast full HD image
Great choice for gaming
Short throw with 4-corner correction
Embedded Wi-Fi and Bluetooth connectivity
Accepts 4K content
Cons
No built-in streaming interface
Relatively low lamp brightness
Full review: ViewSonic X2
---
3D Projector Buying Guide
The Most Important Features to Consider When Buying a 3D Projector
3D Compatibility
There are 4 common transmission formats for 3D content: Frame Sequential, Frame Packing, Checkerboard, and Side-by-Side. The main difference between them is how the frames are positioned on the screen, which dictates the kind of glasses you'll need to use to see the 3D effect.
Most 3D home theater projectors are 3D Ready. These use a Frame Sequential transmission, allowing them to project content from 3D systems like Nvidia 3D Vision. Unfortunately, they can't play 3D content directly from many Blu-ray players, cable boxes, and other content sources.
Full 3D projectors, on the other hand, support multiple 3D transmission formats. This gives them more versatility for accessing 3D TV shows and movies without buying any extra accessories. They'll also work with a wider variety of 3D glasses, including the ones you get free at the movie theater.
The Optoma UHD55 can play most 3D content, including frame packing formats, giving it an edge over many 3D-ready projectors. For the widest 3D support, though, the BenQ TH685P is the winner, supporting all 4 common 3D formats.
For the widest 3D support, the BenQ TH685P is the winner, supporting all 4 common 3D formats.
Widest 3D Format Compatibility: BenQ TH685P
Responsiveness
If you plan to use the projector for gaming, a low input lag is a crucial stat. Anything under about 30ms is considered fast enough for gaming, with no noticeable delay between your input and the on-screen response.
A high frame rate is also important, preventing motion blur and keeping the action smooth. This is a good thing for 3D content, too, producing a sharper and clearer picture. Ideally, you want a frame rate of 240Hz at Full HD, though anything above 60Hz will be fast enough for most.
The Optoma UHD50X, ViewSonic X2, and BenQ TH685P all meet these criteria and are suitable gaming projectors. Of the three, the ViewSonic has the lowest measured input lag thanks to its 3X Fast Input option, which can be used with any picture settings.
Most responsive projector:  ViewSonic X2
Installation Flexibility
Most people don't have a dedicated home theater space and need a projector that can work with their home environment. If your space has a lot of ambient light, you'll need a brighter lamp. Anything over 3,000 lumens should do fine in most indoor environments.
The throw distance of the projector is a factor here, as well. This specification tells you the relationship between the screen size and the distance between the screen and lamp. Most standard throw projectors will need around 8-10 feet of distance to produce a 100" image, limiting their use in smaller spaces.
Both the Optoma CinemaX P2 and ViewSonic X2000B-4K have an ultra-short throw distance, able to produce a massive image with around 2 feet of distance. Where the ViewSonic takes the edge is its advanced 4-corner adjustment system, which can be used to get a square, distortion-free image on any surface, even walls that are angled or curved.
Most flexible projector: ViewSonic X2000B-4K
---
The Bottom Line
As you can see, each of these projectors has its advantages. While the BenQ TH685P has the widest 3D compatibility, all of them will play 3D content in full HD (>>> Find the price on Amazon).
Consider your viewing area and how you'll use the projector before making your decision. Whether you're a gamer, a smart homeowner, or a movie buff (or a mix of all three), one of the options above is sure to meet your needs.
FAQs:
Are 3D projectors worth it?
If you want to watch 3D movies at home then yes, they're worth it. These days, 3D capability doesn't cost a ton to add, so you don't necessarily need to pay any extra to get this feature than you would for a similar projector without 3D capability.
Do 3D projectors need a special screen?
No, a 3D projector will work with any kind of screen, or even setups that project straight onto a wall or another object like a sheet. Now, there are some screens that have features that enhance the image to make it more immersive and realistic, but these aren't necessary to achieve a 3D image.
 
The exception to this is if you're using a dual-projection 3D setup. This is a more advanced system that utilizes two projectors, each targeting a specific eye, whose projected images are overlaid to present a single image with a 3D effect. These setups are a bit more complicated, and often do require the use of a special screen. None of the projectors on the list are in that category, however, so you don't need a special screen for them.
Do you need glasses for 3D projectors?
Yes, you'll need 3D glasses for a projector, the same as you would in a movie theater. These glasses basically function to direct the alternating images on the screen to the correct eye, creating the 3D effect that you see.