The ViewSonic X2 is a compact and convenient way to bring big-screen entertainment into your home. It's easy to install and use, produces a sharp and colorful picture and has the versatility to handle everything from movies to music to games. If you're considering whether this projector is the right fit for your home, this ViewSonic X2 review will break down the full details so you can make an informed decision (>>> Find on Amazon).
ViewSonic X2 Review of Main Specs:
| | ViewSonic X2 |
| --- | --- |
| | |
| Resolution | 1920x1080 |
| Contrast | 3,000,000:1 |
| Brightness (Lumens) | 1,300 ANSI |
| Input lag | 8.3ms |
| Throw Distance | 1.8' - 15.0' |
| Screen size | 30" - 300" |
| Speakers | 6.0 Watts × 2 |
| Today's Best Price | BHPhotoVideo.com |
Space Versatility
The ViewSonic X2 has a short-throw lens, producing a 100-inch image with 5-6 feet between the wall and screen. That gives it good versatility across different room sizes, giving you a massive image even in a relatively small space.
The light level of the viewing area is a different story, however. The X2 uses an LED light source and the 3,100 LED lumens it produces is equivalent to around 1,300 ANSI lumens. That's enough to produce a bright, vibrant image in a dark space, but it will lose clarity and saturation in brighter environments.
Ease of Setup and Use
The short throw distance mentioned above is also a plus when it comes to the installation ease, giving users more flexibility for aligning the image to the screen. There are also features to help with this, like the 1.2x zoom, 2D keystone correction, and 10% vertical lens shift. The included Quick Start guide does a good job explaining the setup process in layman's terms.
One setup limitation of the ViewSonic X2 is its input panel. It only has a single HDMI input for content, along with dual USB ports for peripherals, audio hook-ups, and networking connections. Now, it does have full wireless connectivity through both Bluetooth and Wi-Fi, letting you stream content or connect equipment like headphones and speakers. This only helps if you use wireless content sources, however. For entertainment systems with multiple wired content sources like game systems, cable boxes, or streaming sticks, having only one HDMI input can be annoying.
On the plus side, once the ViewSonic X2 is setup it's very easy to use. There's a simple control panel on the projector, along with an included remote for setups where the projector isn't easy to get to. You also won't need to worry about changing the lamp ever since the LED light source has a lifespan of around 30,000 hours.
Pros
Sharp and colorful full HD image
Short throw distance
Low input lag for gamers
Full wireless connectivity
Good sound from built-in speakers
Cons
Low lamp brightness
Only 1 HDMI input
Image Quality
The Full HD image produced by the ViewSonic X2 is clear and sharp. You can also use it to watch 4K content, though it will be downscaled to the supported 1080p resolution. Whatever type of content you're watching, you can count on vivid colors and a sharp contrast. It uses SuperColor+ technology to exceed the Rec.709 color spectrum, which translates to more nuanced and true-to-life hues. Along with this, HDR10 support improves the image contrast and accuracy of colors. Granted, it's not going to look as sharp as an Ultra HD projector, but in a dark space it puts out a high-quality Full HD picture.
Gaming
The sharp contrast of the ViewSonic X2's image is a plus for gamers. It also has the responsiveness modern gamers need, with a measured input lag as low as 8.3ms. That's on par with what you'll get from dedicated gaming projectors, and even competitive or professional gamers will be able to play frustration-free on a big screen with the X2.
Sound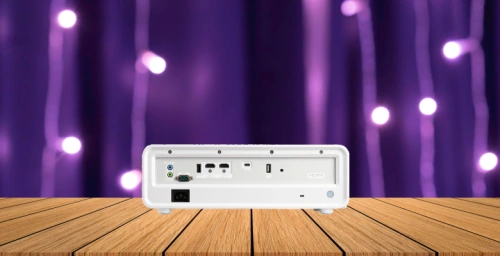 The built-in speakers of the ViewSonic X2 are powerful enough you can use them without an external sound source and still hear every line of dialogue and sound effect. Its stereo Harman Kardon speakers have a good sound balance and a solid bass end, putting out room-filling audio with detailed, full sound for both music and movies.
You can still use external speakers with the ViewSonic X2 if you'd prefer. These can be connected via the 3.5mm Mini Jack or via Bluetooth, and the X2 pairs smoothly with speakers, soundbars, and headphones from all major manufacturers. This ViewSonic X1 vs X2 comparison might be worth reading too
ViewSonic X2 Review: The Bottom Line
The ViewSonic X2 has an MSRP of around $1,200. That's not terribly expensive in the grand scheme of things, but it is on the high side for a Full HD projector in the current market. Its value proposition goes up somewhat when you add in its low input lag and short throw lens, but even so you can find projectors with a similar set of features for less.
Ultimately, of course, it comes down to what you're looking for from your projector. The ViewSonic X2 has better built-in sound than most projectors, especially at this price point, and its full wireless connectivity is a point in its favor, as well. We hope this review has helped you decide if the X2 is the right projector for you (>>> Check on Bhphotovideo)!
FAQs:
Does the ViewSonic X2 projector have LED lumens?
Yes, it produces 3,100 LED lumens which are equivalent to around 1,300 ANSI lumens.
Does the ViewSonic X2 have built-in speakers?
Yes, it has Dual Harman Kardon speakers (2 x 6.0 Watts).
REFERENCES AND FURTHER READING: