An LED light source lasts longer and uses less energy than traditional lamp-based designs, all without the toxic mercury or other chemicals found in these bulbs. If you're in the market for an LED projector, your search has probably led you to compare the ViewSonic X1 vs X2. While both are solid projectors, the ViewSonic X2 will be the better choice for most users (>>> Check on Amazon). Read on to find out where it excels and which model is the best fit for your home theater space.
ViewSonic X1 vs X2 Side by Side:
| | ViewSonic X1 | ViewSonic X2 |
| --- | --- | --- |
| | | |
| Resolution | 1920x1080 | 1920x1080 |
| Contrast | 3,000,000:1 | 3,000,000:1 |
| Brightness (Lumens) | 1,300 ANSI | 1,300 ANSI |
| Input lag | 8.3ms | 8.3ms |
| Throw Distance | 6.5' - 12.5' | 1.8' - 15.0' |
| Screen size | 60" - 150" | 30" - 300" |
| Speakers | 6.0 Watts × 2 | 6.0 Watts × 2 |
| Today's Best Price | BHPhotoVideo.com | BHPhotoVideo.com |
Throw Distance
The ViewSonic X1 is a standard throw projector and will need a minimum of 8'4" to fill a 100" screen. The short-throw ViewSonic X2 can produce that same image size with as little as 5 feet between the lens and screen, giving it greater versatility across rooms of different sizes and shapes.
Shorter throw distance: ViewSonic X2
Image Size range
While most setups call for a 100" or 120" image, one advantage of a projector is that you aren't locked into a single screen size for every situation. With the ViewSonic X2, you can get an image as small as 30" or as large as 300", giving users a lot of flexibility for different sizes of space. The range of the X1 is more limited, from around 60" to a maximum size of 150".
Wider image size range: ViewSonic X2
Connectivity and Wireless Control
The ViewSonic X1 has the connectivity options most people need in a home theater projector, including HDMI, USB-C, Bluetooth, and Wi-Fi. The ViewSonic X2 offers all of these options, as well, but with an improved 5GHz Wi-Fi connection and additional options for connecting speakers and headphones. The X2 also has 11GB of local storage so you can save content right on the projector. For additional control options, it pairs to the vCastSender app on your phone, and connects to the vColorTuner system for creating or downloading custom image profiles.
Better connectivity and wireless control: ViewSonic X2
---
ViewSonic X1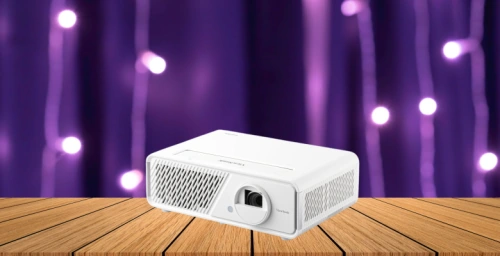 The ViewSonic X1 is a low-maintenance Full HD projector. Its LED light source produces brighter, more accurate colors than most lamp-based projectors. This color performance is enhanced through its Cinema SuperColor+ technology and support for HDR10. In addition to a high picture quality, the low input lag of the X1 makes it a great choice for gamers, who will also appreciate its high image contrast and rich black levels.
The flexible connectivity of the ViewSonic X1 includes both wired and wireless options. You'll have the option of HDMI or USB-C inputs for content sources, as well as networking controls and a Mini Jack for external speakers. Along with this, embedded Wi-Fi and Bluetooth connectivity support wireless streaming of content through your phone or tablet, or easy syncing of wireless speakers and headphones.
Unfortunately, the ViewSonic X1 isn't as flexible across viewing environments as it is with its connectivity. Its lamp is on the dimmer side, around 1,300 ANSI lumens, which will give you a clear picture in a dark space but won't cope well with much ambient light. It also has a standard throw distance, needing around 8-10 feet of distance for a 100-inch image. The 10% vertical lens shift, 2D keystone correction, and 1.3x zoom give it some versatility in this regard, but it will still do best in a dedicated home theater space. For our more in-depth ViewSonic X1 review, click here.
Pros
Sharp full HD picture with vibrant and accurate colors
Low lag for gaming
Long lamp lifespan (up to 30,000 hours)
Efficient low-energy operation
2D keystone correction with lens shift and corner adjustment
Cons
Longer throw distance
Low lamp brightness for well-lit spaces
---
ViewSonic X2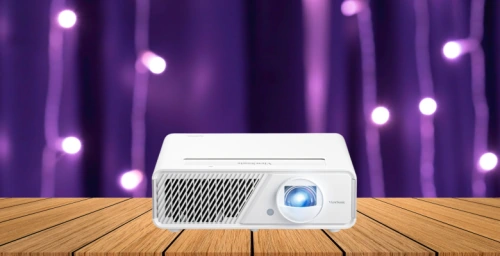 The ViewSonic X2 shares a lot of strengths with the X1. It uses a similar LED light source, with the same long lifespan and efficient operation. Its image quality is comparable, as well, with a wide color gamut spanning 125% of the Rec.709 spectrum and a high-contrast full HD image with rich black levels and realistic details across the picture. The cloud color profile exchange through vColorTuner lets you customize your color or download other users' custom image settings, for easy fine tuning of the picture.
The main strength of the ViewSonic X2 is its expanded space versatility. Its short throw lens only needs about 5-6 feet to produce a 100-inch image. That's not only good news for small spaces, either. It also means the light doesn't have as far to travel, so while its light source has the same lumen rating as the X1's, it will look brighter and withstand ambient light better.
The connectivity of the X2 is broader, as well. Its rear panel has an RCA audio input, along with 3.5mm mini jack in and out and Bluetooth audio. For content, there are HDMI and USB-C inputs, with embedded 5GHz Wi-Fi for wireless casting and streaming. You can control the X2 wirelessly, as well, by downloading the connected vCastSender app on your phone. Click here for our more in-depth ViewSonic X2 review.
Pros
Full HD image with vibrant, customizable colors
Low lag suitable for competitive gamers
High sound quality from built-in speakers
Wide connectivity including embedded 5GHz Wi-Fi
Pairs with vCastSender app
Immersive 3D content
Cons
Not suitable for bright spaces
---
The Verdict: ViewSonic X1 vs X2
The ViewSonic X1 and X2 sell for around the same price, and both have the low input lag and sharp full HD image that makes them all-purpose big-screen entertainment machines. Ultimately, it's the shorter throw distance and improved connectivity of the X2 that give it the advantage (>>> Find on Bhphotovideo).
Related Guides: