With so many projectors, picking just one cannot be easy. That's why we're here to help you choose the right projector by reviewing them and giving you all the information to decide.
Today, we're looking at the Optoma UHD35x. This mid-range projector works well if you want 4K video, but what else does it offer and is it worth the price? This Optoma UHD35x review will help you decide if this projector is the right one for you to use (>>> Check its pricing on Amazon).
Optoma UHD35x Review of Features:
| | Optoma UHD35x |
| --- | --- |
| | |
| Resolution | 3840x2160 |
| Brightness (Lumens) | 3,600 ANSI |
| Contrast | 1,000,000:1 |
| Input Lag | 4.2ms |
| Throw Distance | 4.0' - 32.7' |
| Screen size | 33" - 300" |
| Speakers | 10.0 Watts Mono |
| Today's Best Price | BHPhotoVideo.com |
Video Quality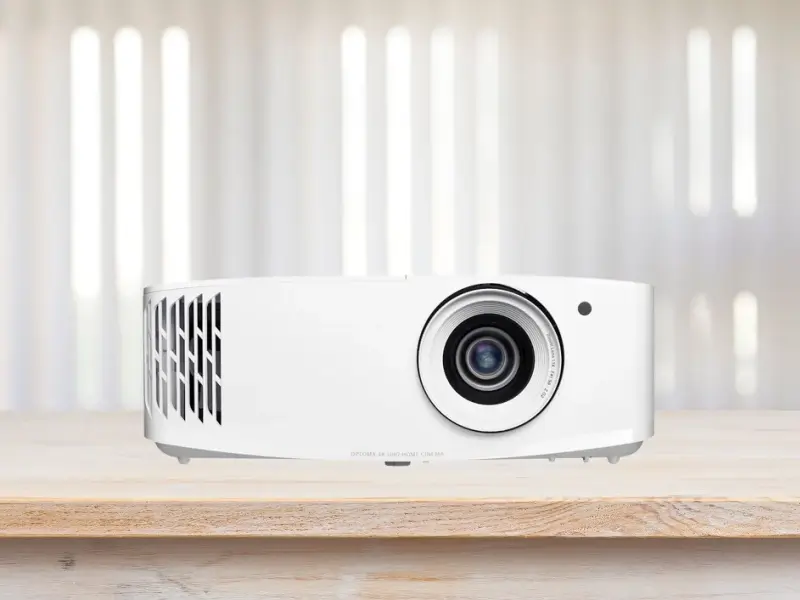 This projector has 4K Ultra HD video quality, and it shows. Some projectors give you an upscaled 4K picture, which can look blurry, but this one has true 4K, with 8.3 million pixels that during our video test showed the picture in glorious detail.
Besides its 4K quality, the Optoma UHD35x projector has HDR10 and HLG technologies. Utilizing these delivers an enhanced contrast. Brighter brights and darker darks work harmoniously to give you the most beautiful picture imaginable. You can adjust this too, giving a crisp picture that's incomparable.
You also want a projector that delivers plenty of lumens. The Optoma UHD35x has 3,600 lumens, which during our testing provided excellent results both indoors and outdoors. Even if it was bright outside, we were able to see the picture well. Check the comparison versus the predecessor, Optoma UHD35.
Pros
Gorgeous colors and picture quality
Enhanced Gaming Mode means that you can play video games with no lag
Brightness allows it to be viewed inside and out
Lightweight
Cons
Video Review:
Gaming
If you're a gamer, you need a projector with some gaming mode. The UHD35x has Enhanced Gaming Mode, which provides 240Hz gaming. With 240Hz, every frame is in there, which can make a difference in competitive play. In addition, you can choose between playing in 4K with a 16 ms response time or 1080p at 4.2. During the projector testing with the PS5 console, the response time of 4.2 gave virtually no lag, so it is ideal for tournaments where a second of lag can make you lose. Even if you're playing for fun, less lag makes the game more entertaining for everyone involved.
Overall, if you're a gamer, this delivers. Unfortunately, some projectors lack a gaming mode, so we are glad this one has it, especially if you plan to use this projector to play games on.
Other Features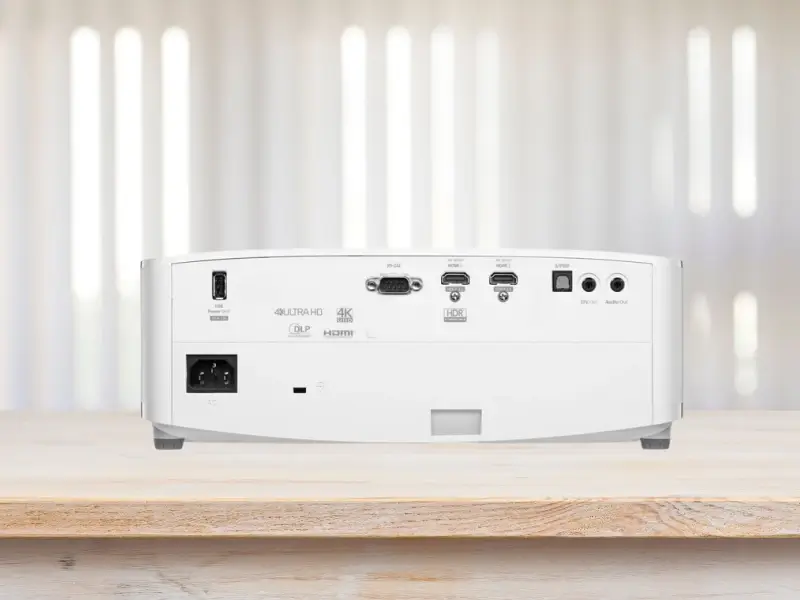 This projector also boasts several other features. While it doesn't have a ton of bells and whistles, it does include a backlit remote. Every button has an LED backlight. We noticed, that the light is not harsh but instead bright enough for you to control. You can also choose between six tinted options that match your wall color if it's not white. Not choosing this feature can make the picture look awkward with a non-white wall.
It also has four corner corrections, which allow you to make a perfect square even if the wall is not the perfect shape for it.
Besides that, it's not incredibly filled with features. For example, we were quite disappointed that it's not controlled via your smartphone, nor does it have Bluetooth so that you can connect wireless speakers to it. For some, simplicity is the best. However, others may feel like this is lacking compared to the price.
Optoma UHD35x Review: The Verdict
This projector is overall a great one. It has a beautiful picture, is easy to set up and control, and connecting it is a breeze (>>> Check its pricing on Bhphotovideo). Therefore, most people will enjoy what this projector has to offer.
That said, this may not be the best projector for your needs. There are so many to choose from, so we recommend you read our other reviews and see if another suits you.
Explore Optoma UHD35X comparisons with other projectors: