When you think of home theater project brands, one often comes to mind. Optoma is a leading manufacturer of home cinema projectors. Their ability to produce realistic images makes them a favorite in home entertainment systems.
Optoma not only concentrates on movie lovers, but the brand is also catering to gamers. Each projector released seems to have a faster response time and refresh rate. We wanted to see if two of Optoma's projectors live up to the brand's reputation. Here's what we learned comparing the Optoma UHD35X vs UHD38X. (Find on Amazon)
Optoma UHD35X vs UHD38X Specs Side-by-Side:
| | Optoma UHD35x | Optoma UHD38x |
| --- | --- | --- |
| | | |
| Resolution | 3840x2160 | 3840x2160 |
| Brightness (Lumens) | 3,600 ANSI | 4,000 ANSI |
| Contrast | 1,000,000:1 | 1,000,000:1 |
| Input Lag | 4.2ms | 4.2ms |
| Throw Ratio | 1.50:1 - 1.66:1 | 1.50:1 - 1.66:1 |
| Screen size | 33" - 300" | 33" - 300" |
| Speakers | 10.0 Watts Mono | 10.0 Watts Mono |
| Today's Best Price | BHPhotoVideo.com | |
Image Quality
Imagine quality is crucial whether you are using the projector for movies or gaming. When onscreen images are fuzzy, it ruins your experience.
We have zero complaints about image quality with either projector. 4K Ultra HD resolution brings pictures to life, while the UltraDetail technology enhances image sharpness. Details are clear, without blurring, and the technology also increases the frame rate. A faster frame rate ensures content plays smoothly, even with live-action sports.
HDR and HLG support produce deep blacks and crisp whites for an enhanced viewing experience, along with the 1,000,000:1 dynamic contrast ratio.
Both projectors are also capable of handling ambient light in a room. It means not having to close the blinds every time you want to use the projector during the day. However, the UHD38X produces a slightly brighter picture. Compared to the 3,600 lumens you get with the UHD35X, the 4,000 lumens light source on the UHD38X is a better option for daytime use.
Best Image Quality: Optoma UHD38X
Gaming Quality
Gamers get ready to sit back and enjoy next-level gaming. Optoma did not forget about your needs with either projector. A fast 240Hz refresh rate keeps everything moving smoothly from frame to frame. Add in the low input lag, and you never need to worry about delays between the controller and onscreen action.
In 4K resolution, the input lag is 16 ms. It's fast enough to keep up with most games, including some multiple-player ones. If you are experiencing some lag, switch over to the dedicated gaming mode. Resolution drops to 1080p, but it's a small price to pay for a lightning-fast 4.2 ms. lag time.
Best Gaming Quality: A Tie
Connectivity
The projectors come with standard connectivity. You get dual HDMI ports, an optical out, USB, and a 3.5mm in and out port. You can also connect the projectors to a home automation system using the RS232 port.
The USB port simplifies streaming content from sites like Amazon Prime, Hulu, Netflix, and more. The lack of onboard WiFi is disappointing, but it isn't a deal breaker.
Best Connectivity: A Tie
Ease of Installation and Set Up
Weighing a lightweight 8.77 lbs., you can easily move either projector around. It's also easy to find a place for the projector, each one measures a compact 10.6 x 12.4 x 4.6 inches.
We appreciate the lightweight and compact design since careful placement planning is a necessity. Neither projector comes with lens shift capabilities, so finding the ideal placement spot may take some trial and error. You do get 1.1X manual zoom and focus.
Digital horizontal and vertical keystone correction makes it easier to align onscreen images.
The remote is self-explanatory. You can also take advantage of the menu if you need some help setting the projector up.
Easiest to Install and Set Up: A Tie
Audio Quality
More and more projectors are addressing audio quality. While neither model is supported by advanced sound technology, the projectors come with built-in dual 10W speakers.
The speakers are not going to give you the illusion of surround sound. It requires external speakers. However, the speakers are an improvement over your TV. The audio is crisp and clear at most volumes.
Best Audio Quality: A Tie
---
Optoma UHD35X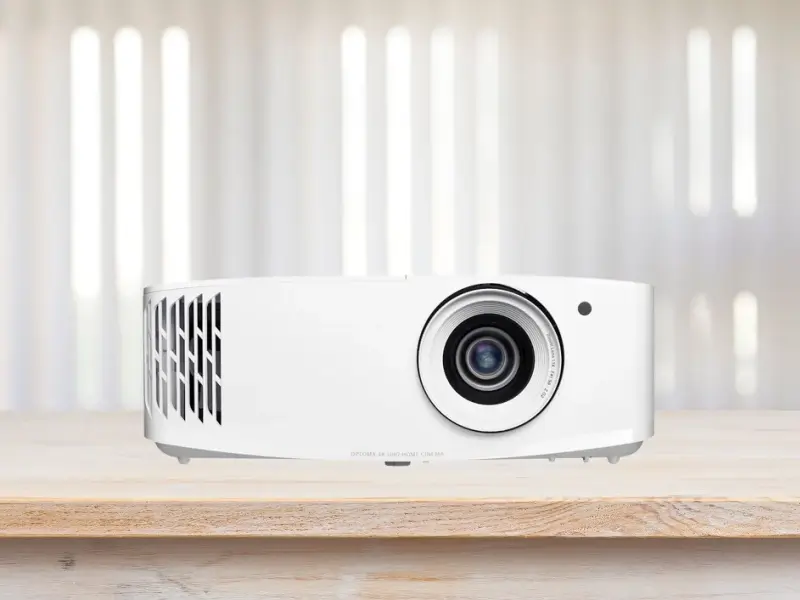 Watch movies and play games with the lights on. The UHD35X has a 3,600 lumens long-lasting light source. You can expect about 15,000 hours of use, before noticing a decrease in light quality.
An 8-segmented color wheel produces vibrant and accurate colors. Some bleeding may occur with certain content or connected devices, but it's not a problem during our tests. A 1,000,000:1 dynamic contrast ratio ensures colors are crisp. HDR and HLG support further optimize your viewing experience.
The 4k projector is compatible with 3D content. However, some blurring may occur.
Where the projector stands out is with its gaming capabilities. Along with a low input lag and quick refresh rate, you have the option of staying in 4k resolution or dropping down to 1080p. The input lag drops from 16 ms. to 4.2 ms. in gaming mode which is fast enough for any type of game you want to play.
Pros
3D compatible
Low input lag
Lightweight and compact design
Dynamic contrast ratio
4k resolution
Cons
Some users may experience blurring with 3D content
---
Optoma UHD38X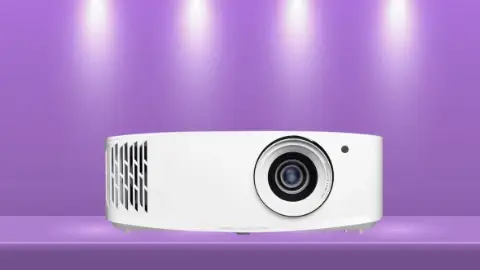 You get bright, immersive images with the UHD38X, thanks to its 4,000 lumens light source. Like the UHDX35, this projector also uses an 8-segmented color wheel. Colors bleeding is rarely an issue, but it is something to consider. It can be an issue with some 3D content.
HLG and HDR support ensure colors are crisp and accurate, along with the dynamic contrast ratio. Regardless of the lighting in the room, you get inky blacks and brilliant whites.
Its compact size and light weight make it tempting to take the projector outside. The light source is bright enough for outdoor movie nights, but the lack of built-in WiFi means you are lugging the connected components out the door. It can be a little impractical, especially when you are also moving the cords.
A low latency speed and fast refresh rate keep games and live-action sports playing smoothly without annoying delays.
The primary downside is the lack of lens shift functionality. It can make it difficult to center images on the screen. Check our more in-depth Optoma UHD38X review.
Pros
4k resolution
Dedicated gaming mode
Accurate colors
10W onboard speakers
Fast refresh rate
Cons
The lack of a lens shift function can interfere with installation and setup
Conclusion
The UHD35X and UHD38X are both strong home theater projectors with something for movie lovers and gamers. Along with the price difference, the UHDX35 is less expensive, the UHD38X produces brighter images. (Find on BHPhotoVideo.com) Choosing between the two projectors typically comes down to budget and the level of brightness you need from the light source.