Optoma has built a reputation as one of the top manufacturers of home theater projectors. The December 2022 addition to their UHD line, the UHD38x (>>> Check on Amazon), is a versatile and user-friendly option for 4K entertainment anywhere in (or outside) your home. Let's take a closer look at its performance and features to help you decide if it's the right big-screen update for your home theater.
Optoma UHD38x Review of Main Specs:
| | Optoma UHD38x |
| --- | --- |
| | |
| Resolution | 3840x2160 |
| Brightness (Lumens) | 4,000 ANSI |
| Contrast | 1,000,000:1 |
| Input Lag | 4.2ms |
| Throw Distance | 4.0' - 32.7' |
| Screen size | 33" - 300" |
| Speakers | 10.0 Watts Mono |
| Today's Best Price | BHPhotoVideo.com |
Installation and Space Versatility
The Optoma UHD38X uses a powerful metal halide bulb as its light source, giving it a consistent brightness up to 4,000 lumens. Thanks to that, you definitely won't need to worry about turning the lights out indoors, and can even use it outdoors without waiting for full dark.
That high brightness also opens the possibility to use the Optoma UHD38x in spaces like conference rooms and classrooms where you can't always control the light. It's fairly portable, too, weighing less than 10 pounds and less than 5 inches tall.
Wherever you use it, the UHD38X is relatively easy to install. It includes Optoma's Wall Color Adjustment to support screen-free installations, even in spaces where you don't have a pure white wall to project onto. Its 4-corner correction feature ensures a square image even in off-kilter setups, and you can calibrate and save the settings for the ISF Day and Night modes for quicker set up in different light levels. Just about the only downside from an installation standpoint is that it does have a standard throw distance, needing at least 4 feet to produce a clear image and around 12 feet to fill a 100-inch screen.
Picture Quality
The DLP display of the Optoma UHD38x produces a true 4K resolution. It also supports content that uses HDR and HLG technology, further enhancing the contrast and sharpness of the image. Its sophisticated Color Management System supports the full Rec.709 color gamut, with adjustable settings that let you fine-tune the hues to your viewing environment. For those who aren't into stats, just know all that means you'll get a realistic image at any screen size.
You can watch all kinds of content on the Optoma UHD38x, too. It supports 3D content that uses the Frame Packing format, and plays 3D movies in full HD. For older films, the 24p mode restores them to their original frame rate so you can see them as they were intended.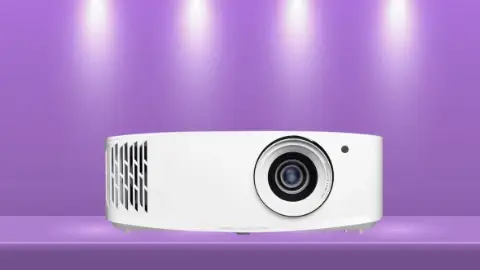 Pros
True 4K resolution with HDR and HLG support
Super responsive for gaming
Bright lamp works in any light level
Flexible installation with wall color and 4-corner adjustment
Compact and lightweight
Cons
Long throw distance
No streaming or wireless capability
Gaming
Even professional and competitive gamers will be able to play using the Optoma UHD38x. In Enhanced Gaming Mode, the input latency drops to an impressive 4.2ms. This is paired with a 240Hz frame refresh rate for smooth action on-screen. The high dynamic contrast ratio is a plus here, too, bringing more detail to dark areas of the screen so you never miss a key detail or hidden enemy.
Connectivity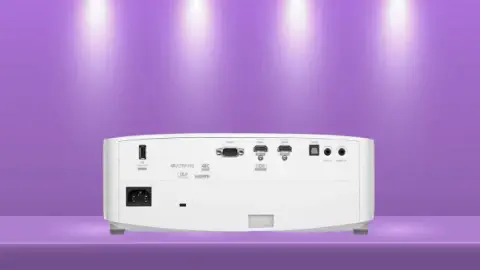 The rear panel of the Optoma UHD38x includes the standard dual HDMI inputs you'd expect on a modern projector, along with a USB port and both optical and 3.5mm audio outputs. It also has RS232 and 12-volt trigger options that allow it to be integrated into some home automation routines. Unfortunately, it has no built-in wireless connectivity, either Wi-Fi or Bluetooth, and lacks the streaming interface and voice control support you'll find on many projectors today.
Optoma UHD38X Review In Summary
There is a lot to love about the Optoma UHD38x (>>> Check the current price on Bhphotovideo). Its powerful lamp and compact design mean you can use it just as easily in your backyard or at the office as you do in a home theater. It also has both 4K resolution for movies and a low latency for games, giving it versatility when it comes to content. That said, the long throw distance may be a concern in some homes, and it lacks the wireless connectivity that you'll find on other models. It's up to you to weigh the pros and cons and decide if it's the best option for your home.
FAQs
What kind of 3D glasses do I need for the Optoma UHD38X?
You can pair any DLP Link 3D glasses with the Optoma UHD38X.
Do I need a screen for the Optoma UHD38X?
Not necessarily. The UHD38X is bright enough that you won't need features like ambient light rejection or contrast enhancement to get a clear picture in most spaces. Since it also has the wall color adjustment feature, you don't necessarily even need a white wall—just one that's large and flat enough for the size of image you're aiming for.
Explore Optoma UHD38X comparisons with other projectors: