When you first compare the Optoma UHD38X vs UHD38, it can be hard to spot the differences. Both of these projectors combine a high picture quality with the responsiveness that gamers need, and they have an equally powerful lamp to support lights-on viewing (>>> Check on Amazon).
While these projectors are certainly similar, though, there are subtle differences between them. Let's take a closer look so you can decide which one is the best fit for your home.
Optoma UHD38X vs UHD38 Side by Side:
| | Optoma UHD38X | Optoma UHD38 |
| --- | --- | --- |
| | | |
| Resolution | 3840x2160 | 3840x2160 |
| Contrast | 1,000,000:1 | 1,000,000:1 |
| Brightness (Lumens) | 4,000 ANSI | 4,000 ANSI |
| Input lag | 4.2ms | 4.2ms |
| Throw Distance | 4.0' - 32.7' | 4.0' - 32.7' |
| Screen size | 33" - 300" | 33" - 300" |
| Speakers | 10.0 Watts Mono | 10.0 Watts Mono |
| Today's Best Price | BHPhotoVideo.com | ProjectorScreen.com |
Gaming Performance
For full HD games, these are equally outstanding options. Both these Optoma projectors have an input lag as low as 4.2ms in Game Mode, as well as a lightning-fast 240Hz refresh rate. Where the Optoma UHD38 takes a slight edge is its support for 4K gaming. It keeps the input lag low for these higher-resolution games, letting you play the latest releases from the current generation consoles without a worry.
Better for gaming: Optoma UHD38
Image Quality
This is another area where both projectors are strong performers, but the UHD38 takes a slight edge. The UHD38 and UHD38X use similar DLP displays that produce the full 8.3 million on-screen pixels of true 4K. They're also evenly matched when it comes to image contrast, boasting impressive dynamic contrast ratios for sharp lines and rich black levels across content. It's the image color that the UHD38 takes the edge on. It supports a wider color gamut, for more subtle color shading and enhanced realism.
Better image quality: Optoma UHD38
Installation Ease
You'll get the same standard throw distance from both of these projectors. They also both support screen-free installations thanks to their Wall Color Adjustment options. Here, it's the UHD38X that takes the slight edge. It has full 4-corner correction to square the image geometry, supporting off-center installations and giving users more flexibility during setup.
Easier to install: Optoma UHD38X
---
Optoma UHD38X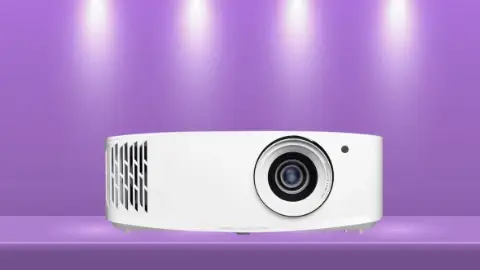 Pros
True 4K resolution with HDR and HLG support
Realistic color with CMS adjustment options
Ideal for gaming
Bright lamp works in any light level
Supports 3D content (frame packing format)
Cons
The Optoma UHD38X uses an advanced DLP display to produce a native resolution of true 4K. It also supports image technology like High Dynamic Range (HDR) and Hybrid Log Gamma (HLG), with coverage for the full Rec.709 spectrum and a Color Management System for fine tuning the color performance. That means realistic, accurate colors and sharp image contrast for all your favorite content.
You can use the UHD38X for games as well as movies. Putting it in gaming mode drops the input lag down to 4.2ms for Full HD games, with a speedy 240Hz frame refresh rate to bring the same smooth responsiveness to the on-screen action. It also has multiple ISF picture modes you can use to fine-tune the display to your space and content, including dark and bright modes for the lamp. These settings can be calibrated and saved, letting you customize the projector's output to your needs easily. Check out the roundup review of the best gaming projectors by Projectortop.com
As far as space verstaility, the powerful 4,000-lumen lamp will keep a clear image in just about any light level. Now, it does have a standard throw distance, which means you'll need a fairly large room to take full advantage of its big-screen capability. On the plus side, it has adjustment options like a 4-corner keystone correction and Wall Color Adjustment, so it's fairly fast and easy to set up as long as you have the space for it.
Full review: Optoma UHD38X
---
Optoma UHD38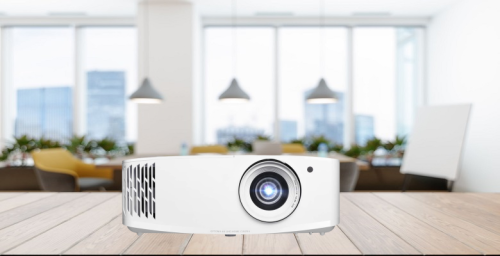 Pros
High-contrast true 4K resolution
Exceptional color performance
Great choice for gamers
Powerful lamp
Supports multiple 3D formats
Cons
Limited image alignment and installation features
The Optoma UHD38 shares a lot of strengths with the UHD38X above. This includes its powerful 4,000-lumen lamp and true 4K resolution with HDR and HLG support, as well as the customizable ISF picture modes. The first place you'll notice a difference is the color. Its 8-segment color wheel and 12-bit color processing give it an even richer and more lifelike array of hues, which can be further optimized using a similar Color Management System.
Gamers will also love the Optoma UHD38. It matches the 4.2ms input lag and 240Hz refresh rate of the 38X for Full HD games. It's also very responsive for 4K content, with a lag time under 20ms that keeps you in the action. >>> Check our more in-depth Optoma UHD38 review
Unfortunately, the Optoma UHD38 also shares the 38x's main weakness: it needs a lot of space to produce a big image. The image adjustment options on the UHD38 are also a bit more limited. It still has the Wall Color Adjustment but gives users just a 1.1x zoom and a vertical keystone correction option. This can make it trickier to install in some rooms, though it's still very user-friendly and easy to set up overall.
---
The Verdict: Optoma UHD38X vs UHD38
While there are differences between these models, the truth is they're too subtle for most users to detect in a real-world context unless you're comparing them directly side-by-side. If you want to game in 4K, the Optoma UHD38 is the better option, and its more sophisticated color production also gives it the slight edge when it comes to overall image quality (>>> Find on ProjectorScreen). However, the setup flexiblity of the UHD38X can be an advantage in some spaces. We hope this side-by-side has helped you choose your next perfect projector!