In the realm of 4K laser projectors, both the Optoma P2 and the VAVA 4K are strong contenders, especially for buyers who want both high picture quality and a great value. With their ultra-short throws and smart features, either projector is a flexible way to bring big-screen entertainment to your home.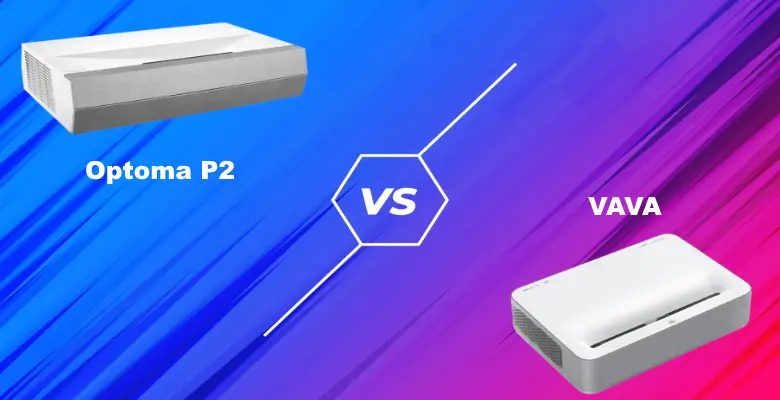 Considering all the factors together, the Optoma CinemaX P2 is the better projector. For some, though, the VAVA's smart operating system and powerful built-in sound could make it the more appealing choice (>>> Check the Current Price on ProjectorScreen). Let's take a look at a few key features side-by-side so you can see what we mean.
Optoma P2 vs VAVA Side by Side:
| | Optoma P2 | VAVA 4K |
| --- | --- | --- |
| | | |
| Resolution | 4K | 4K |
| Brightness (Lumens) | 3,000 ANSI | 2,500 ANSI |
| Contrast Ratio | 2,000,000:1 | 1,500,000:1 |
| Throw Distance | 1.5' - 2.2' | 1.4' - 2.5' |
| Screen size | 85" - 120" | 80" - 150" |
| Input lag: | 50ms | 100ms |
| Speakers: | 40W NuForce soundbar | 60W Harman Kardon |
| Price | BHPhotoVideo.com | ProjectorScreen.com |
Picture Quality
Both of these projectors have 4K resolution with HDR10 support and a wide color gamut. While both get high marks for sharpness and realism, though, the Optoma P2 outperforms the VAVA in two key areas: brightness and contrast.
The VAVA 4K has a relatively low native contrast ratio of around 3,000:1. Its lamp is also dimmer, at 2,500 lumens, which can make it especially prone to quality loss as the light level in the room increases. Conversely, the Optoma CinemaX P2 has a contrast of about 2,000,000:1 and a 3,000 lumen lamp. That means a sharper picture and better black levels at any light level.
Better picture: Optoma P2
Sound
The 40-watt NuForce soundbar on the Optoma P2 is far superior to what you'll find on most projectors. It has dual woofers as well as two full-range drivers, with Dolby Audio 2.0 support that improves the clarity of the mid-range. Dialogue is easy to understand, and you'll get decent bass for sound effects and soundtracks.
As strong as the sound on the Optoma P2 is, the VAVA 4K's soundbar is even better. Its unique design emulates a 2.1 surround sound system, with 60 watts of power for a bigger output. Dolby Audio and dts-HD support prevent signal loss and distortion for an accurate, immersive listening experience.
Better sound: VAVA 4K
Smart Features
The VAVA 4K and Optoma P2 are smart in different ways. The VAVA 4K has a smarter on-board Android 7.1 operating system. This lets you easily download streaming apps like Netflix and Hulu directly onto the projector, rather than relying on external content sources.
The Optoma P2's smart features are more about integrating into a larger smart home system. It works seamlessly with voice control programs like Amazon Alexa and Google Home and can also be used in IFTTT recipes.
Better smart home integration: Optoma P2
Smarter projector: VAVA 4K
Gaming
Let's start by saying neither one of these is a gaming projector. For that, you'd want an input lag of around 30ms or lower, something neither of these projectors delivers.
Having said that, the Optoma P2's gaming mode drops the input lag down to around 50ms. That's within the acceptable range for most casual players, and for most will be unnoticeable even in reflex-based games like racers and first-person shooters. It's certainly worlds better than the over 100ms lag of the VAVA 4K, which makes most modern games virtually unplayable.
Better for gaming: Optoma P2
---
Optoma P2 vs VAVA: Full Reviews
Optoma CinemaX P2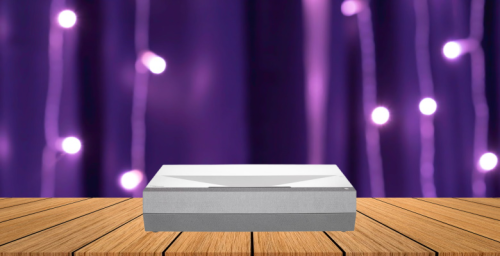 The Optoma CinemaX P2 is a user-friendly smart home theater projector. There's no need for ceiling mounts, thanks to the ultra-short throw distance, and the lens focuses automatically. For hassle-free alignment, you can download the SmartFIT app on any iOS or Android device. You can also align it manually with the zoom and 2D keystone correction.
Smart home users will find the Optoma P2 just as easy to integrate into their system. It's compatible with both Alexa and Google Home voice control, for starters. Even more useful is its IFTTT support, which opens up the option of writing custom routines using the projector.
As to the quality of the picture, the Optoma P2 is hard to beat. We're especially impressed by the contrast. The detail, depth, and realism are consistently strong across the picture and it produces rich black levels, even if you're using it with the lights on.
Versatility is a big point in the Optoma's favor, too. Since its input lag is in the acceptable range for casual gaming, you can use it in media rooms and other multi-use spaces. It gives consistent visual quality across content types, too, with PureMotion technology to eliminate blur when you're watching sports or other fast-paced sequences.
Pros
High contrast with HDR10 cinematic color
Short throw and bright lamp for more installation versatility
Supports IFTTT and voice control
Easy alignment with the SmartFIT app
Can be used for casual gaming
Built-in soundbar with Dolby Digital audio
Cons
SmartFIT app doesn't work well with pull-down screens
No content streaming capability
---
VAVA 4K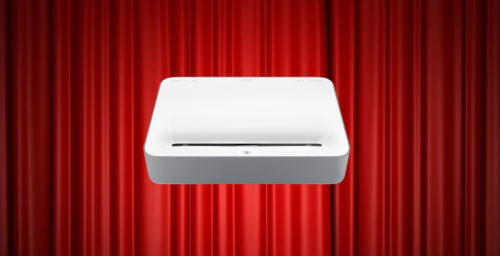 Like the Optoma, the VAVA 4K has an ultra-short throw ratio. You can get a 150" image with about 2.5 feet of distance, and can produce a clear (albeit smaller) image from just 16" away. It has an 8-point keystone correction for aligning the image as well as electric focus, so the set-up process is fairly simple overall.
One big strength of the VAVA 4K projector is its connectivity. It has bult-in Wi-Fi and Bluetooth, along with both HDMI and USB ports for wired connections. The Android 7.1 smart operating system also means you can download apps and stream content straight through the projector, so you might be able to ditch the streaming stick entirely.
The VAVA 4K performs best in a home theater like environment. When you can limit the room's light, it delivers a vibrant and detailed picture. The color accuracy is high, with a 3-segment color wheel that gives you all the colors of the Rec. 709 spectrum.
This is also one of the few projectors whose audio performance is on par with its visual quality. The Harman Kardon soundbar that's built in to the VAVA 4K puts out a lot of volume, with an audio quality that far exceeds what you'd expect from TV or projector speakers. Combined with the streaming capabilities, this makes the VAVA an all-in-one entertainment machine.
Pros
Sharp, detailed picture with high color accuracy
Easy to set up and align the image
Wide range of connection options
Ultra-short throw for flexible installation
Smart TV system lets you watch content straight through the projector
Built-in soundbar with stereo surround speakers
Cons
No voice control support
Input lag is too high for gaming
---
What's the Bottom Line?
Choosing between the Optoma P2 and the VAVA 4K is more about deciding what you want in a projector. With the Optoma, you'll get the versatility for gaming and a better overall picture quality. The VAVA 4K, on the other hand, is a better all-in-one option, with an impressive soundbar and built-in content streaming (>>> Check the Current Price on ProjectorScreen).
The good news is, you can rest assured you're getting a durable machine and a good bang for your buck no matter which projector you buy. Good luck in setting up your perfect home theater!
REFERENCES AND FURTHER READING: