Looking for the ultimate projector for your smart home theater? The Optoma CinemaX P2 could just be your answer. From the picture quality to the on-board sound and voice control, it has the specs to satisfy even the most tech-savvy home theater owner. That said, the CinemaX P2 isn't exactly cheap, either. While it will be worth the investment for many users, you'll want to check it out and make sure it's the right projector for you before you take the plunge.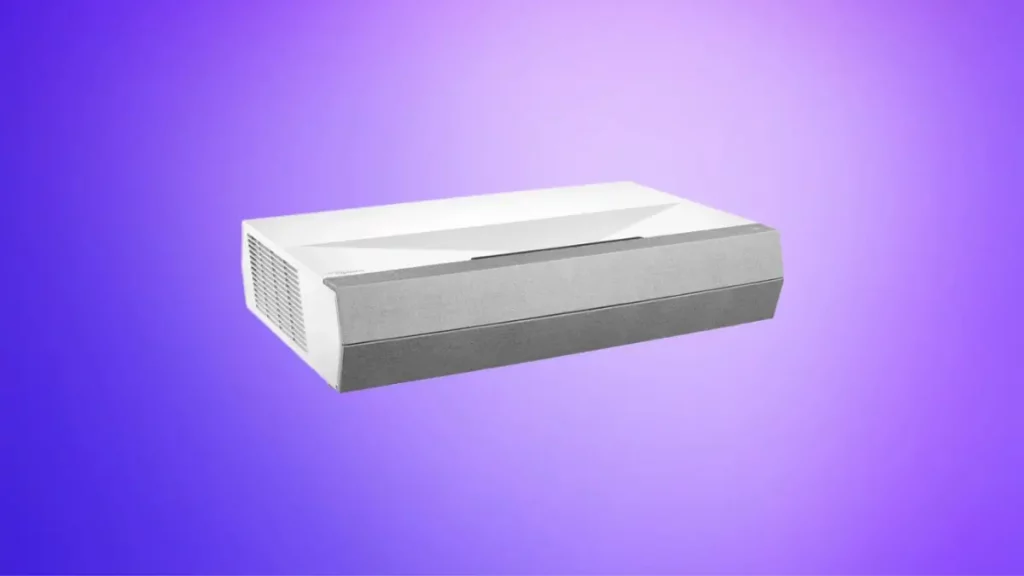 That's why we've brought you this CinemaX P2 review! Let's take a deep dive into its functions, features, and performance so you can determine if it's the right fit for your home theater (>>> Find the current price on Amazon).
Optoma CinemaX P2 Review of Features:
| | Optoma CinemaX P2 |
| --- | --- |
| | |
| Resolution | 4K |
| Brightness (Lumens) | 3,000 ANSI |
| Contrast Ratio | 2,000,000:1 |
| Throw Distance | 1.5' - 2.2' |
| Screen size | 84.81" - 120.06" |
| Input lag: | 50ms |
| Speakers: | 40W NuForce soundbar |
| Today's Best Price | BHPhotoVideo.com |
Installation and Set Up
Getting set up with the Optoma CinemaX P2 is even easier than the other projectors in their line—and that's saying something, considering the brand's reputation for being user-friendly.
Let's start with the throw distance. The laser light source on the CinemaX P2 allows it to have an ultra-short throw. You only need about 2 feet of distance for a 120" image. That eliminates the need for ceiling-mounted set-ups and lets this projector work in any size of space. That short-throw also makes the most of the lamp put out by the light. Its brightness of 3,000 lumens, combined with the proximity to the screen, prevents washout at any light level.
The flip side of this is you can't get the variety of image sizes from the P2 that other projectors give. If you want a projector you can use outside, this isn't the best choice. The 120" image maximum is large, but not nearly as big as the 300" image you can get from other Optoma projectors.
For indoor installations, though, it doesn't get much easier than the Optoma P2. The free SmartFIT app that comes with it automatically aligns the picture to the screen and is simple for anyone to use. Connecting it to either Alexa or Google voice control systems is also a breeze.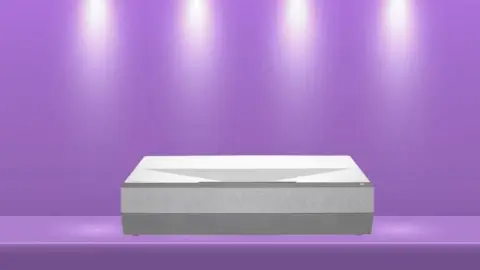 Pros
Ultra-short throw ratio
Easy to install with the SmartFIT app
6-segment color wheel for cinematic hues
Built in voice control compatibility and IFTTT support
High sound quality from NuForce soundbar
Cons
High cost
Range of image sizes is limited
Picture Quality
The Optoma CinemaX P2 checks all the boxes for a high-performing projector. It uses the sharpest 4K resolution available, pairing it with a wide color gamut and a remarkably high contrast ratio. The bottom line is, you can expect a sharp picture with cinema-quality color no matter what kind of content you're watching.
One other thing worth noting on the picture quality side is that it's not prone to the annoying image artifacts many users report from other projectors. Its fast processing speed prevents blurring, blocking, and compression, while the 6-segment color wheel and laser light source combine to limit instances of the rainbow effect. Find more laser projector choices here.
Use and Performance
If you want a smart projector, few are as smart as the Optoma P2. Along with voice control, it also supports IFTTT so you can customize your own commands and routines. You don't need to own a smart home to navigate it easily, either. Its menus are intuitive to navigate using the included smart home remote.
The sound performance of the CinemaX P2 is impressive, as well. It comes equipped with a 40-watt soundbar with two woofers and two full-range drivers. This delivers smooth clarity for dialogue as well as a powerful bass response and good volume production. The only thing it can't deliver is surround sound, making it one of the few projectors we've looked at that truly doesn't need external speakers.
While this is mostly a home theater projector, it does have a gaming mode. The input lag hovers around 67ms regardless of the resolution or settings. That's on the high side for serious gamers, who may notice a subtle delay during play. It's fine for RPGs or puzzle games, though, and can work for casual players of more fast-paced racing games or first-person shooters.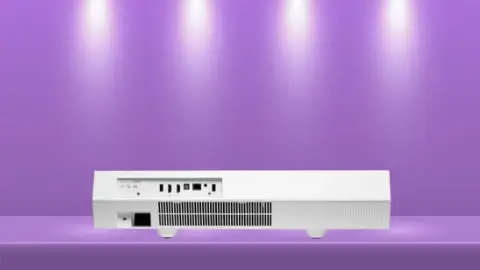 What's the Verdict?
It's one of the few projectors that perform well across categories and has the versatility to deliver in almost any space.
Whether it's worth the investment is something each user will need to determine for themselves, of course. If you don't need smart features or a short throw ratio, you can find projectors that give you a similar picture quality at about half the price. For those who want it all, though, the CinemaX P2 delivers (>>> Find the current price on ProjectorScreen).
REFERENCES AND FURTHER READING: