Laser projectors are the latest hot thing in the home theater world—and with good reason. With a high picture quality and short throw distance, they're an easy way to add big-screen entertainment to your home.
Optoma and LG are two of the biggest names on the market when it comes to 4K laser projectors. Comparing the LG HU85LS vs Optoma P2, neither one comes out as the clear winner. Ultimately, the Optoma P2 has a slight edge over the LG HU85LS (>>> Check price on Amazon).  Choosing the right one really depends on what you're looking for in a projector and which specs matter the most to you. Let's compare them feature by feature to give you a sense of how they stack up.
LG HU85LS vs Optoma P2 Side by Side:
| | LG HU85LS | Optoma P2 |
| --- | --- | --- |
| | | |
| Resolution | 4K | 4K |
| Brightness (Lumens) | 2,700 ANSI | 3,000 ANSI |
| Contrast Ratio | 2,000,000:1 | 2,000,000:1 |
| Throw Distance | 1.2' - 1.7' | 1.5' - 2.2' |
| Screen size | 90" - 120" | 85" - 120" |
| Input lag: | 50-55ms | 50ms |
| Speakers: | 2 X 5W | 40W NuForce soundbar |
| Price | ProjectorScreen.com | BHPhotoVideo.com |
Set-up and Installation
Both the Optoma P2 and the LG HU85LS offer a quick and easy set-up process. Because of their ultra-short throw ratios, both can be set up easily on a table top or entertainment center. Along with that, they both have an automatic warp and keystone correction process. This is built right into the projector on the LG HU85LS, with the Advanced Edge Adjustment, while the Optoma P2 works with the SmartFIT app.
Ultimately, the LG HU85LS has a slight edge over the Optoma P2 when it comes to set-up ease. This is both because of its shorter throw distance and its range of connection options, which include USB and HDMI wired inputs as well as both Bluetooth and Wi-Fi connectivity.
Easier set-up: LG HU85LS
Picture Quality
Both the Optoma P2 and the LG HU85LS have native true 4K resolution, producing about 8.3 million on-screen pixels for a sharp, clear image. On the LG HU85LS, the color is produced by a 3-channel laser and optimized frame-by-frame through Dynamic Tone Mapping, which provides true-to-life color from all content sources.
As good as the picture on the LG HU85LS is, the Optoma P2 beats it out by a hair. Partially this is due to the higher contrast and brighter lamp, which give it more image depth, better black levels, and more sharpness in all light levels. Along with that, its PureMotion technology reduces blurring during fast action sequences, with a 6-segment color wheel for a wide color gamut.
Better picture quality: Optoma P2
Smart Features
Voice control through both Amazon Alexa and Google Home comes standard with either the Optoma P2 or the LG HU85LS. For streaming content on the projector, the LG uses the AI ThinQ system, while the Optoma P2 has an Android 8.0 operating system. Both are easy to navigate and support a similar range of content apps.
The Optoma P2 goes one step further with the addition of IFTTT support. This gives users more options when it comes to smart home integration, letting you program custom routines that let you control the lights, sound, and projector with one voice command, or set up the projector to pause automatically when the doorbell rings.
Better smart feature: Optoma P2
Gaming Performance
Serious gamers look for an input lag of around 30ms or below, ideally paired with a 120fps frame rate. For more casual gaming, an input lag of 60ms or less is acceptable. That's responsive enough there's no noticeable delay for most players.
While neither of these projectors lives up to a pro gamer's requirements, the LG HU85LS has a fast processor and an input lag of around 50ms, low enough for frustration-free play. We also appreciate that the picture quality stays high when you're gaming. Conversely, while you can get the input lag as low as 55ms on the Optoma P2, this requires you to disable the SmartFIT alignment, which can make it unusable for some set-ups.
Better projector for gaming: LG HU85LS
---
LG HU85LS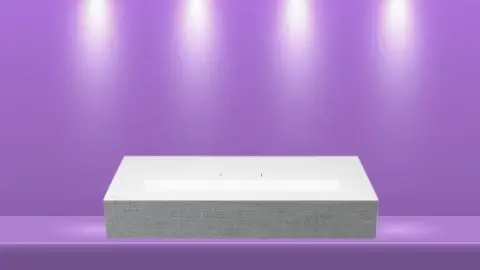 Pros
3-channel laser with HDR10 support and Dynamic Tone Mapping
AI ThinQ interface with Alexa and Google Assistant compatibility
Wide array of wired and wireless connection options
Incredibly short throw distance
Fast processing and low lag are suitable for gaming
Cons
Low sound quality from built-in speakers
Even for a laser projector, the throw distance on the LG HU85LS is short. You can get a 120" image with only about 7" of space between the screen and projector. That gives it a lot of set-up flexibility and limits dilution of the light source. Basically you can use this projector anywhere, regardless of room size or light level.
Smart home owners will love the LG HU85LS, too. It's compatible with both Alexa and Google Home voice control systems. The built in AI ThinQ system lets you manage content right on the projector, with Wi-Fi and Bluetooth for wireless content streaming or connecting peripherals like speakers. No matter how you prefer to get your content, it's easy to get set up with the LG HU85LS.
Adding to the versatility of the LG HU85LS is that it performs just as well for gaming as it does for home theater use. The picture quality is outstanding, with a native 4K resolution supported by a 3-channel laser for accurate, vibrant colors with less color loss. It maintains that high image quality in gaming mode, which drops the input lag down to about 50ms—not quite up to par for professional gamers, but responsive enough most casual players won't notice the delay. Click here for our more detailed LG HU85LS review
---
Optoma P2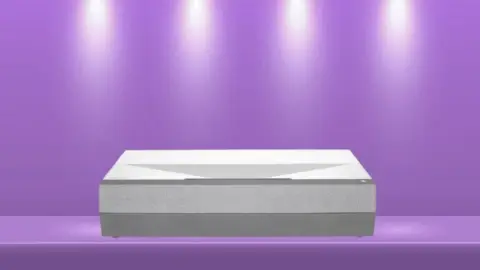 Pros
High resolution and color accuracy
Easy set-up with SmartFIT app
Excellent audio quality with Dolby Digital soundbar
Watch content right on the projector with Android 8.0 OS
Compatible with Alexa, Google Home, and IFTTT
Durable build with long lamp lifespan
Cons
Input lag is on the high side for gaming
If you're looking for a user-friendly, smart projector, it's hard to beat the Optoma P2. It matches the smart features of the LG HU85LS above, with Alexa and Google Home compatibility and an on-board smart navigation system for streaming content straight through the projector. In addition, it can be used with IFTTT, allowing you to create an endless array of custom recipes for full smart home integration.
Setting up the Optoma P2 is easy, as well. While the throw is a bit longer than with the LG above, you still won't need a ceiling mount. You can download the Optoma SmartFIT app for automatic image correction, or manually adjust the picture using the digital zoom and keystone correction.
The Optoma P2 also performs well from a picture quality standpoint. It has native true 4K resolution for a sharp, realistic image. Along with that, its color gamut is among the widest you'll find in a home theater projector, supporting the DCI-P3 color space with a  6-segment color wheel. Dynamic Tone Mapping keeps the color consistent on a frame-by-frame basis.
One unique advantage of the Optoma P2 is the quality of the sound. Its 40-watt soundbar comes with Dolby Digital 2.0 support, providing crisp dialogue for TV and a decent bass level for music and movie effects. Those looking for the surround sound experience will still need to connect external speakers, which is easy to do via Bluetooth or wired connections, but for many the sound you get out of the projector will be plenty. Click here for our more detailed Optoma P2 Review
---
What's the Verdict?
Both the Optoma P2 and the LG HU85LS have a short throw ratio, an easy set up, and a high picture quality. Choosing between them really comes down to how you plan to use the projector.
For the absolute best picture quality, the Optoma P2 is the winner (>>> Find on ProjectorScreen). It's also the best choice if you want the most robust smart features. On the other hand, multi-use spaces like media rooms will be better served by the LG HU85LS. Its gaming performance and remarkably short throw give it a lot of versatility.
Whichever way you go, these are both high-quality projectors capable of giving you years of big screen entertainment. Best of luck on your projector search!
REFERENCES AND FURTHER READING: