The LG HU85LS CineBeam projector is one of the newest entries in the company's line of high-end laser projectors. It's also one of the highest-priced home theater projectors on the market from any brand.
So what do you get for your money from the HU85LS CineBeam—and is it worth the investment? (>>> Check the current price on Amazon) The answer to that question depends on what you're looking for in a projector. There's certainly a lot to love about the LG HU85LS. Let's take a deeper look at its stats and performance so you can decide if it's the right option for you.
LG HU85LS Review of Main Specs:
| | LG HU85LS |
| --- | --- |
| | |
| Resolution | 4K |
| Brightness (Lumens) | 2,700 ANSI |
| Contrast Ratio | 2,000,000:1 |
| Throw Distance | 1.2' - 1.7' |
| Screen size | 90" - 120" |
| Input lag: | 50-55ms |
| Speakers: | 2 X 5W Stereo |
| Price | ProjectorScreen.com |
Installation
The throw distance for the LG HU85LS is short even compared to other laser projectors. You can get a large 120" screen with the projector less than 2 feet from the screen. This eliminates the need for annoying ceiling-mounted installation and lets it work in any size of room.
The short throw isn't the only reason it's easy to set up the LG HU85LS. It also has an advanced edge adjustment option with a 12-point anti-warp keystone correction. A manual focus control lets you fine-tune the image for clarity.
You'll also get strong wireless connectivity with the LG HU85LS. You can use Bluetooth to wirelessly connect it to speakers or soundbars. It also supports Miracast screen sharing, along with a range of wired inputs, for hassle-free connection to all your content sources.
Pros
Built-in AI ThinQ smart interface
Compatible with both Alexa and Google Assistant
Ultra-short throw distance
HDR10 color technology with Dynamic Tone Mapping
Allows screen sharing through MiraCast
Bluetooth connectivity for peripherals like speakers
Fluid frame to frame action with TruMotion technology
Cons
Larger and heavier than most projectors
High price
Picture Quality
The 4K resolution on the LG HU85LS is the sharpest that's available among today's home theater projectors. This impressive detail is paired with advanced technology for the color and on-screen action.
The LG HU85LS uses a 3-channel laser rather than a color wheel. This reduces color loss compared to projectors with a  segmented wheel. Along with this, the CineBeam has Dynamic Tone Mapping to optimize the image frame by frame.
You'll also get LG's proprietary TruMotion technology with the HU85LS. This prevents choppiness or blurring and makes on-screen action more fluid by filling in between the frames.
The brightness of 2,700 lumens put out by the HU85LS's lamp would normally seem a bit low. That said, the ultra-short throw distance means that light doesn't have as far to travel as with other projectors. It's plenty bright enough for lights-on viewing with no loss of picture, further expanding this projector's versatility.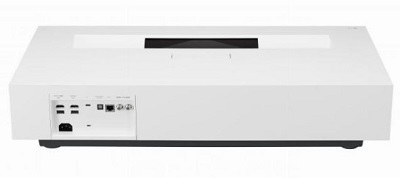 Smart Features
The CineBeam AI ThiQ system lets you stream content straight to the projector via Wi-Fi. While you'll still need a cable box or streaming stick for some platforms, many of the most popular content sources can be accessed straight through the projector.
You'll also get more ways to control the LG HU85LS. Along with the included remote, it comes with Alexa and Google voice control ability built right in. That makes it an easy model to connect to a smart home theater and a great option for modern, connected homes.
What's the Bottom Line?
There's no doubt the LG HU85LS is a well-built and high-performing projector. Its picture quality is among the best you'll find in home theaters, in many ways exceeding the standards in place for movie theaters. It's also versatile and easy to set up thanks to the smart connectivity and short throw ratio.
Having said that, you can find other projectors that sell for less with a similar combination of features. If money is no object, we recommend the LG HU85LS whole-heartedly. For those interested in getting the best value, though, the high cost of this projector will be an impediment. (>>> Check the current price on ProjectorScreen)
Still, if you're looking for the absolute best picture quality and maximum in convenience, the LG HU85LS delivers on these points. With a range of smart features, it's a top choice for any luxury home theater.
REFERENCES AND FURTHER READING: