The LG HU85 line of laser projectors are certainly impressive. They combine an incredible picture quality with an ultra-short throw distance and smart features that make them even easier to use. If you're comparing the LG HU85LS vs HU85LA, you might find it's tricky to identify exactly what's different between the two.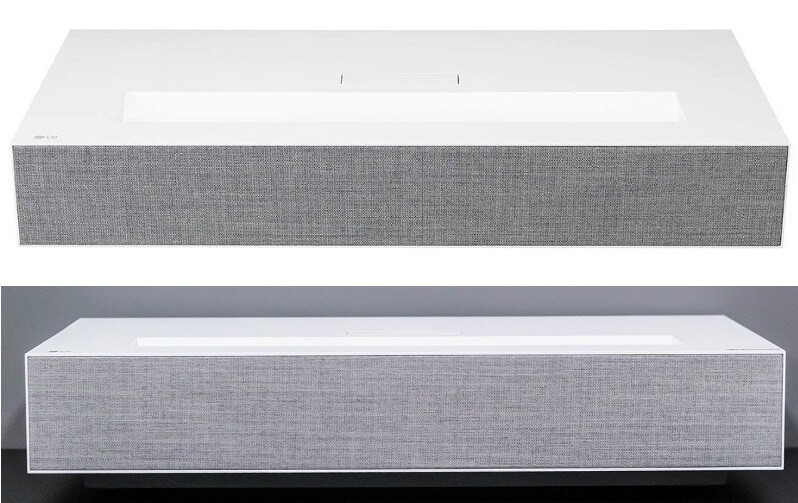 The truth is, these projectors are very similar in their features, functions, and performance. There are a few slight difference between them, however, and those give the LG HU85LA a slight edge overall—if you're willing to pay a premium to get it. >>> Check the current price on Amazon Let's take a closer look at the features of each projector so you can see what we're talking about.
LG HU85LS vs HU85LA Side by Side:
| | LG HU85LS | LG HU85LA |
| --- | --- | --- |
| | | |
| Resolution | 4K | 4K |
| Brightness (Lumens) | 2,700 ANSI | 2,700 ANSI |
| Contrast Ratio | 2,000,000:1 | 2,000,000:1 |
| Throw Distance | 1'5" – 1'11" | 1'3" – 1'7" |
| Screen size | 90" - 120" | 90" - 120" |
| Input lag: | 50-55ms | 50-55ms |
| Speakers: | 2 X 5W Stereo | 2 X 5W Stereo |
| Price | ProjectorScreen.com | BHPhotoVideo.com |
Picture Quality
Both the LG HU85LA and the HU85LS use a 3-channel laser light source for a high-resolution image with great detail and color accuracy. They also both use TruMotion technology, which fills in between the frames to provide the smoothest possible on-screen action.
For color, these LG projectors have full HDR10 support with Dynamic Tone Mapping to optimize the hues frame by frame. You'll see colors the way they were meant to be seen on both projectors, no matter what you're watching.
Best picture quality: Tie
Flexibility
From an installation perspective, both of these projectors are very flexible. They share a similar throw distance, which lets you get a large 120" screen from less than 2 feet away. Along with that, they're bright enough to use in common areas like living rooms without the hassle of blackout curtains.
Where the LG HU85LA has an edge is that it can be used in media rooms and other multi-use areas, in addition to home theaters. Its input lag is around 50-55ms. While that's not low enough to call it a "gamer projector", it's within the acceptable range for casual gaming. That makes the LG HU85LA the better choice for family rooms and other spaces where you want it to take the place of your old TV.
More flexible projector: LG HU85LA
Smart Features
The LG HU85LS can be controlled using voice commands through either Amazon Alexa or Google Home. With both Bluetooth and Wi-Fi connectivity, you can also stream content through MiraCast or wirelessly connect peripherals like speakers. The LG AI ThiQ system and included Magic Remote make it easy to navigate all these options.
You'll find all these features on the LG HU85LA, as well. In addition, it includes LG's webOS smart TV interface, which lets you download streaming apps right to the projector. This can spare you the need to for streaming sticks and other content sources, giving it a slight advantage over its competition.
Smartest projector: LG HU85LA
LG HU85LS vs HU85LA: Full Reviews
LG HU85LS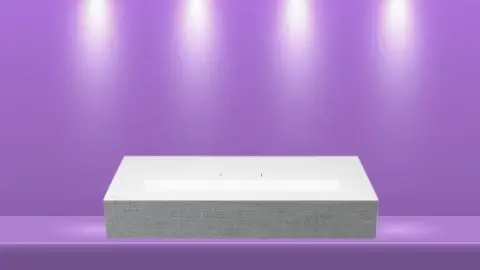 From a picture quality perspective, the LG HU85LS leaves nothing to be desired. This starts with sharp 4K resolution, which gives you a sharp and realistic on-screen image no matter what you're watching. The colors are bright and accurate, as well. It uses a 3-channel laser for the color rather than a color wheel. This reduces color loss and prevents common image issues like the rainbow effect.
With a standard-throw projector, the brightness of 2,700 lumens may be a concern for brighter viewing areas. Given that you can put the LG HU85LS less than 2 feet from the screen, though, you're able to make the most of the light the lamp puts out. We noticed no loss of image quality regardless of the room's light level, so you won't need to worry about light control with this model.
The LG HU85LS is a smart projector, as well. The AI ThinQ system comes with compatibility for both Amazon Alexa and Google Assistant built right in. It also works with MiraCast for wireless streaming of content straight from devices. Those who prefer a more traditional navigation style can use the included Magic Remote.
On the whole, the LG HU85LS is user-friendly and easy to integrate into any space or smart home set-up. Its impressive picture technology gives you an image that's smooth, detailed, and realistic in any room or light level. Click here for a more detailed LG HU85LS review
Pros
Dynamic Tone Mapping for optimized color accuracy
Smooth on-screen movement with TruMotion technology
Comes with AI ThinQ for navigation
Compatible with both Alexa and Google Assistant
Ultra-short throw for fitting in small spaces
Connect via Bluetooth, Wi-Fi, or wired inputs (HDMI and USB)
Cons
---
LG HU85LA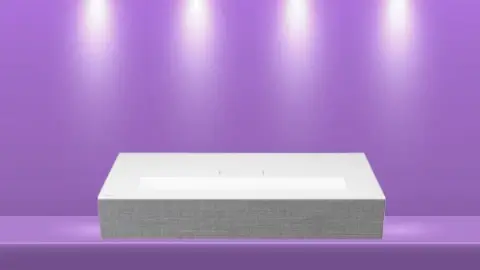 When it comes to the picture and installation, the LG HU85LA is nearly identical to the LG HU85LS above. It has a similarly short throw distance, so it's a very flexible option when it comes to room size. You'll also get the same 3-channel laser and 4K resolution, with TruMotion technology to optimize and smooth out the frame by frame motion.
The main difference is that the LG HU85LA is a smarter projector. This is thanks to its included LG webOS smart TV system, which lets you download streaming apps like Amazon Prime and Netflix right onto the projector. Voice control is an option, too, since it's compatible with both Google Home and Amazon Alexa.
The smart features of the LG HU85LA don't stop with content, either. Rather than a manual keystone correction, this projector has an automatic 12-point warping edge adjustment correction. This makes it easier to align the image to your screen, whether you mount the projector or set it on your entertainment center.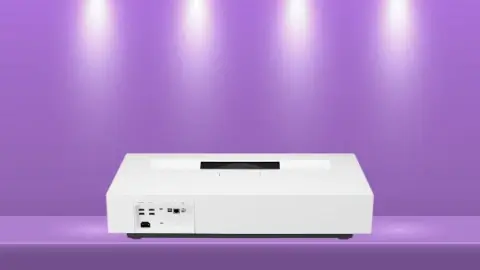 Pros
Excellent color accuracy and contrast ratio
LG WebOS smart TV interface included
Built-in voice control through Amazon Alexa
Ultra-short throw distance
Bluetooth connectivity for connecting external speakers
Dual USB and HDMI ports
Cons
Built in speakers are low quality
---
The Verdict
As you can see, these projectors are very similar in both their design and performance. Both provide a high-resolution picture with impressive color and contrast. They're also easy to install and use, and can be integrated easily into a smart home theater.
On the whole, we find the LG HU85LA to be the better option when you consider all factors together. >>> Check price on ProjectorScreenThat being said, the LG HU85LS is equally well-made, with wide connectivity and impressive image quality. No matter which way you go, either of these LG laser projectors will turn any room into a cinema-quality home theater.