lived up to that hype. With a sharp, bright picture, an ultra-short throw ratio, and built-in smart features, it's a fantastic choice for any modern home theater.
The recently-released Optoma CinemaX P2 is an upgraded version of the P1 and shares many of its great qualities. While the differences are subtle, the CinemaX P2 is ultimately the better projector for both home theater and gaming applications. >>> Find on Amazon
Want to know the details of what's difference between the Optoma CinemaX P2 vs P1? Let's take a look at their features and specifications to answer that question.
Optoma CinemaX P2 vs P1 Side by Side:
| | Optoma CinemaX P2 | Optoma CinemaX P1 |
| --- | --- | --- |
| | | |
| Resolution | 4K | 4K |
| Brightness (Lumens) | 3,000 ANSI | 3,000 ANSI |
| Contrast Ratio | 2,000,000:1 | 1,500,000:1 |
| Throw Distance | 1.5' - 2.2' | 1.5' - 2.2' |
| Screen size | 84.81" - 120.06" | 85"-120" |
| Input lag: | 50ms | 55ms |
| Speakers: | 40W NuForce soundbar | 2 x 20W |
| Price | BHPhotoVideo.com | Check on Amazon |
Installation and Connectivity
In the set-up and installation, these two projectors are nearly identical in their performance. Both have an ultra-short throw ratio that gives you up to a 120" screen with about 2 feet of distance. Though you can adjust the image manually with features like the digital zoom and keystone correction, they also come with the Optoma SmartFIT app for hassle-free alignment.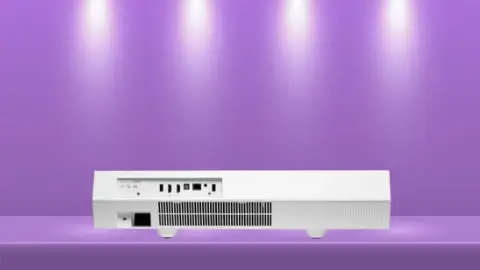 Both these projectors also offer a range of both wired and wireless connection options. Physical inputs include HDMI and USB. They can also connect via Bluetooth or Wi-Fi, and have built-in compatibility with all major smart home systems.
When it comes to smart integration, the Optoma CinemaX P2 has the slightest edge over the P1. Its Smart+ technology includes an on-board Android operating system that allows you to stream content right on the projector, sparing many users the need to connect other content sources.
Projector with better connection options: Optoma CinemaX P2
Picture Quality
The picture quality on the Optoma P1 is cinema-quality and stunningly realistic. Its 4K resolution is the sharpest you'll find on the home theater market, and it's enhanced with technology like Dynamic Black and Pure Motion for remarkably smooth, consistent performance no matter what you're watching.
As good as the P1's picture is, the image from the CinemaX P2 is even better. It has a wide color gamut of over 1 billion displayable hues optimized by HDR tone mapping. A higher contrast ratio adds detail and depth, as well, for an all-around better viewing experience.
Projector with best picture: Optoma CinemaX P2
Gaming Performance
For gamers, the input lag of a projector is the most important specification. Serious gamers look for something around 30ms or lower, which is low enough there's no noticeable delay even when you're playing graphic-intensive multi-player games. For slower-paced games (or more casual gamers), the input lag can go as high as 60ms before it starts to become an annoyance.
The Optoma P1 is unfortunately unsuitable for gamers. Even with the gaming mode firmware update released by the company, the input lag never drops below that 60ms threshold. If you're using features like SmartFIT alignment, Pure Motion, or Dynamic Black, the lag can soar as high as 170ms, high enough to make some games unplayable.
With the right settings, you can get the lag on the Optoma CinemaX P2 down to around 50ms. Even at its slowest, it's more responsive than the P1—using a feature like SmartFIT, for example, will push the lag up to around 60-65ms, still within the range most casual gamers will find acceptable.
Better projector for gaming: Optoma CinemaX P2
Optoma CinemaX P2 vs P1: Full Reviews
Optoma CinemaX P2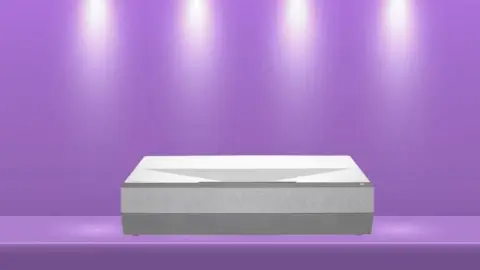 As good as the picture quality on the P1 is, the image from the Optoma CinemaX P2 is even better. It uses a 6-segment rather than an 8-segment color wheel. This both enhances the accuracy of the hues and reduces instances of the rainbow effect (though that can still be an issue for viewers sensitive to it). The P2 also has a higher contrast ratio, so even though the resolution and lamp brightness are identical the picture on the P2 will look sharper and brighter when you're watching.
The most significant improvement with the CinemaX P2, though, is its responsiveness. Using gaming mode, you can get a lag as low as 50ms from this projector. While that's still more delay than serious gamers will want, it makes it more versatile for use in media rooms and living rooms. You will still need to turn off features like Pure Motion and Dynamic Black to get that lower input lag, so you won't get the same quality of picture for games that you do for movies and TV shows.
For installation and smart home integration, the P2 is equally user-friendly as the Optoma P1 below. This includes the SmartFIT app, Google and Alexa voice control, and an Android OS that lets you watch content right on the projector.
Pros
Easy to set up with ultra-short throw distance
Suitable for casual gaming
6-segment color wheel for wider color gamut
Better contrast ratio for sharper, more realistic images
Durable and low-maintenance with long lamp life
Smart+ technology with voice control and IFTTT support
Cons
Picture quality is lower when playing games
May still cause rainbow effect for some viewers
---
Optoma CinemaX P1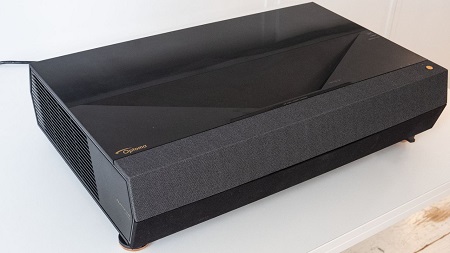 The best thing about the Optoma CinemaX P1 is the quality of the picture. The use of Dynamic Black technology adds depth and detail to dark areas of the screen, while the wide color gamut from the 8-segment color wheel ensures vibrant, accurate hues from all content sources. While this can cause the rainbow effect for those sensitive to it, for most viewers the picture will be on par with what you'd expect from a movie theater (and maybe even a little better).
Getting set up with the CinemaX P1 is easy, too. The user-friendly SmartFIT app takes the time and effort out of aligning the image. It's also a great choice for smart home owners because it's easy to integrate into existing smart home theaters. Compatibility with Alexa, Google Home, and IFTTT gives you the power to set up voice control or integrate commands into recipes, something you can't do with most projectors.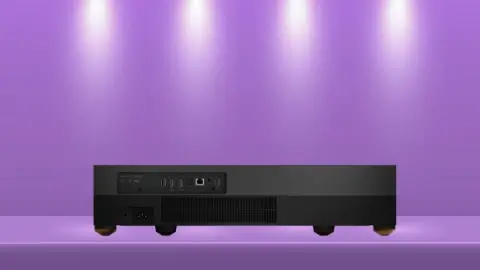 Something else we like about the CinemaX P1 is that, while it's easy to hook up external speakers, you don't necessarily have to. The 40-watt soundbar that's built in far exceeds the sound production of most projector speakers, especially when it comes to the bass. Its fan is comparatively quiet, as well, so you won't have to crank the volume to hear your shows.
Pros
True 4K resolution with excellent color accuracy
Good built-in sound quality with Dolby 2.0 support
SmartFIT correction app makes aligning image easy
Compatible with both Google Assistant and Alexa voice control
Ultra-short throw ratio
Advanced laser light source has lifespan up to 30,000 hours
Cons
Not suitable for gaming
Use of color wheel can cause rainbow effect
---
The Verdict
Optoma released the CinemaX P2 just over a year after coming out with the P1. The speed of the model update makes the extent of the improvements even more impressive. Across the board, you'll get more out of the Optoma CinemaX P2, which is both more versatile and produces a more vibrant image. >>> Check current price on ProjectorScreen
Best of all, Optoma didn't fix what wasn't broken. The lamp brightness, throw distance, and sound quality didn't change from the P1 to the P2—and, surprisingly, the price didn't change much, either. In our opinion, that makes the Optoma CinemaX P2 the clear winner for any home theater.
REFERENCES AND FURTHER READING: