The CinemaX Pro from Optoma is the update of the company's recently discontinued P1 model. Comparing the Optoma CinemaX Pro vs. P1, you'll see they've kept the high picture quality and robust smart features, with improvements that make it easier to install and a better choice for gaming. If you're deciding whether to update your set-up to the CinemaX Pro, this side-by-side comparison will help you see if it's worth the investment. (>>> Check price on Projectorpeople)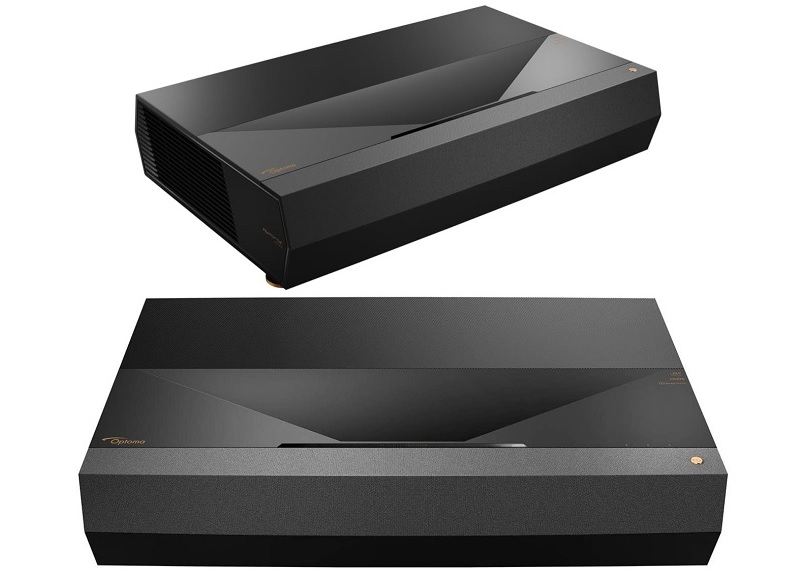 Optoma CinemaX Pro vs P1 Side by Side:
| | Optoma CinemaX Pro | Optoma CinemaX P1 |
| --- | --- | --- |
| | | |
| Resolution | 3840x2160 | 3840x2160 |
| Brightness (Lumens) | 3,500 ANSI | 3,000 ANSI |
| Contrast Ratio | 2,500,000:1 | 1,500,000:1 |
| Input lag | 55ms | 122ms |
| Throw Distance | 1.5' - 2.2' | 1.5' - 2.2' |
| Screen size | 85" - 120" | 85" - 120" |
| Speakers | 20.0 Watts × 2 | No |
| Price | Check on ProjectorPeople | Check on Amazon |
Installation Ease
The short throw distance of the Optoma CinemaX Pro and P1 produces a 100" image with less than 2 feet of distance, perfect for easy set-up on a table top or entertainment center. The main difference between these models from an installation standpoint is the breadth of adjustment and alignment features.
The P1 has a digital zoom along with vertical and horizontal keystone correction. You'll have the tools you need to align the image to the screen, you'll just need to use them manually. The CinemaX Pro also includes an 81-point image adjustment function that speeds up this alignment process and gives it an overall faster, easier set-up.
Easier installation: Optoma CinemaX Pro
Brightness
The 3,000-lumen lamp of the Optoma P1 is bright enough to produce a vibrant picture in moderately well-lit rooms. If there are a lot of large windows black-out curtains may still be necessary for daytime viewing, but many users find they don't have to modify their space at all.
For well-lit rooms, the Optoma CinemaX Pro has a 3,500-lumen lamp. This boost in illumination makes it more suitable for bright spaces.
Brighter lamp: Optoma CinemaX Pro
Picture Quality
The picture quality of the Optoma P1 is relatively high. The DLP display has a native 4K resolution that produces about 8.3 million on-screen pixels. Add in the high dynamic contrast ratio and 8-segment color wheel, and you get an immersive, detailed picture.
The Optoma CinemaX Pro goes even further, with technology like Dynamic Black contrast and Rec.2020 tone mapping for a cinema-quality image. Its wider color gamut goes beyond the Rec.709 spectrum that was the standard when the P1 was released for more nuanced and realistic colors.
Better picture quality: Optoma CinemaX Pro
Gaming Performance
Neither of these Optoma models is what you would call a "gaming projector". Serious gamers look for a lag that's under 30ms, but for casual play 60ms is a good threshold, low enough most won't find the lag distracting.
The Optoma CinemaX Pro has an input lag around 55ms, keeping it just within the acceptable range for gaming. This is less than half the lag of the P1, which at over 100ms is likely to be frustrating for any reflex-based game.
Better gaming performance: Optoma CinemaX Pro
---
Optoma CinemaX Pro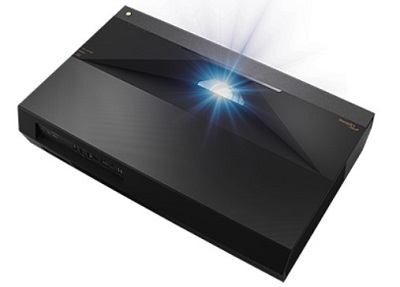 The Optoma CinemaX Pro uses a DLP display and a high-performance all-glass lens for a sharp, high-contrast image with strong color performance. Its 8-segment color wheel covers the DCI-P3 color space, with Rec.2020 tone mapping and PureColor enhancement. This means realistic and accurate colors with full saturation, and an overall vibrant and immersive image for all types of content.
The CinemaX Pro is also a versatile projector. While it's not the best gaming projector out there, its input lag is low enough most players won't find it distracting, enabling its use in media rooms or living rooms. It's just as flexible in terms of the space where you're using it, with a bright lamp and short throw distance.
We also appreciate the user-friendly set-up of the Optoma CinemaX Pro. Along with a digital zoom and keystone correction, its 81-point image distortion correction is a faster way to align the image and clear up any skew or warping issues. It's just as easy to integrate into a smart home, supporting Alexa and Google voice control along with an InfoWall display and Android-based operating system.
The CinemaX Pro can download any app from the Optoma Marketplace, so you may not need to connect outside content sources. If you do want to connect a cable box, game system, or streaming stick, the 3 USB and 3 HDMI ports give you a good range of inputs to work with. It also has an integrated soundbar with Dolby Digital 2.0 support and 40 watts of power, sparing many the need for external speaker systems. Click here for our in-depth Optoma CinemaX Pro review.
Pros
Improved contrast with Dynamic Black
Integrated soundbar with Dolby Digital 2.0
Smart+ technology for streaming and smart home integration
DCI-P3 color space with HDR10 and tone mapping
81 point image warp adjustment
Low enough lag for casual gaming
Full 3D support
Cons
Color wheel may cause rainbowing
Not great for serious or competitive gamers
---
Optoma CinemaX P1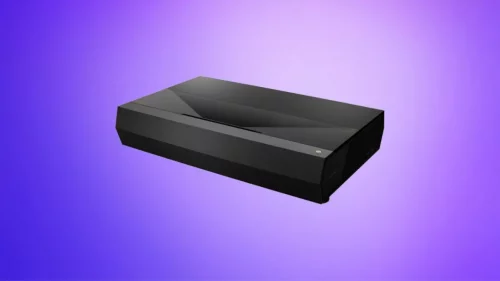 The Optoma CinemaX P1 was an impressive projector when it was released in September of 2019, and it still offers some features you won't find on other models. Its smart features are arguably its strongest. Like the CinemaX Pro, it works with Amazon Alexa and Google Assistant voice control, and supports IFTTT for easy integration into smart home routines.
The all-in-one capability of the Optoma P1 is another strength. Its 40-watt integrated soundbar has 2 full-range drivers and 2 dedicated woofers, giving it a clear, powerful, and balanced sound across the frequency range. The Android operating system and wireless connectivity let you stream shows and movies directly through services like Hulu, Netflix, and Prime Video.
The picture quality of the Optoma P1 is ideal for home theater uses, with true 4K resolution, a high dynamic contrast, and a wide color gamut. It's not a great choice for gamers, however, with an input lag that's too high for even most casual players. This limits its capabilities for multi-use set-ups. On the plus side, its short throw ratio and 3,000-lumen lamp give it good flexibility when it comes to your space, working as well in small or well-lit rooms as it does in dedicated home theater spaces.
Pros
True 4K resolution with excellent color and contrast
Short throw ratio with vertical and horizontal keystone
Android operating system for direct streaming
Full HD 3D support
High sound quality from NuForce soundbar
Supports voice control and IFTTT
Cons
Input lag is too high for gaming
Must be placed flat (no angled or mounted set-ups)
---
The Verdict
The most significant upgrade from the P1 to the Pro its responsiveness. The truth is, though, it's a better projector across categories, with an easier set-up, higher contrast, and wider color gamut. With the release of the CinemaX Pro, Optoma kept the best features of the P1 and expanded on them to give users a better overall home theater experience. Best of all, the Pro released with the same MSRP as the P1, so it's still a great bang for your buck. (>>> Check price on Projectorpeople)