Optoma released the CinemaX Pro as an upgrade to their previous CinemaX P1 and P2 models. Its DLP display and NuForce soundbar match the previous models for picture and sound quality, with new usability features and a more responsive processor that expand its versatility. In this Optoma CinemaX Pro review, we'll take a closer look at its features and capabilities so you can decide if it's the right choice for your home. (>>> Find on Projectorpeople)
Optoma CinemaX Pro Review of Specifications:
| | Optoma CinemaX Pro |
| --- | --- |
| | |
| Resolution | 3840x2160 |
| Brightness (Lumens) | 3,500 ANSI |
| Contrast Ratio | 2,500,000:1 |
| Input lag | 55ms |
| Throw Distance | 1.5' - 2.2' |
| Screen size | 85" - 120" |
| Speakers | 20.0 Watts × 2 |
| Price | Check on ProjectorPeople |
Set-up and Installation
The Optoma CinemaX Pro has an ultra-short throw ratio, producing a 100" image from less than 2 feet of distance. Thanks to this, most users won't need to worry about ceiling mounting, making it much faster and easier to install. Just put it on a table or entertainment center and shift it until the image aligns with the screen.
One big improvement of the CinemaX Pro over previous models is its image warp correction. It uses an 81-point alignment system that corrects distortion on both the vertical and horizontal axis, further expanding its placement flexibility.
Picture Quality
Image quality is the most important factor for many buyers, and the Optoma CinemaX Pro delivers for both TV and movie watching. Its Ultra HD resolution produces about four times the on-screen pixels of full HD. This is backed by a high dynamic contrast ratio, giving the picture excellent depth and rich black levels along with sharp, crisp details.
The CinemaX Pro uses an 8-segment color wheel to generate the color. On the plus side, this gives it a wide color gamut, covering the DCI-P3 spectrum. Support for HDR10 and Rec.2020 tone mapping further enhance the hues and ensure you're seeing movies the way they were intended. There downside is this color production format can cause the annoying flickering and stroboscopic flashing known as RBE or rainbowing. Many viewers don't have this issue, but for those who are sensitive to it, it can be a deal-breaker.
The lamp on the Optoma CinemaX Pro puts out about 3,500 lumens, plenty for lights-on viewing and use in brighter spaces. Its full 3D support is another plus from a home theater standpoint, letting you watch 3D movies from most content sources without any extra accessories.
Pros
True 4K resolution with high Dynamic Black contrast
Bright enough for most light environments
Supports voice control and IFTTT smart home integration
Stream content directly through Android OS
Ultra-short throw distance
Easy to set up and align the image
High sound quality and output
Full 3D support
Cons
Sensitive viewers may see rainbowing or color breakup
Input lag is too high for serious gamers
Smart Features
The Optoma CinemaX Pro uses an Android-based operating system and has access to all the apps in the Optoma Marketplace. This means you can use many popular streaming services without an external content source.
Smart home owners will love the IFTTT support of the CinemaX Pro, which expands the options for integrating it into existing routines (or creating new ones). It's also compatible with Amazon Alexa and Google Assistant voice control systems, making it a good fit for smart homes of all stripes.
Built-in Sound
The 40-watt NuForce soundbar on the CinemaX Pro has a volume output and sound quality on par with most wireless Bluetooth speakers. Unless you want a true surround sound experience, you won't need to use external speakers. The audio quality is thanks in part to its Dolby Digital 2.0 audio, with an HDMI pass-through so it sounds just as good no matter how you produce the sound.
Gaming Performance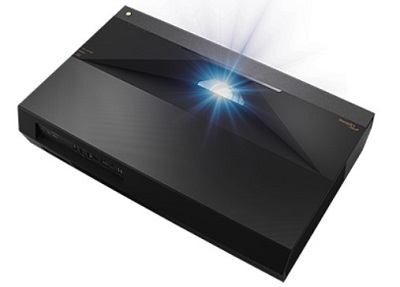 The input lag of the Optoma CinemaX Pro is on the high side for serious or professional online gamers. It's within the acceptable range for most casual players, however, and for most there's no noticeable lag, even when you're playing on the latest-generation consoles. This makes it a fine choice for media rooms and other multi-use spaces, though we wouldn't go so far as to call it a "gaming projector".
Optoma CinemaX Pro Review In Summary
The Optoma CinemaX Pro is a user-friendly and versatile projector. Its bright lamp and short throw mean it can work in almost any space, while its relatively low lag, 3D support, and exceptional picture quality give it casual gaming as well as home theater capability. Serious gamers or those sensitive to the rainbow effect will want to look elsewhere, but for most users the Optoma CinemaX Pro is one of the best projectors on the current market. (>>> Check price on Projectorpeople)
REFERENCES AND FURTHER READING: