Optoma projectors are among the most popular on the home theater market—and with good reason. The consistent quality and advanced image technology make them an excellent value at the price, and they're user-friendly and versatile, too.
Comparing the Optoma UHD50X vs. CinemaX P2, there's no one clear winner across every category. It more comes down to your space and how you plan to use it. Check out the main differences between these models to get a sense for what we mean.
Optoma UHD50X vs CinemaX P2 Side by Side:
| | Optoma UHD50X | Optoma CinemaX P2 |
| --- | --- | --- |
| | | |
| Resolution | 3840x2160 | 3840x2160 |
| Brightness (Lumens) | 3,400 ANSI | 3,000 ANSI |
| Contrast Ratio | 500,000:1 | 2,000,000:1 |
| Input Lag | 25ms | 67ms |
| Throw Distance | 4.0' - 26.6' | 1.5' - 2.2' |
| Screen size | 34" - 303" | 85" - 120" |
| Speakers | 5.0 Watts Mono | 20.0 Watts × 2 |
| Price | ProjectorScreen.com | BHPhotoVideo.com |
Throw Distance
The Optoma UHD50X uses a standard throw distance. For a 100" screen, the projector will need to be around 9-11 feet away. While this isn't necessarily an issue (as long as you have a big enough room) it does mean most will want to ceiling-mount it, adding a step to the set-up process.
The ultra-short throw distance of the Optoma CinemaX P2 produces a 100" image from less than 2 feet away, supporting table-top installations and letting it provide big-screen entertainment in a wider range of rooms.
Shorter throw distance: Optoma CinemaX P2
Gaming Performance
The Game Mode on the Optoma P2 is the only truly disappointing thing about it. While the images look great, the lag still measures around 67ms, high enough even many casual players will notice a frustrating delay. This may not be a concern for RPGs and similar styles of games, but can be a big disadvantage for first-person shooters and other reflex-based games.
The Optoma UHD50X features an Enhanced Gaming Mode that drops the input lag as low as 16ms for full HD games (around 25ms for gaming in 4K). That's low enough to satisfy even professional gamers, and will provide more casual players with a frustration-free experience.
Better gaming performance: Optoma UHD50X
Smart Features
The Optoma UHD50X lacks the wireless connectivity needed for built-in streaming and voice control. For these features, you'll definitely want the CinemaX P2, whose Android interface supports direct streaming of content through most popular streaming services. It's also enabled for use with Amazon Alexa or Google Assistant right out of the box.
The smart features of the Optoma P2 don't stop there. Its support for IFTTT makes it a top choice for smart home integration, allowing it to be written into custom automation routines. It's even smart during the set-up process, pairing with the SmartFIT app for automatic correction of the focus and screen geometry.
Better smart features: Optoma CinemaX P2
Sound Quality
The majority of users will want to connect external speakers to the Optoma UHD50X. The single 5-watt speaker that's built in simply can't do justice to movie sound effects and won't produce the clarity and volume most want in a home theater.
The P2 has a full sound bar, with 2 mid-range drivers and 2 dedicated woofers. This expands both its frequency response and its maximum output. While you'll still need a speaker system for true surround sound, the P2's built-in speakers are comparable in sound quality to most stand-alone soundbars, and will suffice on their own for many users.
Better sound quality: Optoma CinemaX P2
---
Optoma UHD50X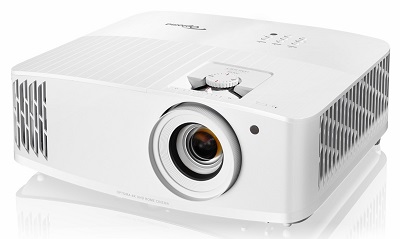 The Optoma UHD50X is one of the best projectors you can get for less than $2,000. From a pure picture quality standpoint, it has true 4K resolution, backed by Dynamic Black contrast and with support for HLG and HDR10. The result is a realistic image with exceptional depth and texture that's authentic to the source. It gives the same nuance to the color, supporting the cinematic DCI-P3 color spectrum, while the high frame rate prevents motion blur and maintains the image quality during on-screen action.
Setting up the Optoma UHD50X is a relatively quick process. It does require more measuring and planning during installation than the P2 since it has a longer throw distance. Fortunately, it has alignment options like lens shift and keystone correction, giving it some flexibility in terms of its placement.
Performance-wise, the UHD50X gets high marks for versatility, and is just as great for gaming as it is for watching TV and movies. Connectivity is the only potential hang-up if you're using it in a multi-purpose space. It has 2 HDMI ports, along with USB and VGA inputs, but lacks wireless connectivity and streaming support. This isn't an issue if you only use a streaming stick and a single gaming system, but will mean frequent unplugging and switching if you need to connect more devices than that.
Pros
DCI-P3 color space with Rec.2020 tone mapping
Sharp 4K image with Dynamic Black contrast
Low lag suitable for modern reflex-based games
Bright enough for any indoor environment
Flexible installation with lens shift and keystone correction
Excellent value
Cons
Weak sound
Long throw distance
---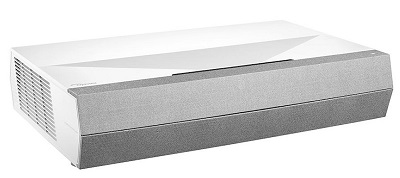 The Optoma CinemaX P2 is a user-friendly, all-in-one entertainment machine. Its 30-watt soundbar puts out immersive, powerful audio, and the integrated Android TV interface is intuitive and robust in its streaming app options. Between the short throw distance and the automatic alignment with the SmartFIT app, most users can be watching movies within minutes of opening the box. It's just as easy to integrate into home automation systems, supporting multiple voice control services and custom commands through IFTTT.
The picture quality of the CinemaX P2 is equally impressive. Its 6-segment color wheel covers the DCI-P3 gamut, and like the UHD50X it uses HDR10 and PureMotion technologies to provide a crisp, detailed image with no motion blur. While the lamp isn't quite as bright on paper, the shorter throw reduces light diffusion and the on-screen picture is just as vibrant in any indoor light conditions.
The broader connectivity of the CinemaX P2 make it a more convenient choice for more complicated home entertainment set-ups, with 3 HDMI ports along with wireless connectivity and streaming. The only factor limiting its versatility is its high input lag, which makes it a poor choice for most styles of gaming.
Pros
Exceptional color and contrast
Ultra-short throw distance
Automatic alignment through SmartFIT app
Powerful lamp isn't prone to washout
Direct streaming through integrated Android interface
Compatible with voice control and IFTTT
Cons
Input lag is too high for gaming
Higher cost
---
What's the Bottom Line?
If you're a gamer, the Optoma UHD50X is the clear winner. For other users, the choice comes down to value versus convenience. The MSRP of the UHD50X is about half that of the P2, enough of a price difference it's still the cheaper option factoring in necessary accessories like speakers and a streaming stick. Conversely, the CinemaX P2 has all-in-one capability and an easier installation, making it the more user-friendly choice overall (>>> Check on ProjectorScreen).
REFERENCES AND FURTHER READING