Today's home theater projectors provide a picture quality that's leaps and bounds ahead of models available even a few years ago, and at a price-point that makes them accessible to everyday consumers. We've picked out some of the strongest performers on the current market and compared them side-by-side. As you can see from the key features, there's no one clear winner across all categories. Deciding which is the best home theater projector really comes down to your space and needs. For those who want the absolute best picture quality, the Optoma UHD50X (>>> Check price on Amazon) and VAVA 4K (>>> Check its Pricing on ProjectorScreen.com or Bhphotovideo.com) are likely to be near the top of your list.
Best Home Theater Projector – Top Picks for 2022:
| | Optoma P2 | Optoma UHD50X | Vava 4K | Epson 2250 | Epson LS300 | OPTOMA UHD38 |
| --- | --- | --- | --- | --- | --- | --- |
| | | | | | | |
| Resolution | 3840x2160 | 3840x2160 | 3840x2160 | 1920x1080 | 1920x1080 | 3840x2160 |
| Brightness (Lumens) | 3,000 ANSI | 3,400 ANSI | 2,500 ANSI | 2,700 ANSI | 3,600 ANSI | 4,000 ANSI |
| Contrast Ratio | 2,000,000:1 | 500,000:1 | 1,500,000:1 | 70,000:1 | 1,500,000:1 | 1,000,000:1 |
| Input lag | 67ms | 25ms | 98ms | No data | No data | 4ms |
| Throw Distance | 1.5' - 2.2' | 4.0' - 26.6' | 1.4' - 2.5' | 4.7' - 29.0' | 0.1' - 1.3' | 4.0' - 32.7 |
| Screen size | 85" - 120" | 34" - 303" | 80" - 150" | 30" - 300" | 61" - 120" | 33" - 300" |
| Speakers | 20.0 Watts × 2 | 5.0 Watts Mono | 30.0 Watts × 2 | 10.0 Watts Mono | 5.0 Watts × 2 | Internal Speakers |
| Price | ProjectorScreen.com | BHPhotoVideo.com | BHPhotoVideo.com | BHPhotoVideo.com | ProjectorScreen.com | ProjectorScreen.com |
Brightness
The brighter the lamp, the better the projector can maintain the quality of the image with ambient light in the room. In a light-controlled home theater space, a brightness as low as 1,500 lumens can be enough to give you an immersive image. For lights-on viewing or spaces with windows, a lamp that's at least 2,500-3,000 lumens is recommended, and the brighter the better for well-lit spaces.
All of these projectors are bright enough for some ambient light. If you have a well-lit space, the 4,000 lumens of the Optoma UHD38 let it maintain full color saturation with no wash-out, even in rooms with large windows and other natural light sources.
Brightest projector: Optoma UHD38
Picture Quality
There are three main factors to look at to determine the picture quality: resolution, contrast, and color production. The best home theater projectors today have a native resolution of 3840X2160, also known as 4K Ultra HD. This produces roughly 4 times the on-screen pixels of full HD for more detail and realism.
The VAVA 4K and Optoma CinemaX P2, UHD50X, and UHD38 all offer true 4K resolution. Of the four, the Optoma UHD50X has the widest color gamut, covering the DCI-P3 spectrum, which contains about 50% more colors than the Rec.709 spectrum that most TVs and projectors produce. Combined with the Dynamic Black technology and fast blur-free refresh rate, this makes the UHD50X the strongest performer from a purely picture quality standpoint.
Best picture quality: Optoma UHD50X
Throw Distance
The throw distance of a projector tells you how much space the projector needs to produce a large image. A short throw allows for more installation flexibility and is a must-have in smaller spaces. It can also help improve the overall image quality, maximizing the brightness of the on-screen image by giving the light less room to diffuse before it reaches the screen.
The Optoma CinemaX P2 and VAVA 4K both have an ultra-short throw, producing a 100" image with around 2 feet of distance. If you're looking for the absolute shortest throw, the Epson EpiqVision Ultra LS300 can generate a picture with as little as 1 inch between the lens and wall, and only needs about 1 foot for a 100" screen.
Shortest throw: Epson EpiqVision Ultra LS300
Smart Features
Features like voice control support and direct streaming interfaces are quickly becoming the standard on home theater projectors. Wireless connectivity opens up the possibility for content mirroring, too, if the projector doesn't support your favorite streaming services.
The VAVA 4K has a direct streaming interface and wireless connectivity, while the Epson LS300 goes a step further, adding Google Assistant voice control to the mix. The best option from a smart perspective, however, is the Optoma CinemaX P2. It's compatible with both Alexa and Google voice control, for one thing, and also has built-in support for IFTTT, making it the easiest projector to integrate into a smart home theater.
Best smart features: Optoma CinemaX P2
---
Optoma CinemaX P2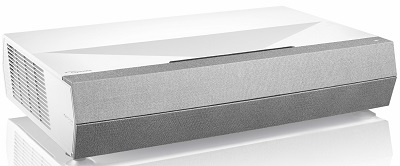 The Optoma CinemaX P2 is an excellent choice for smart home entertainment systems. It's compatible with Amazon Alexa and Google Assistant voice control and also has support for IFTTT. This makes it easy to integrate the P2 into home automation routines and connect it to other smart devices.
The Smart+ technology on the CinemaX P2 is helpful even if you don't have a smart phone. The Android-based operating system lets you watch content right on the projector through streaming apps. It also pairs with the SmartFIT app for quick geometry correction and image alignment. If you have issues with the app (which some users do) the digital zoom and keystone correction are still easy to use.
The Optoma P2 uses a laser phosphor light source with dynamic contrast and a 6-segment color wheel. Its overall picture performance is fantastic, with a true 4K resolution and full coverage of the Rec.709 color spectrum. While the color wheel can trigger image issues in some sensitive viewers, most will find the clarity, detail, and realism of the image perfectly suited to their content.
This is a versatile projector, too. Its bright lamp and short throw mean you don't need a dedicated home theater space. You can also use it without external speakers. The integrated 40-watt soundbar has Dolby Digital 2.0 support. You'll still need an outside system for full surround sound, but the sound quality and output of the P2 on its own are plenty for most.
Pros
True 4K resolution with HDR10 compatibility
Covers full Rec.709 color spectrum
Bright enough for lights on viewing
Android TV interface for direct streaming
Ultra-short throw (22" for a 100" image)
SmartFIT app streamlines set-up
Easy smart home integration
Built-in Dolby Digital soundbar
Cons
Use of a color wheel may cause rainbowing
Some users have trouble with the SmartFIT app
---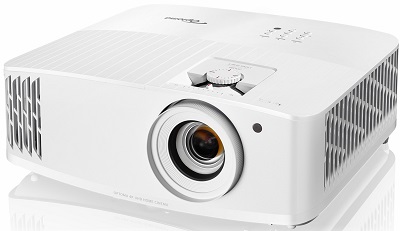 If you're looking for a projector for a multi-use space like a living room or media room, the Optoma UHD50X is an excellent choice. Its low 16ms input lag supports 4K gaming on the latest consoles and platforms, with a high 240Hz refresh rate that prevents frustrating image blur This isn't just a benefit for gamers, by the way. Fast-paced sports or action movies also benefit from this high refresh rate.
At 3,400 lumens, the lamp on the Optoma UHD50X is bright enough for any indoor environment. It does have a longer throw distance, however, needing about 9-11 feet for a 100" screen, so you'll still need a fairly large space, and will probably want to ceiling-mount it in most rooms. On the plus side, it has a 15% vertical lens shift along with zoom and keystone correction.
The picture produced by the Optoma UHD50X has a true 4K resolution and uses Dynamic Black technology to enhanced the contrast, further sharpening the image. It has a wider color gamut than many home theater projectors, covering the wider DCI-P3 color space and giving more nuance and realism. Adding to that is the HDR tone mapping, which helps ensure the accuracy of the image. Basically, it plays content the way it was meant to be seen and makes it easy to get immersed in the viewing experience.
Pros
Sharp, detailed image with true 4K resolution
Dynamic Black contrast with HLG and HDR10 support
Enhanced color wheel covers DCI-P3 spectrum
Great choice for gaming
Bright lamp suitable for even well-lit rooms
Good range of alignment and adjustment features
Cons
Relatively long throw distance
Weak built-in sound
---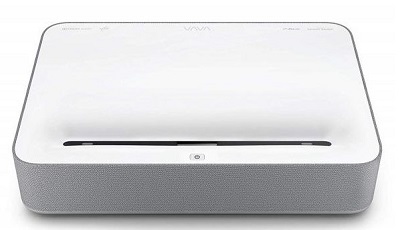 The VAVA 4K is one of the most versatile home theater projectors when it comes to your viewing area and entertainment system set-up. For wired connections, it has USB and RCA inputs along with multiple HDMI ports. It also has Bluetooth and Wi-Fi connectivity for both content and peripherals, and an Android operating system for direct streaming. The impressive built-in Harman Kardon soundbar has a solid output and a well-balanced, clear sound across the frequency range, so you can use it without an external sound system.
The VAVA 4K is equally flexible in terms of its installation. It has one of the shortest throw distances on the list, producing a 100" image with just 20" between the lens and wall. Along with that, it has 2D keystone correction for fixing issues with the geometry and supports both mounted and table-top installations, so it's easy to fit it into almost any space.
The image quality of the VAVA 4K is fairly high. The DLP display produces a true 4K resolution and the contrast and detail of the picture are phenomenal. Colors are vibrant and saturated with good accuracy and a fairly wide range of hues, though it does use a color wheel and may trigger flickering and rainbowing in some viewers.
Pros
High dynamic contrast ratio
Ultra-short throw and flexible installation
Direct streaming of content through smart TV system
Wide range of wired and wireless connection options
Good sound quality from built-in speakers
Cons
May cause rainbowing
No voice control or smart home support
---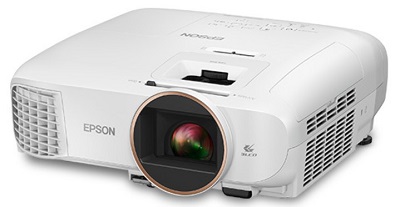 The Epson Home Cinema 2250 is a strong contender if you want the best home theater projector on a budget. Its smart features are especially impressive for a projector in this price range, supporting direct content streaming and Google voice control. The color is equally impressive, produced using a 3LCD chip display that eliminates rainbowing and brightness hotspot issues. That can make it an even better choice from a picture standpoint than more expensive projectors for some users.
The main sacrifice you make for the lower cost of the Epson 2250 is resolution. It maxes out at 1080p (full HD), so while its dynamic contrast ratio is still high it won't get as much on-screen detail as a 4K projector. The sound output of the 2250 also leaves something to be desired—most people will want to use external speakers with this projector.
You don't necessarily need a dedicated home theater for the Epson 2250 but you will need a fairly large room. Provided you have the space, though, it's relatively flexible in its setup, with a 15% vertical lens shift and relatively wide 2D keystone correction. It's also a great option if you're looking for a portable home theater projector since it weighs less than 10 pounds and has a compact overall build, giving it strong points for versatility as well as value.
Pros
3LCD color technology
High contrast with rich black levels
Android TV interface with Google Assistant voice search
Smooth on-screen action with frame interpolation
Flexible installation with lens shift and keystone correction
Cons
Maximum resolution of 1080p
Longer throw distance
---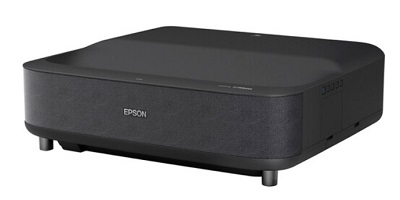 The Epson EpiqVision Ultra LS300 can turn any room into a home theater. Its ultra-short throw produces a 100" image with less than a foot between the lens and screen. This is paired with a bright 3,600-lumen laser diode light source that's powerful enough to compete with even high levels of ambient light—good news for rooms where you can't control the light level.
The all-in-one capability of the Epson LS300 is another of its strengths. Its Android TV interface can download streaming apps like Disney+ and Hulu so you can watch without external content sources, while built-in support for Chromecast lets you mirror content from a phone or tablet. It also has a built-in Yamaha 2.1 sound system with a higher audio quality than you'd expect from a 10-watt speaker system.
With a 3LCD display, the EpiqVision LS300 produces a wide color gamut with no flickering or rainbowing. The high dynamic contrast gives the image rich black levels and excellent depth. The only negative from a picture quality standpoint is the resolution, which is full HD as opposed to 4K. The multi-diode laser array gives the image better sharpness and clarity than lamp-based projectors, but it can't quite match the detail level of ultra HD.
While the maximum resolution of the LS300 is full HD, it will still play 4K input downscaled to match. The only type of content you can't use it for is 3D, which isn't supported natively on this projector.
Pros
3LCD display for exceptional color and contrast
Bright lamp ideal for any light level
Easy setup with ultra-short throw
Supports direct streaming and Chromecast
Built-in Google Assistant voice search
Yamaha 2.1 sound system
Cons
Native resolution is full HD (not 4K)
No 3D content support
---
Optoma UHD38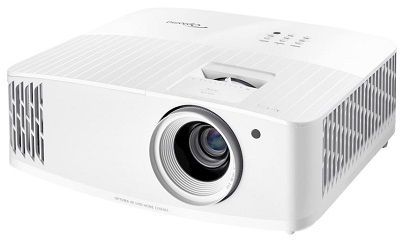 The Optoma UHD38 is another excellent choice if you want a home theater projector that can also handle gaming. Its Enhanced Gaming Mode drops the input lag as low as 4.2ms with a 240Hz frame refresh rate. You can even game in 4K without adding a significant amount of lag.
The Optoma UHD38 is just as exceptional for all types of home theater content, with full 3D support as well as a native 4K resolution. The Dynamic Black contrast and 8-segment color wheel combine for an immersive and realistic picture across content types. On-screen action is smooth, too, thanks to that high refresh rate, with a powerful lamp that keeps the picture saturated and vibrant no matter the room's ambient light level.
As far as the set-up, the Optoma UHD38 is relatively user-friendly. It does have a relatively long throw distance, meaning most will want to ceiling-mount it. The zoom and keystone correction functions are helpful for aligning the image to the screen, and once you have it set up it's easy to navigate with the included remote. It has a good array of wired inputs, too, though unfortunately no built-in wireless connectivity or smart features like voice control, something to keep in mind if you're buying a projector for a smart home entertainment system.
Pros
True 4K resolution with HLG and HDR10
Low lag and high refresh rate great for gaming
Powerful lamp works in even bright rooms
Full 3D compatibility
Compact and user-friendly design
Cons
Needs a larger space (long throw distance)
No streaming or smart home features
---
What's the Bottom Line?
Any of these projectors can perform well in a home theater context. For those who want the absolute best picture quality, the Optoma UHD50X (>>> Check price on Amazon) and VAVA 4K ((>>> Check its Pricing on ProjectorScreen.com or Bhphotovideo.com) are likely to be near the top of your list. On the other hand, the short throw of the Epson LS300 is ideal for small spaces, while the smart features of the Optoma CinemaX P2 are superior to what you'll find on most models. We hope this review and comparison can help guide you to your ideal home theater projector.
REFERENCES AND FURTHER READING: