Welcome to the best home theater projector buyers guide! Whether you're looking to enhance your movie-watching experience or host your own personal movie night with friends, having a home theater projector can take your entertainment to the next level.
We've picked out some of the strongest performers on the current market and compared them side-by-side. 
 As you can see from the key features, there's no one clear winner across all categories. Deciding which is the best home theater projector really comes down to your space and needs.
Best Home Theater Projector – Top Picks for 2023:
| | Optoma CinemaX D2 | Epson LS800 | BenQ V7050i | Hisense PX1-PRO | Epson LS300 | Optoma UHD38 |
| --- | --- | --- | --- | --- | --- | --- |
| | | | | | | |
| Resolution | 3840x2160 | 3840x2160 | 3840x2160 | 3840x2160 | 1920x1080 | 3840x2160 |
| Brightness (Lumens) | 3,000 ANSI | 4,000 ANSI | 2,500 ANSI | 2,200 ANSI | 3,600 ANSI | 4,000 ANSI |
| Contrast Ratio | 1,800,000:1 | 2,500,000:1 | 2,000,000:1 | 1,000,000:1 | 1,500,000:1 | 1,000,000:1 |
| Input lag | 4ms | 16.7ms | 83ms | 30ms | No data | 4ms |
| Throw Distance | 1.5' - 2.2' | 0.9' - 1.8' | 0.2' - 1.1' | 1.6' - 2.4' | 0.1' - 1.3' | 4.0' - 32.7 |
| Screen size | 85" - 120" | 80" - 151" | 70" - 120" | 90" - 130" | 61" - 120" | 33" - 300" |
| Speakers | 10.0 Watts × 2 | 20 Watts | 5.0 Watts × 2 | 15.0 Watts × 2 | 5.0 Watts × 2 | Internal Speakers |
| Price | BHPhotoVideo.com | BHPhotoVideo.com | BHPhotoVideo.com | BHPhotoVideo.com | BHPhotoVideo.com | BHPhotoVideo.com |
Brightness
The brighter the lamp, the better the projector can maintain the quality of the image with ambient light in the room. In a light-controlled home theater space, a brightness as low as 1,500 lumens can be enough to give you an immersive image.
For lights-on viewing or spaces with windows, a lamp that's at least 2,500-3,000 lumens is recommended, and the brighter the better for well-lit spaces.
All of these projectors are bright enough for some ambient light. If you have a well-lit space, the 4,000 lumens of the Optoma UHD38 or Epson LS800 let them maintain full color saturation with no wash-out, even in rooms with large windows and other natural light sources.
Brightest projector: Optoma UHD38, Epson LS800
Picture Quality
There are three main factors to look at to determine the picture quality: resolution, contrast, and color production. The best home theater projectors today have a native resolution of 3840X2160, also known as 4K Ultra HD. This produces roughly 4 times the on-screen pixels of full HD for more detail and realism.
Most of these projectors offer Ultra HD resolution, so the question of image quality comes down to contrast and color.
The Epson LS800 uses a 3-chip design that prevents many common color issues, giving you an immersive viewing experience, along with automatic contrast adjustment to keep that content sharp in every scene.
The Hisense PX1-PRO has the widest color gamut, covering the BT.2020 spectrum, which is wider than the DCI-P3 spectrum and has more than twice the available colors of the Rec.709 spectrum used in TV broadcasting.
Combined with its smooth on-screen movement and HDR contrast, this makes the PX1-PRO the strongest performer from a purely picture quality standpoint.
Best picture quality: Hisense PX1-PRO
Throw Distance
The throw distance of a projector tells you how much space the projector needs to produce a large image. A short throw allows for more installation flexibility and is a must-have in smaller spaces.
It can also help improve the overall image quality, maximizing the brightness of the on-screen image by giving the light less room to diffuse before it reaches the screen.
The Optoma CinemaX D2, Epson LS800, and Hisense PX1-PRO all have an ultra-short throw, producing a 100" image with around 1-2 feet of distance. For the shortest throw, the BenQ V7050i is the winner, producing the same 100" image from just 9 inches away.
Shortest throw: BenQ V7050i
Wireless Features
Features like voice control support and direct streaming interfaces are quickly becoming the standard on home theater projectors. Wireless connectivity opens up the possibility for content mirroring, too, if the projector doesn't support your favorite streaming services.
The BenQ V7050i has a direct streaming interface and wireless connectivity, though you'll need to use the included dongle to get it. Other options have the interface built in, like the Epson LS800 and Hisense PX1-PRO, both of which add voice control options.
The LS800 also has built-in Chromecast and Google Assistant voice search, giving users the most wireless options.
Best smart features: Epson LS800
---
Optoma CinemaX D2 Smart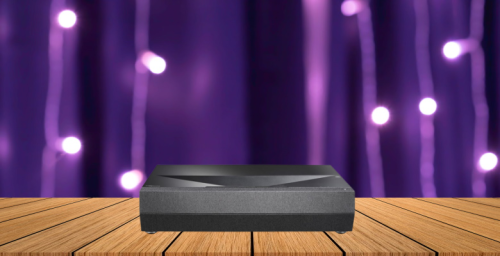 The Optoma CinemaX D2 offers a lot of space versatility for those who want big-screen entertainment but don't have a dedicated home theater space. It uses a DuraCore laser phosphor light source with an ultra-short throw lens, filling a 100-inch screen with less than 2 feet of distance.
Paired with the 3X3 anti-warp function and Wall Color adjustment feature, this gives it a fast and flexible installation for any home. The 3,000-lumen brightness gives it equal versatility for different light levels, able to handle even fairly bright ambient light environments without any picture quality loss.
And that picture is one you'll want to see, too. The CinemaX D2 has a native 4K resolution with HDR and HLG compatibility for sharp contrast and lifelike detail and texture. The color is equally impressive, with coverage of the full Rec.709 spectrum and a Color Management.
Still, when combined with the 20-watt speakers, the addition of the TV stick does give users all-in-one capability, with no need for extra accessories (not even a screen, using the wall color adjustment).
Click here for our more in-depth Optoma CinemaX D2 Smart review.
Pros
High-contrast native 4K resolution
Excellent color performance
Responsive enough for serious gamers
Ultra-short throw with easy keystone adjustment
Suitable for screen-free uses
Includes a streaming stick with voice control
Good quality and output from built-in speakers
Cons
Limited home automation integration options
---
Epson LS800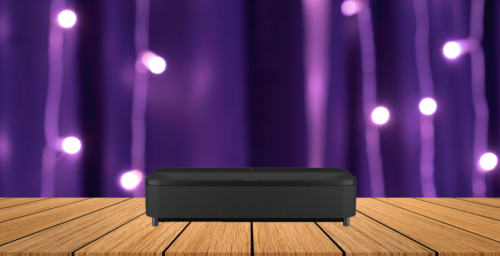 If you're looking for integrated all-in-one operation, the Epson LS800 could be your ideal projector. Its built-in Android TV interface supports direct streaming from services like Hulu, HBO, and Disney+.
The included voice remote adds Google Assistant voice search and it has Chromecast built-in for screen mirroring.
Along with this, the integrated 2.1-channel Yamaha sound system matches most standalone soundbars for volume output and audio quality, so you can use it without external speakers and still catch every sound effect and line of dialogue.
Another strength of the Epson LS800 is its installation ease and versatility. Its powerful laser diode array puts out an impressive 4,000 ANSI lumens, enough it can be used outside or in other bright spaces.
A built-in ambient light sensor lets it automatically adjust the brightness and contrast to match your environment, taking even more hassle and guesswork out of the equation. You won't need much space for it, either, with an ultra-short throw that fills a 100-inch screen with just 14 inches of distance.
The 3LCD design of the Epson LS800 is paired with full 10-bit color processing and real-time 10-bit analog-to-digital video processing. This translates to a wide color gamut with no rainbowing or artifacts like banding or blocking.
You'll also get the same sharp Ultra HD detail no matter what's happening on the screen, with smooth action and crisp contrast for sports, action movies, or even reflex-based and online video games. For our more in-depth review of this projector, follow this link:http://projectortop.com/epson-ls800-review/
Pros
Ultra HD display with high dynamic contrast
Lifelike 3-chip color
Bright enough for outdoor use
Integrated streaming interface with Chromecast
Ultra-short throw distance
Built-in 2.1-channel Yamaha sound system
Cons
---
BenQ V7050i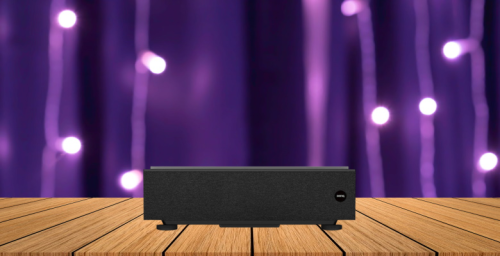 The throw distance of the BenQ V7050i is short even compared to the other short-throw options on this list, producing a 120" image with just over 1 foot of distance. Using the set-up calculator on BenQ's website, you can install the projector in 10 minutes or less in any size of space, even if you're a home theater beginner.
The V7050i also has the potential for all-in-one use. Its TreVolo speakers emulate the movement of surround sound and are loud enough to fill most spaces, so many users find they don't need external speakers.
You can also stream content right on the projector using the included Android TV dongle, though it is a bit annoying that this takes up one of the two HDMI ports rather than being integrated into the projector.
The picture quality of the BenQ V7050i is impressive, too. Its DLP display has HDR-PRO and CinematicColor technology, enhancing the color and contrast to match what you'd see in a professional theater. The unique Filmmaker Mode further optimizes the picture for movies, ensuring you see films the way they were intended.
Its only weakness in a home theater context is its responsiveness, with a noticeable input lag that will be frustrating for even casual gamers. Click here for our full review of the BenQ V7050i.
Pros
Sharp, high-contrast true 4K picture
Cinema-level color performance (98% of DCI-P3 spectrum)
Ultra-short throw distance
Virtual surround sound speakers
Full 3D support in HD
Android TV streaming and wireless casting
Ideal lamp brightness for moderately-lit spaces
Cons
Input lag is too high for gamers
Streaming dongle takes up an HDMI port
---
Hisense PX1-PRO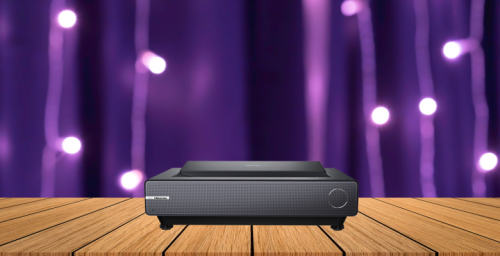 The Hisense PX1-PRO is an ideal option for a dedicated home theater space. The TriChroma laser phosphor engine reproduces the entire BT.2020 color space accurately and vividly, resulting in an immersive, realistic image. Adding to that is its true 4K resolution and HDR contrast, giving the picture sharpness and detail to match its color performance.
At 2,200 lumens, the lamp of the PX1-PRO is powerful enough to support some lights on viewing, though you'll still want a fairly dim space to get the best picture, and you'll still need blackout curtains if your room has lots of windows. It's flexible when it comes to the size of your space, however, producing a 100" image with less than 2 feet between the lens and screen.
In terms of connectivity, it has wireless networking along with 2 HDMI ports and an integrated streaming interface with support for Google Assistant or Alexa voice control, so it's easy to integrate into a range of equipment set-ups.
The Hisense PX1-PRO is versatile in terms of how you use it, too. Its Automatic Low Latency Mode (ALLM) detects when you're using a game system and automatically optimizes the performance.
While it's not the most responsive projector on the list, its lag is low enough most players won't notice it, even when playing fast reflex-based games. Click here for our more in-depth Hisense PX1-PRO review.
Pros
True 4K resolution with sharp contrast
Exceptional color performance
Ultra-short throw distance
Integrated Android TV streaming interface
Reasonable input lag with ALLM
Built-in speakers have good power and sound quality
Cons
Brightness is too low for well-lit spaces
---
Epson EpiqVision Ultra LS300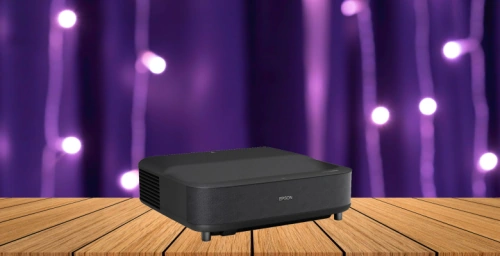 The Epson EpiqVision Ultra LS300 can turn any room into a home theater. Its ultra-short throw produces a 100" image with less than a foot between the lens and screen. This is paired with a bright 3,600-lumen laser diode light source that's powerful enough to compete with even high levels of ambient light—good news for rooms where you can't control the light level.
The all-in-one capability of the Epson LS300 is another of its strengths. Its Android TV interface can download streaming apps like Disney+ and Hulu so you can watch without external content sources, while built-in support for Chromecast lets you mirror content from a phone or tablet.
It also has a built-in Yamaha 2.1 sound system with a higher audio quality than you'd expect from a 10-watt speaker system.
With a 3LCD display, the EpiqVision LS300 produces a wide color gamut with no flickering or rainbowing. The high dynamic contrast gives the image rich black levels and excellent depth.
The only negative from a picture quality standpoint is the resolution, which is full HD as opposed to 4K. The multi-diode laser array gives the image better sharpness and clarity than lamp-based projectors, but it can't quite match the detail level of ultra HD.
While the maximum resolution of the LS300 is full HD, it will still play 4K input downscaled to match. The only type of content you can't use it for is 3D, which isn't supported natively on this projector.
Pros
3LCD display for exceptional color and contrast
Bright lamp ideal for any light level
Easy setup with ultra-short throw
Supports direct streaming and Chromecast
Built-in Google Assistant voice search
Yamaha 2.1 sound system
Cons
Native resolution is full HD (not 4K)
No 3D content support
---
Optoma UHD38
The Optoma UHD38 is another excellent choice if you want a home theater projector that can also handle gaming. Its Enhanced Gaming Mode drops the input lag as low as 4.2ms with a 240Hz frame refresh rate. You can even game in 4K without adding a significant amount of lag.
The Optoma UHD38 is just as exceptional for all types of home theater content, with full 3D support as well as a native 4K resolution. The Dynamic Black contrast and 8-segment color wheel combine for an immersive and realistic picture across content types.
On-screen action is smooth, too, thanks to that high refresh rate, with a powerful lamp that keeps the picture saturated and vibrant no matter the room's ambient light level.
As far as the set-up, the Optoma UHD38 is relatively user-friendly. It does have a relatively long throw distance, meaning most will want to ceiling-mount it.
The zoom and keystone correction functions are helpful for aligning the image to the screen, and once you have it set up it's easy to navigate with the included remote.
It has a good array of wired inputs, too, though unfortunately no built-in wireless connectivity or smart features like voice control, something to keep in mind if you're buying a projector for a smart home entertainment system.
Pros
True 4K resolution with HLG and HDR10
Low lag and high refresh rate great for gaming
Powerful lamp works in even bright rooms
Full 3D compatibility
Compact and user-friendly design
Cons
Needs a larger space (long throw distance)
No streaming or smart home features
---
What's the Bottom Line?
Any of these projectors can perform well in a home theater context. For those who want the absolute best picture quality, the Hisense PX1-PRO (>>> Check price on ProjectorScreen) and Optoma CinemaX D2 (>>> Find on ProjectorScreen) are likely to be near the top of your list. On the other hand, the short throw of the BenQ V7050i is ideal for small spaces, and brighter rooms will be best served by the Optoma UHD38 or Epson LS800. Gamers, meanwhile, will appreciate the single-digit input lag of the Optoma UHD38 or Optoma CinemaX D2. We hope this review and comparison can help guide you to your ideal home theater projector.
FAQs
What kind of screen do I need with a home theater projector?
With some projectors you don't necessarily need a screen. The Optoma CinemaX D2, for example, has a sharp native contrast as well as a Wall Color Adjustment feature, eliminating the need for a screen in most homes.

Others, like the Epson LS800, give you the option of adding a screen with your projector purchase. The most important thing to consider with a screen is that it's designed for your projector's style of lens. An ultra-short throw laser projector will need a different type of screen than a standard throw bulb, for example, so check the screen's projector compatibility before you buy.
Do I need external speakers with these projectors?
That depends on what type of sound you're looking for. All of these models have some kind of built-in speaker, though some are on the weaker side.

Both the Optoma CinemaX D2 and Epson LS800 have a 20-watt stereo speaker system and will give you the best sound straight from the box. Even so, they can't produce a full surround-sound effect and their bass won't match what you'll get from a standalone subwoofer, so you may still want to pair them with a speaker system.
REFERENCES AND FURTHER READING: