An ultra-short throw laser projector takes a lot of the hassle out of owning a projector, letting you enjoy big screen entertainment in any size or shape of room. Comparing the BenQ V7050i vs. Optoma P2, the P2 will be the better choice for most buyers, especially smart home owners and gamers (>>> Check on Amazon). Want more detail? Let's take a full look at where these two projectors differ.
BenQ V7050i vs Optoma P2 Side by Side:
| | BenQ V7050i | Optoma P2 |
| --- | --- | --- |
| | | |
| Resolution | 3840x2160 | 3840x2160 |
| Brightness (Lumens) | 2,500 ANSI | 3,000 ANSI |
| Contrast Ratio | 2,000,000:1 | 2,000,000:1 |
| Input Lag | 69ms | 67ms |
| Throw Distance | 0.2' - 1.1' | 1.5' - 2.2' |
| Screen size | 70" - 120" | 85" - 120" |
| Speakers | 5.0 Watts × 2 | 20.0 Watts × 2 |
| Today's Best Price | BHPhotoVideo.com | BHPhotoVideo.com |
Picture Quality
The Optoma P2 produces a bright, ultra HD image, with PureMotion technology to keep the detail crisp and eliminate blur during fast-paced scenes and compatibility with HDR10. Its 6-segment color wheel covers the full Rec.709 spectrum, and hues are vibrant and realistic. As good as the P2 looks, though, the BenQ V7050i is just a little bit better. It matches the P2 for detail and contrast but has a slightly wider color gamut and better image depth, especially when you're using Filmmaker Mode.
Better picture quality: BenQ V7050i
Installation Ease
The BenQ V7050i has one of the shortest throw distances you'll find on a projector, only needing around 9" for a 100" image. The Optoma P2 needs slightly more space (about 22" for a 100" image) but in most spaces, the two projectors have an equally straightforward set-up.
Where the Optoma P2 comes out ahead is in rooms where the projector can't be installed head-on to the screen. The SmartFIT app that comes with the P2 has automatic geometry and focus correction. The focus on the BenQ V7050i is fixed, and its vertical keystone correction is manual.
Easier installation: Optoma P2
Smart Features
There are some smart features on the BenQ V7050i. The Android streaming interface gives users access to Google Assistant voice control, though this is primarily useful for searching content. When it comes to automation routines, the V7050i's options are limited. The Optoma P2 is a great choice for smart home integration thanks to its IFTTT support, offering a more robust array of commands.
Better smart features: Optoma P2
Built-in Sound
The BenQ V7050i has built-in speakers, but you probably won't want to use them for more than basic TV watching. For those who plan to use the projector's speakers, the 40-watt soundbar that comes with the Optoma P2 has both the dynamic power and full-range sound quality to handle movie soundtracks and sound effects.
Better built-in sound: Optoma P2
---
BenQ V7050i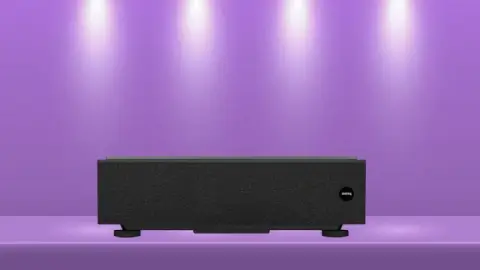 The BenQ V7050i is a user-friendly way to get a cinema-quality home theater experience. Its advanced DLP display and laser phosphor light source produce a crisp ultra HD image with a wide color gamut, covering nearly the entire DCI-P3 spectrum that's the professional cinema standard. For watching movies, turn on Filmmaker Mode to see the latest blockbusters the way they were intended.
Installing the BenQ V7050i is easy in any space. It only needs about a foot of distance to produce a massive 120" image, so there's no need to mess with ceiling mounts and hardware—just set it up on a table and power it on. The Android interface lets you download any streaming apps available in the Google Play store and you can wirelessly cast content through AirPlay or Chromecast, so many users won't need to connect wired content sources.
One thing you will likely need with the BenQ V7050i is an external soundbar or speaker system. Its 10-watt built-in speakers just can't do justice to movie sound effects, even in a smaller space. It's also a bit on the slow side and will be frustrating to use for even casual gaming. For our more in-depth review of BenQ V7050i click here.
Pros
True 4K resolution with HDR-PRO technology
Vibrant colors (98% of DCI-P3 spectrum)
Google-certified Android TV interface
Google Assistant voice control
Low-maintenance, dust-reducing design
Flexible installation with ultra-short throw distance
Lamp is bright enough for lights-on viewing
Cons
Not as many smart home integration options
Input lag is too high for even casual gaming
Built-in sound is weak
---
Optoma P2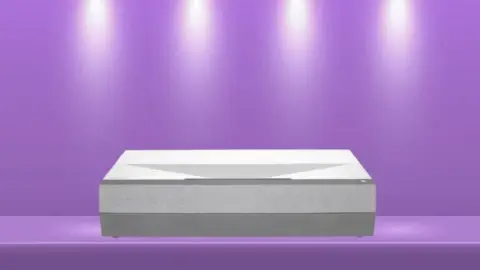 If you're looking for true all-in-one operation, the Optoma P2 is a great choice. It has a similar Android streaming interface to the BenQ above for content. For sound, the 40-watt Dolby Digital soundbar has dual full-range speakers and dual woofers, giving it an output and sound quality on par with most standalone Bluetooth soundbars.
The Optoma P2 is also a great choice for smart home owners. It supports voice control through Amazon Alexa or Google Assistant, along with supporting IFTTT. This gives users a lot of options for integrating the P2 into home automation routines.
The Optoma P2 is smart in other ways, too. It connects to the SmartFIT app on your phone for automatic image alignment, quickly correcting the screen geometry and focus. There are also manual adjustment options if the app won't work for you, and the short throw distance gives it a fast set-up in almost any space. While its input lag is still on the high side for serious gamers, it's low enough for casual gaming, expanding the P2's versatility further over the BenQ.
Pros
Sharp 4K image with high dynamic contrast
6-segment color wheel covers full Rec.709 spectrum
Ultra-short throw distance
Easy set-up with SmartFIT app
Bright enough lamp for most indoor light environments
Supports voice control and IFTTT smart home integration
Great sound from built-in soundbar
Can be used for casual gaming
Cons
Input lag is still too high for serious gaming
Some users have issues using the SmartFIT app
---
BenQ V7050i vs. Optoma P2: The Bottom Line
In a direct side-by-side comparison, the BenQ V7050i puts out a slightly better picture, with more vibrant colors and better image depth and realism. This isn't to say the Optoma P2 has a low image quality, though, and only the most discerning of movie buffs are likely to notice the difference. Since the P2 is also the winner when it comes to smart features, sound, input lag, and installation ease, this will make it the better choice for most (>>> Find on ProjectorScreen).
REFERENCES AND FURTHER READING: