With its sleek design and advanced laser light source, the BenQ V7050i is a great fit for a modern home theater. It's easy to use, producing a massive true 4K picture from just about a foot away. As well as it performs, however, no projector is perfect. We'll look at its strengths and shortcomings in this BenQ V7050i review so you can make a smart choice about whether it's right for your home (>>> Check on Amazon).
BenQ V7050i Review of Main Specs:
| | BenQ V7050i |
| --- | --- |
| | |
| Resolution | 3840x2160 |
| Brightness (Lumens) | 2,500 ANSI |
| Contrast Ratio | 2,000,000:1 |
| Input lag | 83ms |
| Throw Distance | 0.2' - 1.1' |
| Screen size | 70" - 120" |
| Speakers | 5.0 Watts × 2 |
| Price | BHPhotoVideo.com |
Installation and Connectivity
The laser phosphor light source used in the BenQ V7050i gives it a super-short throw distance compared to most lamp-based projectors. It can produce a 100" image with less than 1 foot of distance between the lamp and screen. This gives it more flexibility for use in smaller spaces or rooms with odd layouts and makes it very easy to install in most spaces. Just put it on your entertainment center and power it up—no need for hardware like a ceiling mount.
Because it has an ultra-short throw, the V7050i doesn't have much in the way of image alignment functions. There is a vertical keystone correction but the lens is fixed, with no focus or shift options. This won't be an issue in most indoor spaces, but does limit its versatility for things like backyard movies, where setting up the projector on a flat surface isn't as straightforward.
From a software standpoint, the V7050i is plug-and-play out of the box. It comes with an Android TV dongle for streaming, with access to all the apps on the Google Play store. The advantage of this over other streaming sticks is you can use the same remote to control the projector and the streaming interface, though it will still take up one of the 2 HDMI ports.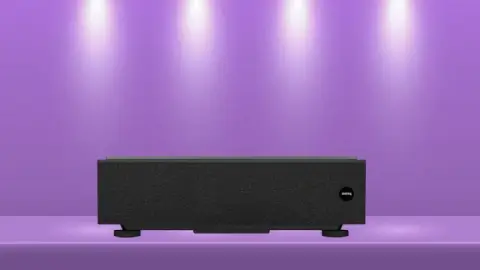 Pros
True 4K resolution
Sharp dynamic contrast with HDR-PRO
Cinema-quality picture in Filmmaker Mode
Vibrant, accurate colors (98% of DCI-P3 spectrum)
Ultra-short throw distance
Includes an Android TV dongle
Low-maintenance, dust-resistant design
Cons
Input lag is too high for gaming
Streaming interface isn't built in
Image Quality
The BenQ V7050i is an excellent choice if you want to replicate the cinema experience in your home. Its 4K resolution and DCI-P3 color space match the standard you'll find in most theaters. Its on-screen contrast is equally impressive, using HDR-PRO technology to optimize the image contrast across the picture, bringing out every detail and giving you a truly immersive viewing experience.
Movie buffs will especially appreciate the Filmmaker Mode on the V7050i. It meets the display standards of the UHD Alliance for image accuracy and living up to the creative intent of the director, and this quality is consistent across screen sizes and content types. It also has full 3D support, though you'll need to add on the optional 3D glasses if you plan to take advantage of this feature.
Performance and Maintenance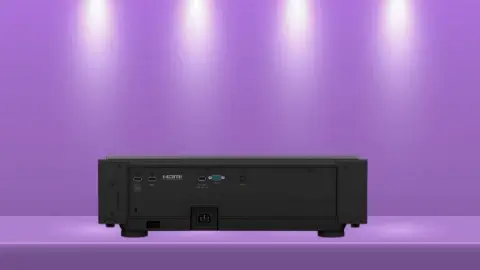 The laser light source on the BenQ V7050i has an estimated lifespan of up to 30,000 hours. For most, that means you'll never need to replace it. It's also designed to repel dust, keeping the internal components clean and free of build-up that can lead to breakdowns. Find our list of the top laser projectors on the market.
There are 2 5-watt speakers built in to the V7050i, each with a dedicated tweeter and subwoofer. The sound quality is on-par to a standalone Bluetooth speaker, and dialogue is crisp and clear with a decent bass response for sound effects. That said, they're not going to give you an immersive movie theater style sound experience, so you should plan to use an external sound system if that's what you're after.
From a usability standpoint, the V7050i is easy to navigate and operate, and has the versatility to work in either dedicated home theaters or multi-use spaces. Its lamp is powerful enough to avoid washout from ambient light. The short throw distance helps maximize the brightness, too, so the majority of spaces won't need any light control measures. Click here if you're looking for the Best Home Theater Projector.
The only place the BenQ V7050i falls a bit short is its responsiveness. Its measured input lag is over 80ms. That's not long enough to be annoying when you're navigating streaming menus but does limit its use for gaming. Even casual players may find the lag frustrating, especially if they're playing fast-paced games over a network.
BenQ V7050i Review In Summary
If you want cinema-level quality in your home theater, the BenQ V7050i delivers. On the negative side, the lack of built-in streaming is a bit disappointing, limiting your options for the HDMI inputs, and for gamers, the high input lag may be a dealbreaker. If neither of these is a concern, the V7050i could be an excellent choice (>>> Check the current price on ProjectorScreen).
REFERENCES AND FURTHER READING: