Epson's EpiqVision line of laser projectors are arguably some of the best projectors you can get from the company. The ultra-short throw ratio and simple design of the EpiqVision Ultra LS300 make it a user-friendly choice for anyone who wants to bring big-screen entertainment to their home. Along with that, it both looks great and sounds better than most home theater projectors on the market today.
What you're probably wondering, though, is whether the Epson EpiqVision Ultra LS300 is the right projector for you. In this review, we'll break down its key features and performance so you can answer that question for yourself. Let's dig in (>>> Check current price on Amazon)!
Epson EpiqVision Ultra LS300 Review of Main Specs:
| | Epson EpiqVision Ultra LS300 |
| --- | --- |
| | |
| Resolution | 1920 x 1080 |
| Brightness (Lumens) | 3,600 |
| Contrast Ratio | 1,500,000:1 |
| Throw Distance | No data |
| Input lag | No data |
| Screen size | 61" - 120" |
| Speakers | 5.0 W × 2 |
| Price | BHPhotoVideo.com |
Installation
The short-throw distance of the Epson EpiqVision Ultra LS300 makes it easy to install in any space. You'll only need about 15 inches of distance between the projector and wall to get a massive 120" picture. That's great for those with smaller viewing areas, but it makes it easier to set up in any room since you can just set it on a table or entertainment center rather than mounting it.
Something else that's great about the Epson LS300 is it's built-in sound. You don't necessarily need to use external speakers with this projector thanks to the Yamaha 2.1 sound system that's installed in it. Designed specifically for the EpiqVision Ultra LS300, the 2 speakers and dedicated woofer are tuned with AudioEngine DSP technology and provide a full, powerful sound with a good amount of bass.
Connectivity
Wireless connection and content options are another reason the Epson LS300 is so user-friendly. It can function as a Bluetooth speaker for playing music, expanding its potential in living rooms, and other multi-use spaces. You can cast content wirelessly from Android and Apple phones and computers, too, since it comes with Chromecast on board.
The Epson EpiqVision Ultra LS300 uses an Android TV interface for navigating and organizing your content. This allows you to stream content from popular channels like YouTube, Hulu, and HBO right on the projector. It also has Google Assistant built in, giving you the option of searching for content using your voice and making it a great projector for smart home theaters.
Pros
3LCD chip for wide color gamut with no rainbow effect
Flexible installation thanks to ultra-short throw distance
Built-in Chromecast and content streaming
Better built-in sound than most projectors
Supports voice searching with Google Assistant
Cons
Native resolution is only full HD, not 4K
Picture Quality
The Epson LS300 is a laser projector that uses a 3-chip design to generate the colors. This helps provide a consistent brightness across the image and also prevents visual issues like the rainbow effect, letting you focus on just watching your content.
One thing to note is that, while the Epson EpiqVision Ultra LS300 supports 4K input, its native resolution is Full HD (1080p). This is the same resolution you'll find on most HD TVs so it's still sharp and realistic—just not quite as crisp or detailed as a true 4K projector.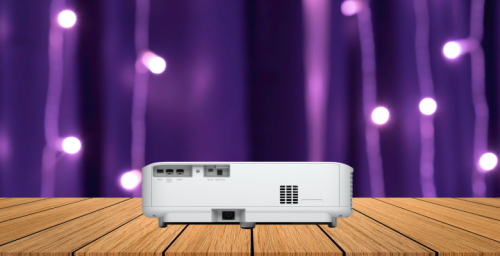 On the plus side, the LS300 performs equally well in any ambient light level. Not only does it have a bright lamp, but the short throw ratio helps here, too, since the light doesn't have as far to travel before it hits the screen. It does great with fast-moving sequences, too, with no blurring or choppiness thanks to the fast processor. It's easy to get immersed in the viewing experience no matter what kind of content you're watching.
Epson EpiqVision Ultra LS300 Review: The Bottom Line
The simple but elegant design of the Epson EpiqVision Ultra LS300 fits nicely into any home décor, and the picture it puts out is just as great to look at. This is one projector you'll be proud to show off to you friends when the come over for movie nights or sports viewing parties. With its easy set-up and navigation, you don't need any experience with projectors to get started or use it (>>> Check current price on ProjectorScreen).
It may not be perfect, but in our opinion the strengths of the Epson EpiqVision Ultra LS300 far outweigh its weaknesses. We recommend it for anyone who wants an all-in-one entertainment machine for their home, whether or not you have a dedicated home theater space.
REFERENCES AND FURTHER READING: