As pioneers in laser projection technology, Epson's EpiqVision line-up holds its own among the best in the industry. The EpiqVision Ultra LS300 is one of its highly acclaimed ultra-short throw projectors, characterized by a user-friendly design and an ability to transform any room into a personal cinema. But is this the right projector for you? In this comprehensive review of the Epson EpiqVision Ultra LS300, we'll delve into the key features, performance, and all-around utility of the device to help you arrive at an informed decision. Let's dive in!(>>> Check current price on Amazon)!
Epson EpiqVision Ultra LS300: Main Specs at a Glance
| | Epson EpiqVision Ultra LS300 |
| --- | --- |
| | |
| Resolution | 1920 x 1080 |
| Brightness (Lumens) | 3,600 |
| Contrast Ratio | 1,500,000:1 |
| Screen size | 61" - 120" |
| Speakers | 5.0 W × 2 |
| Price | BHPhotoVideo.com |
Installation & Design: Tailored for Convenience
The Epson EpiqVision Ultra LS300 is renowned for its ultra-short throw distance, a characteristic feature of UST projectors. Needing just 15 inches of space between the projector and the wall, you can achieve a staggering 120" picture, making it ideal for compact viewing spaces. Its ease of installation extends to the flexibility of placement as well. Whether on a table or an entertainment center, the LS300 effortlessly fits into your room, eliminating the need for complex mounting.
The Ambient Light Factor: Display Performance
Our hands-on experience revealed that the LS300's short-throw distance is a significant advantage when considering ambient light. The minimized travel distance of light ensures a brighter picture, thus enhancing picture quality, especially in spaces with variable lighting conditions. Whether you're watching a high-octane action sequence or a subtle drama, the LS300's fast processor ensures no blurring or choppiness, immersing you seamlessly into your content.
A Deeper Look at Picture Quality
The LS300 is a laser projector utilizing a 3-chip design for color generation. This design not only contributes to consistent brightness across the image but also mitigates visual issues such as the rainbow effect. Though it supports 4K input, its native resolution is Full HD (1080p), which, while not as crisp as a true 4K projector, still delivers sharp and realistic images.
Sound Quality: An Uncompromised Experience
One of the unique offerings of the Epson LS300 is its built-in sound system. The Yamaha 2.1 sound system, specifically designed for the EpiqVision Ultra LS300, negates the need for external speakers. With two speakers and a dedicated woofer tuned with AudioEngine DSP technology, the LS300 offers a full, powerful sound with an impressive bass response.
Connectivity Options: Versatility at Its Best
The Epson LS300 stands out for its wireless connectivity options, making it a perfect fit for modern, multi-use spaces. You can use it as a Bluetooth speaker to play music, and it also supports wireless casting from Android and Apple devices. In addition, the LS300 is compatible with external streaming devices, further expanding its content options.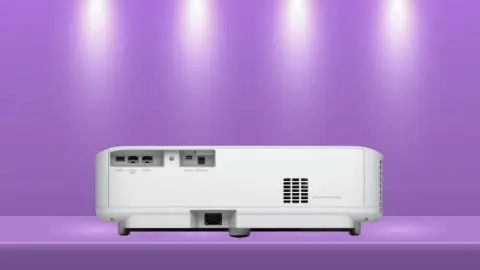 Android TV Interface: Smart and Intuitive
The LS300 uses an Android TV interface for easy navigation and organization of your content. You can directly stream from popular channels like YouTube, Hulu, and HBO right on the projector. Integrated Google Assistant offers voice search capabilities, making it a top-notch choice for smart home theaters.
Pros and Cons of the Epson EpiqVision Ultra LS300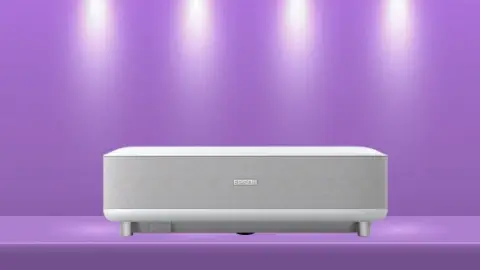 Pros
3LCD chip for wide color gamut with no rainbow effect
Flexible installation thanks to ultra-short throw distance
Built-in Chromecast and content streaming
Better built-in sound than most projectors
Supports voice searching with Google Assistant
Cons
Native resolution is only full HD, not 4K
Visual Performance: An Immersive Experience
The LS300's visual performance stands as a testament to Epson's expertise in projection technology. This ultra short throw projector excels at color reproduction, offering a wide color gamut and an immersive viewing experience. Its performance remains consistent regardless of ambient light conditions, thanks to the bright laser projection and the UST projector's minimal light travel distance.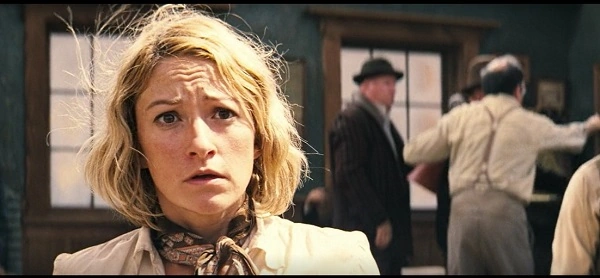 Compatibility with External Streaming Devices
The Epson LS300 scores high on versatility with its compatibility with external streaming devices. With built-in Chromecast, you can cast content wirelessly from your smartphone or computer. Additionally, its Android TV interface allows for seamless navigation and streaming from popular platforms, making the LS300 an all-encompassing entertainment unit.
Google Assistant: A Smart Addition
The integration of Google Assistant into the Epson EpiqVision Ultra LS300 adds a layer of convenience to the projector. It allows for voice search, making content discovery easier than ever. This feature aligns the LS300 with smart home systems, making it a savvy choice for tech-forward consumers.
Epson LS300 Review: Final Thoughts
The Epson EpiqVision Ultra LS300 manages to combine a simple, elegant design with high-quality performance. Its ability to blend into any home decor and still provide a fantastic viewing experience makes it a popular choice among users. Whether you're hosting movie nights or sports viewing parties, the LS300 is sure to impress.
Its user-friendly setup and navigation mean you don't need to be an expert to get started. Although it doesn't provide true 4K resolution, its strengths in terms of picture quality, sound performance, and convenience features make it an excellent choice for an all-in-one entertainment machine. Whether you have a dedicated home theater space or not, the Epson EpiqVision Ultra LS300 promises to elevate your home entertainment experience to new heights. (>>> Check current price on ProjectorScreen).
REFERENCES AND FURTHER READING: