Epson's EpiqVision line of projectors strike an excellent balance between usability and performance. But what's the difference between the Epson EpiqVision Ultra LS300 vs. LS500—and which one is the right choice for your home?
In this review, we'll compare these two impressive projectors side by side to answer those questions. While the LS500 is the overall more powerful option (>>> Check the current price), the LS300 may be the better choice for those who already own a screen or are working with a tighter budget.
Before we get into the full reviews, let's take a look at the main features of the Epson LS300 and LS500 side by side so you can see the major differences between them.
Epson EpiqVision Ultra LS300 vs LS500 Side by Side:
| | Epson EpiqVision Ultra LS300 | Epson EpiqVision Ultra LS500 |
| --- | --- | --- |
| | | |
| Resolution | 1920 x 1080 | 1920x1080 4K w/pixel shifting |
| Brightness (Lumens) | 3,600 | 4,000 |
| Contrast Ratio | 1,500,000:1 | 2,500,000:1 |
| Throw Distance | No data | 0.7' - 1.9' |
| Screen size | 61" - 120" | 70" - 130" |
| Input Lag | No data | 16.7ms |
| Speakers: | 5.0 Watts × 2 | 10.0 Watts × 2 |
| Price | BHPhotoVideo.com | BHPhotoVideo.com |
Picture Quality
The Epson EpiqVision Ultra LS300 has pretty good picture stats. This starts with the native Full HD resolution that produces detailed, crisp images with a high degree of realism. Along with that, it uses a 3LCD chip design to produce the colors. This gives a wide color gamut that covers the entire Rec. 709 spectrum with no rainbow effect or other annoying image artifacts.
As good as the picture of the LS300 is, the Epson LS500's is even better. It upgrades the resolution to full 4K for an even sharper picture. It also ups the dynamic contrast ratio for rich black levels and better image depth. The lamp brightness of 4,000 lumens ensures you'll get the same high picture quality in any ambient light conditions.
Better picture quality: Epson LS500
Built-in Sound
Many home theater projectors have a sound quality on-par with flat screen TVs. It's acceptable for TV watching but lacks low-end depth, and won't give you the same immersive sound experience as an external soundbar.
The Epson LS300 has a custom-designed Yamaha 2.1 sound system built in. This includes a dedicate woofer for more low-end power, as well as 2 5-watt speakers for the mid- and high-range frequencies. The 3D acoustic enclosure enhances the audio quality even further, making it one of the few projectors that has sound to match its picture.
Better sound: Epson LS300
Included Screen
When you buy the Epson LS300, you'll only get the projector and its immediate accessories, like connection wires and the remote. While they recommend using one of their ambient light rejecting (ALR) screens for the best performance, you can use this projector with any screen you'd like—or even project straight onto the wall, if you prefer.
The Epson LS500 comes with a 100" high-resolution ALR screen included. Since these screens cost between $1,000 and $2,000 if bought separately, that's a big value add to get with your purchase. All the mounting hardware comes included, too, making it an all-in-one option you can install and set up with ease.
Projector with included screen: Epson LS500
Gaming Performance
For serious gamers, an input lag of 30ms or lower is a necessity in any projector. The EpiqVision LS500 exceeds these standards with a measured input lag of 16.7ms. It pairs this with a fast frame refresh rate and a high contrast ratio, both key specifications for ensuring the quality of the on-screen image. No matter what kind of games you play, the LS500 will be up to the task.
Better for gamers: Epson LS500
Epson EpiqVision Ultra LS300 vs. LS500: Full Reviews
Epson EpiqVision Ultra LS300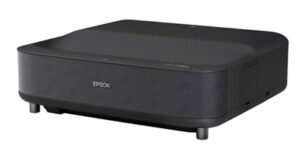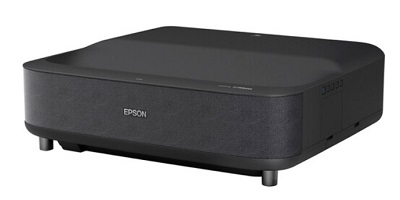 Epson describes the EpiqVision Ultra LS300 as the "little brother" to the LS500, and a look through its specifications shows that's an apt description. The combination of its laser light source and 3-chip design give a detailed, realistic image with high color accuracy and good contrast. It's pretty bright, too, with an output of 3,600 lumens that keeps the image looking sharp in any light level.
One of the best things about the Epson LS300 is how easy it is to use. Its ultra-short throw distance can produce a 120" picture when it's just over a foot away from the screen. That makes it a very flexible option and eliminates the need for complicated installations.
Viewing content is easy on the LS300, too. Its Android TV system supports streaming content directly from popular apps like Hulu and Disney+, and you can even stream live shows through YouTube TV3. Along with that, it supports wireless casting of content from your phone or computer through Chromecast. Navigating all the content is easy, too, whether you use the included remote or voice commands through Google Assistant.
While you will need to buy a screen separately, the Epson LS300 is otherwise a complete entertainment package. Its high sound quality and streaming capabilities set it apart from other home theater projectors in this regard, and it has the versatility to work in almost any space. Read full review of EpiqVision Ultra LS300
Pros
Wide color gamut with no rainbow effect
Accepts 4K input
Ultra-short throw distance for more installation flexibility
Supports wireless streaming and casting of content
Voice search capabilities through Google Assistant
Cons
Resolution is only Full HD (not 4K)
Doesn't come with a screen
---
Epson EpiqVision Ultra LS500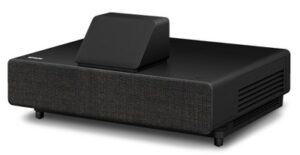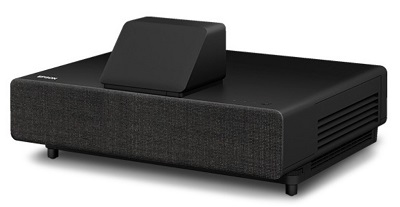 The picture quality of the Epson EpiqVision Ultra LS500 is hard to beat. This starts with a native 4K resolution, the highest current standard for home theater projectors. Like the LS300, its 3-chip color system produces vibrant, accurate hues across content formats. It takes this a step further, though, with 10-bit HDR processing that ensures you're seeing the color the way it was intended. It's a bit brighter than the LS300, too, so you don't have to limit the room's light level to enjoy your shows and movies.
The screen that comes with the Epson LS500 makes the most of this incredible picture quality. Its wide viewing angle and reduced glare make it ideal for viewing parties since everyone will get the same great view.
Setting up the Epson LS500 is easy, as well. It has an ultra-short throw distance as well as both horizontal and vertical keystone correction. Thanks to this, you can set it up right on a table or entertainment center rather than worrying about ceiling mounts or other hassles. Its wireless streaming connectivity makes it just as easy to connect content sources.
Our favorite thing about the Epson EpiqVision Ultra LS500 is its versatility. It works just as well for games as it does for TV and movies, with a low input lag and high frame rate. Combined with the bright lamp and short throw, this makes it ideal for mixed-use spaces like living rooms and media rooms. Click here for more detailed Epson EpiqVision Ultra LS500 review
Pros
4K resolution with high dynamic contrast
Vibrant, accurate colors with HDR10 and 3-chip design
Low 16.7ms input lag is ideal for gamers
Includes a high-resolution ALR screen
Wirelessly stream content through the Android TV system
Google Assistant voice control built in
Cons
3D content plays in Full HD (not 4K)
Higher cost
---
What's the Bottom Line?
These projectors have a lot in common. Both have an ultra-short throw distance, a bright lamp, and built-in streaming and voice search capability. The main difference between them from a performance perspective is the picture quality. With the Epson EpiqVision Ultra LS500, you'll get better resolution, more accurate colors, and a brighter lamp. Paired with the included screen, this gives you a picture you can get truly immersed in. >>> Check current price on ProjectorScreen
That's not to say the Epson EpiqVision Ultra LS300 is a bad projector by any means. If your budget is a factor, you may find the LS300 is a better buy, with similar performance at a lower cost. Whichever way you go, you'll get a user-friendly, versatile device that doesn't need a dedicated home theater space to perform at its best.
REFERENCES AND FURTHER READING: