The 3LCD display technology used in Epson projectors produces exceptionally bright, colorful images free of visual issues like rainbowing and brightness hotspots. Combined with their user-friendly design, this makes them a top choice for home theaters, media rooms, and anywhere you want big-screen entertainment. Curious which projector is better between the Epson LS100 vs. LS300?
The truth is, both have an excellent picture quality with full HD resolution and HDR contrast. The difference between them really comes down to the details. Let's run through the biggest differences before we dive into the full comparison.
Epson LS100 vs LS300 Side by Side:
| | Epson LS100 | Epson LS300 |
| --- | --- | --- |
| | | |
| Resolution | 1920x1200 | 1920x1080 |
| Brightness (Lumens) | 4,000 ANSI | 3,600 ANSI |
| Contrast Ratio | 2,500,000:1 | 1,500,000:1 |
| Input Lag | 30ms | 50ms |
| Throw Distance | 1.3' - 2.5' | 0.1' - 1.3' |
| Screen size | 70" - 130" | 61.00" - 120.00" |
| Speakers | 16.0 Watts Mono | 5.0 Watts × 2 |
| Price | Check on Amazon | BHPhotoVideo.com |
Throw Distance
The short throw distance of the LS100 produces a 100" image with about 2 feet of distance between the lens and wall. For most, this means no need to hassle with a ceiling mount, giving it a quick, easy, and unobtrusive installation.
If you need an even shorter throw, the Epson LS300 has you covered. It can produce a clear picture with as little as 1 inch of distance, and only needs around 11 inches for a 100" screen.
Shorter throw distance: Epson LS300
Brightness
At 3,600 ANSI lumens, the Epson LS300 is bright enough to produce a fully-saturated, vibrant image in pretty much any indoor space, especially considering how little distance the light has to travel. That said, the 4,000-lumen lamp of the Epson LS100 has a bit of extra oomph, perfect for outdoor use and other places you can't control the light level.
Brighter projector: Epson LS100
Smart Features
If you're buying a projector for a smart home theater, the Epson EpiqVision Ultra LS300 is the one you want. Its Android streaming interface lets you watch movies and shows from many popular platforms without any external content sources. Google Assistant voice search is built in, too, along with support for wireless casting through Chromecast. You won't get any of these options on the LS100, which has a good variety of wired inputs but no wireless connectivity.
Better smart features: Epson LS300
Gaming Performance
Gamers look for an input lag down around the 30ms mark or lower. That's responsive enough most won't notice any delay between their input and what they see on the screen, letting you keep up with the pace of reflex-based first-person shooters and competitive MMO games.
The Enhanced Gaming Mode on the Epson LS100 reduces its input lag to around 30ms. More serious gamers may want to look elsewhere, but it's definitely responsive enough for most casual players and hobbyists. It's also far more suitable for gaming than the LS300, which measures around 50ms at its fastest.
Better for gaming: Epson LS100
---
Epson LS100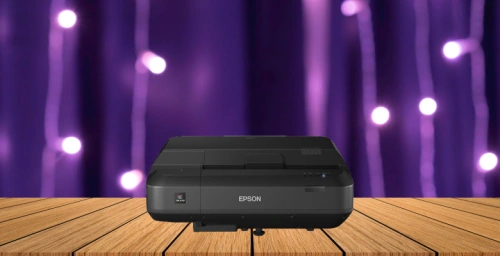 The ultra-bright laser in the Epson Home Cinema LS100 is backed by advanced image technology like Deep Black contrast, and has the flexibility to produce an immersive picture in basically any space. A digital zoom and both horizontal and vertical keystone correction make it easy to fine-tune the image after you've set up the projector, so you'll be up and running fast right out of the box.
The robust connection panel on the LS100 lets it fit easily into complicated home entertainment systems. Along with multiple HDMI and USB ports for modern devices, it has composite, VGA, and network hookups. This is important if you're integrating the projector into systems with older devices, and is helpful for media rooms, letting you switch easily between gaming systems and home theater content.
For sound, the Epson LS100 uses a single 16-watt speaker. It's definitely loud enough to use on its own, with a sound quality on par with most built-in TV speakers—that's to say fine for dialogue and TVs but a bit weak for sound effects or listening to music. It's easy to connect external speakers, though, with a 3.5mm audio out for direct connections without the need for a receiver. Find a newer generation review – Epson LS800.
Pros
Bright, high-contrast full HD picture
Wide color gamut with no rainbowing
Low enough input lag for gaming
Flexible set-up and short throw distance
Good dialogue clarity through built-in speakers
Wide range of wired input options
Cons
No wireless connectivity or streaming
Weak bass from built-in speaker
---
Epson LS300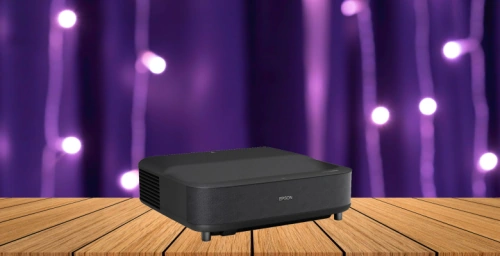 The Epson EpiqVision Ultra LS300 matches the LS100 above when it comes to picture quality. Its multi-array laser diode light source is plenty bright to use without a screen, and has an impressive black density for exceptional texture and realism. This also gives it one of the shortest throw distances on the market, producing a massive picture from just inches away, so while it lacks features like zoom and keystone correction it still has a fast and flexible set-up.
The rear panel of the Epson LS300 isn't quite as robust as the LS100, with just 2 HDMI ports for content. It makes up for this with built-in wireless connectivity and an Android TV interface that can stream content through services like Hulu and Disney+ right out of the box. You can also wirelessly cast content from Android and Apple devices, so you might not even use the inputs they give you.
The Yamaha 2.1 speaker system integrated into the Epson LS300 has a sufficient sound quality and output many won't need external speakers. Its response is well-balanced across the frequency range, and overall is comparable to most Bluetooth soundbars. If you do want to use other speakers, you can do so easily through the optical audio out. Click here for our more in-depth Epson LS300 review. 
Pros
Detailed, vibrant picture even without a screen
Ultra-short throw distance
Built-in Android streaming interface
Google Assistant voice control
2.1 sound system has good output and sound quality
Cons
Input lag is on the high side
Fewer wired input options
---
The Verdict
There's a lot to love about both the Epson LS100 and Epson LS300. As we said in the intro, choosing the right one comes down to the details. Do you need a low input lag and a variety of wired connection options?
In that case, the LS100 is your best option (>>> Find on Amazon). On the other hand, the convenience of a built-in streaming interface is a definite plus of the LS300 for modern users. Whichever way you go, you'll get a high picture quality and a lot of flexibility from either of these Epson projectors.