Epson's EpiqVision line of projectors bring users a bright, sharp picture, with all-in-one capability thanks to direct streaming and built-in speakers and a convenient ultra-short throw ratio. In this Epson LS800 review, we'll take an in-depth look at the September 2022 addition to this product line so you can decide if it's the right fit for your home (>>> Find on Amazon).
Epson LS800 Review of Main Specs:
| | Epson LS800 |
| --- | --- |
| | |
| Resolution | 3840x2160 |
| Contrast | 2,500,000:1 |
| Brightness (Lumens) | 4,000 ANSI |
| Input lag | 16.7ms |
| Throw Distance | 0.9' - 1.8' |
| Screen size | 80" - 151" |
| Speakers | 20 Watts |
| Today's Best Price | ProjectorScreen.com |
Space Versatility
The Epson LS800 uses a powerful 4,000-lumen laser phosphor light source that produces a clear, vibrant image even in bright spaces, or when competing against daylight in outdoor environments or rooms with lots of windows. For our top laser projector pick, follow the link.
The EpiqVision LS800 is just as versatile when it comes to the size of the viewing area. Its ultra-short lens produces a 150-inch image with less than 2 feet between the lens and screen, and only needs about 14 inches to fill a 100-inch screen. For more ultra-short projector picks, check this buyer's guide.
This doesn't just give it the capability to provide big-screen entertainment in any space, but it also makes it fast and easy to install. There's no need for ceiling mounts and complicated image alignment—just set it up on your entertainment system and turn it on, and you're ready to start watching.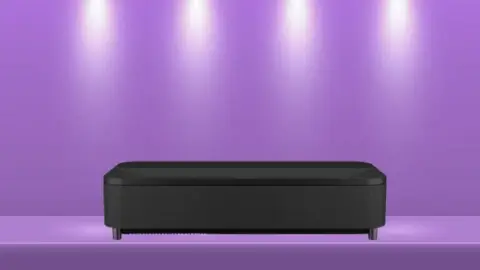 Pros
Pixel-shifted 4K resolution with 3LCD color
Bright lamp works in any light level
Ultra-short throw
Low input lag supports modern gaming
Automatic contrast and brightness adjustment
Built-in 2.1-channel speaker system
Android TV interface with Google Assistant voice control
Cons
Voice control options are limited
Larger than other Epson projectors
Picture Quality
Like other Epson projectors, the LS800 uses pixel-shifting technology to produce an Ultra HD image. It uses a more advanced processor for this than past models, though, allowing it to reproduce the full detail of a true 4K display.
The three-channel laser light source used by the LS800 also gives it phenomenal color performance, with none of the rainbowing or flickering that can be caused by color wheels. The built-in sensor also means it can automatically adjust the brightness and image contrast to suit your space, ensuring you see your content at its best every time.
Sound
The Yamaha speakers built into the Epson LS800 are far superior to what you'll find on most TVs or projectors. In fact, they match most Bluetooth soundbars for output and audio quality. It utilizes a 2.1-channel system that can emulate the immersive feel of surround sound. This is especially helpful for home theater beginners since you won't need to invest in external speakers before you start enjoying your new projector.
Gaming Performance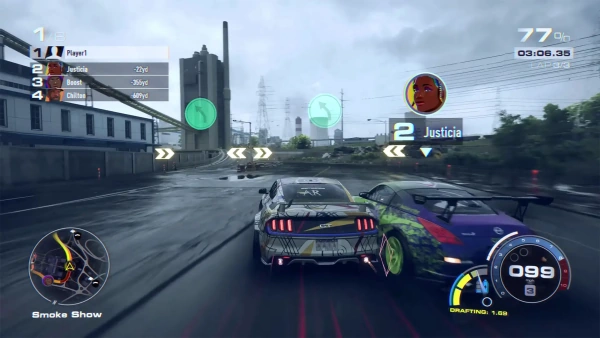 Input lag is the main concern for gaming, but that won't be a concern with the Epson LS800. It has a measured input lag of around 17ms, even for 4K content. This is paired with a high frame refresh rate of 120Hz for 1080p and 60Hz for 4K.
Together, these features let users play graphic-intensive games from the latest systems, or take part in competitive online gaming, without the frustration of lag, frame tearing, or other issues that could interrupt your playing.
Streaming and Smart Features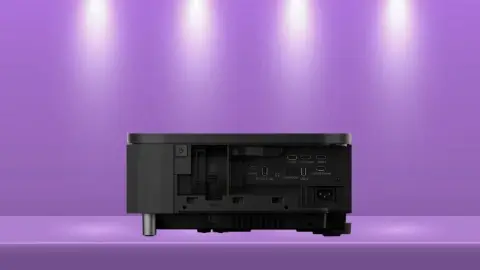 With both Bluetooth and Wi-Fi built in, the Epson LS800 has the wireless connectivity modern users need. Its Android TV operating system supports streaming from a range of popular platforms, including Hulu, Prime Video, Disney+, and many others.
It also has built-in Google Assistant voice control, which you can use with the included voice-enabled remote. That said, its voice capabilities are fairly limited. It won't work with other voice control services, for one thing, and since you need to use the remote to conduct voice searches it's not hands-free.
The Bottom Line: Epson LS800 Review
There is a lot to love about the Epson LS800 (>>> Check on ProjectorScreen.com). Its bright lamp and ultra-short throw let it bring big-screen entertainment to almost any space, and the low input lag and high image quality make it equally great for watching movies or playing games. While its smart features are limited, this is the only complaint we can see against this impressive projector.
FAQs
What inputs and outputs are on the Epson LS800?
The LS800 has 3 HDMI inputs for content, along with 2 USB input/output ports for connecting peripherals and devices. There are also two audio outputs (3.5mm and optical) if you want to connect external speakers or a sound system.
What are the dimensions of the Epson LS800?
Compared to other Epson projectors, the LS800 is on the larger side. With the feet, it's just over 27 inches wide, with a height of 13.4 inches and a depth of 6.2 inches. This is still small enough to fit on most entertainment centers without a problem, though it's definitely not what we'd consider a compact or portable projector.
Does the Epson LS800 need a lot of maintenance?
No, this is a very low-maintenance projector. For one thing, the laser light source has a lifespan of around 20,000 hours, so even if you use it every day you won't need to replace the light source for several years. Aside from occasional dusting, you won't need to do anything extra to maintain the LS800.
Comparisons versus other Projectors: