The Epson LS800 and LS12000 are strong contenders for the title of best high-end home theater projectors. These modern laser projectors offer excellent 4K image quality, advanced projection features, and user-friendly controls, making them both a must-look for anyone looking for a home theater projector.
While both of these projectors are strong performers, when we looked at the Epson LS800 vs LS12000 side-by-side, we noticed that the LS12000 carries more advanced features that we didn't see in the LS800, making it the better pick for a high-end home theater (>>> Check on ProjectorScreen). So let's take a closer look at the differences between these two great projectors to see where each excels and decide which is the right pick for you.
Epson LS800 vs LS12000 Side by Side:
| | Epson LS800 | Epson LS12000 |
| --- | --- | --- |
| | | |
| Resolution | 3840x2160 | 3840x2160 |
| Contrast | 2,500,000:1 | 2,500,000:1 |
| Brightness (Lumens) | 4,000 ANSI | 2,700 ANSI |
| Input lag | 16.7ms | 19.5ms |
| Throw Ratio | 0.16:1 | 1.35:1 - 2.84:1 |
| Screen size | 80" - 151" | 50" - 300" |
| Speakers | 5.0 Watts × 2 | No |
| Today's Best Price | ProjectorScreen.com | ProjectorScreen.com |
Projection Brightness
We noted that while both projectors feature high brightness ratings, the LS800 is significantly brighter, with a brightness rating of 4,000 lumens. On the other hand, the LS12000 features a brightness rating of 2,700 lumens.
At 4,000 lumens, the LS800 is bright enough to replace your television and can handle ambient light well, making it a great projector for a living or smaller room. On the other hand,  at 2,700 lumens, while the LS12000 uses a dimmer light, it features several calibrations for balancing whites, an HDR and other contrast ratio and brightness features in addition to an HDR dynamic range slider that produces a vivid and bright image.
Better Projection Brightness: Epson LS800
Contrast
Both the Epson LS12000 and LS800 have excellent contrast ratios. They are both rated by Epson as having a dynamic contrast ratio of 2,500,000:1. However, the LS12000 packs a wealth of features that allow you to speed up the Dynamic Contrast and adjust the color temperature settings, providing for a picture with deeper blacks and brighter whites. This makes a significant difference when watching movies or playing games that feature rapid shifting between bright and dark scenes.
Better Contrast: Epson LS12000
Colors
We noted that these projectors offered excellent color accuracy and a wide color gamut. However, we noted that the LS12000 has a slightly wider color gamut than the LS800 in real world environments, meaning it can display a slightly higher range of colors. This is particularly important for anyone who is using the projector for color-sensitive applications, like photo and video editing.
Better Color Performance: Epson LS12000
Resolution
Both projectors have 4K resolution, providing incredibly detailed picture quality. However, once again, the additional calibration features found within the LS12000 provide for a shaper image when compared to the LS800. We noticed a fair degree of softness in the image quality of 4K resolution content when watched with the LS800. We noticed this made a difference in watching movies or playing triple-A games with intricate graphical details.
Better Resolution: Epson LS12000
Price
The key difference between the LS12000 and LS800 is the price. While the LS12000 provides superior performance and advanced features, it is significantly more expensive than the LS800.
Better Price: Epson LS800
Usability
Theoretically, both projectors are simple to set up, but we found the LS800 easier to set up and start using out of the box than the LS12000. While all you need to do is set up both projectors, connect your cables, and turn on the projector, we needed a little extra legwork to calibrate the picture. In addition, the LS800 will require you to adjust the lens manually. At the same time, the LS12000 is easier to change the focus and provides a higher degree of flexibility with its lens shift, zoom, focus, and keystone controls.
The LS800 won us over in terms of usability thanks to Epson designing the projector as a Smart Projector with Android 11 OS support. This allowed us to easily stream our favorite streaming apps without plugging in any external devices. We also appreciated the built-in speakers on the LS800. Unfortunately, the LS12000 doesn't feature either of these. There is no Smart OS built-in and no speakers; you will want to have a receiver available to connect the LS12000 to.
Better Usability: Epson LS800
---
Epson LS800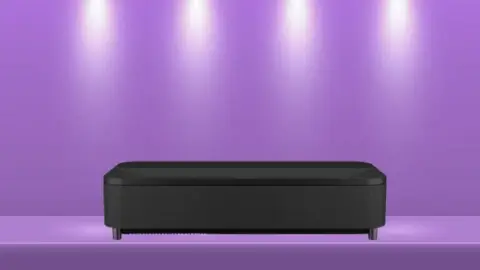 Pros
Easy to setup and use
Video resolution up to 4K at 60 Hz
Dedicated gaming HDMI port delivers input lag reduction for gamers
Built-in streaming and Smart TV features
Great built-in sound quality
Cons
The Epson LS800 can be a replacement for your TV. It is powered by a powerful 4,000-lumen rated laser phosphor light rated for 20,000 hours of use. The LS800 offers a 4K viewing experience by utilizing a technology known as 'pixel shifting, which allows the projector to double and split multiple 1920 x 1080 (Full HD) resolution images into the 4K image you see projected. This allows Epson to keep the overall cost down on the projector while still providing us with a 4K image.
We appreciated how simple the projector was initially set up. The back of the projector includes three HDMI ports, including one dedicated for gaming with reduced input lag. However, we had to spend considerable time fidgeting with the controls and the lens to focus and calibrate our image. An Epson Setting Assistant smartphone app lets you digitally re-size the LS800s image. Still, whenever we used it, we noticed it lowered the overall brightness and caused artifacts to appear in our image.
Once you have the LS800 set up and where you want it, it's straightforward to control. Setting up the Android TV 11 is like any Android-based Smart TV. The process is guided and intuitive. We appreciated the functionality of streaming through built-in Wi-Fi with the LS800. In addition, the audio quality of the built-in Yamaha DSP 2.1 stereo soundbar left us with no desire to install a secondary sound system. Check our in-depth review of the LS800.
---
Epson LS12000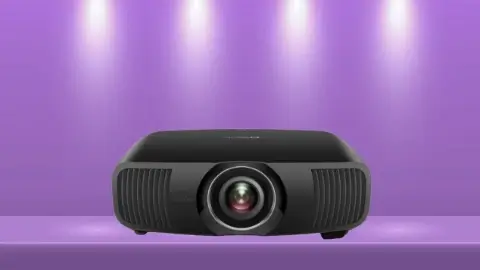 Pros
Features Epson's 4K PRO-UHD advanced pixel-shifting technology.
4K video resolution at a 120 Hz refresh rate.
Theater screen level brightness
Excellent color accuracy and contrast
HDR10+ and HLG HDR support
Long-lasting laser light
Cons
If you want a projector that can convert your living room into a movie theater, the Epson LS12000 Is one to keep in mind. It provides an incredibly bright 4K picture with its laser light source and is rated for 2,700 lumens. The LS12000 handled even the most challenging images we threw at it. There's support for HDR10 and HDR10+ with 10-bit color processing, and it effortlessly alternates between dark and bright scenes without any issues. Colors appeared true to life, bringing the theater's visual experience home.
The Epson LS12000 has robust calibration features, including a dedicated remote control that allows you to control the image size, focus, brightness, and other controls. Set up is relatively simple, but to take full advantage of the LS12000, you must connect the projector to a receiver as there is no built-in streaming platform or integrated speakers.
If you are a cinephile and gamer, this may be the right projector for you. We noticed that gaming was smoother than almost any other projector out there on the LS12000, thanks to 4K resolution at 120 Hz support through the HDMI ports. However, the LS12000 comes at a hefty price, it's one of the more expensive 4K projectors on the market, and it is possible to find a similar projector for much less. However, if you want to bring an authentic theater experience home with you, we recommend looking at the LS12000.
---
What's the Bottom Line?
These impressive 4K projectors deliver excellent picture quality, are great for movies, and even provide solid performance for gaming. Based on performance, the LS12000 is the overall better projector for image quality, brightness, and bringing home the theater experience (>>> Find on ProjectorScreen). However, the LS800 comes at a much more agreeable price and has better features for the first-time home projectionist, including built-in speakers, Wi-Fi, and Android Smart TV streaming. We hope this comparison has helped you decide which option is better for you!
REFERENCES AND FURTHER READING: