Released in February of 2022, the Epson LS12000 takes advantage of the latest in visual technology from one of the leading names in the projector game. While it delivers cinema-quality, big-screen entertainment, it's not necessarily the best way to bring that to every home. In this Epson LS12000 review, we'll look at where it excels, where it doesn't, and what kind of space is the best environment for this projector (>>> Check on Projectorscreen).
Epson LS12000 Review of Main Specs:
| | Epson LS12000 |
| --- | --- |
| | |
| Resolution | 3840x2160 |
| Contrast | 2,500,000:1 |
| Brightness (Lumens) | 2,700 ANSI |
| Input lag | 20ms |
| Throw Distance | 10.3' - 29.5' |
| Screen size | 50" - 300" |
| Speakers | No |
| Today's Best Price | ProjectorScreen.com |
Installation and Space Requirements
If you want a massive picture from the Epson LS12000, you'll need a lot of space. Its throw distance is long even compared to typical standard-throw projectors. On the plus side, it also has a motorized 3-axis lens that gives it a 2D lens shift (+/-47% horizontal, +/-96% vertical). The 2.1x powered zoom helps here, too, but even so the LS12000 is designed for larger home theater spaces and that's where it's at its best.
As far as the light level, the 2,700-lumen light source of the Epson LS12000 is ideal for spaces with a low to moderate amount of ambient light. You can leave some lights on while you're watching, but you'll likely want to invest in black-out curtains in spaces with large windows.
Because of its long throw distance, most users will want to ceiling-mount the LS12000. Epson anticipated this, and a ceiling installation kit comes included with the projector. That's helpful for first-time projector owners, eliminating the hassle of choosing and buying the right mount.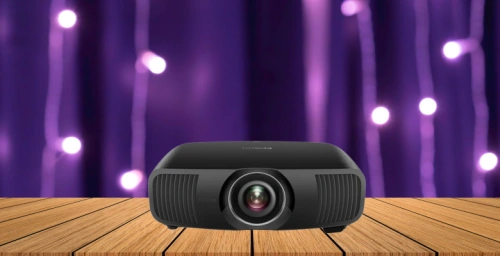 Pros
True 4K resolution
Sharp UltraBlack contrast
Lifelike colors with real-time scene correction
Includes a ceiling mount
Flexible installation with motorized lens
Responsive enough for gaming
Cons
Long throw distance
No wireless connectivity or streaming
Picture Quality
The sharp picture of the Epson LS12000 starts with its 4K PRO-UHD pixel-shifting technology and advacned 36-bit ZX Picture Processor. With this, it uses a 15-element lens designed to reduce light leaks for a sharp, clear picture from edge to edge. To ensure consistently high performance, the projectors are professionally calibrated by Imaging Science Foundation Certified Technicians. >>> Check comparison vs. LS11000
The color and contrast of the Epson LS12000 are just as impressive. It uses a 3LCD chip projector engine that eliminates the image issues some people experience from projectors that use a color wheel. It also has an UltraBlack filter to enhance the image contrast and real-time adaptive scene correction, with a real-time curve adjustment that has 16 steps of control for fine-tuning the color and contrast. 
Gaming Performance
The Epson LS12000 is a very responsive projector. It has a 120Hz frame refresh rate for 4K content, ensuring smooth on-screen action for both movies and games. The input lag is also very reasonable, measuring under 20ms, low enough to avoid noticeable delays even when you're playing games that rely on fast reflexes and precise timing.
Connectivity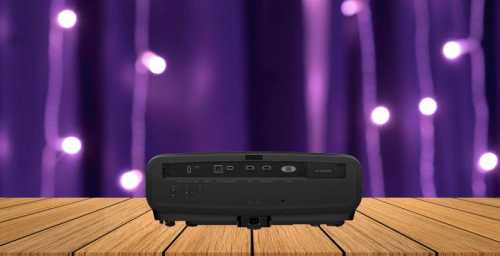 The rear panel of the Epson LS12000 has two HDMI inputs for content sources, along with dual USB inputs and networking connections like RJ-45 and RS232. What it lacks, unfortunately, is built-in wireless connectivity, which means no streaming or voice control capability, either. While that's not a must-have for many when they're looking for a projector, it's a notable omission at the price point. Find comparison vs. Epson 6050UB
Epson LS12000 Review: The Bottom Line
If the main thing you want from a projector is a phenomenal picture, the Epson LS12000 fits the bill (>>> Find on Projectorscreen). The included ceiling mount and motorized lens are also convenient features, while its low lag gives it the versatility for gaming. Having said that, the lack of wireless connectivity options can be a limitation in some homes, and its brightness and throw distance also limit where and how you can use it. Given its relatively high price tag, you definitely want to be sure it's a good fit for your home before you commit to it.
FAQs
Does the Epson LS12000 have built-in speakers?
Unfortunately, no. Since it's made to go in a home theater space, Epson assumes users will have external speakers or a surround sound system to connect to the projector, and there are no speakers built in.
What image adjustment options are there on the Epson LS12000?
Along with the real-time adaptive correction, the LS12000 has 6 Color Modes to choose from. These include modes ideal for brighter spaces, one specifically for black and white movies, and a natural mode to bring more life-like color to content like sports or nature shows.
Does the Epson LS12000 come with a warranty?
Yes. The LS12000 is covered by a 3-year limited warranty. If something goes wrong with the projector within that span, they'll repace it for free. You also get lifetime technical support over the phone.
Comparisons versus other projectors:
Optoma UHZ50 vs. Epson LS12000 Side-by-Side