If you're searching for an upper mid-range projector that can deliver quality video while not being super expensive, Optoma's UHZ50 and Epson's LS12000 models can deliver. Both provide high-quality video and are great representations of what a projector should be. However, with that said, you can only choose one. Our Optoma UHZ50 vs Epson LS12000 breakdown can help you determine which is better.
Optoma UHZ50 vs Epson LS12000 Side by Side:
| | Optoma UHZ50 | Epson LS12000 |
| --- | --- | --- |
| | | |
| Resolution | 3840x2160 | 3840x2160 |
| Contrast | 2,500,000:1 | 2,500,000:1 |
| Brightness (Lumens) | 3,000 ANSI | 2,700 ANSI |
| Input lag | 4ms | 19.5ms |
| Throw Distance | 4.0' - 26.6' | 10.3' - 29.5' |
| Screen size | 34" - 303" | 50" - 300" |
| Speakers | 10.0 Watts × 2 | No |
| Today's Best Price | ProjectorScreen.com | ProjectorScreen.com |
Brightness
Both bright projectors provide enough lumens for a rich picture, even if the room is bright. However, the Optoma edges it out with 3,000 lumens instead of Epson's 2,700.
Admittedly, this is not much of a difference, and both provide enough for you to see the picture in a dark room. However, if you turn on the lights, our viewing of the LS12000 was less pleasant than the UHZ5. The UHZ50 provides a slightly better experience in this regard.
Winner: Optoma UHZ50
Gaming Performance
If you're a gamer, you know how crucial it is to have no lag, especially when playing esports. Both projectors have gaming modes, but the Optoma UHZ50 markets itself as a real gaming projector. Is it? Let's compare.
The UHZ50 can reach 240 Hz and under 4ms when on 1080p mode, and the Epson LS12000 goes up to 120hz at under 20 ms.
When we tested both, they delivered fast performance. However, we saw the slightly better performance with the Optoma. While this won't make a difference with average gamers, competitive ones will have a straightforward option.
Also, the Optoma UHZ50 is much lighter at 10.5 lbs than Epson's 28-pound projector. So if you're bringing this projector to a tournament, it's much less of a hassle to pack.
Winner: Optoma UHZ50
Image Quality
Both projectors deliver excellent contrast ratio, but we saw a clear winner when we viewed them side-by-side.
The Epson LS12000 has a better contrast ratio, with the whites and blacks popping out even further. However, while the UHZ50 utilizes several technologies to deliver cinema-like picture quality, we're disappointed to tell you that there is one fatal flaw: its lens.
The UHZ50 lens feels cheaper, and you cannot adjust it as much as the Epson LS120000. In addition, the LS12000 has no light leakage and has up to ten saved positions you can use to get the best picture depending on your needs.
Winner: Epson LS12000
---
Optoma UHZ50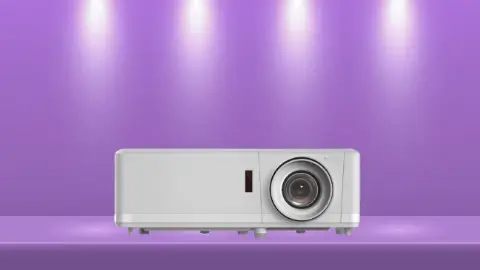 Pros
Stellar picture and built-in technology to deliver a smooth viewing experience
Gaming mode gives lag-free gaming
Smart features for more straightforward control
Cons
The Optoma UHZ50 is a 4K UHD projector sporting 8.3 million pictures and a 2,000,000: 1 contrast ratio to deliver cinema-like quality at your home. Besides its powerful laser, the UHZ50 uses its cinema display mode to bring true-to-life colors that match what you see in real life. Its Pure Motion technology also makes your viewing experience smooth.
With four HDR picture modes, you can choose the best option according to your needs. You can also connect to the best possible speakers thanks to its eARC support.
Gamers can also rejoice, as this projector uses Enhanced Gaming Mode technology for up to 240hz and 4ms at 1080p or 9ms at 4K.
With its voice control features, you can connect it to smart devices for more straightforward control. It also supports screen mirroring. Check our hands-on review of the Optoma. UHZ50
---
Epson LS12000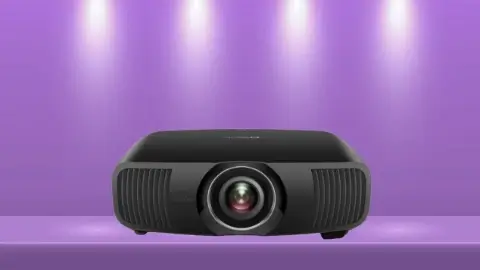 Pros
Great picture quality
Low-lag gaming mode
Lens ensures no light leakage
Cons
The Epson LS12000 is a 4K UHD projector with a 10-bit HDR to bring out all possible colors. In addition, with its UltraBlack technology, Epson can eliminate stray light and create an infinite Dynamic Contrast Ratio, making the picture pop. The LS12000 also uses adaptive scene correction tech to adjust the colors according to the scene's needs.
Its lens is also powerful, with the VRX cinema lens delivering sharp focus and no light leakage. In addition, its 10 presets allow you to choose the best focus according to your needs.
In addition, the LS12000 has a 120Hz refresh rate and lag under 20 ms, making it ideal for gamers. Our more in-depth review of the LS12000.
---
Optoma UHZ50 vs Epson LS12000: Which is Better?
Both projectors provide stellar picture quality and performance. However, each has its advantages and disadvantages. Nevertheless, the Optoma UHZ50 is a fantastic projector for gaming and if you want smart features.
However, the Epson LS120000 excels at better picture quality and a more powerful lens.
We prefer the Epson LS120000 from a purely cinematic perspective (>>> Find on ProjectorScreen), but you may disagree. Either way, both are worth trying out.