Having personally tested the Optoma UHZ50 and Epson LS12000, we can confidently say that these two top-tier laser projectors offer compelling features. Each device delivers an immersive, home-cinema experience with 4K resolution, HDR compatibility, and a variety of connections. However, our direct comparison highlighted significant differences between them. While both projectors have their merits, we found that the Epson LS12000 stands out as the better option for those prioritizing higher-quality video playback. Check Out on ProjectorScreen.com Instantly!
Optoma UHZ50 vs Epson LS12000 Side by Side:
| | Optoma UHZ50 | Epson LS12000 |
| --- | --- | --- |
| | | |
| Resolution | 3840x2160 | 3840x2160 |
| Contrast | 2,500,000:1 | 2,500,000:1 |
| Brightness (Lumens) | 3,000 ANSI | 2,700 ANSI |
| Input lag | 4ms | 19.5ms |
| Throw Distance | 4.0' - 26.6' | 10.3' - 29.5' |
| Screen size | 34" - 303" | 50" - 300" |
| Speakers | 10.0 Watts × 2 | No |
| Today's Best Price | ProjectorScreen.com | ProjectorScreen.com |
Optoma UHZ50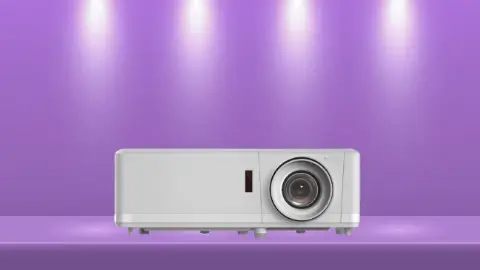 The Optoma UHZ50 offers an excellent blend of compact design and high-tech features. Its 4K resolution and HDR compatibility ensure a visually stunning experience, whether for movie nights or gaming sessions. Its lightweight design and wireless adapter make for a user-friendly installation, while the long lamp life and 3D support attest to its performance and versatility. However, it lacks some high-end features such as advanced lens positioning and powered focus, and its contrast ratio may not match that of some competitors. Overall, the UHZ50 is a reliable and versatile option for those seeking both quality and convenience. Check our hands-on review of the Optoma UHZ50
Pros
Compact and lightweight design, ideal for smaller spaces.
Offers 4K resolution and HDR compatibility.
Includes a wireless adapter for flexible setup.
Long lamp life of 30,000 hours.
Enhanced gaming performance with 3D support.
Cons
Lower contrast ratio compared to the LS12000.
Lacks powered focus and advanced lens positioning.
---
Epson LS12000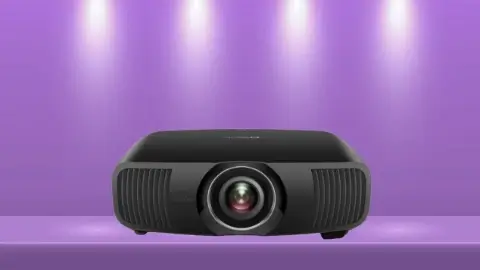 The Epson LS12000 stands out with its superior image quality, boasting advanced lens features and a contrast ratio enhanced by Epson's proprietary UltraBlack™ Technology. Its 10-bit HDR color processing provides superior color accuracy, and the solid gaming performance makes it suitable for a wide variety of users. However, its size and weight might limit installation options, and it has a shorter lamp life compared to some competitors. Nevertheless, the LS12000 represents a high-quality choice for those willing to invest in an advanced, feature-rich projector, delivering an immersive viewing experience that lives up to its professional-grade specifications. Our more in-depth review of the LS12000.
Pros
Superior contrast with Epson UltraBlack™ Technology.
Advanced lens features with motorized adjustments.
10-bit HDR color processing for superior color accuracy.
Solid gaming performance up to 4K at 120 frames per second.
Included ceiling mount for professional installation.
Cons
Heavier and larger, potentially limiting installation options.
Shorter lamp life of 20,000 hours compared to the UHZ50.
---
Optoma UHZ50 vs Epson LS12000 features & performance comparison
Design and Size
A noticeable difference between these projectors is their size and weight. The Optoma UHZ50, being smaller and lighter, demonstrated more portability and was easier to mount during our testing. It weighs only 10.58 lbs and measures 13.27″ x 10.43″ x 4.7″.
Conversely, the Epson LS12000 is significantly larger and heavier, weighing in at 28 lbs with dimensions of 20.5″ x 17.6″ x 7.6″. While its size might present challenges in smaller spaces, we appreciated its included ceiling mount, which facilitated professional installation.
Winner: Optoma UHZ50
Connectivity and Installation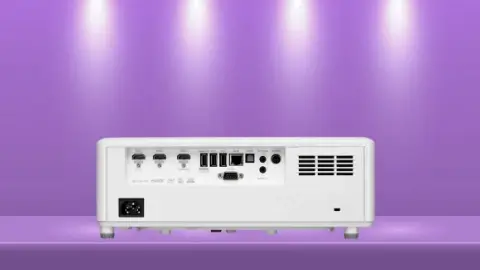 During our testing, we found that both projectors offer a wide range of connectivity options. Each has two HDMI 2.0 inputs for easy connections with media players, game consoles, PCs, and other HDMI-enabled devices. They also offer VGA, composite video, and audio in/out jacks, catering to more traditional setups.
The UHZ50 stood out, however, with its inclusion of 3 USB-A ports, which proved useful for connecting peripheral devices and media storage. It also includes a wireless adapter, providing flexibility for different setups with wireless streaming. For installations, both projectors performed well when ceiling-mounted, but the UHZ50's lighter weight and smaller dimensions made it somewhat easier to install in home theaters and presentation spaces.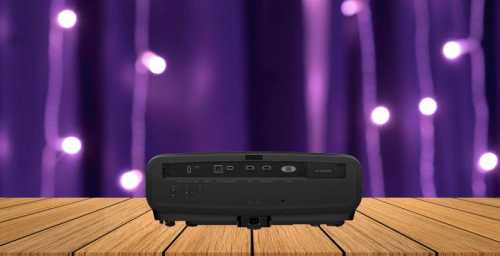 Winner: Optoma UHZ50
Resolution and Brightness
Both the Optoma UHZ50 and the Epson LS12000 deliver 4K UHD resolution (3840×2160), producing stunning detail and sharpness during our screenings.
When we compared brightness, the UHZ50 held a slight edge, boasting 3,000 lumens compared to the LS12000's 2,700 lumens. The UHZ50's additional brightness resulted in a clearer image in well-lit rooms.
Winner: Optoma UHZ50
Contrast Ratio and Color Reproduction
The contrast ratio is essential for achieving deep blacks and vibrant colors. We found both projectors excelled, delivering contrast ratios of over 2,500,000:1.
Notably, the LS12000's Epson UltraBlack™ Technology, a proprietary compensation filter, effectively suppressed any stray light within the signal, enhancing contrast. This gave the LS12000 an edge in contrast production.
In terms of color reproduction, both projectors demonstrated a wide color spectrum. However, the LS12000 displayed superior color accuracy with its full 10-bit HDR color processing, which accepts 100% of the HDR source information
Check the Latest Price on Amazon Now!
Winner: Epson LS12000
Lens and Projection
We noted a significant difference in lens features between the two projectors. The UHZ50 offers a 1.3x manual zoom and vertical lens shift of +10%.
In contrast, the LS12000 features powered focus, optical zoom, lens position, and 3-axis motorized lens shift. This allowed for precision adjustments both horizontally and vertically, an advantage in various installation scenarios.
Winner: Epson LS12000
Lamp Life and Noise Level
Using a laser light source, both projectors promise long lamp life. However, the UHZ50's 30,000 hours of laser life exceeds the LS12000's 20,000 hours, potentially providing a longer lifespan before lamp replacement.
When assessing noise level, we found the UHZ50 to be quieter, generating 27dB in typical use and 29dB at its maximum. Meanwhile, the LS12000's noise level ranged from 22 to 30 dB, making it slightly noisier in practice. Check our video review Of the Optoma UHZ50:
Winner: Optoma UHZ50
Gaming Performance
In the context of gaming and 3D capabilities, the Optoma UHZ50 outperformed. It proved compatible with a broad range of 3D formats and provided Full 3D support. Its impressive response time was particularly noteworthy – 16.7ms in 4K at 60Hz and 4ms in 1080P at 240Hz. Coupled with the fast input lag of only 4ms, it delivered a smoother and more responsive gaming experience. Buy Now with One-Click on ProjectorScreen
The Epson LS12000, while not offering 3D support, delivered exceptional gaming performance up to 4K at 120 frames per second with input lag times below 20 ms. This performance could comfortably match higher-end gaming PCs and the latest generation gaming consoles. Therefore, if 3D capabilities aren't essential for your needs, the LS12000 remains a strong contender.
Winner: Optoma UHZ50
---
Conclusion
Our hands-on testing showed that the choice between the Optoma UHZ50 and the Epson LS12000 largely depends on individual needs and preferences. If gaming performance, 3D support, and portability are your priorities, the Optoma UHZ50 could be the best choice for you. Conversely, if you value high contrast ratios, advanced image processing, and superior lens technology, the Epson LS12000 might be your go-to option. (>>> Find on ProjectorScreen), Both are high-performing projectors with unique features and benefits, making either a commendable choice for a home theater or a professional setup.
Related Comparisons & Guides: