Optoma and BenQ are both notable home theater projector brands. Known for their advanced technology, their projectors often stand out from the rest. However, we wondered how their projectors compare against each other, specifically the Optoma UHZ50 vs the BenQ X3000i.
Each of these home cinema projectors has different strengths and weaknesses. Let's take a look at what each one has to offer.
Optoma UHZ50 vs BenQ X3000i Side-by-Side:
| | Optoma UHZ50 | BenQ X3000i |
| --- | --- | --- |
| | | |
| Resolution | 3840x2160 | 3840x2160 |
| Dynamic Contrast | 2,500,000:1 | 500,000:1 |
| Brightness (Lumens) | 3,000 ANSI | 3,000 ANSI |
| Input lag | 4ms-16.7ms | 4ms-16ms |
| Throw Ratio | 1.21:1 - 1.59:1 | 1.15:1 - 1.50:1 |
| Screen size | 34" - 303" | 30" - 300" |
| Speakers | 10.0 Watts × 2 | 5.0 Watts × 2 |
| Today's Best Price | | BHPhotoVideo.com |
Image Quality
It's impossible to overstate the importance of image quality in a home cinema projector. When image quality is poor, the projector is almost useless. However, it's not an issue with either the Optoma or BenQ projector.
You get 4K resolution and a 3,000 lumens light source. Images are bright enough for daytime viewing, without closing the blinds. The projectors come with slightly different image enhancement technology. Both offer HLG and HDR10 support. The X3000i also supports HDR Pro technology.
The UHZ50 has a Cinema Display Mode that produces accurate colors across 100% of the REC.709 spectrum. The technology ensures vivid images with realistic colors. The X3000i uses BenQ's Cinematic Color technology to reproduce accurate colors. (>>> Find on Amazon)
While we are impressed with the image quality of both projectors, we find the UHZ50 produces more detailed images. It boasts a 2,500,000:1 dynamic contrast ratio, compared to the 500,000:1 ratio on the X3000i.
Best in Image Quality: Optoma UHZ50
Check the Comparison Video on Youtube:
Gaming Quality
While both projectors are great options for gamers, our tests show the X3000i is a slightly better option. You get fast refresh rates at 240Hz and an input lag of 4.2ms. You will need to lose the 4K resolution, but 1080p still produces sharp, clear images. The input lag jumps to around 16ms when you stay in 4K.
Where the X3000i shines is with the three preset gaming modes. You can choose between full cinematic immersion for RPG games or the FPS mode to find hidden threats. When you want realistic images, switch to the SPG mode. It can make you feel like you are in the game. BenQ's auto color calibration technology ensures vibrant colors regardless of the game.
Best for Gaming: BenQ X3000i
Audio Quality
Audio quality is another crucial factor, especially when you don't have external speakers to connect. Both projectors have eARC support. The technology automatically enhances sound.
The X3000i comes with internal 5W speakers. Since most smart TVs use 2W speakers, it is an improvement. However, you may still want to connect an external sound system. If you do not have speakers at home, the X3000i is the better option.
Best in Audio Quality: BenQ X3000i
Ease of Installation and Set Up
The projectors weigh under 15 lbs. The UHZ50 is a little lighter at 10.5 lbs., compared to the X3000i at 14.1 lbs. The projectors are easy to get out of the box without straining a muscle.
These are standard throw projectors, but you have some flexibility. The X3000i has 1.3x zoom and manual lens shift is standard with the UHZ50. You only need around 8 feet of space to cast 100" images. Vertical keystone correction allows you to easily align images with the UHZ50, while the X3000i comes with 2D keystone correction. It may take a little trial and error, but image alignment is simple with either 4K projector.
Easiest to Install and Set Up: Optoma UHZ50
Connectivity
Neither projector has a robust connection panel. They come with the standard in and outputs. Along with an eARC output, you get dual HDMI ports. The projectors also have a USB port.
Don't worry about having enough connections to stream your favorite content. Instead of connecting multiple devices, the projectors have onboard connectivity.
The X3000i has an Android TV interface with over 5,000 apps for streaming the latest shows, movies, games, and music.
You get Smart features with the UHZ50. It is compatible with most smart home systems for easy control and connectivity. You can operate the projector with your voice using either Amazon Alexa or a Google Home device. IFTTT support allows the Optoma projector to seamlessly connect with your devices.
Best in Connectivity: A Tie
---
Optoma UHZ50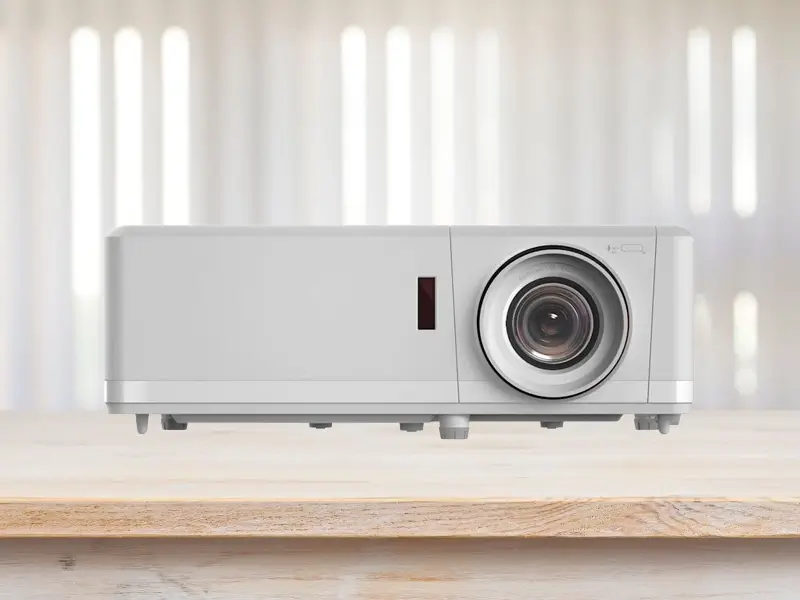 We love the immersive images you get with the UHZ50. The combination of DuraCore laser technology, true 4K resolution, and a 2,500,000:1 contrast ratio ensures vivid images in almost any lighting. We did notice a slight decrease in image brightness in rooms with lots of sunshine. However, closing the drapes or blinds easily resolves the issue.
A suite of smart home features improves your entertainment experience. Along with voice-control compatibility, you also have Creative Cast, Optoma Marketplace, and File Manager. It makes it easy to stream your favorite content with or without a connected device.
Setting up the projector is easy, even for first-time users. The 1.3x zoom gives you some installation flexibility. You still need around 8' of space to cast 100" images. It's not a projector designed for use in cramped spaces. 4-corner adjustment, 2d keystone correction, and vertical lens shift make it easy to align onscreen images, even when the projector isn't centered on the screen. Check our more in-depth review of the Optoma UHZ50.
Pros
4K resolution
Flexible installation
eARC and 3D support
Onboard Smart Features
Dynamic contrast ratio
Cons
Some darker scenes may not be as visually clear as some consumers prefer.
---
BenQ X3000i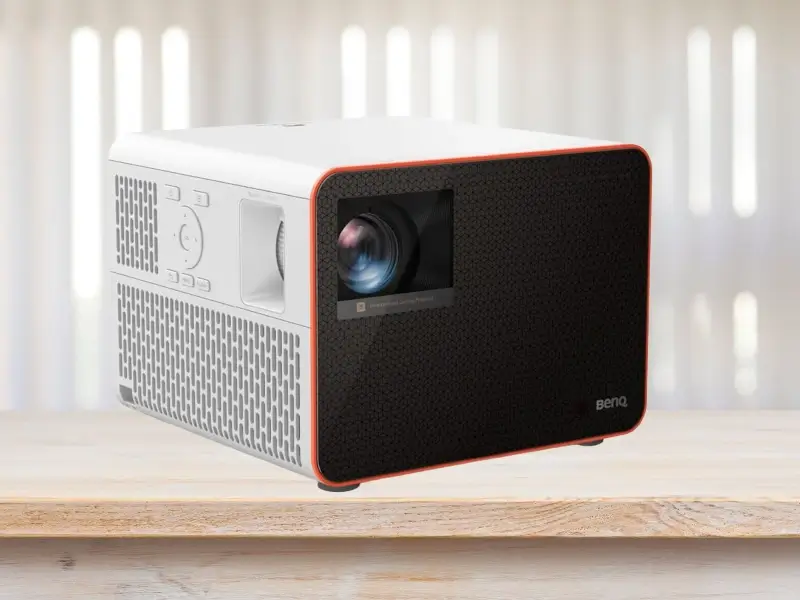 Anyone searching for a gaming projector will want to stop and take a look at the X3000i. Along with stunning image quality and onboard streaming apps, it also comes with three preset gaming modes. You can select the best mode to optimize your gaming experience. It can be a game changer depending on what you are playing.
5W speakers produce crisp audio, and eARC support further enhances sound. The speakers are powered by Bongiovi DSP technology to ensure deep bass. The technology also calibrates sound using preset audio modes.
2D keystone correction makes it easy to align images. You also have placement options thanks to the 1.3X vertical zoom.
Pros
3 preset gaming modes
Flexible installation
Low latency speed and fast refresh rate
Dual onboard speakers
Automatic sound calibration
Cons
Input lag is affected when the keystone correction function is turned on.
---
The Verdict: Optoma UHZ50 vs BenQ X3000i
Our tests show the Optoma UHZ50 and BenQ X3000i are strong projectors that excel for different uses. If you want a projector for watching shows and movies, the UHZ50 is the better option. (>>> Find on ProjectorScreen.com) Gamers will want to explore everything the X3000i has to offer. (>>> Check on BhPhotoVideo)