In the high-definition world of home entertainment, two industry giants have recently come to the fore with their innovative gaming projectors, igniting a heated "Optoma UHZ50 vs BenQ X3000i" debate among enthusiasts. These devices, the Optoma UHZ50 and the BenQ X3000i, promise to redefine the cinematic and gaming experience at home. In this comparison review, we delve into the features, performance, and user experiences of these two projectors. Even though both models boast impressive specifications and high-quality visuals, we've chosen the Optoma UHZ50 as our top pick. Check the Latest Price on Amazon Now! Continue reading to explore why the Optoma UHZ50 was selected as our preferred choice and how it compares to the BenQ X3000i.
Optoma UHZ50 vs BenQ X3000i Side-by-Side:
Specifications
Optoma UHZ50
BenQ X3000i
Where to buy

Check on Amazon





ProjectorScreen.com

Check on Amazon





BHPhotoVideo.com

Display Technology
DLP
DLP
Resolution
UHD (3840x2160)
4K UHD (3840x2160)
Brightness
3,000 lumens
3,000 ANSI lumens
Contrast Ratio
2,500,000:1
500,000:1 (w/ Lightsource Dimming)
Native Aspect Ratio
16:9
16:9
Keystone Correction
Horizontal +/-30°, Vertical +/-30°
2D, (Auto) Vertical ± 30 degrees; Horizontal ± 30 degrees
Displayable Colors
1073.4 million
1.07 billion (30-bit)
Light Source Type
Laser
4LED
Light Source Life
30,000 hours
Normal 20,000 hrs, ECO 30,000 hrs, SmartEco 20,000 hrs
Throw Ratio
1.21:1 ~ 1.59:1
1.15 ~ 1.50
Zoom
1.3 (Manual)
1.3x
Projection Offset
105%
Full-Height 110%
Lens Shift
Yes (Vertical +10%)
Not specified
Connectivity
2 x HDMI 2.0, 3 x USB-A, 1 x HDMI 2.0 (eARC)
3 x HDMI in, 1 x USB Type A, RS232 in, DC 12V Trigger
Audio
2 speakers, 10W each
2 speakers, 5W each
Wireless
IEEE 802.11 a/b/g/n/ac
802.11 a/b/g/n/ac (2.4G/5G)
Noise Level
27dB (typical), 29dB (max)
32/28 dBA
Input Lag
4.00ms
16.7 ms (1080p@60Hz), 16.7 ms (4K@60Hz), 4.2 ms (1080p@240Hz), 8.3 ms (1080p@120Hz)
Security
Security bar, Kensington Lock, Password protected interface
Not specified
24/7 operation
Yes
Not specified
Operating Conditions
0°C~40°C, max altitude 3000M, max humidity 85%
0~40℃
Power Supply
100V ~ 240V, 50-60Hz
AC 100 to 240 V, 50/60 Hz
Power Consumption
230W (max), 175W (min), <0.5W (standby)
330W (Typ.), <0.5W (Stand-by)
Dimensions
13.27" x 10.43" x 4.7"
10.7 x 7.8 x 10.2 inch
Weight
10.58 lbs (Net), 14.33 lbs (Gross)
14.1lbs
Other Features
3D compatibility, OSD / display languages, Backlit home remote
DCI-P3 Coverage 100%, Rec. 709 Coverage 98%, Android 10.0, Bluetooth
Today's Best Price

Check on Amazon





ProjectorScreen.com

Check on Amazon





BHPhotoVideo.com
Optoma UHZ50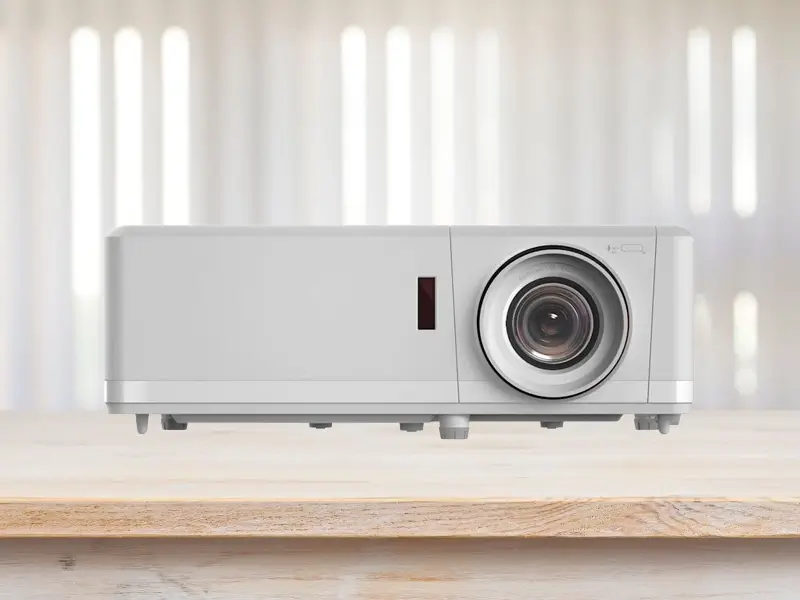 The Optoma UHZ50 emerges as a top performer among the latest breed of gaming projectors. This device's primary selling point is its remarkable quietness in operation and its range of flexible installation options, appealing to users who value simplicity and tranquillity. The UHZ50's image quality is stellar, offering 4K UHD resolution that brings vivid, lifelike images to your screen, complemented by HDR10 compatibility for impeccable color accuracy. It's the detail and depth in the visuals that set this projector apart.
When it comes to gaming, the Optoma UHZ50 is a strong contender. It offers an impressively low input lag and a high refresh rate, ensuring games run smoothly with minimal delay. The 3,000 lumens of brightness make it a competent performer in various lighting conditions, meaning games and films alike retain their detail and pop even in moderately lit rooms. Despite its powerful performance, the UHZ50 maintains energy efficiency, a nod to Optoma's commitment to environment-friendly technology. Check our more in-depth review of the Optoma UHZ50.
Pros
Quiet operation for distraction-free viewing.
Flexible installation options to fit different spaces.
Outstanding 4K UHD resolution for vivid images.
Low input lag and high refresh rate ideal for gaming.
Energy-efficient, making it eco-friendly.
Cons
Lacks integrated streaming services.
High-end price point could be a deterrent.
---
BenQ X3000i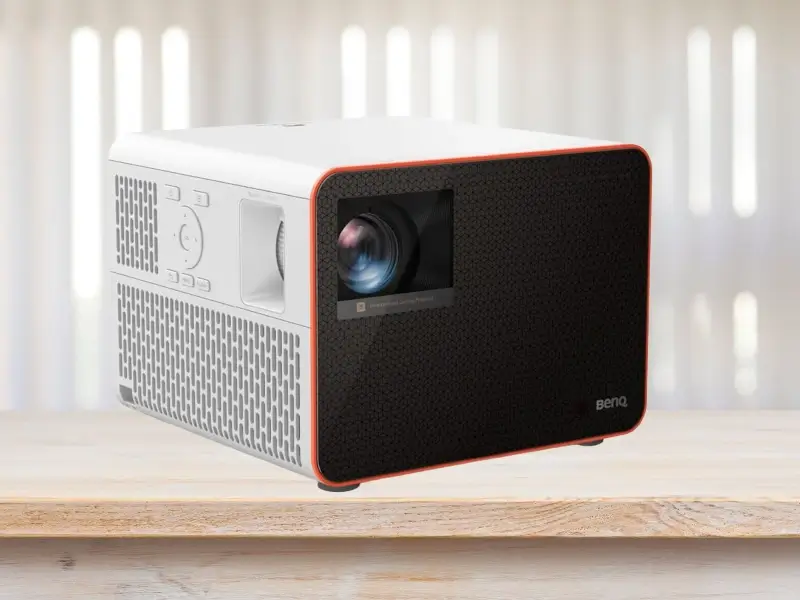 The BenQ X3000i, on the other hand, takes a different approach, integrating the convenience of Android TV into its system. This feature allows users to directly stream content from popular platforms, effectively transforming the projector into an entertainment hub. The X3000i, too, doesn't skimp on image quality, boasting 4K resolution and HDR support that render images in vibrant and lifelike detail. Its cinematic color technology enhances the overall viewing experience, delivering true-to-life colors.
As a gaming projector, the BenQ X3000i stands its ground, offering a GameMaestro mode which optimizes audio and visuals for gaming. It provides a rapid response time, ensuring games run fluidly, while the high brightness level ensures vibrant visuals regardless of the ambient lighting. Moreover, the built-in treVolo speakers create a surround sound experience that adds an extra level of immersion. Despite its many features, the X3000i maintains a user-friendly interface, ensuring an enjoyable experience for all types of users.
Pros
Android TV integration for convenient streaming.
4K resolution with HDR for vibrant images.
GameMaestro mode optimizes audio and visuals for gaming.
Bright projection suitable for various lighting conditions.
User-friendly interface ensures easy operation.
Cons
Operational noise level might be bothersome to some.
Premium price may be a limiting factor for budget-conscious buyers.
---
Optoma UHZ50 vs BenQ X3000i: Features Comparison
Visual Quality
True to its promises, the Optoma UHZ50 delivers an exceptional visual performance. With a native 4K UHD resolution, the UHZ50 showcases incredibly sharp and vibrant images. Its laser technology ensures an outstanding brightness of 3,000 ANSI Lumens, which ensures clear and sharp visuals even during the day. Coupled with a dynamic contrast ratio of 2,500,000:1, the projector produces deep blacks and bright whites that create a sense of depth in the images.
We found the agile HDR adjustment feature particularly useful for fine-tuning image quality, offering four HDR picture modes and a new HDR brightness setting that can be adjusted on the fly.
The BenQ X3000i, on the other hand, matches the UHZ50 in terms of brightness and resolution but surpasses it with a higher dynamic contrast ratio of 500,000:1. The BenQ X3000i's 100% DCI-P3 CinematicColor breathes life into every frame with authentic color production. The HDR10 compatibility ensures that the colors you see on screen are as close to reality as possible.
After testing both projectors, we found the visuals on both devices to be crisp and vibrant, however, the BenQ X3000i had a slight edge in terms of color accuracy due to its 100% DCI-P3 color coverage.
Gaming Experience
As a gamer, the performance of these projectors is of utmost importance. In the Optoma UHZ50 vs BenQ X3000i comparison, both projectors excel in this area, featuring low input lag and high refresh rates.
The Optoma UHZ50 has a 16.7ms response time at 4K/60Hz and 4ms response time at 1080p/240Hz, making it an excellent choice for high-definition, fast-paced gaming. One of our team members, an avid gamer, attested to the impressive smoothness and clarity during gaming sessions. Optoma's Enhanced Gaming Mode provides a seamless, lag-free experience that any gamer would appreciate.
The BenQ X3000i, on the other hand, offers a 16ms input lag at 4K/60Hz and an impressive 4ms input lag at 1080p/240Hz. Its dedicated game modes for FPS, RPG, and SPG and swift response time ensured an immersive and enjoyable gaming experience. We tested these modes and found that each tailored setting did improve the overall performance based on the game type.
Sound Quality
The Optoma UHZ50 boasts built-in 10W speakers that deliver a decent audio experience. However, for the ultimate home cinema experience, we recommend connecting the UHZ50 to a dedicated sound system through its optical audio output or via HDMI using its Enhanced Audio Return Channel (eARC) support.
The BenQ X3000i also features built-in speakers but with slightly lower output at 5W. Despite the lower wattage, the speakers are enhanced by Bongiovi DPS technology that offers virtual surround sound and detailed sound propagation. Like the UHZ50, the X3000i also supports eARC for seamless connectivity with high-definition audio systems.
From our experience, while both projectors offered satisfactory sound quality, neither could compete with a dedicated surround sound system for the full cinematic experience.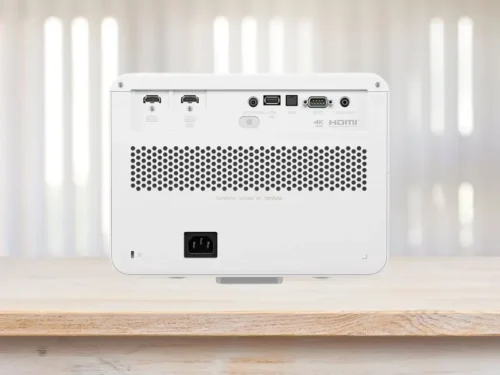 Ease of Setup
The Optoma UHZ50 comes with various features that make setup and use a breeze. It offers vertical and horizontal keystone correction, 4-corner geometric adjustment, and a 1.3x manual zoom. However, its most exciting feature is the support for voice control through Amazon Echo and Google Home devices.
The BenQ X3000i, on the other hand, offers a simple setup process and a user-friendly interface. It doesn't feature lens shift like the UHZ50, which could be a drawback for some users. However, it does offer a 2D keystone correction and a 1.3x manual zoom.
One of the BenQ X3000i's standout features is its Android TV interface. It comes with Google-certified Android TV, offering a myriad of Android apps, movies, shows, games, and more.
Operating Noise Level
Considering the noise levels of both projectors, the Optoma UHZ50 is slightly quieter with an audible noise of 29 dB compared to BenQ's X3000i, which is at 32 dB. When we tested, the Optoma UHZ50's noise was hardly noticeable and didn't distract us from our viewing or gaming experience. On the other hand, the BenQ X3000i produced a little more noise, which could be bothersome to sensitive ears. In eco mode, both projectors reduce their noise level, but the Optoma UHZ50 still stays a bit quieter.
Additional Features
In terms of additional features, both projectors have a lot to offer. The Optoma UHZ50 supports voice control with Amazon Echo and Google Home devices and has IFTTT for seamless connectivity with thousands of other smart devices. It also features a 1.3x zoom, vertical & horizontal keystone correction, and 4-corner geometric adjustment, which provide for flexible installation.
The BenQ X3000i features Google-certified Android TV, which includes over 5,000 Android apps, movies, shows, games, music, and more. We found the Android TV system easy to navigate and reliable. The variety of content available made it an excellent option for movie nights and parties.
Customer Reviews
Customer reviews for the Optoma UHZ50 were mostly positive. Reviewers praised the projector's brightness, image quality, and quiet operation. They also appreciated its fast response time for gaming. However, some had issues with the HDMI ports and wished for a lens cover considering the price point.
On the other hand, the BenQ X3000i also garnered positive reviews from customers. Reviewers lauded its 4K image quality, brightness, and immersive gaming experience. Some users mentioned issues with HDMI select and 3D settings, and the weight of the projector seemed to be a concern for some customers when considering mounting options.
Conclusion
n the final analysis of the Optoma UHZ50 vs BenQ X3000i comparison, both projectors indeed provide exceptional performance and a plethora of advanced features. However, after meticulous scrutiny, the Optoma UHZ50 emerges as our top pick, although choosing between these projectors ultimately depends on your specific needs.
If you prioritize a quieter operation and flexible installation options, the Optoma UHZ50 is indeed an excellent choice. On the other hand, if your preference lies with a projector offering Android TV for easy streaming and access to a variety of content, the BenQ X3000i might appeal more to you.
Both projectors excel in gaming performance, offering an immersive and seamless gaming experience. Gamers would find either model satisfying, yet our nod goes to the Optoma UHZ50 for its slightly superior edge in this aspect.  (>>> Find on ProjectorScreen.com) Lastly, do consider the feedback from customer reviews when making your decision.
Related Comparisons: