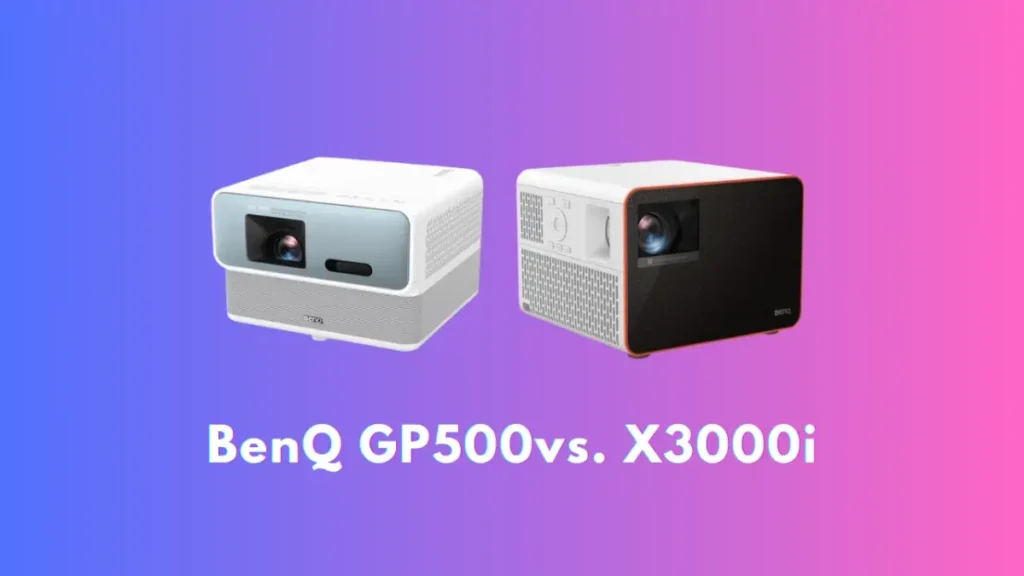 BenQ GP500 vs X3000i Specs Comparison:
Individual Reviews:
BenQ GP500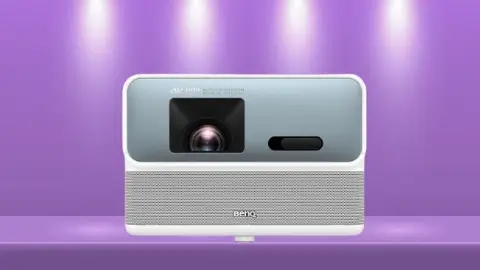 The BenQ GP500 delivers an immersive cinema experience right in our living room with its extraordinary 4K resolution. It renders vibrant colors and crisp details that are simply awe-inspiring. Additionally, the smart features like auto-focus and keystone make setting up and using the projector a breeze. It's an all-around impressive device that enhances our viewing experience.
However, the limited HDMI ports could be a drawback for some. We found ourselves needing an HDMI switch to connect additional devices. Also, the auto-keystone feature works best when the projector is closer and centered to the screen. Despite these minor challenges, the BenQ GP500 remains a strong contender in the home projector market.
Read our more in-depth BenQ GP500 review.
---
BenQ X3000i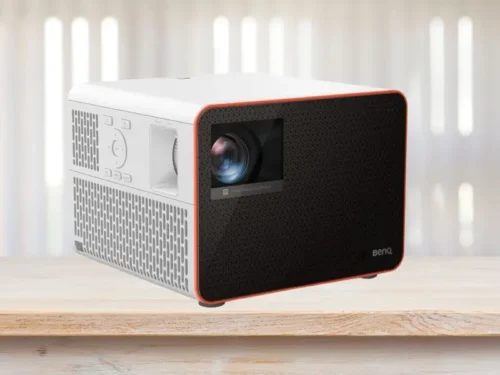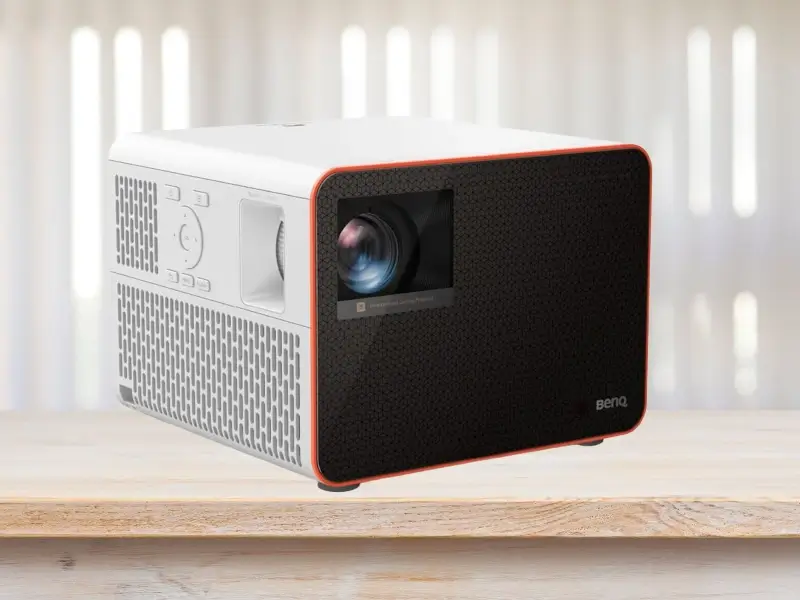 The BenQ X3000i truly stands out, particularly for gamers. Its incredibly low input lag translates to smooth gameplay, and the bright, vivid images are a joy to behold, even in well-lit rooms. Its fast HDMI recognition and quick setup add to its appeal, making it a top pick for gamers and movie enthusiasts alike.
On the flip side, we found a minor lag when switching to certain HDMI inputs, which took a bit of manual adjustment. The 3D effect, while a great feature, can be a bit intense and may require some getting used to. Despite these minor setbacks, the BenQ X3000i remains a high-quality projector that offers an exceptional gaming and viewing experience.
Read our more in-depth BenQ X3000i review.
---
BenQ GP500 vs X3000i: Features Comparison
Build and Design
Starting with their build, both the BenQ GP500 and X3000i are designed with a compact and sleek form factor, making them ideal for any living space. They both come with a chic and modern design, suitable for the contemporary tech-savvy consumer. While the GP500 weighs around 11.9 lbs, the X3000i is slightly heavier, coming in at 14.1 lbs. This extra weight can make a difference if you plan on moving the projector around regularly.
Display and Brightness
Looking at the specifications, both projectors offer a true 4K 3840×2160 resolution. The stunning clarity and crisp details are sure to enhance your viewing experience. However, when it comes to brightness, the X3000i takes the lead with 3,000 ANSI lumens, double that of the GP500's 1,500 ANSI Lumens. This results in brighter and more vibrant images, especially in environments with ambient light.
Contrast Ratio and Color Processing
A significant distinction between the two models lies in their contrast ratios. The GP500 features a dynamic contrast ratio of 100,000:1, while the X3000i boasts a whopping 500,000:1, offering deeper blacks and more lifelike images. When it comes to color processing, both projectors offer 10-bit processing, and their DCI-P3 color coverage is over 100%, ensuring excellent color accuracy and vibrant displays.
Input Lag and Video Modes
Gamers, in particular, will appreciate the lower input lag offered by the X3000i. Its 4K/60 input lag of 16ms and 1080p/120 input lag of 8ms significantly outperform the GP500's 25ms and 28ms, respectively. A lower input lag means less delay between your actions and what appears on screen, which is crucial in fast-paced gaming.
Sound
When it comes to audio, both projectors are designed to deliver a full, rich sound. However, there's a slight difference in their internal speakers. The GP500 comes with a 5.0 Watts x 4 setup, creating a 360-degree sound field. In contrast, the X3000i has 5.0 Watts x 2 speakers, but it does offer support for external Hi-Def audio systems via HDMI's eARC.
Smart Features and Connectivity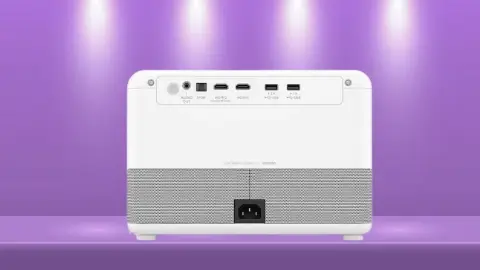 Both the GP500 and X3000i come with Android OS, offering thousands of the latest Android apps, movies, shows, games, music, and more. They also feature several ports, including HDMI, USB, and audio out. However, the X3000i has an additional 12-Volt Trigger and RS232: DB-9pin, providing more connectivity options. It's worth noting that neither model supports Netflix natively, requiring casting via Google Chrome Browser or HDMI cable.
Customer Reviews
Customer reviews for both projectors have been overwhelmingly positive. One GP500 user praised its excellent picture quality, commenting on the impressive brightness even in ambient light and its powerful internal speakers. They did note that the auto-keystone function could be better when the projector is placed far and off-center, but found it worked well at closer ranges.
On the other hand, an X3000i user described the immersive experience of gaming and watching movies on their projector, lauding the stunning image quality and brightness, even in well-lit rooms. They also commended the lack of rainbow effect and the smooth and responsive gaming experience at 120Hz and 240Hz.
However, not all reviews were completely favorable. Another user noted a delay in HDMI input selection when switching to their Xbox, requiring a couple of manual inputs before a connection was established. They also observed that the 3D quality felt too layered, desiring a way to dial it back based on the viewing distance.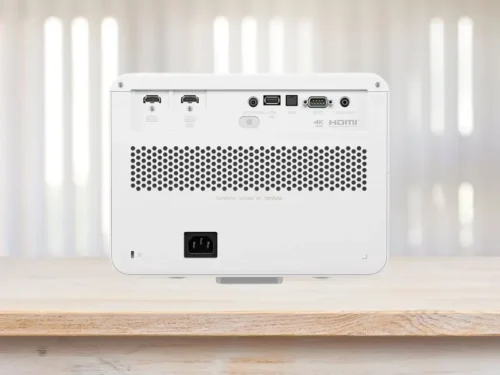 Personal Experience and Tips
In our experience, we were highly impressed with both the GP500 and X3000i. The GP500 offers a great balance between price and performance. The LED light source offers vibrant colors and, with an expected lifespan of 20,000 to 30,000 hours, you won't have to worry about replacements for a long time.
However, if you're a gaming enthusiast, the X3000i's lower input lag will significantly improve your experience. We noticed the gameplay was smoother and more responsive, a feature we found very satisfying.
During our tests, we found that both projectors perform best in a dark environment. So, to fully utilize their potential, we recommend setting them up in rooms with adjustable lighting. For sound, while the in-built speakers were surprisingly powerful, adding a dedicated sound system will create an even more immersive experience, particularly for movies and games.
Conclusions