Gamers have unique needs when they're looking for a projector. From a picture standpoint, they need the same detailed, high-contrast image that home theater buyers look for. In addition, the speed of the projector matters, preventing lag and image issues that could impair your gameplay. In this BenQ X3000i review, we'll look at a model that meets the needs of modern gamers, with a sharp and immersive picture that makes it just as impressive in a home theater context. (>>> Check on Amazon)
BenQ X3000i Review of Main Specs:
| | BenQ X3000i |
| --- | --- |
| | |
| Resolution | 3840x2160 |
| Contrast | 500,000:1 |
| Brightness (Lumens) | 3,000 ANSI |
| Throw Distance | 3.3' - 25.1' |
| Screen size | 30" - 300" |
| Speakers | 5.0 Watts × 2 |
| Today's Best Price | BHPhotoVideo.com |
Responsiveness
The BenQ X3000i has one of the lowest input lags you'll find from a home theater projector. For 4K gaming, it measures around 16ms, dropping to an impressive 4ms when gaming in full HD. That's fast enough players won't notice any delay, even when playing graphic-intensive games on the latest consoles or competing against other players online or over a network.
Along with this low input lag, the X3000i has an impressively high frame refresh rate for full HD gaming, with options for 120Hz or 240Hz. Even when playing in 4K it has a 60Hz refresh rate, which is high enough to prevent blur or other on-screen response issues from interrupting your playing session.
Image Quality
The BenQ X3000i uses a DLP display with XPR technology that creates microsecond shifts, allowing each mirror to project multiple pixels and resulting in a true 4K display. That means you'll see every detail of your game's world, and makes movies and TV shows feel truly immersive.
Contrast is equally important for gamers, allowing for that same level of detail in shadowy screen areas. The X3000i uses HDR-PRO and Dynamic Black technology, producing rich black levels and bringing the same level of clarity to dark and bright areas of the screen. The two levels of Black Detail Enhancement let you fine-tune the contrast to match the needs of your current game.
The X3000i also uses BenQ's CinematicColor technology, giving it a broad color gamut. It covers the entire DCI-P3 spectrum, the current professional cinema standard, enhancing the realism of the picture for both movie watching and gaming. Its Auto Color Calibration keeps the color balanced and maintains a consistent level of saturation across the image for the entire life of the projector, reducing color loss over time.
Along with this overall image technology, the three dedicated game modes of the BenQ X3000i optimize the picture to match the type of game you're playing. You can go with the RPG mode for cinematic immersion, Sports Mode for realistic player details, or FPS mode to enhance details, especially in dark areas of the screen where enemies like to hide.
Pros
Fast 4ms input lag with 240Hz refresh rate
Sharp 4K resolution with high dynamic contrast
Full coverage of DCI-P3 color gamut
3 dedicated game modes for RPGs, FPS, and sports games
Bright enough for lights-on play or viewing
Android OS with built-in Chromecast
Good wired and wireless connectivity
Cons
Space and Setup
With its 3,000-lumen lamp, the BenQ X3000i is bright enough to compete with moderate levels of ambient light. You won't experience any wash-out in most indoor viewing environments, though you may need to cover large windows for daytime use.
Now you will need a fairly large room to get a big picture from the BenQ X3000i. For a 100-inch image, there needs to be around 9-11 feet between the lens and screen. As long as you have the space for it, though, the BenQ X3000i has a quick and user-friendly setup. The 1.3x zoom and 2D keystone correction are helpful for fine-tuning the image alignment and geometry.
It's also easy to set up the X3000i from a connectivity standpoint. It has dual HDMI ports for wired connections to gaming systems and other content sources, along with wireless connectivity through Bluetooth or Wi-Fi. The built-in Android operating system with Chromecast lets you stream content wirelessly from a phone or other device, adding even more options for getting your favorite shows and games.
Built-in Sound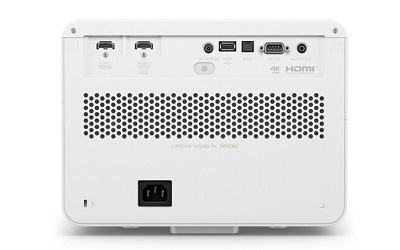 The BenQ X3000i has dual 5-watt treVolo speakers backed by Dynamic Stereo Enhancement technology. Overall, the sound quality and output matches most standalone Bluetooth speakers and does a decent job recreating low-end frequencies for sound effects and soundtracks. You'll likely still want to use external speakers for a truly immersive, movie-theater sound experience, but most players will find the speakers that come installed are good enough to keep them in the game.
BenQ X3000i Review In Summary
You'd be hard pressed to find a better gaming projector than then BenQ X3000i, especially in the mid-range price point. While its throw distance could be an issue in smaller spaces, its bright lamp gives it good space versatility, and its picture quality and responsiveness are ideal for any style of game (>>> Find on BHPhotoVideo).
Explore BenQ X3000i comparisons with other projectors: