In the expansive world of 4K projectors, BenQ remains a respected frontrunner, consistently producing top-tier devices designed to cater to the demands of both cinephiles and gamers. In our hands-on experience with two of their standout models – the HT4550i and the X3000i – we took a deep dive into their features, capabilities, and overall performance. Our quest was simple: to discover which of these projectors reigns supreme and why.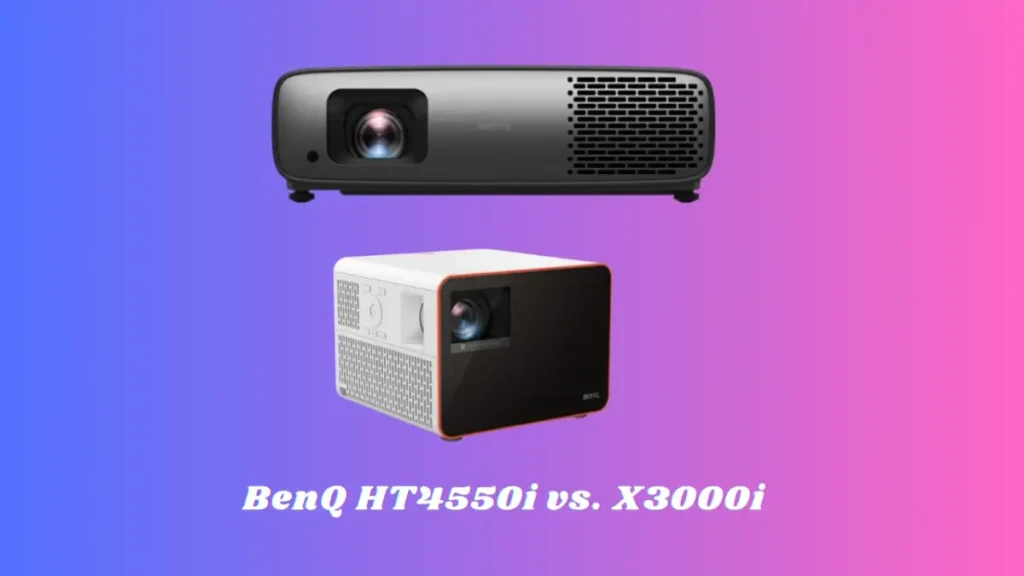 Brief Overview of Both Projectors:
BenQ HT4550i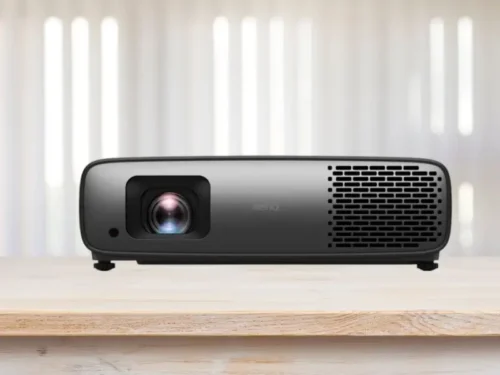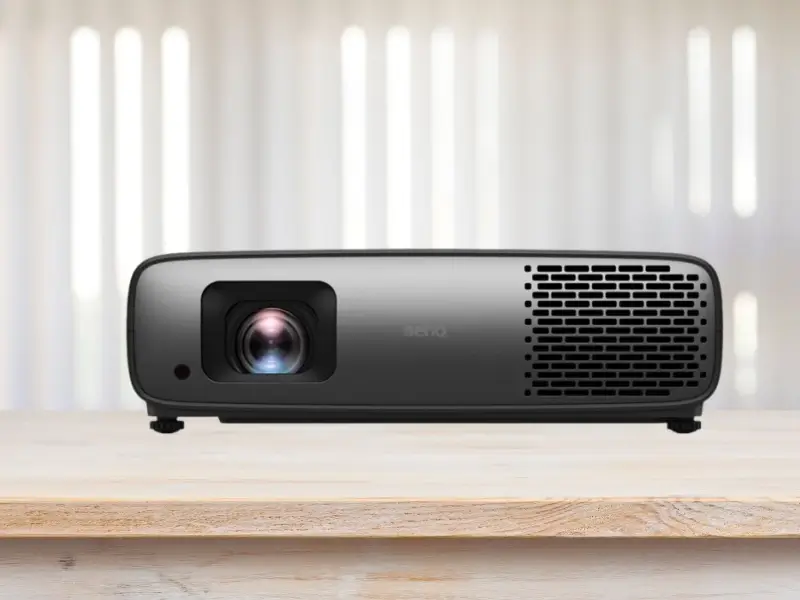 The BenQ HT4550i is a masterpiece for cinematic lovers, boasting a 4K UHD resolution that brings out every detail crisply. Its impressive brightness of 3200 ANSI lumens ensures that even in well-lit rooms, the picture remains vibrant and uncompromised. CINEMATICCOLOR technology ensures 100% DCI-P3 color coverage, providing factory-calibrated color accuracy right out of the box. Add to this the convenience of an Android 11.0 operating system, an extensive range of connectivity options, and a light source life that promises longevity. This projector is ideal for those who won't compromise on their movie-watching experience.
Pros
Stunning 4K UHD resolution for detailed imagery.
Impressive 3200 ANSI lumens brightness.
100% DCI-P3 color coverage with CINEMATICCOLOR.
Long-lasting 4LED light source life.
Built-in Android 11.0 for versatile streaming.
Cons
More suitable for movies than gaming.
Slightly heavier compared to X3000i.
---
BenQ X3000i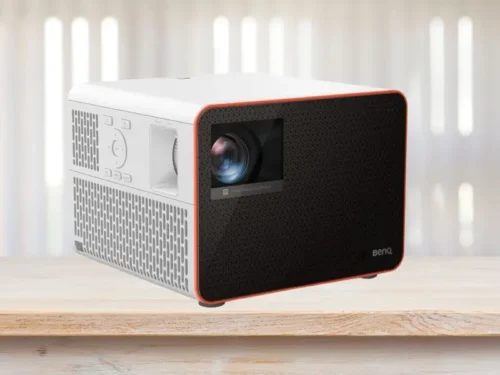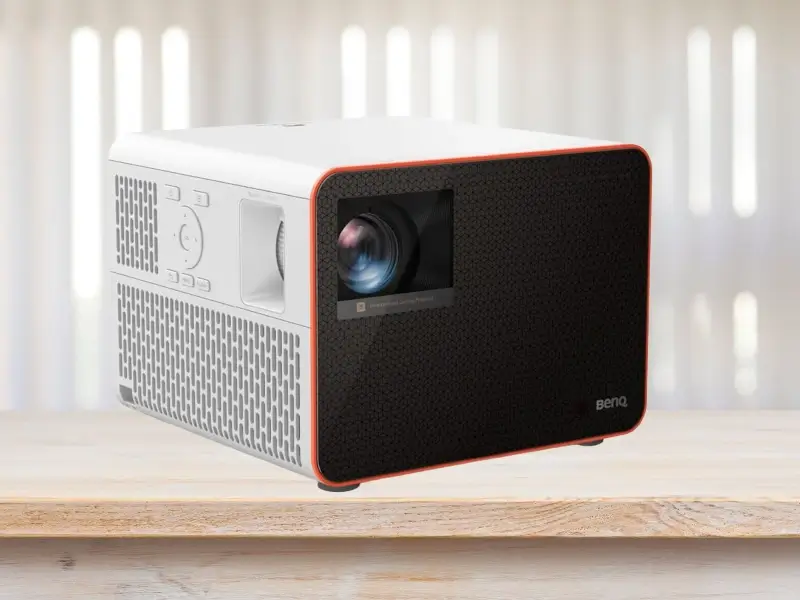 Tailored for gaming enthusiasts, the BenQ X3000i doesn't just project images; it immerses players in the game. With a native 4K UHD resolution and a lightning-fast response time that can go as low as 4.2 ms at 1080p@240Hz, this projector ensures both clarity and responsiveness. Its 3000 ANSI lumens of brightness are commendable, and the 100% DCI-P3 color accuracy guarantees vivid visuals. In the sound department, dual 5W stereo speakers enhance gameplay with clear and dynamic audio. Running on Android 10.0 and equipped with an array of connectivity options, the X3000i, priced attractively, offers both performance and value.
Pros
Ideal for gaming with quick response times.
100% DCI-P3 color accuracy for vivid visuals.
Dual 5W speakers enhance audio experience.
Affordable pricing offers great value.
Compact design for easy placement.
Cons
Runs on older Android 10.0 OS.
709 Coverage slightly lower at 98%.
---
BenQ HT4550i vs. X3000i – Specs at a Glance:
Features/Specs
BenQ HT4550i
BenQ X3000i
Wherey to Buy?

Check on Amazon





ProjectorScreen.com





BHPhotoVideo.com

Check on Amazon





BHPhotoVideo.com

Display
Brightness (ANSI lumens)
3200
3000
Native Resolution
4K UHD (3840×2160)
4K UHD (3840×2160)
Native Aspect Ratio
16:09
16:09
Contrast Ratio
2,000,000:1
500,000:1
Display Color
30-bit (1.07 billion colors)
30-bit (1.07 billion colors)
Light Source
4LED
4LED
Optical
Throw Ratio
1.15 ~ 1.50
1.15 ~ 1.50
Zoom Ratio
1.3x
1.3x
Lens
F/# 1.8 - 2.25 mm, f 17.02 (Wide)~22.21(Tele)
F/# = 1.8 - 2.25 mm, f = 17.02 - 22.21 mm
Keystone Adjustment
Vertical ± 30 degrees; Horizontal ± 30 degrees
(Auto) Vertical ± 30 degrees; Horizontal ± 30 degrees
Picture
DCI-P3 Coverage
100%
100%
Rec. 709 Coverage
100%
98%
Picture Modes
3D, Bright Cinema, Cinema, etc.
3D, Bright, Cinema, Game, etc.
Compatibility
Input Lag
17.9ms (1080P 60Hz), 8.7ms (1080P 240Hz), etc.
16.7 ms (1080p@60Hz), 4.2 ms (1080p@240Hz), etc.
Resolution Support
VGA (640 x 480) to 4K UHD (3840 x 2160)
VGA (640 x 480) to 4K UHD (3840 x 2160)
I/O Interface
HDMI in
(x2) HDMI-1 (2.0b/HDCP2.2), HDMI-2 (2.0b/HDCP2.2)
(x3) HDMI-1 (2.0b/HDCP2.2), HDMI-2 (2.0b/HDCP2.2)
USB Type A
(x2), USB Type A-1 (2.0/Power Supply2.5A/Service)
(x1), USB Type A-1 (2.0/Power Supply2.5A/Service)
Audio
Speaker
(x1) 5W Chamber
(x2) 5W Chamber
HDMI Audio Return
Yes, eARC, Dolby Atmos
Yes, eARC, Dolby Atmos
Accessories
Android TV dongle
QS02
QS01
Smart System
Built-in OS
Yes, Android 11.0
Yes, Android 10.0
Bluetooth
Yes, Bluetooth 5.0
Yes, Bluetooth 4.2
Dimensions (WxHXD) (inch)
16.54 x 5.31 x 12.28
10.7 x 7.8 x 10.2
Net Weight (lb)
14.55
14.1
Projection System
DLP
DLP
Today's Best Price

Check on Amazon





ProjectorScreen.com





BHPhotoVideo.com

Check on Amazon





BHPhotoVideo.com
In-Depth Comparison:
Unboxing and First Impressions
Upon unboxing, the immediate thing that strikes you about both projectors is the sheer commitment to detail that BenQ has put into their packaging. Everything is neatly compartmentalized, ensuring that the devices and accessories are secure and free from potential transit damage. Alongside each projector, the boxes house their respective Android TV dongles, remote controls with batteries, and other essential accessories.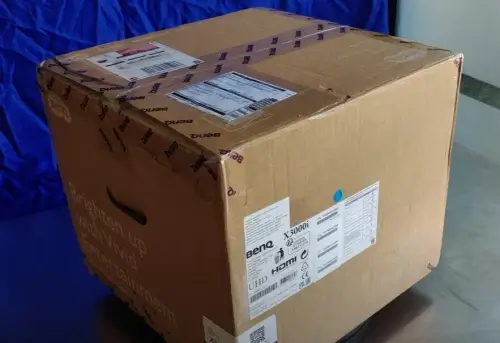 Design and Build
The HT4550i emanates a sense of understated elegance. Its sleek, matte finish coupled with a compact design makes it both modern and versatile for various room aesthetics. The lens, placed slightly off-center, is shielded by a lens cover – a thoughtful touch to protect against dust or any potential accidents. The vents on the sides, while being functional, add an architectural nuance to its overall design, ensuring the device remains cool during prolonged use.
The X3000i, on the other hand, adopts a more minimalist design approach. Slightly smaller in its dimensions, the projector offers a compactness that can be a boon for those with space constraints. The lens sits central, flanked by grilles that not only assist with ventilation but also give it a symmetrical, balanced appearance. Its slightly lighter weight than the HT4550i is noticeable, making it a tad more portable.
Measurements and Weight
Diving into specifics, the HT4550i measures 16.54 x 5.31 x 12.28 inches and weighs 14.55lbs, making it robust but not overly bulky. It has the gravitas of a premium projector, ensuring stability when placed on a table or mounted.
The X3000i, with its dimensions of 10.7 x 7.8 x 10.2 inches and a weight of 14.1lbs, is marginally more compact and lighter. This makes it a touch more versatile for those who might need to move it between rooms or locations. Check our in-depth review of the X3000i.
Installation and Connectivity
Getting Started
Setting up either of these projectors is relatively straightforward. Both come with comprehensive user manuals, providing step-by-step guidance for those new to the world of projector installations. For our hands-on testing, we took the approach of a typical user: using the guide only when absolutely necessary, and relying on the intuitive design of the devices.
Connectivity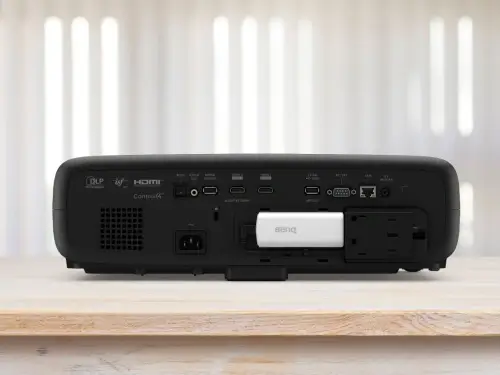 The HT4550i boasts a robust array of connection ports, a feature that's especially beneficial for users with multiple devices. The back panel is home to two HDMI 2.0b ports (both supporting HDCP 2.2), a dedicated HDMI-Internal port, and an RJ45 LAN port for wired network connections. In terms of USB, there are two Type A ports, with one geared for power supply and service, and the other for reading. Additional connectors include an RS232 in (DB-9pin) and a DC 12V trigger, catering to more advanced home theater setups. The inclusion of these ports underscores the HT4550i's position as a high-end projector, aiming to meet diverse user requirements. Check our detailed BenQ HT4550i review.
The X3000i follows closely in terms of connectivity but with some differences. It offers an additional HDMI port, bringing the count to three, which can be particularly useful for users who frequently switch between gaming consoles, Blu-ray players, and other devices. For USB, the X3000i houses a singular Type A port dedicated to power supply and service. Similar to the HT4550i, it also includes an RS232 in and a DC 12V trigger. While it might seem that the X3000i offers slightly fewer connection options, in practical terms, it still caters generously to the needs of most users, especially with the extra HDMI slot.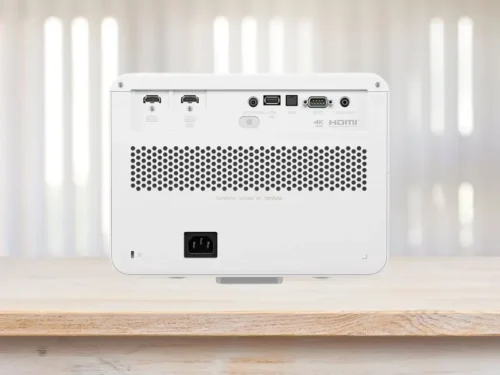 Wireless Capabilities
Both projectors step into the modern era with built-in wireless features. The HT4550i operates on Android 11.0 and is equipped with both AirPlay and Google Cast, allowing seamless mirroring from a variety of devices. The X3000i, running on Android 10.0, includes Google Cast. The wireless projection capabilities on both models are robust, with minimal lag noticed during our tests.
Brightness & Image Quality
Brightness in Different Settings
One of the foremost attributes when considering a projector is its brightness, measured in ANSI lumens. When we first fired up the HT4550i, its 3200 ANSI lumens brought a noticeable vibrancy, delivering crisp images even in rooms with ambient light. The X3000i, while slightly lower at 3000 ANSI lumens, still showcased impressive brightness levels. Its performance, although marginally dimmer, was comparable and certainly adequate for most user needs.
Experience in a Dark Room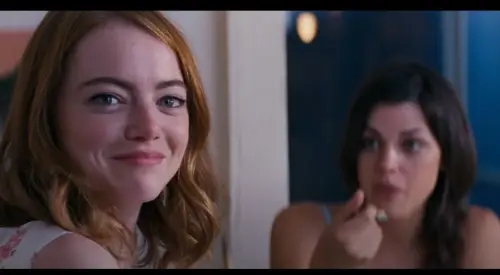 In our controlled dark room setting, both projectors performed exceptionally. The HT4550i, with its advanced HDR-PRO technology and Local Contrast Enhancer, provided images with deep blacks and vivid colors. The dark scenes in movies were rendered with impressive detail, ensuring that none of the cinematic nuances were lost.
The X3000i, though, is no slouch. With its dedicated CinematicColor and HDR-PRO, it matched up closely to the HT4550i, offering viewers a truly immersive cinematic experience. Its 4K UHD resolution, coupled with the 100% DCI-P3 color accuracy, made movie-watching a delightful treat. Scenes popped with clarity and an impressive color range, making it a worthy contender in the 4K projector segment.
Experience in a Bright Room
Now, transitioning to a brightly lit room is where the differences were more discernible. The HT4550i, with its higher brightness capacity, managed to maintain most of its image integrity. Scenes were still clear, colors relatively vibrant, and details not overly compromised. The projector's superior contrast ratio of 2,000,000:1 played a pivotal role in this, ensuring that images didn't appear too washed out.
The X3000i, while still commendable, faced a bit of a challenge. Its images, especially in intensely bright scenes, were slightly less vivid when compared directly to the HT4550i. However, when viewing the X3000i in isolation without direct comparison, it was still an enjoyable experience, with the projector delivering well beyond our initial expectations given the ambient light.
For the modern user, projectors aren't just about watching movies – they're an avenue to gaming on a grand scale. Given the increasingly cinematic and graphics-intensive nature of today's games, we decided to delve deep into how the HT4550i and X3000i fare in the gaming department.
Input Lag and Responsiveness
Input lag is an essential factor for serious gamers, indicating the time taken for a projector to project an image after receiving the signal. Both projectors boast impressive input lag stats, but there were subtle differences in our testing.
The HT4550i showcases input lags of 17.9ms at 4K 60Hz and 8.7ms at 1080P 240Hz. These figures meant that fast-paced games were a joy to play, with no discernible delay between our actions and their on-screen manifestations. This is especially advantageous for genres like first-person shooters or racing games, where every millisecond can make a difference.
The X3000i, on the other hand, edges out slightly ahead in this department with an ultra-fast 4.2ms at 1080p 240Hz and 16.7ms at 4K 60Hz. For competitive gamers, this might be the difference-maker, providing that additional edge needed in high-octane situations.
Image Quality and Game Modes
Both projectors come equipped with 4K UHD resolution, and when it comes to gaming graphics, this is a boon. We were treated to detailed terrains, realistic character models, and an overall clarity that enhances the immersive nature of modern games.
The HT4550i retains its image prowess, but the X3000i introduces a specialized feature: the Dedicated Game Mode. This mode offers presets like FPS, RPG, and SPG, tailored for various game types. In our tests, the RPG mode, for instance, accentuated the ambient sounds and graphical details in role-playing games, making for an optimized gaming session.
Smart Features
In today's evolving tech landscape, having a projector that only displays images doesn't quite cut it. We now seek devices that are an embodiment of versatility and intelligence, offering an array of functions beyond their primary use. Let's delve into the smart features that the HT4550i and X3000i bring to the table.
Voice Assistance Integration
The X3000i stands out with built-in voice assistance integration. With this feature, users can control their projector using simple voice commands, seamlessly launching content, adjusting settings, and even getting real-time feedback on certain functions. This hands-free interaction is especially handy for presentations or when you're settled into your couch for a movie night.
On the other hand, the HT4550i, while not offering built-in voice assistance, is compatible with several external smart home devices. This means, with a little setup, it too can be controlled vocally, albeit indirectly.
Streaming Capabilities
Both projectors recognize the prevalence of streaming in today's content consumption habits. The HT4550i comes pre-loaded with popular streaming apps and provides an easy-to-navigate interface, allowing users to stream their favorite shows, movies, or documentaries without needing any additional devices.
The X3000i takes this a step further. It operates on an Android-based OS and offers an extensive app store, meaning users aren't just limited to pre-installed apps but can download a plethora of others based on their preference.
Wireless Connectivity
The era of cumbersome wires is steadily coming to an end. Both our contenders offer wireless screen mirroring. This feature lets you mirror your smartphone or tablet onto the big screen, making it exceptionally user-friendly for spontaneous photo slideshows, video sharing, or even impromptu presentations. The X3000i's wireless connectivity felt slightly more robust during our tests, with quicker connection times and fewer disruptions.
Automatic Keystone Correction and Focus
An often overlooked, yet crucial smart feature, is automatic keystone correction and focus. The HT4550i boasts an impressive auto-correction system, which ensures the image is always perfectly squared and sharp, even if the projector is placed at odd angles.
The X3000i, in comparison, offers a more advanced system. Beyond just keystone corrections, it also scans the projection surface for irregularities and adjusts its focus dynamically, giving an always perfect image irrespective of the screen's nature.
Sound Experience
The X3000i emerged as a clear contender with its built-in 5W x 2 stereo speakers fortified by Bongiovi DPS technology. This not only ensured clear and resonant audio for dialogues and soundtracks in movies but also established an almost surround sound ambiance that intensified the gaming environment.
The HT4550i, equipped with its 5W Chamber speaker, didn't lag too far behind. It presented an audio clarity that made movie dialogues distinct and vivid while gaming sounds, like the revving of engines or the subtle footsteps of lurking adversaries, were captured with precision. Yet, when juxtaposed, the dual speakers of the X3000i undeniably offered a richer, more encompassing auditory experience for both cinephiles and gamers.
Conclusion
After extensively testing and comparing the BenQ HT4550i and X3000i projectors, it becomes apparent that each has its own niche of excellence. For those who prioritize an immersive movie-watching experience, the HT4550i stands out as the superior choice. Its image quality, brightness, and myriad of features align seamlessly with the requirements of a cinematic aficionado.
On the other hand, the X3000i shines brightly for gaming enthusiasts. With its rapid response time, specialized game modes, and enhanced sound quality, it crafts an experience that will undoubtedly resonate with gamers. Not to mention, the X3000i holds a distinct advantage in the cost department, coming in almost $1000 cheaper than its counterpart. This makes it not only a great choice for gamers but also offers commendable value for money.
Related Comparisons: