When it comes to home theater projectors, BenQ has long been a go-to name in the industry, offering a variety of options tailored to meet diverse needs and budgets. Two standout models from their lineup are the BenQ HT4550i and the HT5550. Both are premium 4K UHD projectors with stunning image quality, but they offer slightly different feature sets aimed at specific consumer preferences.
Our comprehensive evaluation reveals that the BenQ HT4550i is our top pick, excelling in a variety of features and real-world performance metrics. Whether it's the flexibility of Android TV on the HT4550i or the unparalleled lens quality of the HT5550, each model has unique advantages that could make it the right choice for your home cinema setup. Let's delve into the details to help you make your choice.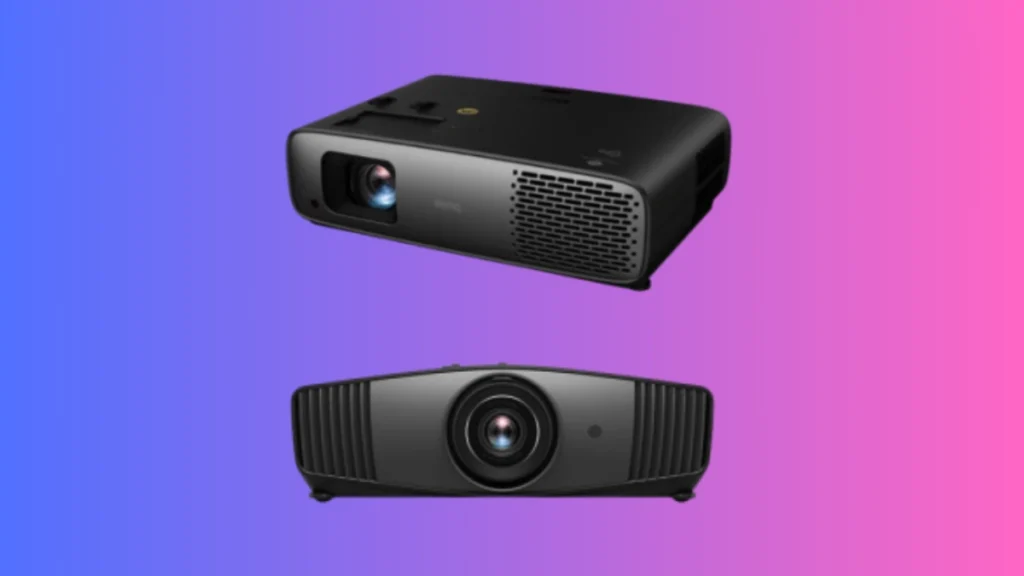 In This Comparison:
BenQ HT4550i vs HT5550: Specs at a Glance
| | BenQ HT4550i | BenQ HT5550 |
| --- | --- | --- |
| | | |
| Resolution | 3840x2160 | 3840×2160 |
| Dynamic Contrast | 3,000,000:1 | 100,000:1 |
| Brightness (Lumens) | 3,200 ANSI | 1800 ANSI |
| Lens | 1.3x manual zoom & focus | 1.6x Zoom |
| Input lag | 8.7ms-21ms | 83.34ms |
| Throw Ratio | 1.15:1 - 1.5:1 | 1.36 - 2.18:1 |
| Screen size | 30" - 300" | 60" - 200" |
| Speakers | 5.0 Watts Mono | No |
| Today's Best Price | | |
Overviews
BenQ HT4550i

The BenQ HT4550i is an all-in-one powerhouse, designed for those who want a home theater experience that doesn't compromise on any front. With a native 4K UHD resolution and an impressively bright lamp boasting 3200 ANSI lumens, the HT4550i shines even in rooms with ambient light. The projector is feature-rich, offering a robust Smart System with Android 11.0, Bluetooth 5.0, and a myriad of streaming options through its built-in Android TV. Whether you're watching a film or streaming content, this projector promises to deliver lifelike, vibrant colors with its 100% DCI-P3 and 100% Rec.709 color coverage. Check our hands-on BenQ HT4550i review.
Pros
Native 4K UHD resolution for sharp, detailed imagery.
Bright 3200 ANSI lumens suitable for various lighting conditions.
Built-in Android TV offers extensive streaming options.
Bluetooth 5.0 for easy connectivity.
Much newer model with updated features.
Cons
Higher price point may deter budget-conscious consumers.
No lens shift, limiting installation options.
---
BenQ HT5550
The BenQ HT5550 aims to recreate the authentic cinema experience right in your home, with its native 4K UHD resolution and superb optics. Though not as bright as the HT4550i at 1800 ANSI lumens, it offers unparalleled image quality thanks to its 100,000:1 contrast ratio. It's designed for dedicated home theater setups with controlled lighting, where its more modest brightness won't be a limitation. The HT5550 doesn't have built-in Android TV like the HT4550i, but it does support wireless projection through AirPlay, giving you the flexibility to stream content. This model is particularly appealing for AV enthusiasts who prioritize image quality above all else. Find our in-depth review of the BenQ HT5550.
Pros
Exceptional 100,000:1 contrast ratio for deep blacks.
High-quality lens ensures crisp image quality.
Supports wireless projection through AirPlay.
100% DCI-P3 and Rec.709 color coverage.
Lens shift provides flexible installation options.
Cons
Lower brightness at 1800 ANSI lumens.
Lacks built-in Android TV.
---
Real Life Test & Comparison
Design
First impressions are important, and the design of a projector can say a lot about its quality and the user experience it offers. In terms of aesthetics and build, both the BenQ HT4550i and HT5550 carry the hallmark of BenQ's meticulous design ethos. These projectors are built to blend in effortlessly with your home décor, yet they also demand attention as cutting-edge pieces of tech.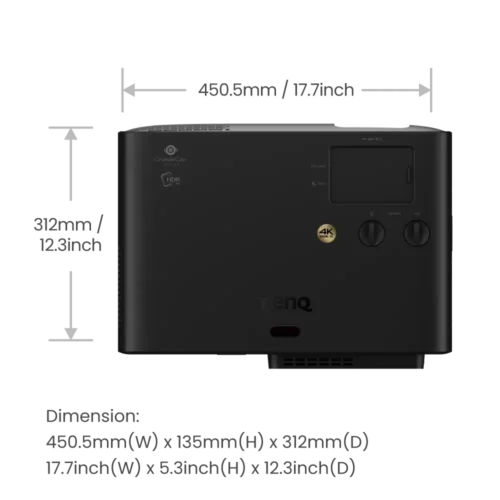 BenQ HT4550i: Measuring 16.54 x 5.31 x 12.28 inches and weighing in at 14.55 lbs, the HT4550i strikes a balance between form and function. Its sleek, dark exterior has a professional look, fitting seamlessly into a variety of settings, from a casual living room to a dedicated home theater space. The materials used are durable, and the buttons, lens, and I/O ports are all easily accessible, which is a huge plus for easy setup and use.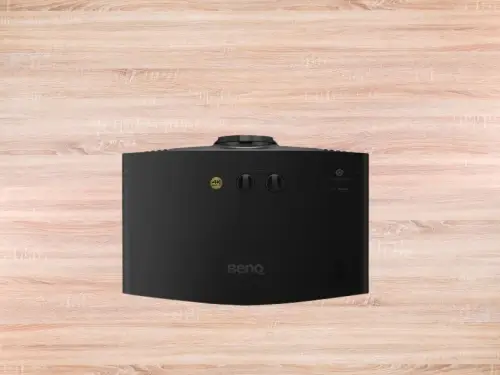 BenQ HT5550: Slightly more compact in its dimensions at 9.37 x 6.61 x 13.74 inches but almost identical in weight at 14.3 lbs, the HT5550 is equally as impressive. It features a more traditional lamp design as opposed to the 4LED system in the HT4550i, which gives it a classic, timeless look. The build quality is robust, and you can feel the durability when handling the projector.
Winner: Both
Installation and Connectivity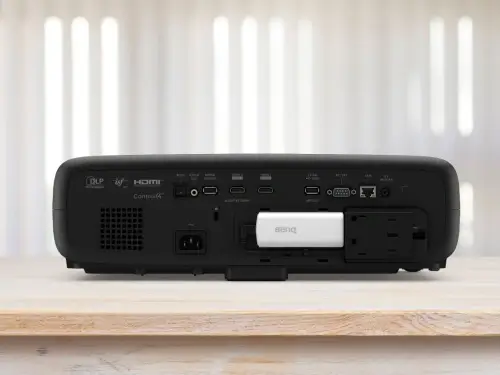 We set up both projectors in a medium-sized room with a mix of ambient light conditions. The HT4550i's Android 11.0 built-in OS provided an intuitive interface for quick setup, while the HT5550 required manual input source selection which took a tad longer. Connecting a gaming console and streaming stick to both was a breeze. However, the HT4550i had the edge in wireless connectivity, thanks to its built-in Wi-Fi and Bluetooth 5.0, enabling us to cast content effortlessly from our smartphones.
With a throw ratio of 1.15 ~ 1.50 and a zoom ratio of 1.3x, the HT4550i offers flexibility in terms of placement. Its 2D keystone adjustment for vertical and horizontal alignment up to ±30 degrees, coupled with lens shift capabilities (Vertical 0%-60% and Horizontal max ±15%), make it remarkably versatile. In practical terms, this means you can easily install the projector in various locations without sacrificing image quality. The device features multiple HDMI ports, LAN (RJ45), and USB Type-A connections, making it a hub for diverse multimedia inputs.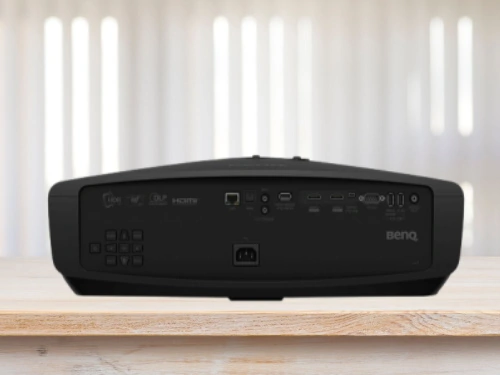 The HT5550 comes with a slightly broader throw ratio range of 1.36 ~ 2.18 and an even better zoom ratio of 1.6x. However, its keystone adjustment is limited to 1D, vertical ± 40 degrees. The lens shift capabilities are quite robust at V±60% / H±23%. Connectivity options include dual HDMI ports, LAN, and multiple USB Type-A and Type Mini-B ports. Though it doesn't include as many smart features as the HT4550i, it does offer robust wired options.
More Connectivity Options: BenQ HT4550i
Brightness and Image Quality
This projector comes equipped with an impressive 3200 ANSI lumens of brightness. In a dark room, the visuals were nothing short of stunning, with excellent contrast and vivid colors. The HDR-PRO technology, with its Local Contrast Enhancer and Tone Mapping, made dark scenes rich and full of detail. Surprisingly, even in a well-lit room with ambient daylight, the image quality did not suffer dramatically. The high brightness made it possible to view content without having to draw the curtains, a feat confirmed by several customer reviews.
Though it offers only 1800 ANSI lumens, we found that this was more than adequate in a dark room setting. The images were crisp and lively, thanks to its true 4K UHD resolution and 100% DCI-P3 color space. However, in a room with significant ambient light, the HT5550 struggled a bit. The visuals were still sharp, but they lacked the vibrancy seen in the HT4550i under the same conditions.
Real-world experience

For our tests, we chose to watch the film "Avatar," known for its rich visuals and detailed landscapes. In a dark room, both projectors performed admirably, but the HT4550i had a slight edge in terms of brightness and detail in dark scenes. When we moved to a brighter room, this advantage became more pronounced. The HT5550, while still providing a good picture, required a darker environment to showcase its full potential.

Better Image Quality: BenQ HT4550i
Gaming Experience

When it comes to gaming, input lag is a critical factor that can make or break the experience. In our testing, the BenQ HT4550i emerged as the clear winner with an astonishingly low input lag of 17.9ms for both 1080P 60Hz and 4K 60Hz. This made gameplay feel incredibly responsive, whether we were playing fast-paced shooters or intricate strategy games. Coupled with its bright visuals and 4K resolution, the HT4550i provided a genuinely immersive gaming experience that felt fluid and looked spectacular.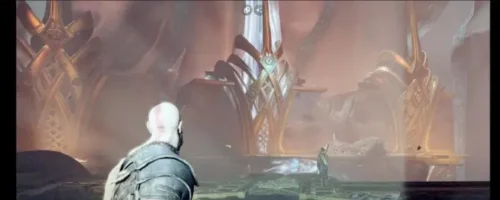 On the other hand, the BenQ HT5550 lagged quite literally with an 83.34ms input lag at 1080p 60Hz. While it delivered stunning visuals thanks to its 4K UHD resolution and 100% DCI-P3 color space, the noticeable delay in input responses made it less ideal for competitive gaming scenarios. However, for casual gaming and single-player titles where millisecond-level responsiveness is less crucial, the HT5550 still offers a grand visual treat.
Better For Gaming: BenQ HT4550i
Smart Features
The BenQ HT4550i takes the cake when it comes to smart features, offering a built-in Android 11.0 OS, complete with Bluetooth 5.0 and Wi-Fi capabilities. These features effortlessly integrate streaming services like Netflix and Prime Video into your home theater experience. The projector also supports AirPlay and Google Cast, allowing for seamless sharing of content from other devices. During our tests, streaming directly from the projector was smooth and straightforward, thanks to its user-friendly interface.
In contrast, the BenQ HT5550 offers fewer built-in smart features, focusing mainly on its AirPlay wireless projection capabilities. While it doesn't have a built-in OS for streaming, the AirPlay feature does provide a convenient way to mirror or extend content from Apple devices. We found that this worked well for casual viewing, but for those who desire a more integrated and comprehensive smart home theater system, the HT4550i clearly offers more.
Winner: BenQ HT4550i
Sound Quality: Built-In Audio vs. External Solutions
The BenQ HT4550i comes with a built-in 5W chamber speaker and offers HDMI audio return with eARC and Dolby Atmos support. While the speaker's output won't replace a dedicated sound system, it is surprisingly adequate for casual viewing. We found the sound to be clear and loud enough for dialogue and ambient sound in movies. The Dolby Atmos support also provides a more immersive experience when connected to a compatible sound system.
On the other hand, the BenQ HT5550 opts to omit built-in speakers entirely, focusing on providing audio output options like 3.5mm Mini Jack and S/PDIF for external solutions. This approach assumes that you'll be pairing the projector with a dedicated sound system for optimal audio.
Winner: BenQ HT4550i
BenQ HT4550i vs HT5550: the Verdict
After rigorous testing and comparisons, it's clear that the BenQ HT4550i edges out the HT5550 in several key areas, making it our top pick. It offers an all-around superior experience, from its brighter lamp and lower input lag to its more comprehensive smart features. The HT4550i serves as an excellent home theater centerpiece that performs well across a range of activities, including movie-watching and gaming. Its integrated smart system and built-in speaker offer added convenience, making it a robust and versatile option for those looking to get the most out of their home theater experience.
The BenQ HT5550, while still a formidable projector, is best suited for those with dedicated AV rooms and external sound systems. It offers excellent image quality but falls short in brightness and smart capabilities. Both projectors excel in delivering top-notch 4K visuals with vibrant colors and crisp details, but for an all-in-one solution that ticks nearly every box, the BenQ HT4550i is the clear winner.
Related Comparisons: