When it comes to high-quality, 4K home theater projectors, the BenQ HT4550i and Optoma UHZ50 are two of the most highly-regarded options in the market. Both projectors offer impressive specifications and cutting-edge features, making the decision between the two a challenging one.
However, after exhaustive testing and analysis of the BenQ HT4550i vs Optoma UHZ50, we've found that the BenQ HT4550i comes out as a slightly better option in terms of image quality, smart features, and overall performance. In this comprehensive comparison, we'll take a deep dive into the specifications, features, and real-world performance of these two projectors to help you make an informed decision.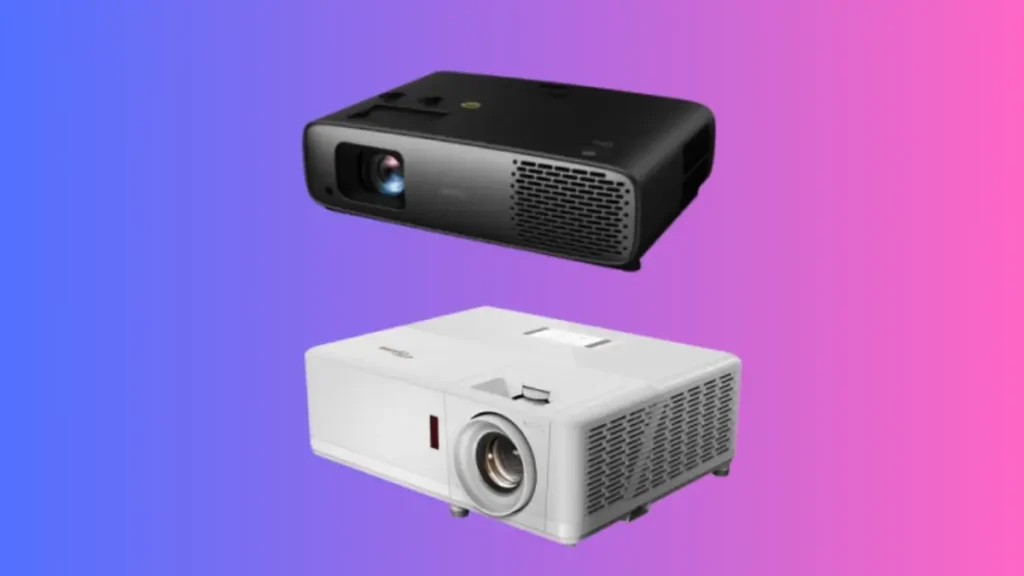 In This Comparison:
BenQ HT4550i vs. Optoma UHZ50 Specs:
| | BenQ HT4550i | Optoma UHZ50 |
| --- | --- | --- |
| | | |
| Resolution | 3840x2160 | 3840x2160 |
| Dynamic Contrast | 3,000,000:1 | 2,500,000:1 |
| Brightness (Lumens) | 3,200 ANSI | 3,000 ANSI |
| Lens | 1.3x manual zoom & focus | 1.3 |
| Input lag | 8.7ms-21ms | 4ms |
| Throw Ratio | 1.15:1 - 1.5:1 | 4.0' - 26.6' |
| Screen size | 30" - 300" | 34" - 303" |
| Speakers | 5.0 Watts Mono | 10.0 Watts × 2 |
| Today's Best Price | | ProjectorScreen.com |
BRIEF OVERVIEWS
BenQ HT4550i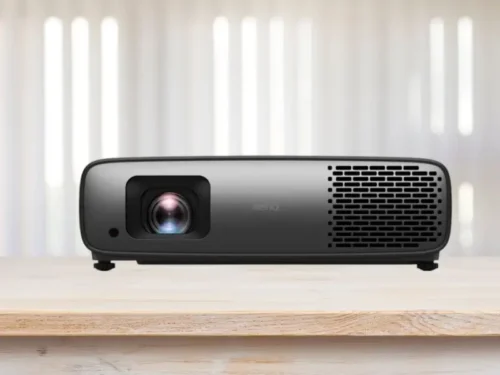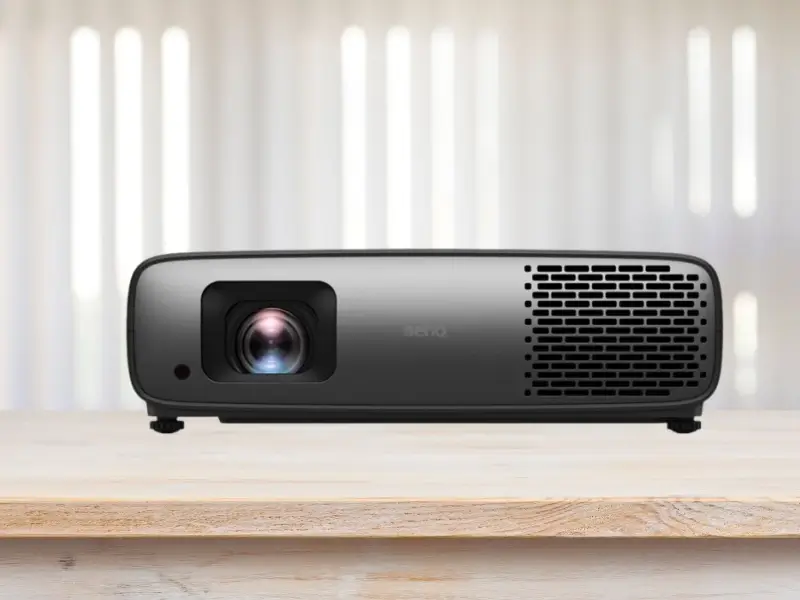 The BenQ HT4550i is a top-tier 4K UHD home theater projector boasting a brightness of 3,200 ANSI lumens and a phenomenal contrast ratio of 2,000,000:1. Equipped with a 4LED light source that can last up to 30,000 hours in Eco mode, it offers an array of cutting-edge features like HDR-PRO technology, CinematicColor, and built-in Android TV. Whether you are watching a movie or playing a game, this projector provides incredibly sharp images and vibrant colors. Its 1.3x zoom and extensive lens shift options make installation a breeze, and the low input lag ensures a smooth gaming experience. The built-in Android 11.0 operating system and wireless projection capabilities round out a feature-rich package that offers solid value for its price.
Pros
Exceptional 4K UHD resolution and vibrant colors.
High contrast ratio for deep blacks.
Built-in Android TV offers robust smart features.
Extensive lens shift and zoom options.
Low input lag, great for gaming.
Cons
Slightly higher price point.
No laser light source, less longevity.
---
Optoma UHZ50
The Optoma UHZ50 is a strong competitor with its 4K UHD resolution, laser light source, and brightness rating of 3,000 lumens. While it falls a bit short in contrast ratio at 2,500,000:1 compared to the BenQ HT4550i, it still provides excellent image quality. The projector offers an incredibly responsive gaming experience, thanks to its low input lag, especially in 1080P at 240Hz. It supports HDR and HLG compatibility and comes with three HDMI 2.0 inputs for versatile connectivity. What sets it apart is its longer laser life of up to 30,000 hours and quieter operation. However, it lacks built-in smart features, relying more on external streaming devices for smart functionalities. Check out our in-depth Optoma UHZ50 review.
Pros
4K UHD clarity with laser light source.
HDR and HLG compatibility.
Long laser life of up to 30,000 hours.
Low input lag in 1080P at 240Hz.
Quieter operation compared to competitors.
Cons
Lower contrast ratio.
Lacks built-in smart features.
---
IN-DEPTH COMPARISON
Design: Built, Measurements, and Weight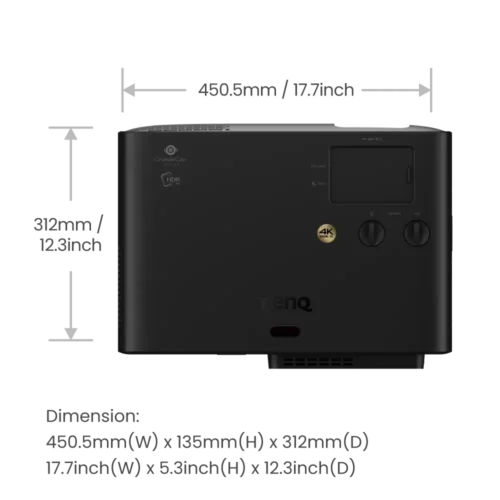 The BenQ HT4550i boasts a robust design with dimensions measuring 16.54 x 5.31 x 12.28 inches and a weight of 14.55 lbs. Its appearance exudes quality and feels built to last, with its sleek casing and intuitively laid out ports. On the other hand, the Optoma UHZ50 sports a more compact design at 13.27 x 10.43 x 4.7 inches, and it's lighter, weighing in at just 10.58 lbs. This makes the Optoma easier to fit into tighter spaces or mount onto a ceiling, given its lower weight and smaller size.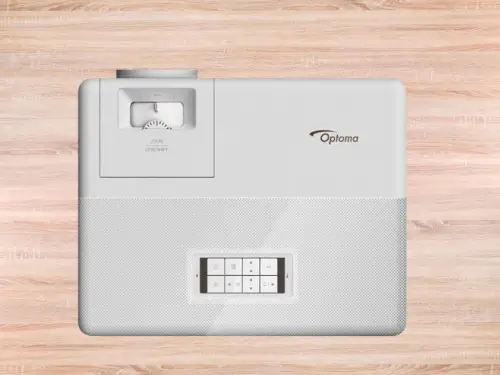 Both projectors are designed with user accessibility in mind, featuring easy-to-navigate menu systems and well-organized rear panels for input connections. However, the BenQ HT4550i feels a bit more sturdy and substantial, offering a sense of long-lasting durability. Conversely, the Optoma UHZ50's lighter and smaller form factor offers greater flexibility in placement, an essential factor for those with space constraints. Both have their merits, and your choice may depend on whether you prioritize durability and robustness over compactness and portability.
Winner: Both
Installation and Connectivity: A World of Ports and Possibilities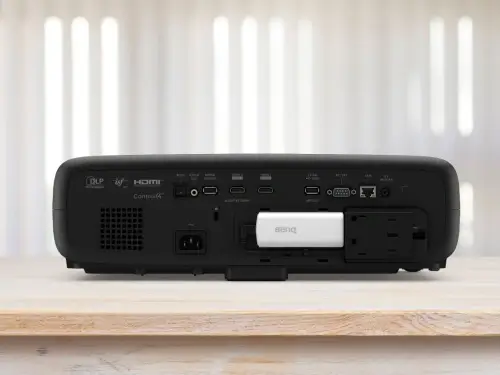 The BenQ HT4550i comes packed with a variety of connectivity options. It features two HDMI 2.0b ports, LAN (RJ45), and two USB Type-A ports, along with RS232 in (DB-9pin) and DC 12V Trigger (3.5mm Jack). One standout feature is its inclusion of eARC and Dolby Atmos via HDMI, enabling high-quality audio pass-through. Furthermore, it's equipped with Android 11.0, Bluetooth 5.0, and dual-band Wi-Fi, making wireless connections a breeze. During our tests, we found that connecting the BenQ to a home theater system and smart devices was straightforward and hassle-free, thanks to its built-in Android TV features.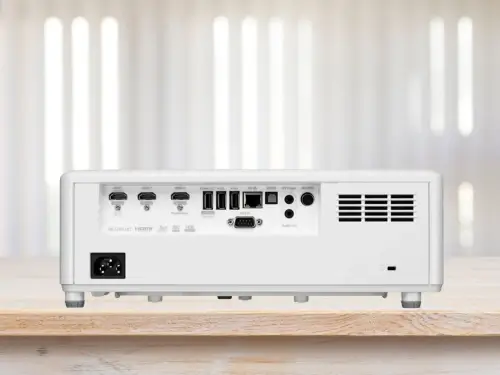 The Optoma UHZ50 is not far behind when it comes to connectivity. It offers three HDMI 2.0 ports, three USB-A ports, and a slew of additional control options like RS232, RJ45, and 12V trigger. The projector also supports wireless connections with IEEE 802.11 a/b/g/n/ac standards and both 2.4GHz and 5GHz frequencies. While the Optoma doesn't have eARC or Dolby Atmos support, it does feature a backlit home remote for easier control in dark environments. During installation, we noted that the variety of ports provided plenty of options for different setups, although the lack of eARC and Dolby Atmos might be a downside for some audiophiles.
Winner: BenQ HT4550i
Brightness and Image Quality

When it came to testing the brightness and image quality, both projectors were put through their paces in varying lighting conditions. The BenQ HT4550i boasts a brightness level of 3200 ANSI lumens, and we found that it delivered vivid, bright images even in well-lit rooms. Its 4LED light source provides striking contrast with a dynamic ratio of 3,000,000:1. We particularly enjoyed watching action-packed movies where the dark scenes were well-defined, thanks to BenQ's HDR-PRO technology. With 100% DCI-P3 & Rec.709 color coverage, the colors were rich and true to life whether in a dark home theater or a living room with ambient light.

The Optoma UHZ50, with its 3000 lumens brightness and laser light source, performed admirably under different lighting conditions as well. It has a 2,500,000:1 dynamic contrast ratio, slightly below the BenQ but still impressive. While watching dramatic movies, we noticed that the Optoma was able to deliver crisp blacks and well-balanced colors, though not quite as vibrant as the BenQ. Its laser light source promises a life of up to 30,000 hours and offers an "Eco mode," allowing for variable brightness depending on the room conditions. While the Optoma falls slightly short of the BenQ in terms of color richness and contrast, it still provides an excellent home theater experience, whether in a dark or bright environment.
Winner: BenQ HT4550i
Gaming Experience
Gaming is an area where the latency and refresh rate of a projector really matter, and both of these devices didn't disappoint. With the BenQ HT4550i, we found that the input lag for 4K at 60Hz was 17.9ms and went as low as 8.7ms for 1080p at 240Hz. We tested it with fast-paced games like "Call of Duty" and found minimal lag, which is essential for competitive gaming. The visual richness contributed to an immersive gaming experience, making intricate game worlds come to life.

On the other hand, the Optoma UHZ50 scored points for having an even lower input lag. We saw latency as low as 4ms for 1080p at 240Hz and 16.7ms for 4K at 60Hz. This translated into a slightly more responsive gaming experience during our tests with high-speed racing games like "Forza Horizon." While the color range and contrast didn't quite match the BenQ, the Optoma still offered a visually stunning and fast-paced gaming experience. Its "Enhanced Gaming Mode" optimized the display for smoother motion, which is a feature that serious gamers will appreciate.
Winner: Optoma UHZ50
Smart Features
In today's connected world, smart features are becoming increasingly essential in home theater projectors. With the BenQ HT4550i, we were pleasantly surprised by its built-in Android 11.0 OS. The system was responsive and user-friendly, providing a seamless transition between apps like Netflix and Prime Video. The integration of Google Cast and AirPlay made it incredibly easy to stream content from our smartphones and laptops directly to the projector. Wireless projection was a breeze, and we could easily connect multiple devices without any hassle.
The Optoma UHZ50, while not having a built-in OS like Android, didn't lag behind in smart capabilities. We easily connected it to our Wi-Fi network and were able to utilize its wireless capabilities efficiently. Voice control and the included WUSB wireless adapter were notable features that added a layer of convenience to the experience. Although it required an external device for full smart functionality, the Optoma still provided an array of streaming options and seamless voice control, enhancing our overall entertainment experience.
Winner: BenQ HT4550i
Sound Quality
During our testing, the BenQ HT4550i's built-in 5W chamber speaker impressed us with its clear and vibrant audio, quite unexpected for a projector speaker. While it can't replace a dedicated sound system, the audio quality is more than sufficient for casual viewing. We particularly enjoyed the HDMI Audio Return feature, which enabled us to experience Dolby Atmos when connected to a compatible audio system. This gave us a more immersive cinematic experience that complemented the projector's visual prowess.
The Optoma UHZ50, on the other hand, is outfitted with dual 10W speakers that offer robust sound with good range. The speakers managed to fill the room with balanced audio during our movie test, and the dialogue clarity was particularly noteworthy. We also tested the S/PDIF output, connecting the projector to our home theater system, and the result was fantastic. It's worth mentioning that the Optoma was slightly quieter during operation, adding to the overall sound quality and making the viewing experience less intrusive.
Winner: Optoma UHZ50
Verdict: A Close Call, But the BenQ HT4550i Takes the Crown
After thoroughly testing both projectors across multiple dimensions—image quality, sound, smart features, and gaming experience—we've come to the conclusion that the BenQ HT4550i is a slightly better option. While both projectors offer outstanding performance, the BenQ edges out in key areas like image vibrancy and smart features. It's a closely contested battle, but for those seeking a versatile, feature-rich projector that excels in almost every aspect, the BenQ HT4550i proves to be the superior choice.
Editors' Recommendations: