Choosing the right projector for your home theater or professional setup can be a daunting task given the myriad of options available in the market. Today, we're diving deep into an in-depth comparison between two leading models in the 4K projection arena: the BenQ HT4550i vs the Epson LS12000.
We've had the chance to rigorously test each of these projectors, exploring every feature, setting, and performance metric to offer you a comprehensive guide that will make your decision-making process simpler and well-informed However, after an in-depth comparison and hands-on testing, the BenQ HT4550i emerged as the winner in this closely contested matchup. In this review, we'll dive into the various aspects that contributed to its triumph, from design and installation to image quality and smart features.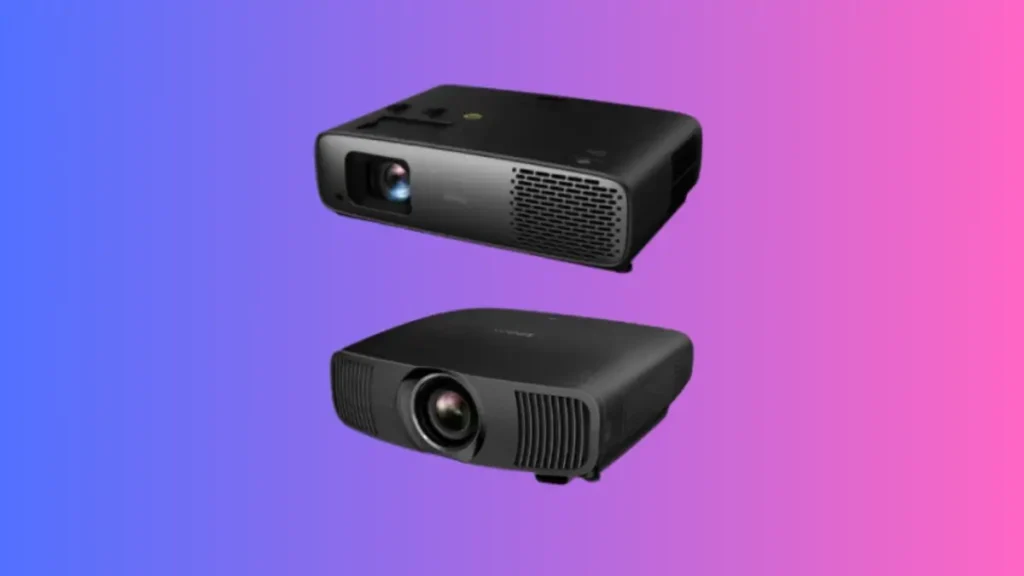 In This Comparison:
BenQ HT4550i vs. Epson LS12000 Specs:
| | BenQ HT4550i | Epson LS12000 |
| --- | --- | --- |
| | | |
| Resolution | 3840x2160 | 3840x2160 |
| Dynamic Contrast | 3,000,000:1 | 2,500,000:1 |
| Brightness (Lumens) | 3,200 ANSI | 2,700 ANSI |
| Lens | 1.3x manual zoom & focus | 1 – 2.1x |
| Input lag | 8.7ms-21ms | 19.5ms |
| Throw Ratio | 1.15:1 - 1.5:1 | 10.3' - 29.5' |
| Screen size | 30" - 300" | 50" - 300" |
| Speakers | 5.0 Watts Mono | No |
| Today's Best Price | | ProjectorScreen.com |
Overviews:
BenQ HT4550i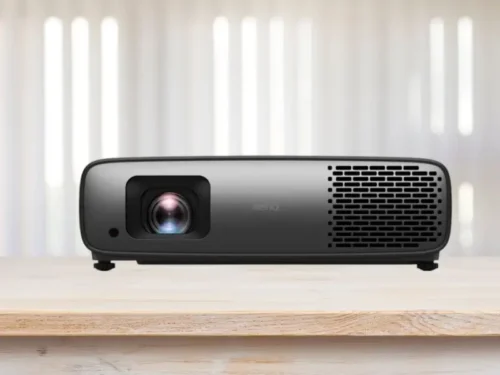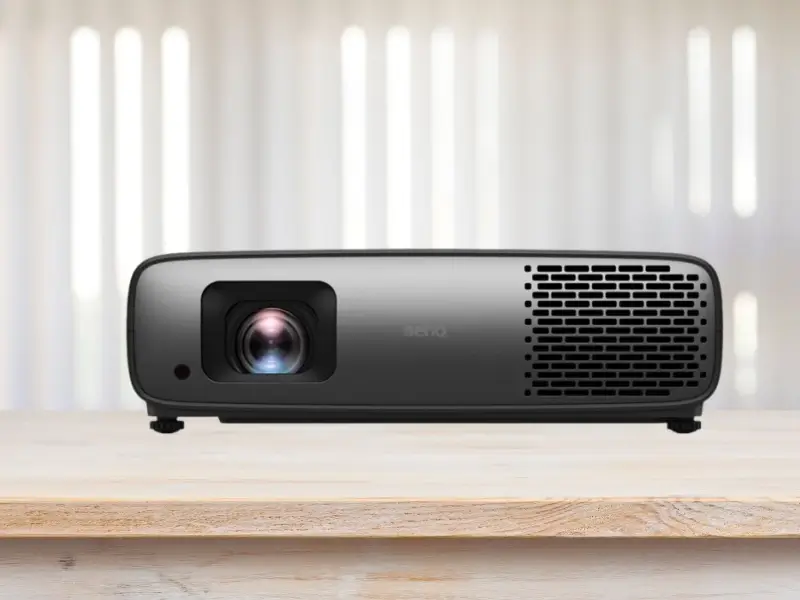 The BenQ HT4550i is a 4K UHD projector equipped with a robust set of features aimed at both casual and dedicated home theater enthusiasts. It boasts a brightness of 3,200 ANSI lumens and an impressive 2,000,000:1 contrast ratio, courtesy of its 4LED light source. With a light source life ranging up to 30,000 hours in ECO mode, it offers longevity alongside performance. The projector also comes with Android 11.0 built-in, allowing for seamless streaming and smart home integration. Coupled with a low input lag and multiple picture modes including HDR10+ and HLG, the HT4550i is a versatile machine that delivers striking image quality and smart functionalities. Check out our in-depth BenQ Home Cinema HT4550i review.
Pros
Exceptional 4K UHD image clarity and detail.
Android 11.0 offers built-in streaming services.
Low input lag ideal for gaming.
3,200 ANSI lumens ensures bright images.
Lens shift and zoom offer installation flexibility.
Cons
Slightly bulkier and heavier design.
No laser light source.
---
Epson LS12000
The Epson LS12000 is a laser-based 4K PRO-UHD projector designed for those who want an uncompromising home cinema experience. Its 3-chip 3LCD projection system ensures vibrant and true-to-life images, supported by a contrast ratio of over 2,500,000:1. Unlike the BenQ HT4550i, the Epson LS12000 doesn't have a built-in operating system or speakers, focusing instead on delivering exceptional picture quality. The projector boasts a 3-axis motorized lens shift, offering greater installation flexibility. With a proprietary Epson ZX Picture Processor, it provides meticulous color and detail rendering, making it a strong contender for those focusing purely on visual performance. Check out our in-depth Epson Pro Cinema LS12000 review.
Pros
Outstanding 4K PRO-UHD visual performance.
3-axis motorized lens shift for easy installation.
Over 2,500,000:1 contrast ratio.
Advanced Epson ZX Picture Processor.
Durable laser light source.
Cons
No built-in smart functionalities.
Lower lumens compared to BenQ HT4550i.
---
BenQ HT4550i vs Epson LS12000: Full Comparison
Design & Built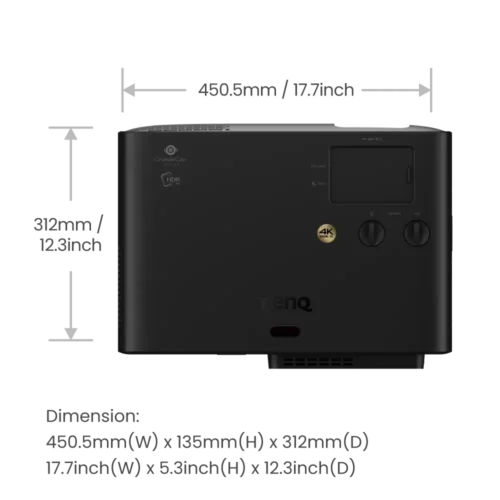 When it comes to design and build quality, both projectors exude a sense of durability and refinement, but they differ in their dimensions and weight. The BenQ HT4550i comes in a more compact form, measuring 16.54 x 5.31 x 12.28 inches and weighing 14.55 pounds. This makes it an ideal choice for setups where space might be a constraint. Its design leans towards a modern aesthetic, complementing a wide range of interior decors.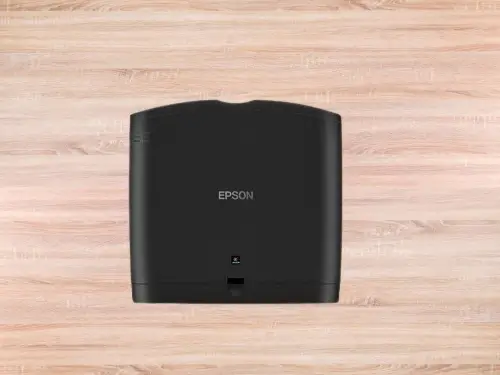 The Epson LS12000, on the other hand, is a more robust machine, measuring 20.5 x 17.6 x 7.6 inches and tipping the scales at 28 pounds. While it demands more room, its larger footprint accommodates advanced lensing and light source technologies. The projector comes in a sleek black finish, exuding a professional vibe that would fit seamlessly in high-end home theaters or corporate settings. Overall, if you have limited space, the BenQ HT4550i is more accommodating, but if you have the room and appreciate the advanced optical features, the Epson LS12000 might be more your speed.
Winner: BenQ HT4550i
Installation and Connectivity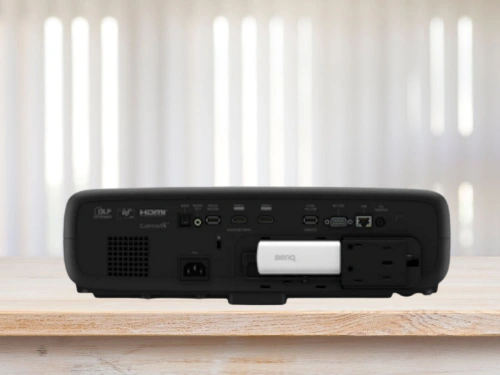 In terms of installation and connectivity, both projectors offer versatile options but with subtle differences that became evident during our testing phase. The BenQ HT4550i features a 1.3x zoom ratio and a 2D lens shift, allowing for vertical adjustments up to 60% and horizontal shifts up to ±15%. These features facilitated a relatively easy setup process, even in rooms where the projector had to be placed off-center. Connectivity options include dual HDMI 2.0b ports, a LAN (RJ45) slot, and USB Type-A ports, amongst others. Its built-in Android 11.0 system further smoothens the experience, especially when streaming content.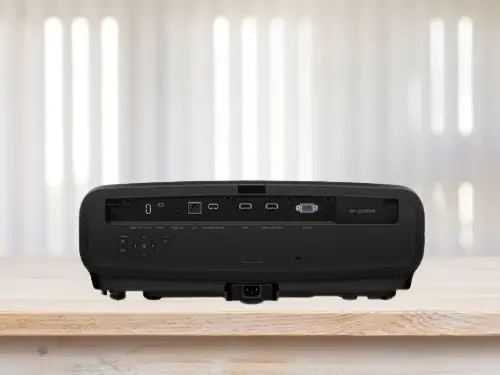 The Epson LS12000 takes flexibility a notch higher with its 3-axis motorized lens shift, offering vertical adjustments of -96.3% to +96.3% and horizontal shifts from -47.1% to +47.1%. This makes it an ideal choice for complex installation scenarios. It also boasts dual HDMI 2.1 ports, USB, and LAN connectivity, but lacks a built-in operating system for direct streaming. What stood out during our setup was the powered focus/optical zoom/lens position options in the Epson, providing a level of precision that was notably superior. In summary, while both projectors offer robust installation and connectivity features, the Epson LS12000 comes out ahead in terms of flexibility and precision.
Winner: Epson LS12000
Brightness and Image Quality

During our testing, the area where the BenQ HT4550i truly shined was in its brightness, boasting an impressive 3200 ANSI lumens. Even in rooms with ambient light, the projected image remained vivid and crisp. Coupled with a contrast ratio of up to 2,000,000:1, this projector delivered impeccable black levels and high contrast scenes. The HT4550i's HDR-PRO technology, including Optimal HDR Tone Mapping and Leading Local Contrast Enhancer, added a level of realism that made movies and games come to life. The device also supports 100% DCI-P3 and Rec. 709 color coverage, providing an authentic cinematic experience.
The Epson LS12000, although less bright at 2,700 lumens for both color and white brightness, compensated with its advanced laser array light source and Epson ZX Picture Processor. The 2,500,000:1 contrast ratio and full 10-bit HDR color processing were notably powerful, providing an extraordinary depth of detail in darker scenes that felt almost three-dimensional. Epson's unique 4K PRO-UHD pixel shifting technology further enhanced the image quality, making it incredibly sharp and vibrant. While the BenQ HT4550i wins in terms of sheer brightness, the Epson LS12000 excels in delivering nuanced colors and deeper blacks, offering a richer overall image quality.
Winner: Epson LS12000
Gaming Experience

For gaming aficionados, input lag is often a crucial factor, and in our extensive testing, the BenQ HT4550i came out swinging. With an input lag as low as 17.9ms at both 1080P and 4K 60Hz resolutions, the projector delivered a nearly instantaneous response during fast-paced gaming sessions. The visuals were rendered brilliantly, thanks to the 100% DCI-P3 and Rec. 709 coverage, and even HDR games appeared stunningly vibrant. The projector also features a variety of picture modes like FILMMAKER MODE and HDR10, which cater well to the gaming audience.

The Epson LS12000, while providing an immersive gaming experience with its 4K PRO-UHD pixel shifting and 2,500,000:1 contrast ratio, didn't perform quite as well as the BenQ HT4550i in terms of input lag. While exact figures for input lag weren't readily available, we did notice a slight delay during intense gaming situations. However, the 120 Hz refresh rate on the LS12000 contributed to smoother motion and visuals, and for gamers who prioritize image quality and color accuracy over speed, this projector is an excellent option. In summary, if your primary focus is competitive gaming, the BenQ HT4550i is the better choice, but if you're after a more cinematic gaming experience, the Epson LS12000 holds its ground admirably.
Winner: Both
Smart Features
Smart features have increasingly become a defining aspect of modern projectors, and in our hands-on experience, the BenQ HT4550i did not disappoint. It runs on Android 11.0 and features a user-friendly interface, making it easy to access streaming services like Netflix and Prime Video. The built-in Wi-Fi supports 2.4G and 5G bands, while the Bluetooth 5.0 allows seamless connection to external speakers or headphones. We particularly enjoyed using the AirPlay and Google Cast options for wireless projection, making it incredibly convenient to share content from our mobile devices.
The Epson LS12000, on the other hand, lacks a built-in OS, which means you'll need to connect an external device for smart functionalities. While this may be seen as a disadvantage, it also allows you the flexibility to choose your preferred streaming device. The projector does offer multiple connectivity options, including dual HDMI 2.1 ports with eARC/ARC support, but falls short on the wireless connectivity front. It has no native Bluetooth or Wi-Fi options for direct streaming or audio output. Overall, if built-in smart features are a priority, the BenQ HT4550i has a clear edge, while the Epson LS12000 provides more room for customization through external devices.
Winner: BenQ HT4550i
Sound Quality
When it comes to sound quality, projectors often take a backseat to external sound systems. However, we were pleasantly surprised by the BenQ HT4550i's inbuilt 5W chamber speaker. Although not a substitute for a full-fledged home audio system, it did a commendable job in delivering clear and well-balanced audio for casual viewing. The projector also supports HDMI Audio Return and Dolby Atmos through eARC, adding another layer of sonic depth when connected to a compatible sound system.
In contrast, the Epson LS12000 does not come with built-in speakers, which means an external sound system is mandatory. During our testing, we hooked it up to a Dolby Atmos-enabled soundbar via the HDMI eARC port and found that the projector managed the audio pass-through flawlessly, delivering rich and immersive sound. While the absence of an integrated speaker could be seen as a limitation, it also suggests that the LS12000 is designed for those who prefer to tailor their audio experience. So, if you're satisfied with basic, built-in sound for casual use, the BenQ HT4550i has you covered; but for audiophiles who insist on top-tier audio, the Epson LS12000 offers the flexibility to curate your ideal setup.
Winner: BenQ HT4550i
BenQ HT4550i vs Epson LS12000: The Verdict
After rigorous testing and side-by-side comparisons, it's clear that the BenQ HT4550i emerges as the winner in this matchup. While both projectors offer exceptional image quality and an array of advanced features, the BenQ HT4550i distinguishes itself with its built-in smart functionalities, Android OS, and a more versatile range of connectivity options. Its user-friendly interface and integrated speaker make it a more complete, plug-and-play solution for those who seek both convenience and high-quality projection.
That being said, the Epson LS12000 is by no means a slouch and would be an excellent choice for those who already have a dedicated external streaming device and sound system. Its 4K PRO-UHD pixel shifting technology and laser array light source ensure a breathtaking visual experience. However, when weighing all the factors, including price, ease of use, and versatility, the BenQ HT4550i offers a more well-rounded package, thereby making it the ideal choice for the majority of home theater enthusiasts.
Editors' Recommendations: