Choosing the ideal 4K home cinema projector can be a daunting task, especially when the market is brimming with top-of-the-line options. Two projectors that have caught significant attention lately are the BenQ HT4550i and the Epson LS11000.
After spending considerable time rigorously testing both models in various scenarios—movies, gaming, sports, and even presentations—we're ready to dive deep into what sets each apart, their strengths and weaknesses, and the unique experiences they offer. Spoiler alert: After an extensive analysis, we've found the BenQ HT4550i to be our top pick for its all-round performance and exceptional value.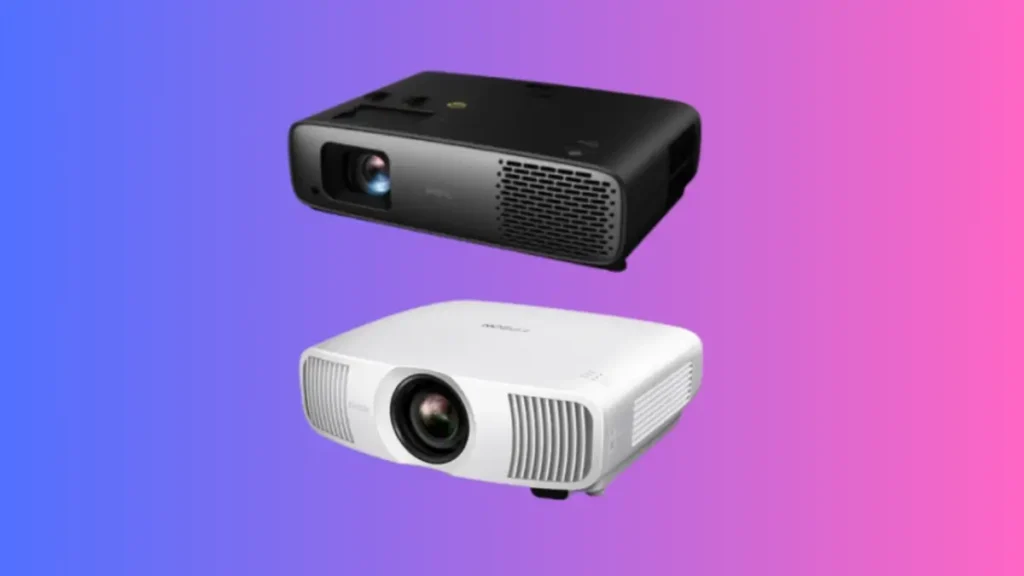 In This Comparison:
BenQ HT4550i vs. Epson LS11000 Side-by-Side:
| | BenQ HT4550i | Epson LS11000 |
| --- | --- | --- |
| | | |
| Resolution | 3840x2160 | 3840 x 2160 |
| Dynamic Contrast | 3,000,000:1 | 1,200,000:1 |
| Brightness (Lumens) | 3,200 ANSI | 2,500 ANSI |
| Lens | 1.3x manual zoom & focus | 1 – 2.1x |
| Input lag | 8.7ms-21ms | 20ms |
| Throw Ratio | 1.15:1 - 1.5:1 | 10.3' - 29.5' |
| Screen size | 30" - 300" | 50" - 300" |
| Speakers | 5.0 Watts Mono | No |
| Today's Best Price | | BHPhotoVideo.com |
Overviews:
BenQ HT4550i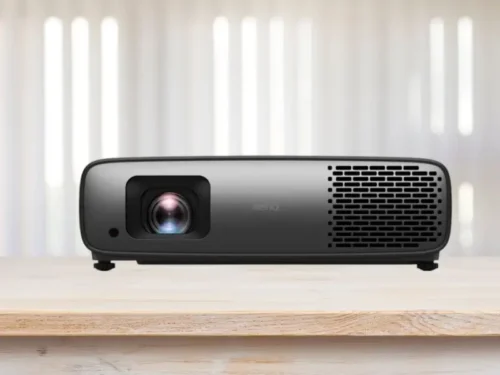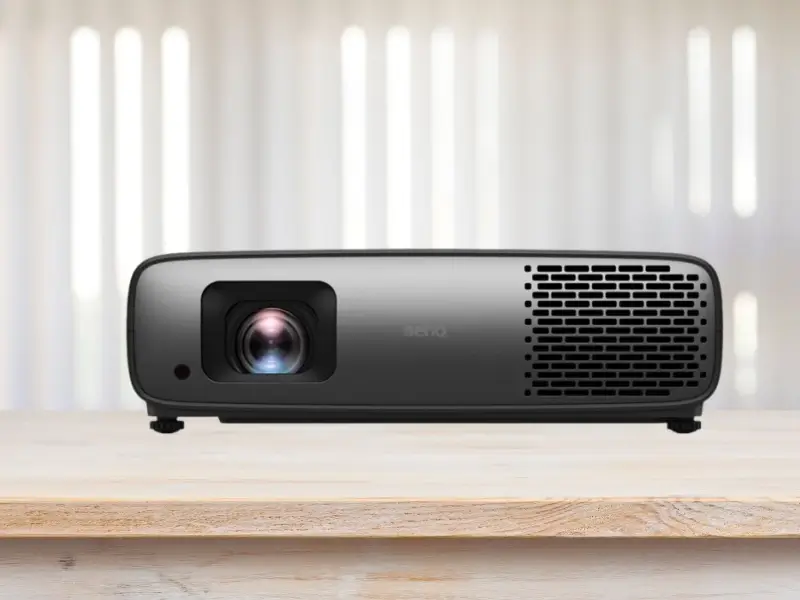 The BenQ HT4550i is a versatile powerhouse that makes an indelible mark in the 4K home theater projector landscape. With a brightness of 3,200 ANSI lumens and a 3,000,000:1 dynamic contrast ratio, it delivers crystal-clear and vibrant visuals, easily adapting to both dark and well-lit environments. In addition to its exceptional image quality, the projector's embedded Android OS and Google Assistant functionality offer a seamless smart experience, consolidating multiple entertainment options into one sleek device. Its robust set of features—ranging from low input lag for gaming to manual lens controls—makes it an all-around champion for various multimedia applications. Check our in-depth BenQ HT4550i review.
Pros
Exceptional 3,200 ANSI Lumens brightness for versatile room conditions.
Low input lag ideal for competitive gaming.
Built-in Android OS and Google Assistant for smart functionality.
Long-lasting LED lamp life of up to 30,000 hours in Eco mode.
3,000,000:1 dynamic contrast ratio for stunning visuals.
Cons
Heavier weight may limit portability options.
Lacks powered zoom and focus features.
---
Epson LS11000
The Epson LS11000 stands as a technical marvel, employing proprietary 4K PRO-UHD technology and a 1,200,000:1 dynamic contrast ratio for astonishingly sharp and vivid images. Its laser phosphor lamp ensures long-term reliability, while its powered zoom and focus lens offer convenience and adaptability for various installation setups. Although it lacks built-in smart features, its broad connectivity options make it highly customizable and integratable into specialized smart home ecosystems. Particularly striking is its advanced pixel-shifting technology and impressive motion smoothing, which make it a strong contender for those focused on cinematic experiences and high-definition gaming. Find our more detailed Epson Home Cinema LS11000 review.
Pros
Cutting-edge 4K PRO-UHD pixel-shifting technology for sharp images.
Advanced lens shift capabilities for flexible installation.
Laser phosphor lamp ensures long-term reliability.
Excellent motion smoothing for cinematic experiences.
Compatible with latest generation consoles and PCs for gaming.
Cons
Lower brightness output at 2,500 ANSI Lumens.
No built-in smart features or streaming apps.
---
BenQ HT4550i vs Epson LS11000: Full Comparison
Design, Dimensions, and Portability
When it comes to the design language, both the BenQ HT4550i and the Epson LS11000 sport an aesthetic suitable for modern home theaters, but they take divergent paths in achieving this.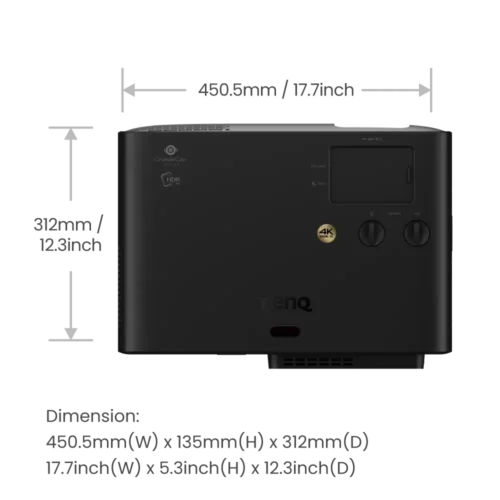 The BenQ HT4550i comes in a fairly compact form with dimensions of 5.31″ x 16.54″ x 12.28″ (HxWxD) and a weight of 14.6 lbs. Its sleek and minimalist design makes it an easier fit for most home entertainment setups. The projector features a centralized lens placement, complemented by manual focus and zoom rings. Despite its lighter weight, the build quality feels robust—something we particularly appreciated during setup and any subsequent adjustments.
On the other hand, the Epson LS11000 presents a larger footprint with dimensions of 7.60″ x 20.50″ x 17.60″ (HxWxD) and a heavier weight of 28.0 lbs. It leans toward a more professional look, complete with a glossy, streamlined surface that tends to catch the eye. The lens is also centrally positioned, but unlike the BenQ, it features powered focus and zoom controls, adding a touch of luxury and convenience.
It's clear that the BenQ HT4550i wins in the portability department, making it easier to move from room to room or even take to a friend's house for a movie night. The Epson LS11000, on the other hand, seems like a more permanent fixture, ideally suited for dedicated home theaters where it will likely remain stationary due to its larger size and heftier weight.
Winner: BenQ HT4550i
Installation and Connectivity
BenQ HT4550i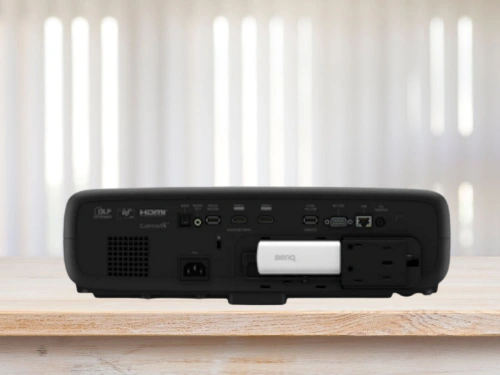 The BenQ model features a versatile connection panel that includes three HDMI 2.0 ports, a 12-Volt Trigger, Optical Audio Out, RS232: DB-9pin, and three USB ports. The inclusion of three HDMI ports allows for easy switching between multiple sources, be it your gaming console, Blu-ray player, or streaming device. We found this quite beneficial when hosting a sports night where we wanted to switch between a game and streaming apps without any hassle. Moreover, the built-in Android TV and Google Assistant features streamline the user experience for smart homes, making it easier to connect to a variety of streaming apps directly from the projector. We personally found this useful for quick YouTube viewings and streaming binge sessions.
Epson LS11000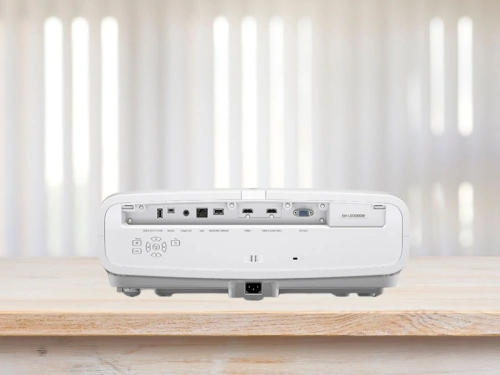 The Epson LS11000, on the other hand, has a more sparse, but equally functional, connection panel. It comes with two HDMI 2.1 ports, a 12-Volt Trigger, Network: RJ-45, RS232: DB-9pin, and two USB ports. The HDMI 2.1 inclusion is particularly helpful for the latest generation of gaming consoles, offering better compatibility with high frame rates and resolutions. The RJ-45 network port makes it easier to integrate into home automation systems, which is a significant plus for advanced setups. Although it lacks built-in streaming features, its focus is more on providing top-notch picture quality and being a mainstay in established home theater systems.
More Advanced Connectivity: BenQ HT4550i
Brightness and Image Quality
When it comes to delivering a vibrant and crisp viewing experience, both the BenQ HT4550i and the Epson LS11000 have their strengths and nuances. Our tests for these projectors included watching movies in both dark and bright environments to gauge their capabilities.
BenQ HT4550i: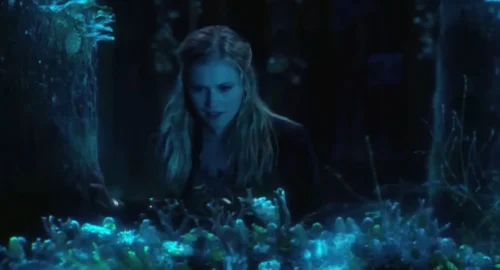 With a brightness level of 3,200 ANSI Lumens, the BenQ HT4550i certainly shines, quite literally. In a dark room, the projected image was nothing short of stunning, offering deep blacks and vivid colors, thanks to its 100% DCI-P3 and 100% Rec.709 with CinematicColor technology. However, where it really stood out was in a bright room. Contrary to many projectors that struggle in well-lit environments, the HT4550i maintained a surprisingly clear and vibrant image. Its HDR-PRO technology, which optimizes HDR Tone Mapping and provides a Leading Local Contrast Enhancer, ensures that the picture quality remains outstanding under various lighting conditions.
Epson Home Cinema LS11000: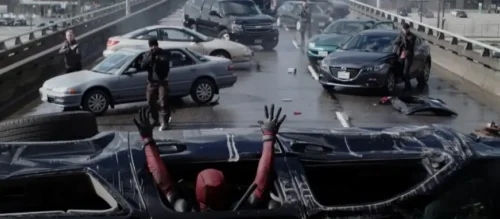 The Epson LS11000 delivers a slightly lower brightness of 2,500 ANSI Lumens for both white and color brightness. However, its advanced 4K PRO-UHD pixel shifting technology and a remarkable 1,200,000:1 dynamic contrast ratio compensate for this. In a dark room, the Epson provides a subtly superior image quality with richer colors and darker blacks. Its performance in a bright room was admirable but not as strong as the BenQ. However, we did notice that its colors seemed a bit more natural under ambient light, probably owing to its proprietary Precision Shift Glass Plate technology.
Real-world Impressions:
Watching The 100 on BenQ HT4550i projectorWhile watching a fast-paced action movie, we couldn't help but marvel at the intricate details captured by both projectors in dark scenes. The BenQ HT4550i offered brighter images, but at times, this came at the slight expense of black levels. On the other hand, the Epson LS11000, though not as bright, presented a more nuanced range of colors and deeper blacks. In bright rooms, both projectors performed commendably, but the BenQ had a slight edge in maintaining image clarity and vibrancy.
Better Image Quality: Epson LS11000
Gaming Experience: The Ultimate Playground
The gaming performance of a projector isn't just about resolution and brightness; input lag, refresh rates, and overall fluidity are crucial elements that can make or break your immersive experience. We decided to put the BenQ HT4550i vs Epson LS11000 to the test, setting them up with the latest gaming consoles and diving into some fast-paced, high-definition games.
BenQ HT4550i:

With an impressively low input lag of 17.9ms at 4K/60 and 1080p/60, the BenQ HT4550i ensures that your on-screen movements are almost instantaneously mirrored from your controller. We played a racing game and the responsiveness was excellent; there was no noticeable delay that could affect competitive gameplay. The projector supports a wide range of video modes, giving us the flexibility to switch between different resolutions and refresh rates. The brightness and HDR-PRO technology made the game environments pop, providing a lifelike experience.
However, it's worth noting that the BenQ does not support frame interpolation, a feature that smooths out motion. For most games, this won't be a significant issue, but for cinematically rich games that mimic film-like qualities, it might be a slight downside.
Epson LS11000: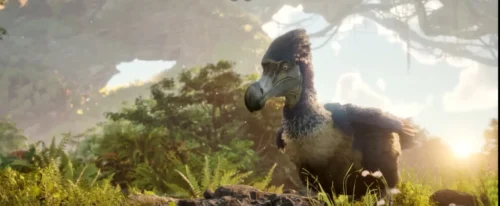 The Epson LS11000 also delivers a gaming experience to remember, but with a slightly higher input lag below 20 milliseconds. While this may not be a deal-breaker for the casual gamer, competitive players might notice the difference. The projector excels in producing stunning visuals thanks to its 4K PRO-UHD pixel-shifting technology and Frame Interpolation feature. Even during high-speed action sequences, the visuals were smooth and natural without any noticeable jitter or lag.
Interestingly, the Epson LS11000 supports 4K HDR at 120 frames per second, which made the gaming environment incredibly immersive. Though less bright than the BenQ, the Epson's laser array light source and 1,200,000:1 dynamic contrast ratio made darker scenes in games look absolutely breathtaking.
For competitive and reaction-based gaming, the BenQ HT4550i holds a slight edge due to its lower input lag and higher brightness. If you're more into immersive, story-driven games where each frame is a piece of art, the Epson LS11000, with its superior color accuracy and motion smoothing, may be more up your alley.
Better for Gaming: BenQ HT4550i
Smart Features
Modern projectors aren't just about projecting images; they're intelligent devices equipped with an array of smart features to enhance user experience and functionality. We delved deep into the smart capabilities of both the BenQ HT4550i and the Epson LS11000 to see how they stand up in this evolving landscape.
BenQ HT4550i:
The BenQ HT4550i comes with an integrated Android OS and offers seamless streaming with Google Assistant compatibility. This makes it incredibly easy to access a plethora of apps like Netflix, Prime Video, and more, right from the projector itself. During our tests, we found that the interface was intuitive and relatively fast, allowing for effortless navigation and quick access to streaming services. Voice command functionality via Google Assistant made it even more convenient to control playback or switch between apps. This adds a layer of modernity and user-friendliness that some might find indispensable in their home theater setup.
Epson LS11000:
The Epson LS11000 doesn't come with a built-in operating system for smart features, but it offers 12-Volt Trigger and Network: RJ-45 connectivity options that can integrate it into a smart home ecosystem. While it doesn't have native streaming capabilities, its compatibility with external smart devices (like streaming sticks or smart home hubs) ensures you can still stream content effortlessly. The absence of built-in smart features means you'll rely more on connected devices for a full smart home experience, but this might offer more flexibility for users who prefer specialized setups.
More Smart Features: BenQ HT4550i
Conclusion
After rigorously testing the BenQ HT4550i and the Epson LS11000 across a myriad of categories—design, installation, image quality, gaming experience, and smart features—we've garnered a comprehensive understanding of what each projector brings to the table.
Both projectors have their strong suits. The Epson LS11000 excels in delivering breathtaking visuals and offers outstanding flexibility for integration into specialized smart home setups. Its cutting-edge pixel shifting technology and superior motion smoothing make it a formidable choice for those seeking cinematic and immersive experiences.
However, the BenQ HT4550i emerges as our top choice for its all-round performance. The lower input lag makes it ideal for competitive gaming, and the higher brightness ensures excellent image quality even in less-than-optimal lighting conditions. Its built-in smart features via Android OS are a massive convenience, consolidating multiple functions into a single device and simplifying the overall user experience
Editors' Recommendations: