The Epson LS11000 is a high-end 4K laser projector that promises a big picture quality improvement over the brand's previous models. As a general rule, Epson projectors use pixel-shifting technology to generate an Ultra HD image, often resulting in a resolution that's lower than true 4K. While the LS1100 still uses pixel-shifting, its more sophisticated Precision Shift Glass Plate and ZX Picture Processor take the technology to another level, producing the full 8.3 million on-screen pixels one expects from a 4K projector.
There's no doubt that the LS11000 is an improvement over previous Epson projectors—but is it a big enough improvement to justify its price tag? We'll break down its details in this Epson LS11000 review so you can make that decision for yourself (>>> Check on Amazon).
Epson LS11000 Review of Main Specs:
| | Epson LS11000 |
| --- | --- |
| | |
| Resolution | 3840x2160 |
| Contrast | 1,200,000:1 |
| Brightness (Lumens) | 2,500 ANSI |
| Throw Distance | 10.3' - 29.5' |
| Screen size | 50" - 300" |
| Speakers | No |
| Today's Best Price | BHPhotoVideo.com |
Installation
The Epson LS11000 is made for use in home theater spaces, and this is reflected in its design. It has a fairly long throw distance, needing around 13 feet between the lens and screen to produce a 100" image.
On the plus side, its lamp brightness is higher than many projectors intended for dedicated home theater spaces, at 2,500 lumens. That's enough to support some lights-on viewing, though you will still need to take some light control measures in brighter spaces. Check comparison vs Epson LS12000
Image alignment functions are particularly important for a standard-throw projector, giving users more flexibility for fine-tuning the image placement, screen geometry, and other important factors.
The array of options on the Epson LS11000 makes it very flexible in this regard. It has a three-way motorized lens with a wide 2.1x powered zoom, 2D keystone correction, and 2D lens shift (+/- 96.3% horizontal and +/- 47.1% vertical).
Overall, it's an easy and intuitive projector to install and set up.
Sound
There are no speakers built in to the Epson LS11000. It's best used with an A/V receiver to handle the sound signal, and at the least you'll want to have some kind of speaker system to get the most out of this projector.
Connectivity
Using a receiver can also make up for its lack of wireless connectivity, which is increasingly a must-have feature for a home theater projector. While the LS11000 does have dual 2.1 HDMI inputs, it lacks options like streaming, screen mirroring, and voice control that are offered by many modern projectors.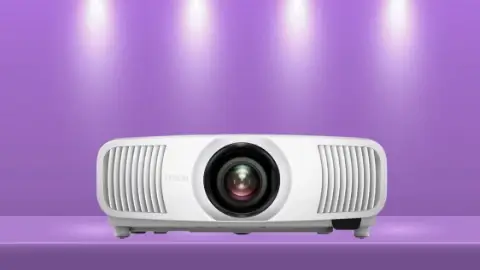 Pros
Sharp and detailed high-contrast image
Vibrant color from 3LCD display and laser array light source
Ideal brightness for dim indoor environments
Flexible set-up with wide zoom and lens shift
Input lag low enough for most gamers
Laser light source has a long lifespan
Cons
No built-in speakers
Long throw distance
Picture Quality
The Epson LS11000 produces a bright and realistic image with an incredible level of detail. Its proprietary 36-bit ZX Picture Processor includes features like frame interpolation, resolution enhancement, and HDR support, ensuring an accurate, high-contrast display for all types of content.
The color of the LS11000 is where it really shines. Its multi-array laser light source is backed by a 3-LCD chipset. This not only gives it a wide color gamut, but it also prevents the flickering and color issues (or "rainbow effect") that some viewers experience watching other projector display styles.
The hues are consistent and true-to-life, with rich black levels and an equal brightness across white and colorful areas of the screen.
Gaming Performance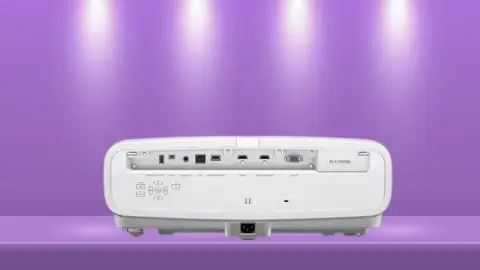 Epson advertises the LS11000 as having an input lag of below 20 milliseconds. The true measured input lag isn't quite this low, but does clock in around 39ms in gaming mode, which is low enough that most players won't notice any delays or issues.
The input lag isn't the only spec of importance to gamers, either. The frame refresh rate is equally crucial for getting smooth on-screen action, and this is an area where the LS11000 does excel.
It has a frame rate of 120Hz for 4K content, on par with the specs from high-end gaming projectors. Overall, this makes it a solid choice for hobbyists and casual players, though serious or competitive gamers will still want to look for a projector with a lower input lag.
The Bottom Line: Epson LS11000 Review
From a picture quality standpoint, the Epson LS11000 is a stand-out projector. It's flexible, too, both in terms of installation and its use, supporting gaming as well as movies and TV shows.
However, it is missing some features we'd want at the price point. The lack of built-in streaming, voice control, or speakers could be an issue for some users, and its long throw distance and moderate lamp brightness limit the spaces where it can be used.
In the end, it's a great choice if your main concern is image quality, but won't be the best fit for everyone (>>> Find on Projectorscreen).
REFERENCES AND FURTHER READING: