Epson's Home Cinema line of projectors bring theater-level quality and big-screen entertainment into everyday homes at an excellent value. If you're looking at the Epson LS11000 vs 5050UB, the question of which one is better comes down to your budget and picture needs. Based solely on performance, the Epson LS11000 is the better projector (>>> Check on Amazon), with a sharper resolution, better lens, and more advanced image processing. That said, the Epson 5050UB has an MSRP that's around $1,000 lower, making it an outstanding value for the performance it offers. Let's take a closer look at the details.
Epson LS11000 vs 5050UB Side by Side:
| | Epson LS11000 | Epson 5050UB |
| --- | --- | --- |
| | | |
| Resolution | 3840x2160 | 1920x1080 4K w/pixel shifting |
| Brightness (Lumens) | 2,500 ANSI | 2,600 ANSI |
| Contrast Ratio | 1,200,000:1 | 1,000,000:1 |
| Input Lag | 20-39ms | 22.5-28ms |
| Throw Distance | 10.3' - 29.5' | 10.3' - 29.4' |
| Screen size | 50" - 300" | 50" - 300" |
| Speakers | No | No |
| Today's Best Price | BHPhotoVideo.com | BHPhotoVideo.com |
Image Quality
There's a lot to love about the Epson 5050UB's picture. Its pixel-shifted resolution has roughly double the on-screen pixels of full HD, with automatic iris adjustment and UltraBlack technology to maximize the contrast. Its 3-chip color system produces the full DCI-P3 spectrum, with HDR10 and Low Delta E technology to ensure its accuracy.
The main place the Epson LS11000 outperforms the 5050UB is its resolution. Its pixel shifting engine is more advanced, producing a true 4K resolution and a sharper overall picture thanks to the more sophisticated lens design. Along with this, the real-time adaptive correction optimizes the color and contrast to your content, so you know you'll always see movies and shows at their best.
Higher image quality: Epson LS11000
Gaming Performance
The Epson LS11000 can be used by most gamers. It can produce 120 frames per second for either full HD or 4K content, meaning super-smooth movement on the screen. While it advertises an input lag of under 20ms, however, the measured input lag in most image modes is in the 30-40ms. That's low enough most players won't have a problem, but can be an issue for serious players of reflex-based games.
While the Epson 5050UB has a lower frame refresh rate, it still hits the 60 frames per second metric gamers look for. More importantly, its input lag is consistently lower, measuring between 20ms and 30ms across image settings. In truth, these projectors are very close in this regard—either one can work for casual gaming, and neither will be the preferred model for a professional gamer. Generally speaking, though, the lower lag of the 5050UB will make it the superior option.
Better gaming performance: Epson 5050UB
Installation and Space Requirements
The Epson LS11000 and 5050UB have very similar performance when it comes to installation and space flexibility. They have a similar throw distance and lamp brightness, with both best-suited to relatively large space with low to moderate ambient light. Each also offers a 3-axis motorized lens, giving them options like lens shift and a powered zoom that make them more adaptable to a variety of setups.
Where the Epson LS11000 comes out ahead is its option of 10 lens memory preset slots. This means users can save their lens settings and quickly switch between them, a very helpful feature if you'll be using your projector in multiple spaces or environments.
Easier installation: Epson LS11000
Value
The Epson 5050UB was released in April 2019 with an MSRP of just under $3,000. The Epson LS11000 is both newer (released in March 2022) and had a higher list price to start. While its higher price makes sense given its improved lens, superior pixel shifting technology, and other upgrades, 5050UB is a great value for its performance, especially since you're more likely to find it on sale for less than the list price.
Better value: Epson 5050UB
---
Epson LS11000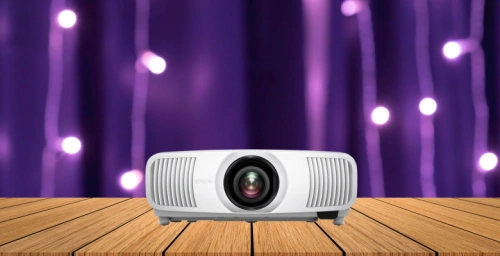 The Epson LS11000 uses a superior version of the company's pixel shifting technology. It has a digitally controlled Precision Shift Glass Plate and ZX Picture Processor that work with the 3-chip LCD engine to generate a true 4K image with a full 8.3 million on-screen pixels. The 15-element VRX Cinema Lens further enhances the clarity and ensures a uniform focus across the picture. Add in the high dynamic contrast ratio and you have a sharp, highly-detailed image for all kinds of content.
That 3LCD display, combined with the powerful multi-array laser light source and the 10-bit HDR color processing, produces remarkably vibrant and realistic colors with none of the brightness inconsistency or rainbowing that can be caused by single-chip projectors. The ZX processor also provides real-time color and contrast correction on a scene-by-scene basis, automatically optimizing the picture to what's ideal for the content. The LS11000 is responsive, too, playing 4K content at 120 frames per second and a reasonable input lag for casual gamers. Related comparison: Epson LS11000 vs LS12000
The Epson LS11000 is relatively easy to set up and use, as well. While it does have a fairly long throw distance, the motorized lens has a robust lens shift option (+/-96% horizontal and +/-47% vertical) with a 2.1x powered zoom, giving it good flexibility within that space. The main thing to keep in mind is that the LS11000 does best in entertainment systems using a receiver since it will require external speakers and content sources.
Pros
Sharp 4K image with excellent detail and contrast
Real-time Adaptive Correction
Wide color gamut with no rainbowing
Bright enough for most viewing areas
Flexible installation thanks to motorized lens
Responsive enough for casual gaming
Cons
Long throw distance
Requires other equipment to use (no speakers or streaming)
---
Epson 5050UB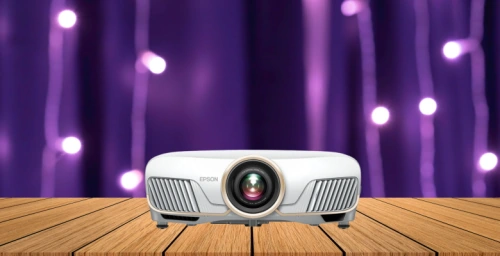 The Epson 5050UB is a great option for gamers who want to play on a big screen. Its measured input lag is under the 30ms threshold you need for reflex-based games and online play. A 60Hz frame refresh rate, combined with sophisticated frame interpolation technology, keeps the on-screen action smooth, too, with no frustrating blur or frame tears that can disrupt your playing.
The 5050UB supports HLG and HDR10 technology for accurate and realistic color and contrast. Like the LS11000, it uses 3LCD processing to eliminate the risk of rainbowing. The 12-bit color chip produces the full DCI-P3 color gamut, the current professional cinema standard, with Low Delta E to ensure the accuracy of the hues. The main difference here is the pixel-shift processor. The 5050UB uses an older technology than what's included in the LS11000, so while it has a resolution higher than full HD it doesn't quite reach the level of 4K resolution. Related comparison: Epson LS12000 vs 5050UB
As far as installation and operation, the Epson 5050UB has similar strengths and weaknesses to the model above. Its powered lens has a 2.1x zoom, powered focus, and a 2D lens shift (+/-47.1% horizontal and +/-96.3% vertical) that make it easy to install in most spaces. Bear in mind, however, that it also has a fairly long lens shift, so you'll want to use it in a larger space. It also lacks wireless connectivity or built-in speakers, something to plan for as you're figuring out your other equipment and overall setup.
Pros
High-contrast image with resolution sharper than full HD
Full cinematic color with no rainbowing
Low lag is great for gaming
Flexible to install
Ideal brightness for most indoor spaces
Automatic iris brightness adjustment
Cons
Lower image resolution
No adaptive color or contrast technology
---
In Conclusion: Epson LS11000 vs 5050UB
As is often the case, choosing the right projector means first deciding what you need in your home entertainment space. The Epson LS11000 produces a better image with sharper resolution, and has other convenience upgrades you won't find on the Epson 5050UB, making it the better choice for most (>>> Find on ProjecorScreen.com). On the other hand, the Epson 5050UB has slightly better gaming performance, with a lower price tag that can make it an appealing option for budget-conscious buyers.