Epson was one of the first companies to utilize technology like pixel shifting and 3-chip color into their projectors, and they continue to stand out in the home theater market for their innovative and user-friendly equipment. The biggest difference comparing the Epson LS12000 vs 5050UB comes down to their light source and display technology. The LS12000 was released nearly 3 years later than the 5050UB and takes advantage of tech developments that happened during that time (>>> Check price on ProjectorScreen). While this gives it the better overall performance, it also means it costs about twice the price. So which one is the better fit for your home? Let's look at the main differences so you can decide that for yourself.
Epson LS12000 vs 5050UB Side by Side:
| | Epson LS12000 | Epson 5050UB |
| --- | --- | --- |
| | | |
| Resolution | 3840x2160 | 1920x1080 4K w/pixel shifting |
| Contrast | 2,500,000:1 | 1,000,000:1 |
| Brightness (Lumens) | 2,700 ANSI | 2,600 ANSI |
| Input lag | 20ms | 22.5ms |
| Throw Distance | 10.3' - 29.5' | 10.3' - 29.4' |
| Screen size | 50" - 300" | 50" - 300" |
| Speakers | No | No |
| Today's Best Price | ProjectorScreen.com | BHPhotoVideo.com |
Image Quality
The most significant difference between the Epson LS12000 and 5050UB is their resolution. Both use a pixel-shifting engine, but from different generations of the technology. The Epson 5050UB uses an older style of pixel shifting that roughly doubles the on-screen pixels of a full HD display. This doesn't quite match the detail of the Epson LS12000, however, which can achieve a full 4K resolution.
You'll see similar improvements in other image areas, too. While both projectors use UltraBlack technology, the version on the LS12000 is more advanced and it has a sharper contrast as a result. The Epson LS12000 also includes real-time adaptive scene correction, further optimizing the picture above and beyond what you'll get with the 5050UB.
Better picture quality: Epson LS12000
Lamp Design and Lifespan
The light sources of the Epson LS12000 and 5050UB put out a similar brightness, but they're otherwise drastically different. The Epson 5050UB uses a UHE bulb while the Epson LS12000 uses a laser phosphor array.
The biggest difference here is longevity. The maximum lifespan of the bulb in the 5050UB is around 5,000 hours, and it may die in as little as 3,500 hours in brighter modes. Comparatively, the laser array in the LS12000 has an average lifespan of 20,000 hours, enough users won't need to replace it for the entire life of the projector. This laser light source is also more efficient, making the LS12000 less prone to overheating and other issues.
Longer light source lifespan: Epson LS12000
Gaming
The Epson 5050UB is fairly responsive, with input lags for both 4K and 1080p content in the 20-30ms range. That puts it within the range that serious gamers look for, and will mean no noticeable lag for the majority of players.
The Epson LS12000 is the biggest improvement for 4K gaming. Its input lag measures less than 20ms for this content. While its lag is comparable to the 5050UB's for full HD games, the LS12000 has a higher frame refresh rate, so the content will feel smoother and more responsive. The higher contrast of the LS12000 is the icing on the cake, ensuring you'll see every detail, even in darker areas of the game.
Better for gaming: Epson LS12000
Value
At an MSRP of around $3,000, the Epson 5050UB is reasonably priced for its performance. Since it's a few years old, you're also more likely to find it on sale or refurbished, saving you even more. Conversely, the newer Epson LS12000 has an MSRP of around $5,000, and its street price is comparable to that. Granted, you may need to replace the bulb in the 5050UB at some point, but that's only a couple hundred bucks you'll need to spend down the line. Considering you can get almost as strong of a picture from the 5050UB, this means the older projector gives buyers the better bang for their buck.
Better value: Epson 5050UB
---
Epson LS12000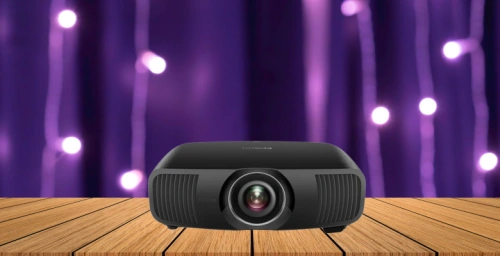 For picture quality, the Epson LS12000 is hard to beat. Its Epson ZX Picture Processor and PRO-UHD Pixel-Shifting technology produce a detailed true 4K resolution, with real-time adaptive scene correction that adjusts the image in real time scene-by-scene. The 15-element VRX Cinema lens brings exceptional clarity to that picture, with enhanced sharpness thanks to Epson UltraBlack and full 10-bit HDR processing for HLG and HDR10+ content.
The Epson LS12000 can be used for gaming as well as movies. Its input lag measures at just under 20ms when gaming in 4K. Interestingly, it's actually less responsive for Full HD content, but not by much. Whatever type of games you enjoy, you can play them through the LS12000.
The Epson LS12000 is made with dedicated home theater spaces in mind, and that's reflected in its installation features. Its throw distance is long, even in comparison to most standard-throw projectors. You do get a good range of options for adjusting the image, though, with a 3-axis motorized lens that includes a wide 2.1x zoom and both horizontal and vertical lens shift and keystone correction. Click here for our more in-depth review of the Epson LS12000.
Pros
Detailed 4K picture with adaptive scene correction
Sharp UltraBlack contrast
3LCD color
Low lag for gaming
Flexible installation with motorized lens
Cons
Long throw distance
Higher cost
---
Epson 5050UB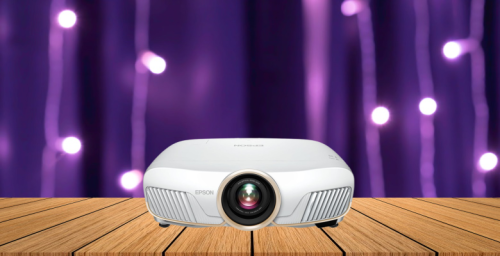 Released in April 2019, the Epson 5050UB uses a previous generation of the pixel shifting technology found in the LS12000. Because of this, its PRO-UHD pixel shift processor can only double the on-screen pixels of a full HD display and doesn't quite achieve the detail of a native 4K display.
While its resolution doesn't quite match the competition, the 5050UB does have a very strong performance when it comes to color and contrast. It uses similar UltraBlack technology to the LS12000, as well as the same 3-chip color system that gives it full coverage for the DCI-P3 spectrum. Features like the Auto Iris, white balance adjustment, and Low Delta E color further enhance the image, for a lifelike picture across your content.
The Epson 5050UB uses a similar 3-axis motorized lens to the LS12000, and has the same options of a 2.1x powered zoom and focus with both keystone correction and lens shift adjustments. This gives it good installation flexibility, though it's still at its best in a larger room.
Pros
Pixel-shifted display exceeds full HD resolution
Strong color and contrast
Low enough lag for gaming
Flexible alignment options for a fast installation
Better value
Cons
Not a true 4K display
Shorter lamp lifespan
---
The Bottom Line: Epson LS12000 vs 5050UB
The Epson LS12000 and 5050UB are very similar when it comes to the space where they thrive and how easy they are to install and use. They can also both be used for gaming as well as watching movies, giving them good versatility. Aside from the price tag, the most noticeable difference between them is the image quality. With a sharper resolution and higher contrast, the Epson LS12000 is the winner based solely on performance (>>> Check the current price on ProjectorScreen). It's up to you whether that better image quality is worth the significantly higher price.
Related Comparisons: