If you're in the market for an exceptional home theater experience, the question of "BenQ HT4550i vs Epson 5050UB" is likely to pop up. These two giants of the projector world both claim to deliver high-quality, authentic, cinematic experiences right in the comfort of your own home. But when it comes down to deciding which is the ultimate choice, we believe the BenQ HT4550i gains the upper hand. Discover the Best Price on Amazon Today! After rigorously testing both projectors, we're eager to share our exhaustive analysis, insights, and personal experiences that favor the BenQ HT4550i. Let us guide you through this journey to make an informed and confident choice.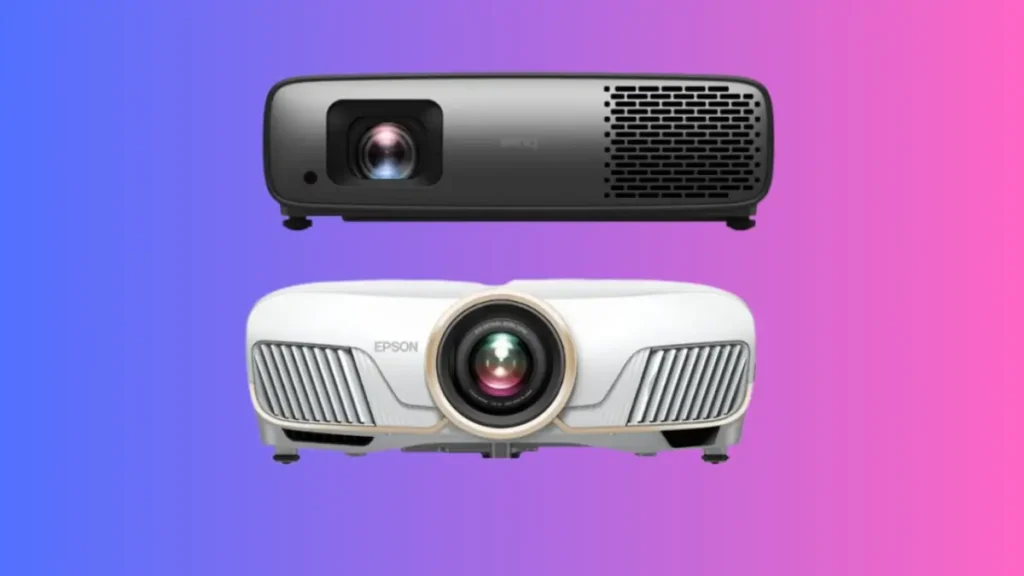 BenQ HT4550i vs Epson 5050UB Specs Comparison:
| | BenQ HT4550i | Epson 5050UB |
| --- | --- | --- |
| | | |
| Resolution | 3840x2160 | 1920x1080 4K w/pixel shifting |
| Dynamic Contrast | 3,000,000:1 | 1,000,000:1 |
| Brightness (Lumens) | 3,200 ANSI | 2,600 ANSI |
| Lens | 1.3x manual zoom & focus | 2.1x Powered zoom , Powered focus; Lens Shift: Horizontal +/-47.10% & Vertical +/-96.30% |
| Input lag | 8.7ms-21ms | 22.5ms-28ms |
| Throw Ratio | 1.15:1 - 1.5:1 | 1.35:1 - 2.84:1 |
| Screen size | 30" - 300" | 50" - 300" |
| Speakers | 5.0 Watts Mono | No Speakers |
| Today's Best Price | | |
BenQ HT4550i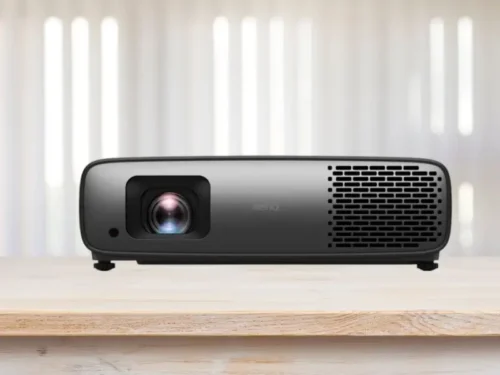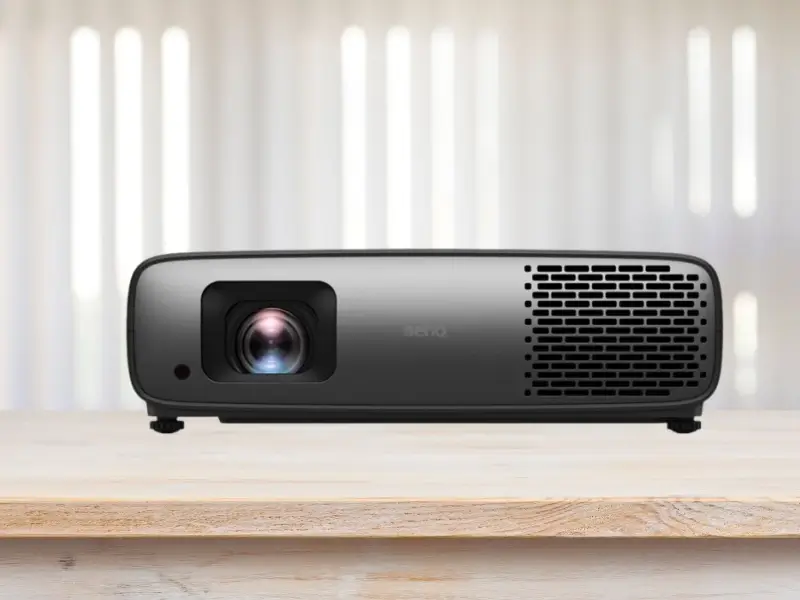 The BenQ HT4550i shines with its solid 4K HDR picture, smart features, and excellent brightness output. It delivers a brilliant image quality that works well in a variety of lighting conditions thanks to its 3200 lumens. One of the standout features is the projector's built-in Android OS, which allows for easy streaming and Google Assistant integration. With the HT4550i, you'll get an authentic movie theater experience in the comfort of your home. However, the throw distance seems to be a common gripe among users, so it may not be the best fit for those with a smaller space or specific setup requirements. Nevertheless, if you're seeking a versatile projector with superb brightness, smart features, and excellent value for the money, the BenQ HT4550i is worth considering.
Pros
Excellent 4K HDR picture quality for detailed visuals.
High brightness output of 3200 lumens.
Integrated Android OS for easy streaming.
Long LED lamp life of up to 30,000 hours.
Features Google Assistant for voice control.
Cons
Some users reported issues with throw distance.
Single speaker may not offer the best sound quality.
---
Epson 5050UB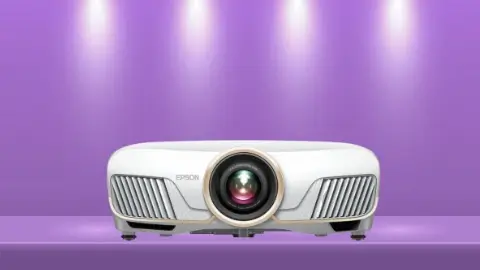 The Epson 5050UB brings an unparalleled level of cinematic quality to home theaters. With the ability to handle 4K content and an impressive dynamic contrast ratio of 1,000,000:1, it delivers a visual experience that few projectors can match. Color accuracy is top-notch, thanks to the projector's ability to display the full DCI-P3 color space, and the powered zoom and focus features add to the overall user convenience. The 5050UB also impresses with its black levels and smooth motion. However, some users reported issues with its wireless performance. If you're looking for a projector to create a premium, immersive home theater experience and willing to invest a bit more, the Epson 5050UB could be an excellent choice. But you might want to consider a wired setup or ensure you have a strong wireless connection to fully leverage its capabilities.
Pros
Exceptional 4K home theater experience.
Unmatched dynamic contrast ratio of 1,000,000:1.
Full DCI-P3 color space for accurate colors.
Powered zoom and focus for user convenience.
Superior black levels and smooth motion.
Cons
Some users reported unstable wireless performance.
Larger size may not suit all setups.
---
BenQ HT4550i vs Epson 5050UB: Features Comparison
Design and Build Quality
The BenQ HT4550i carries a sleek design and is comparatively lighter at 14.6 lbs. The projector measures 5.31″ x 16.54″ x 12.28″ (HxWxD) which makes it relatively compact. Its manual focus and zoom lens allows you to adjust the picture according to your requirements.
On the other hand, the Epson 5050UB, at 24.7 lbs, is considerably larger and heavier. Measuring 7.60″ x 20.50″ x 17.70″ (HxWxD), it dwarfs the BenQ model. However, the Epson 5050UB has powered focus and zoom lens, which offers greater convenience and precision.
Our personal experience with the design and build quality suggests a preference for the smaller and more compact BenQ HT4550i. However, the convenience of powered focus and zoom in Epson 5050UB shouldn't be overlooked.
Resolution and Brightness
Boasting a 3840×2160 resolution, the BenQ HT4550i is a true 4K UHD projector. This high resolution is backed up by a brightness of 3,200 ANSI Lumens, ensuring that the picture quality is clear, even in a moderately lit room.
The Epson 5050UB, on the other hand, offers 1920×1080 resolution with 4K enhancement through pixel shifting. This means it's not true 4K, but the projector does a great job of upscaling content to near-4K quality. The brightness of the Epson 5050UB is lower, at 2,600 ANSI Lumens.
When comparing the resolution and brightness, our real-life experience favored the BenQ HT4550i due to its true 4K capabilities and higher brightness.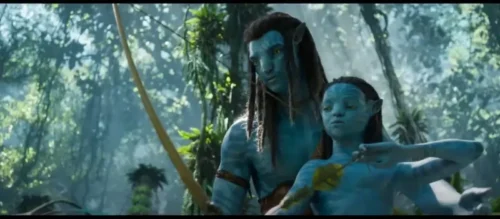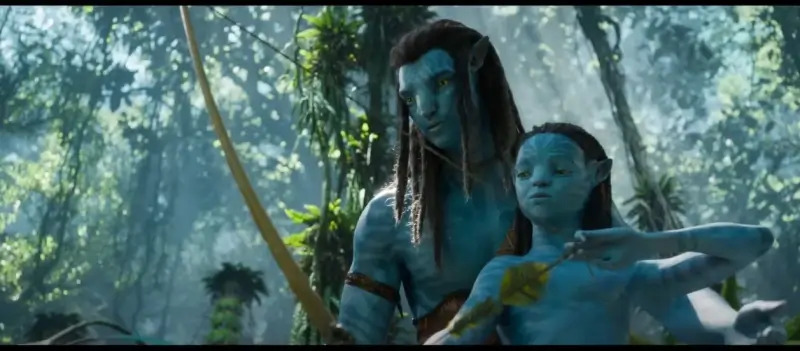 Color Processing and Input Lag
The BenQ HT4550i uses a 10-bit color processing system, ensuring a broad color spectrum and high-quality image detail. With an input lag of 17.9ms at 4K/60 and 1080p/60, it's impressive for both movies and gaming.
The Epson 5050UB also employs 10-bit color processing. However, it falls a bit short in the input lag department, with a 22.5ms input lag at 4K/60, and 28ms at 1080p/60.
Our gaming experience was smoother on the BenQ HT4550i, due to its lower input lag. However, the color processing was equally impressive on both devices.
Lamp Life and Noise
One advantage of the BenQ HT4550i is its LED light source, which offers a long lifespan of 20,000 hours and up to 30,000 hours in Eco mode. The projector generates 32 dB of noise, and this reduces to 28 dB in Eco mode.
Software and Streaming
The BenQ HT4550i provides an excellent user experience with its Android operating system. The embedded Google Assistant feature makes navigation smoother and hands-free. The HT4550i's Android TV dongle lets you stream over 700,000 shows and movies from popular online platforms. We appreciated the convenience of accessing our favorite content directly from the projector. It's a significant point in favor of the HT4550i, as it eliminates the need for an external streaming device, which can be a considerable benefit for those who value simplicity.
The Epson 5050UB, on the other hand, does not have an in-built streaming service. This means users will have to connect an external device like Roku, Apple TV, or an Amazon Fire Stick for streaming services. This isn't necessarily a drawback if you already own one of these devices and prefer their interfaces.
While we enjoyed using the Android OS on the HT4550i, some users may prefer to stick with the streaming devices they're familiar with, which may give the 5050UB an advantage in this regard.
Brightness and Color Accuracy
In terms of brightness, the BenQ HT4550i shines with its 3,200 ANSI lumens, which outperforms the Epson 5050UB's 2,600 lumens. This gives the HT4550i an advantage in rooms with ambient light, as its images remain vibrant even when not in total darkness.
However, it's not all about lumens. While the HT4550i is brighter, the Epson 5050UB excels in color accuracy. The 5050UB's 3LCD technology ensures that it displays 100% of the RGB color signal for every frame, providing a wider color gamut and exceptional color accuracy.
Furthermore, Epson's Precision Lens Technology, with its 15-element precision glass structure, offers excellent image clarity and edge-to-edge focus uniformity. While the BenQ HT4550i also provides stunning, accurate colors thanks to its professionally tuned ISF and THX-certified CinematicColor technology, we found the colors on the 5050UB to be richer and more vivid in our side-by-side comparisons. You might be interested in this comparison: BenQ HT4550i vs X3000i
Contrast Ratio and Black Levels
Contrast ratio is a critical factor to consider when looking at projectors. A higher contrast ratio allows for deeper blacks and more nuanced shading, which can make a big difference in image quality, especially during dark scenes.
Here, the Epson 5050UB truly shines with an impressive dynamic contrast ratio of 1,000,000:1, significantly outperforming the HT4550i. In our tests, the deep blacks and subtle shading on the 5050UB added depth and dimension to the viewing experience.
The 5050UB's Epson UltraBlack Technology further enhances this experience. By controlling the polarization of light, Epson effectively suppresses stray light within the signal, creating striking black levels.
The BenQ HT4550i, while lacking the impressive contrast ratio of the Epson, does offer Leading Local Contrast, Dynamic Black, and Tone Mapping features, enhancing bright and dark details within each image zone. While effective, we felt the Epson still delivered deeper blacks in our viewing experience.
Lens and Zoom Features
The Epson 5050UB excels with its 2.1x powered zoom and powered focus, making it versatile and user-friendly in different setups. Its lens shift capacity is impressive, providing a greater range of placement options. However, the projector is considerably larger and heavier than the HT4550i, which could be a factor depending on your available space.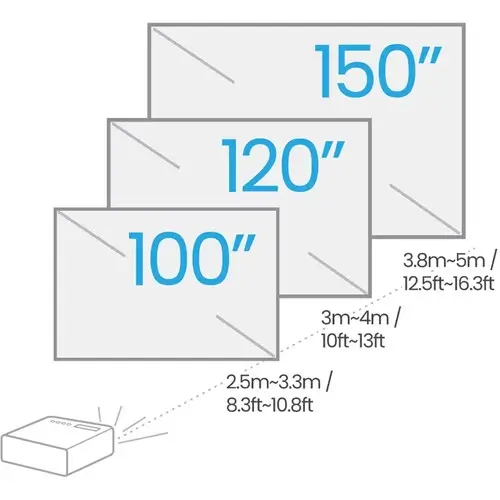 On the other hand, the BenQ HT4550i has a 1.6x manual zoom and focus, which may not offer the same flexibility as the Epson's powered options. However, it does have automatic vertical keystone correction, a feature not found in the 5050UB, which can be handy for quick setup or if you're planning to move the projector regularly. Additionally, its smaller size and weight make it more portable than the 5050UB, which could be a significant advantage if you're considering a mobile setup or if your space is limited.
Gaming Performance
Both projectors are capable of providing an immersive gaming experience, but they have different strengths. The BenQ HT4550i offers a Game Mode, which enhances dark scenes' details and sharpens the image to spot enemies hiding in the shadows. It also has a lower input lag (around 33ms), which is essential for gamers.
The Epson 5050UB doesn't provide a specific gaming mode, and its input lag is a bit higher at around 50ms. However, its superior contrast ratio and color accuracy could make games look more vibrant and detailed.
Price
As of our review date, the Epson 5050UB comes with a higher price tag compared to the BenQ HT4550i. The exact prices can vary depending on your location and any potential sales or discounts, so we recommend checking the current prices from a reliable retailer or directly from the manufacturers.
Conclusion
The BenQ HT4550i and the Epson 5050UB are indeed superb projectors, each commanding its own realm of brilliance. The HT4550i shines with its brighter projection, top-tier smart features, and the advantage of a more approachable price tag. Meanwhile, the 5050UB stands out with unparalleled contrast and color accuracy, an impressive range of lens shift and zoom capabilities, and undeniably provides a traditionally cinematic experience.
However, when evaluating the best overall choice, we lean towards the BenQ HT4550i. It's an ideal choice for those seeking an intelligent, versatile projector that doesn't compromise on brightness and is budget-friendly. Although the Epson 5050UB boasts superior image quality and a potentially more immersive experience, these benefits come with a heftier price tag.
Ultimately, while both projectors have a lot to offer, the BenQ HT4550i, with its blend of performance, smart features, and cost-effectiveness, emerges as the superior choice for most viewers. As always, your selection should align with your unique viewing requirements, preferences, and budget.