BenQ is releasing a new line of home theater projectors throughout 2023, and we are excited. With the promise of accurate colors, crisp details, and smart features, these projectors appear to be a step above the competition. One projector catching our eye is the HT4550i. It has a slim, sleek design that houses a ton of innovative technology. We can't wait to see how the projector performs during our tests.
Ready to find out more about this home theater projector? Keep reading our BenQ HT4550i review and see if this is the projector you've been waiting for. Check the Latest Price on Amazon Now!
BenQ HT4550i Review of Specs:
| | BenQ HT4550i |
| --- | --- |
| | |
| Resolution | 3840x2160 |
| Dynamic Contrast | 3,000,000:1 |
| Brightness (Lumens) | 3,200 ANSI |
| Lens | 1.3x manual zoom & focus |
| Input lag | 8.7ms-21ms |
| Throw Ratio | 1.15:1 - 1.5:1 |
| Screen size | 30" - 300" |
| Speakers | 5.0 Watts Mono |
| Today's Best Price | |
Design and Build
Upon unboxing the BenQ HT4550i, the first thing that caught our attention was its sleek and modern design. The projector is encased in a matte black finish, making it an attractive addition to any home theater setup. Despite its compact size, it packs an array of innovative features that far surpassed our initial expectations. Its build quality also gives the impression of durability and longevity.
This design isn't just about aesthetics; it's also about practicality. The HT4550i has an intuitive layout with clearly labeled ports and buttons, making it user-friendly even for those unfamiliar with projector setups. Furthermore, the projector is surprisingly lightweight at 14.55 lbs, making it relatively easy to install and adjust.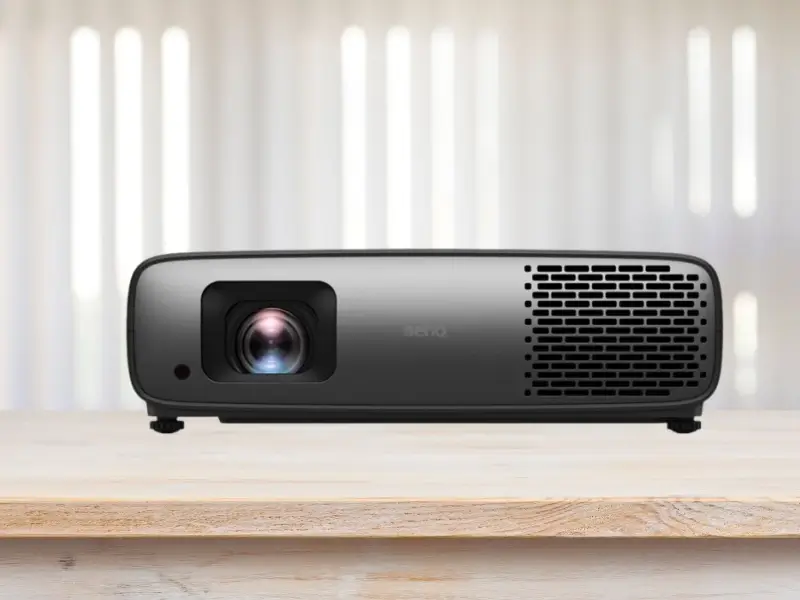 Light Source and Lifespan
A standout feature of the BenQ HT4550i is its impressive 4LED light source. With a lifespan ranging from 20,000 hours in Normal mode to an impressive 30,000 hours in ECO mode, the HT4550i promises to deliver years of entertainment without the need for frequent bulb replacements. This, we found, is a significant advantage over many competing projectors in the same price range, which typically require more frequent and costly bulb changes.
In addition to cost savings, the long lifespan of the light source also means less hassle and interruption to your viewing experiences. This makes the HT4550i not just a great option for movie lovers, but also a reliable workhorse for presentations and other business-related uses. Check how it performs against the Epson 5050UB.
Image Quality and Color Performance
The BenQ HT4550i truly shines when it comes to image quality. Boasting a native 4K UHD resolution (3840×2160), the projector provides four times the detail of Full HD. This translates into sharper and more detailed images, making every viewing experience incredibly immersive.
The color performance of the HT4550i is nothing short of spectacular. Thanks to its 100% coverage of both the DCI-P3 and Rec.709 color gamuts, the colors produced by the HT4550i are not only vivid but also incredibly accurate. Whether we were watching animated films bursting with vibrant hues or nature documentaries filled with subtle shades of green, the HT4550i never failed to deliver breathtakingly beautiful and lifelike colors.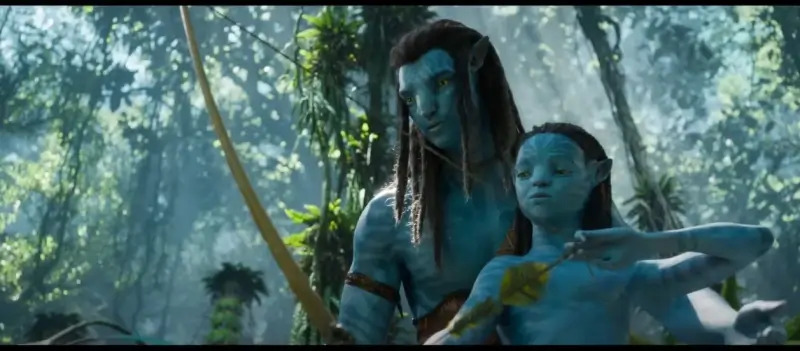 HDR and Contrast Performance
We were particularly impressed with the HT4550i's HDR-PRO technology. By using Optimal HDR Tone Mapping, Leading Local Contrast Enhancer, and Dynamic Black technologies, it greatly enhances the HDR performance, resulting in a more dynamic and realistic image. It adjusts the brightness and contrast of each scene to bring out every detail, making the dark parts of the image darker and the bright parts brighter.
This technology also works hand in hand with the projector's incredible contrast ratio of up to 3,000,000:1. Together, they enable the HT4550i to deliver deep blacks and bright whites simultaneously, thereby creating a more nuanced and three-dimensional picture.
Connectivity and Smart Features
In terms of connectivity, the HT4550i offers a wide range of options, including multiple HDMI ports, a LAN (RJ45) port, and two USB Type A ports. This makes it easy to connect the projector to various devices, such as gaming consoles, laptops, or streaming devices.
However, the built-in Android 11.0 system is what truly sets the HT4550i apart. With it, users can easily access and stream content from popular platforms like Netflix and YouTube directly from the projector. We found this to be an extremely convenient feature, eliminating the need for external streaming devices. Furthermore, the built-in Wi-Fi capabilities ensure a smooth and stable streaming experience, which we thoroughly enjoyed during our testing.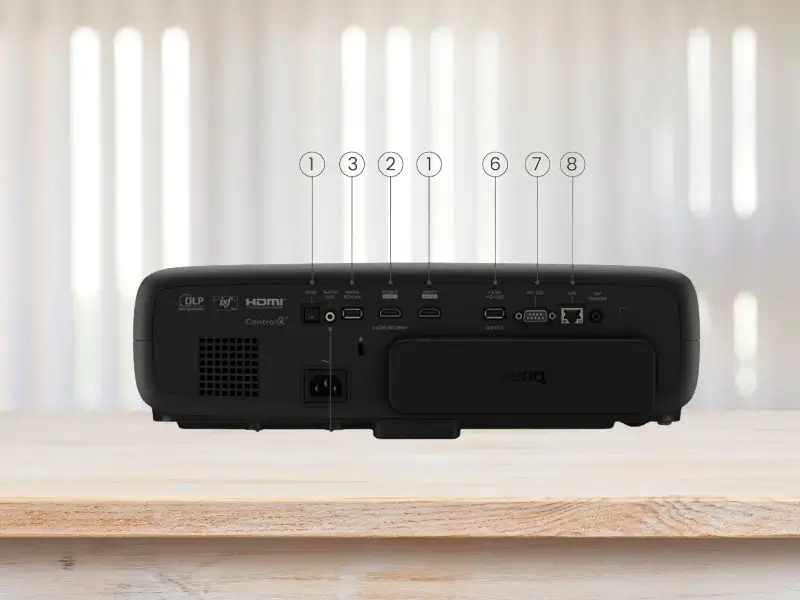 Zoom, Lens Shift, and Installation Flexibility
The HT4550i offers an impressive level of installation flexibility. With a 1.3X big zoom feature and a lens shift capability, we found setting up the projector in our testing room to be a breeze. Regardless of the room size or any obstacles in the room, we could easily adjust the image to fit perfectly onto our screen.
The zoom feature allows for considerable flexibility in terms of projector placement, without compromising image quality. Meanwhile, the lens shift feature provides a convenient way to adjust the image vertically or horizontally without having to move the entire projector. These features combined make the HT4550i an excellent choice for various room configurations and setups.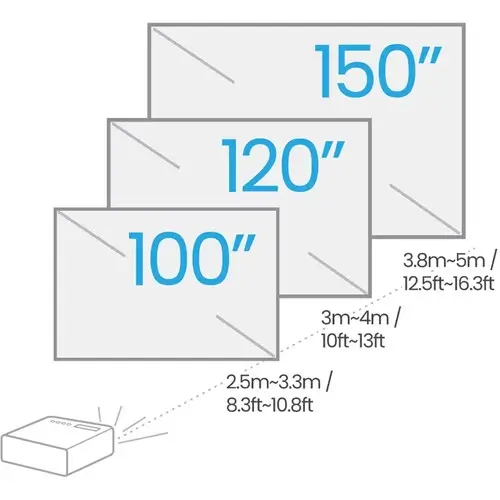 Sound Performance and External Audio Solutions
When it comes to audio, the BenQ HT4550i is equipped with a built-in 5W Chamber speaker that delivers clear and decent quality audio. For casual viewing, this might be sufficient. However, for a more immersive audiovisual experience, we recommend pairing the projector with an external sound system.
During our testing, we connected the HT4550i to a Dolby Atmos surround sound system via the projector's HDMI Audio Return feature, and the result was spectacular. The audio was rich and immersive, enhancing our movie-watching experience significantly.
Acoustic Noise Level
One minor drawback we encountered during our testing was the acoustic noise level. In typical mode, the HT4550i emits a noise level of around 32 dB, which, while not overly distracting, was noticeable in quieter scenes. However, in Eco mode, the noise level drops to 28 dB, which we found to be much quieter and less distracting.
Gaming Performance
For gaming enthusiasts, the HT4550i's low input lag is a game-changer. With an input lag as low as 8.7ms (1080P 240Hz), the projector ensures a smooth and responsive gaming experience. During our testing, we noticed no noticeable delay or lag in fast-paced games, enhancing our gaming experience significantly.
The HT4550i also supports a wide range of resolution inputs, from VGA (640 x 480) to 4K UHD (3840 x 2160), providing gamers with the flexibility to play games in various resolutions depending on their specific requirements and preferences.
Smart Home Integration and Control
The BenQ HT4550i is more than just a projector; it's a smart home device. With its built-in Android TV dongle, we were able to seamlessly integrate the projector into our smart home setup. This allowed us to control the projector using voice commands, enhancing its usability and convenience significantly.
Speaking of controlling the projector, the included remote control was intuitive to use, with clearly labeled buttons and a comfortable grip. We particularly appreciated the dedicated buttons for popular streaming services, which allowed us to access our favorite content with just a single press of a button.
Accessories and Setup
In terms of accessories, the HT4550i comes with a Quick Start Guide, which we found straightforward and easy to follow. The guide clearly outlines the setup process, making it easy even for those who are new to home theater projectors.
We also appreciated the inclusion of a universal ceiling mount option, although this is sold separately. This adds another layer of installation flexibility, especially for those who prefer a ceiling-mounted setup.
Pros & Cons of the BenQ HT4550i 4K HDR Home Theater Projector
Pros
Excellent 4K UHD resolution with fantastic color accuracy.
Low input lag ideal for gaming applications.
Long-lasting 4LED light source offers substantial lifespan.
Built-in Android 11.0 supports various streaming platforms.
Features like 1.3X big zoom offer installation flexibility.
Cons
Notably audible noise level during operation.
Built-in speaker is adequate, but not immersive.
Conclusion
In conclusion, our in-depth review of the BenQ HT4550i reveals an impressive piece of technology that delivers top-notch performance across the board. From its great image quality to its long lamp life, comprehensive connectivity options, smart features, and installation flexibility, the HT4550i sets a high bar for what one can expect from a home projector in this price range. Discover the Price on ProjectorScreen.com
Sure, there were minor drawbacks like a slightly elevated noise level in its typical mode, and for a truly immersive audio-visual experience, an external sound system is advisable. However, these minor hiccups in no way diminish the overall excellence of this device.
Related Articles: