The world of 4K projectors is getting ever more crowded, and that can make it hard to tell which ones are worth the investment. Just because the resolution is high doesn't mean a projector is right for your space. You also need to think about factors like the brightness, contrast ratio, and overall performance. With the Epson 5050UB, you get a reliable and versatile home theater projector that's also an excellent option for gaming. This means it's also a great choice for living rooms and media rooms. That said, no projector is perfect for everyone. In this Epson 5050UB review, we'll break down its features, strengths, and weaknesses to help you decide if it's the best option for your home. Let's get started (>>> Find out how much it cost on Amazon)!
Epson 5050UB Review of Main Specs:
| | Epson 5050UB |
| --- | --- |
| | |
| Resolution | 1080p (4K with pixel shifting) |
| Brightness (Lumens) | 2,600 |
| Contrast Ratio | 1,000,000:1 |
| Throw Distance | 10.3' – 29.4' |
| Input lag | 27ms |
| Screen size | 50" – 300" |
| Price | BHPhotoVideo.com |
Picture Quality
The 3-chip design of the Epson 5050UB is ideal for getting the best picture quality. Along with full HDR10 color processing, it gives you 100% color accuracy in each frame. It also eliminates issues with inconsistent brightness or rainbow effect, letting you enjoy what you're watching. Epson's proprietary Ultra Black technology uses advanced light filters to enhance the dynamic contrast ratio. You'll get the same detail and color accuracy in dark and bright areas of the screen.
The advanced image processing on the Epson 5050UB further improves the viewing experience by smoothing transitions between frames. That both keeps the on-screen movement smooth and prevents image problems caused by compression and signal loss. like color blocking.
One thing we should point out: the Epson 5050UB uses pixel shifting to produce the number of pixels needed for 4K resolution. This means that, while the image is more detailed than those from projectors at 1080p or lower, it's not quite as detailed as other 4K projectors. That said, you'll only notice the difference in an intense side-by-side comparison, and we have no complaints about the sharpness of the image with the Epson 5050UB.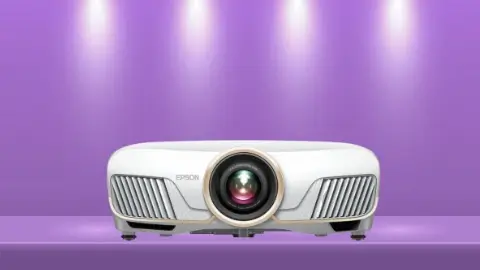 Pros
Excellent picture quality and color accuracy
Smooth on-screen transitions with real time processing
High dynamic contrast ratio with Ultra Black technology
Good range of inputs for all your content sources
Low input lag makes it suitable for gaming
Cons
A bit dim to use in well-lit rooms
Long throw distance
Installation and Flexibility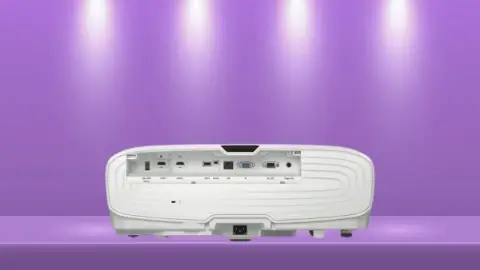 Here's where the Epson 5050UB has some limitations. First of all, its throw distance is on the long side, even compared to other standard throw projectors. A 100" screen will need between 10 and 13 feet of distance, depending on how you set the zoom. That could limit how large of an image you can get in smaller rooms.
The lamp brightness of the Epson 5050UB may also be a concern in some spaces. It puts out 2,600 lumens, which is plenty in a dark room like a home theater but not bright enough to compete with most ambient light. You don't need to use it strictly for lights-off viewing, but you will need to limit light levels, especially in rooms with lots of windows.
These issues aside, the Epson 5050UB is relatively easy to get set up. Ceiling-mounted set-ups are recommended, given the long throw distance. Both zoom and lens shift are included to help align the image, so it's easier to position correctly than many projectors. There's also a robust array of connection options available, including 2 HDMI ports and a USB port, and a PC hookup. Find our comparison vs Optoma UHZ50
Performance
We've already mentioned the high video processing rate, which helps with performance both for gaming and home theater use. Gamers especially will appreciate the low input lag of the Epson 5050UB. It averages about 26ms, which is quick enough you'll never be more than a single frame behind the action—and that will feel instantaneous, from a player perspective. If you are looking for a gaming projector, find the top options here.
What's the Bottom Line?
If you need a short throw or a bright lamp, other projectors will suit your needs better than the Epson 5050UB. Having said that, its impressive picture quality and gaming performance make it a versatile choice, as long as you have the space and sufficient light control in your viewing room. Overall, the Epson 5050UB is a reliable, solid projector, and a good value for the price (>>> Check how much it cost on ProjectorScreen).
REFERENCES AND FURTHER READING: