Epson's line of home theater projectors are top-performers for those who need a versatile, high-performing way to watch movies and play games. With the release of their 6050UB, you're probably wondering just how it compares to the other entries in their product line, which have established a reputation for quality. Comparing the Epson 6050UB vs 5050UB, they certainly have a lot of similarities. So what's the difference between them, aside from the color of the housing?
Let's break down the details so you can see for yourself. Taking all factors together, the Epson 6050UB is the better choice of the two in our opinion (>>> Check price on Amazon).
Epson 6050UB vs 5050UB Side by Side Comparison:
| | Epson 6050UB | Epson 5050UB |
| --- | --- | --- |
| | | |
| Resolution | 1920x1080 4K w/pixel shifting | 1920x1080 4K w/pixel shifting |
| Brightness (Lumens) | 2,600 ANSI | 2,600 ANSI |
| Contrast Ratio | 1,200,000:1 | 1,000,000:1 |
| Throw Distance | 10.3' - 29.4' | 10.3' - 29.4' |
| Lens | 2.1x Powered zoom & Powered focus | 2.1x Powered zoom & Powered focus |
| Screen size | 50" - 300" | 50" - 300" |
| Input lag | 27ms | 27ms |
| Price | ProjectorScreen.com | BHPhotoVideo.com |
Installation and Set-up
The Epson 5050UB and 6050UB are both standard-throw projectors, so you will need a good amount of space to use either one—around 13 feet for a 100" screen.
The good news is if you have the space both are relatively easy to install. Both projectors include a zoom, vertical keystone correction, and both horizontal and vertical lens shift, so you'll get a lot of options for fine-tuning your alignment.
Given this longer throw, most people will want to ceiling-mount these projectors. Epson anticipated this with the 6050UB, including a ceiling mount with the projector.
This is a nice time-saver, and great for projector beginners who might not know exactly which mount is best for this model.
Easier installation: Epson 6050UB
Picture Quality
The pixel-shifted 4K resolution on the Epson 6050UB and Epson 5050UB results in about 4.15 million on-screen pixels. That's about twice what you'd get in standard full HD, and about half the 8.3 million pixels of true native 4K.
In layman's terms, that means it's not quite as sharp as true 4K but is still plenty detailed for most viewers.
Both of these projectors have high color accuracy, as well. They can achieve the newest P3 color standard, a rarity for lamp-based projectors.
The main difference between the pictures is the contrast ratio. Side-by-side, the Epson 6050UB has noticeably richer black levels, which in turn makes the colorful areas more vibrant.
Better picture quality: Epson 6050UB
Gaming Performance
Input lag is the statistic gamers pay the most attention to. This tells you how much delay there is between your input on the controller and what you see on the screen.
While professional gamers look for something down around 16ms, anything under 30ms is considered acceptable for competitive fast-paced games like first-person shooters.
Along with the input lag, the processing speed of a projector is crucial for gaming. With both the Epson 5050UB and 6050UB you'll get a full 18 GHz through HDMI.
That lets you get a full 60 frames per second for either movies or gaming, preventing blurring, compression, and other image issues from impacting your play.
Better projector for gaming: Epson 5050UB
---
Epson 6050UB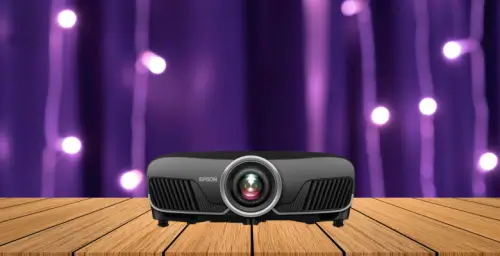 The Epson 6050UB is the newest and most advanced home theater projector from the company. It has a 3-LCD chip design that achieves 4K resolution through pixel shifting.
Along with that, it's one of the first projectors to achieve the P3 color standard used in commercial theaters. The result is a sharp, vibrant picture with an impressively high contrast ratio for remarkable black levels and picture depths.
Versatility is another point in the favor of the Epson 6050UB. Its high frame rate and low input lag are great news for gamers, and its lamp is bright enough for lights-on playing and viewing without worrying about losing detail and color.
We also appreciate the build quality of the Epson 6050UB. Along with a motorized cover for the lens, there are dust covers on the rear fan ports that protect the projector's inner workings.
That attention to detail extends to the calibration and settings. It has tone mapping controls that let you adjust the color easily and 10 customizable lens memory settings for quickly switching between aspect ratios. Click here for our full Epson 6050UB review.
Pros
Supports both HDR10 and HLG standards for color
Easy to install and calibrate
Low lag and high frame rate for gamers
10 Lens Memory settings for quick, easy adjustments
Comes with extra bulb and ceiling mount
Dust cover on rear ports protects long-term health of projector
Cons
---
Epson 5050UB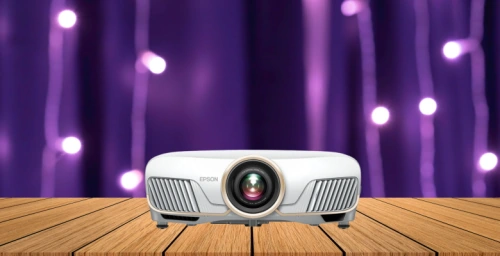 From a picture quality standpoint, the Epson 5050UB is almost as good as the 6050UB above. It has the same pixel-shifted 4K resolution and 3 LCD design. In addition, it can achieve the same P3 color standard as the Epson 6050UB.
If you're looking at them side by side, you can see the contrast isn't quite as strong on the Epson 5050UB, resulting in less depth and detail in darker areas of the screen. That said, it still performs better in this regard than most projectors on the market.
The lamp life of the Epson 5050UB is similar to that of the 6050UB, which is on the low side. Unlike the 6050UB, though, the Epson 5050UB doesn't come with a spare lamp, nor does it include the rear dust covers. Because of this, it will need more careful maintenance to maintain its performance in the long-term.
One advantage of the Epson 5050UB is that it performs slightly better as a gaming projector. It was the first Epson projector to include 18 GHz support for all inputs, and with the right settings you can get an even lower input lag than what you'll find on the 6050UB.
This makes it an ideal choice for media rooms and other multi-purpose spaces, especially since the lamp will work well in low to moderate ambient light levels. Our full review of the Epson 5050UB can be found here.
Pros
Great on-screen detail and color accuracy
Fast processing from all input sources
Good range of image adjustment and set-up options
Low lag is ideal for gamers
Better value
Cons
Needs more maintenance than the 6050UB
---
 What's the Verdict?
From a picture and performance standpoint, the Epson 6050UB is the better projector—by a hair. If your goal is to get the absolute best performance, it's the better choice (>>> Check on ProjectorScreen.com).
The bottom line is, these are both great options for both gaming and home theater use. Anyone who wants a cinema-quality home theater projector will be happy with either of these impressive models.
REFERENCES AND FURTHER READING: