The Epson Pro Cinema 6050UB is the most advanced home theater projector the company has put out to date. It features proprietary innovative technology to improve the image quality and overall viewer experience. But does the Epson 6050UB live up to this promise in practice—and is it a good value at the price?
The short answer is that the Epson 6050UB is a worthwhile investment for most home theaters. >>> Find the Current Price on Amazon As is the case with most projectors, though, it won't be the best choice for everyone. Let's break down its features to show you what we mean.
Epson 6050UB Review of Main Specifications:
| | Epson 6050UB |
| --- | --- |
| | |
| Resolution | 1920x1080 4K w/pixel shifting |
| Brightness (Lumens) | 2,600 ANSI |
| Contrast Ratio | 1,200,000:1 |
| Throw Distance | 10.3' - 29.4' |
| Lens | 2.1x Powered zoom & Powered focus |
| Screen size | 50" - 300" |
| Input lag | 27ms |
| Price | ProjectorScreen.com |
Installation
Epson suggests professional installation for the 6050UB, though in our opinion this won't be necessary for most people. It comes with a ceiling mount and relatively detailed set-up instructions. It also has a vertical keystone correction and both horizontal and vertical lens shift, so you'll be able to fine-tune the alignment once you have it mounted.
The throw distance on the Epson 6050UB is fairly long, even compared to other standard-throw projectors—you'll need about 13 feet for a 100" screen. This longer throw gave us concerns initially that the 2,600 lumen lamp wouldn't be bright enough. While large windows and bright lights can wash the picture out, it fares well in low to moderate ambient light levels.
We also appreciate that you can connect a wide range of content sources to the Epson 6050UB. It has 2 HDMI inputs as well as 3 USB ports and a VGA in. That's great news for people who watch movies and TV from a range of different sources, and even lets you watch videos straight from thumb drives.
Pros
Vibrant, true-to-life colors
Powerful 12-bit processing eliminates compression artifacts
High contrast ratio with UltraBlack technology
Dynamic Iris enhances lamp brightness
Wide range of input and image alignment options
Full HD 3D support
Comes with ceiling mount and back-up bulb included
Cons
Shorter lamp lifespan than many projectors
Long throw distance
Picture Quality
If you're looking for cinema-level picture quality, the Epson 6050UB delivers. It uses a 3-chip design with a powerful ZX digital image processor, which result in smooth on-screen action with no annoying compression artifacts like blocking or banding.
One great thing about the Epson 6050UB is you'll get the same detail and picture quality from dark areas of the screen as you will brighter and more colorful images. This is thanks in large part to Epson's proprietary Ultra Black technology, though the use of a Dynamic Iris lens helps here, as well.
The Epson 6050UB uses pixel shifting to achieve a 4K resolution. In terms of detail and clarity, this falls between full HD and native 4K. The advantage of this is you'll get an equally high image quality for older lower-resolution shows as you will for the latest 4K content. Click her ff you are looking for a real 4K projector It also has full 3D support, which it displays in true HD.
Something else you'll appreciate is how easy it is to customize the picture settings to your content. The 6050UB has a wide range of both pre-set profiles and adjustable parameters, and they're all easy to both find and understand thanks to the intuitive menu and included instruction manual.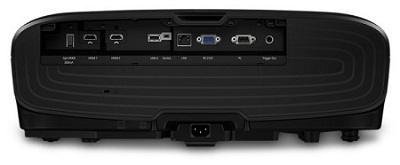 Durability
The build quality of the Epson 6050UB is high. Epson stands behind their work, too, and the 6050UB is covered by a 3-year limited warranty. You can buy this projector with the peace of mind to know it will serve you well in the long-term.
While the projector itself made to last, the lamp is another story. It has a maximum lifespan of around 5,000 hours in eco mode, which drops to roughly 3,000-3,500 hours in higher performance modes. The good news is, you'll get a spare lamp included with the projector. There are also features to protect the lamp and get the most out of it you can, like the powered lens shutter that limits scratches and dust when it's not in use.
Epson 6050UB: The Verdict
There is a lot to love about the Epson 6050UB. Those with dedicate home theaters looking for the ultimate color and contrast technology will be floored by its performance. It can also function well in common spaces like living rooms and media rooms, since it doesn't require a completely dark space to operate. >>> Find the Current Price on ProjectorScreen
Due to its long throw ratio, the Epson 6050UB isn't the best choice for those with smaller spaces. This caveat aside, though, we'd recommend this projector to the majority of users. With it's easy set-up and high picture quality, it checks all the boxes on most people's list of requirements for a top-notch home theater projector
REFERENCES AND FURTHER READING: