Epson's Home Theater line are designed to bring professional-level, big-screen entertainment in an affordable, home theater projector. If you're wondering the difference between the Epson 6040UB vs 6050UB, the 6050UB is the updated version of the popular 6040UB.
The Epson 6040UB was already an impressive multi-use projector, and the company has further enhanced the performance of this popular model with the Epson 6050UB. This makes it the better choice for most users, especially since it includes some helpful accessories. (>>> Find on Amazon)
Epson 6040UB vs 6050UB Side by Side:
| | Epson 6040UB | Epson 6050UB |
| --- | --- | --- |
| | | |
| Resolution | 1920x1080 4K w/pixel shifting | 1920x1080 4K w/pixel shifting |
| Brightness (Lumens) | 2,500 ANSI | 2,600 ANSI |
| Contrast Ratio | 1,000,000:1 | 1,200,000:1 |
| Input lag | 28ms | 23ms |
| Throw Distance | 10.3' - 29.4' | 10.3' - 29.4' |
| Screen size | 50" - 300" | 50" - 300" |
| Speakers | No | No |
| Price | Check on Amazon | ProjectorScreen.com |
Picture Quality
Both the Epson 6040UB and the 6050UB have an advanced 3LCD chip design and provide a pixel-shifted 4K resolution, with Dynamic Iris and UltraBlack technology for a high on-screen contrast. With support for HDR10, the picture is true to life with Delta Level Color Accuracy.
The Epson 6050UB's superior processors give it the advantage when it comes to the overall image quality. Its H2 HDR Processer and ZX Digital Imaging Processor keep the on-screen action smooth, with the same crisp detail no matter what you're watching.
Better picture quality: Epson 6050UB
Installation Ease
The Epson 6040UB gives users good installation flexibility. The E-Series motorized lens can be shifted horizontally up to 47% and vertically up to 96%, so it's not too exacting when it comes to the placement of your ceiling mount. Choosing a ceiling mount shouldn't be too hard since it's compact and weighs about 24 pounds—not light enough to be considered portable but well within the weight limit of universal mounts.
One nice thing about the Epson 6050UB is that it comes with a ceiling mount. That means no guessing about which mounts will fit and lets you get right to the installation.
Easier installation: Epson 6050UB
Gaming Performance
Professional gamers look for input lags down around 16ms or lower, but for most players anything under 30ms is fast enough you won't notice any kind of lag. The Epson 6050UB and 6040UB both record input lags in the mid 20ms, giving gamers the responsiveness they need for first-person shooters and other games that rely on fast reflexes.
The superior processors that give the Epson 6050UB an edge for picture quality are just as beneficial when it comes to gaming. These ensure you won't experience on-screen blur and other image issues that can interrupt your playing sessions.
Better gaming performance: Epson 6050UB
---
Epson 6040UB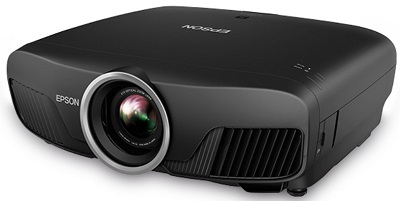 The Epson Home Cinema 6040UB uses a 3LCD chip design to produce the image. This eliminates the image issues associated with color wheels, for a smooth and accurate picture all viewers can enjoy. It also supports HDR10 image technology, with UltraBlack enhancement for even greater contrast, adding depth and dimension to the picture.
The pixel-shifting technology used in the Epson 6040UB doubles the on-screen pixels of full HD resolutions. While it's not quite as sharp as true 4K, it still gives you a remarkably true to life image with excellent detail and clarity at all image sizes. It also has full 3D support and can play 3D content directly from Blu-ray players and other content sources without any extra accessories.
The Epson 6040UB is rated at 2,500 ANSI lumens of brightness and has a standard throw, producing a 100" image with around 10-12 feet of distance. This does limit its flexibility somewhat in terms of the space—you'll need a good-sized room to get a big picture, and you'll want to use light-control measures in rooms with windows.
As long as you have the space to suit it, though, the 6040UB is fairly quick and easy to install. The motorized lens allows for both horizontal and vertical lens shift, with a digital keystone to correct the geometry and a wide 2.1x zoom. This makes it less finnicky with its placement than other home theater projectors and makes it a user-friendly choice.
Pros
Wide color gamut with high accuracy
Dynamic Iris for enhanced brightness and contrast
Flexible installation with 3-axis motorized lens
Low enough input lag for gaming
Full HD 3D support
Cons
Resolution isn't true 4K
Not bright enough for well-lit rooms
---
Epson 6050UB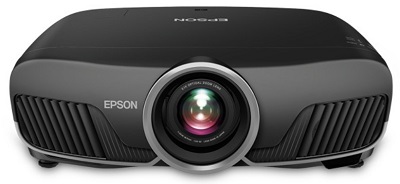 The Epson Pro Cinema 6050UB is the updated version of the 6040UB above. Like it's predecessor, its standard throw distance means most users will want to ceiling-mount it. Epson planned for this, including a ceiling mount with the projector. Its motorized lens has wide lens shift and zoom options, so you'll be able to set it up quickly once you get it out of the box.
The S2 Pixel-Shift Processor and 3-chip display of the Epson 6050UB produce a detailed and accurate picture. It uses an enhanced processor compared to previous designs, giving it a faster refresh rate for smoother on-screen action with no motion blur.
This advanced processor is good news for gaming as well as watching sports and action movies. The 6050UB has a relatively low input lag, as well, and is responsive enough for reflex-based games from the latest generation consoles.
The only place the Epson 6050UB falls a bit short in our opinion is its lamp. At 2,600 lumens, it's bright enough for some lights-on viewing but isn't powerful enough to use in well-lit spaces. The bulb has a relatively short lifespan, as well, even when you use the projector in eco mode. While it's nice that it comes with a spare bulb, this means it also needs more maintenance than most home theater projectors. For our more in-depth review of the Epson 6050UB click here.
Pros
Enhanced resolution and color with ZX Digital Imaging processor
Wide 3LCD color gamut
Exceptional contrast with UltraBlack and Dynamic Iris
Comes with a ceiling mount and spare bulb
Excellent for gaming or home theater uses
Robust alignment and image adjustment options
Cons
Long throw distance
Relatively short lamp lifespan
---
What's the Verdict?
Choosing a projector is just as much about finding one that fits your space as it is looking for the best stats. The long throw distance and lamp brightness of the Epson 6040UB and 6050UB do limit their use in small or bright spaces.
Between the two, the Epson 6050UB is the better overall performer, and will be an ideal option for many homes (>>> Check on ProjectorScreen). With full 3D support, high gaming performance, and a sharp, bright picture, it can take care of all your entertainment needs.