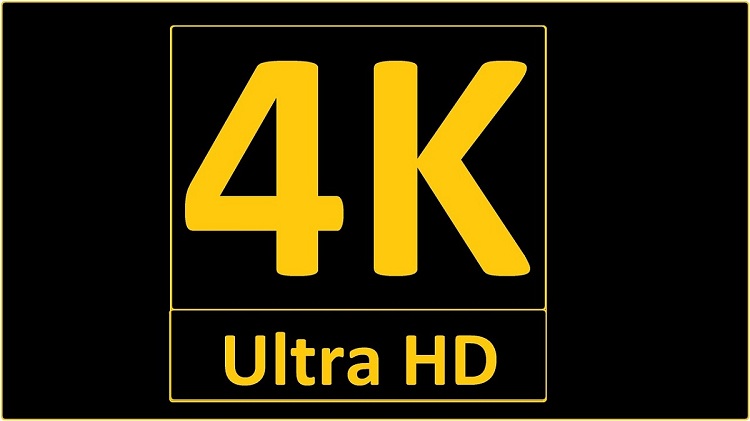 First, there was standard definition, then there was HD—and now there's 4K UltraHD. 4K is quickly becoming the standard resolution option for televisions, especially for higher-end versions from the top companies. Getting that same level of resolution from a projector has historically been a very costly endeavor. As the technology becomes more widely available, though, the price of getting it in your own home has dropped, and you can now find 4K projectors that are actually affordable for your average consumer. But what's the best 4K projector under 2000 dollars? We've sought to answer that question by reviewing five of our favorite choices on the list below. Read on to see which one we think is the overall best—and to find the perfect projector for your home theater.
Best 4K Projector Under 2000 – Top Picks for 2020
| | Optoma UHD51ALV | BenQ HT3550 | Optoma UHD60 | BenQ HT2550 4K | Optoma UHD50 |
| --- | --- | --- | --- | --- | --- |
| | | | | | |
| Measurements | 5.10" x 15.40" x 11.10" | 5.00" x 14.96" x 10.35 | 6.00" x 19.60" x 13.00" | 5.30" x 13.90" x 10.70" | 5.10" x 15.40" x 11.10 |
| Resolution | 3840x2160 | 3840x2160 | 3840x2160 | 3840x2160 | 3840x2160 |
| Brightness (Lumens) | 3000 | 2000 | 3000 | 2200 | 2400 |
| Contrast Ratio | 500,000:1 | 30,000:1 | 1000,000 : 1 | 10,000 : 1 | 500,000 : 1 |
| Input Lag | | 50ms | 56ms | 50ms | 57ms |
| Throw Distance | 3.9' - 26.6' | 3.2' - 16.4' | 4.3' - 30.5' | 7.7' - 32.1' | 3.9' - 26.6' |
| Image Size | 34.12" - 302.67" | 29.97" - 200.06" | 26.48" - 302.11" | 60.24" - 300.65" | 34.03" - 302.67" |
| Built in Speakers | 2 x 5.0 W | 2 x 5.0 W | 2 x 4W | 5W | 2 x 5W |
| Price | Find Best Price | Find Best Price | Find Best Price | Find Best Price | Find Best Price |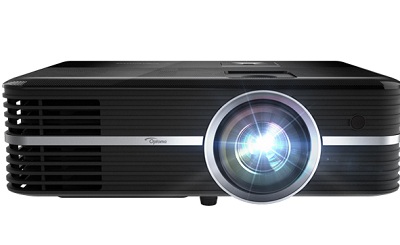 If you're looking for the most modern options from a projector under $2,000, the Optoma UHD51ALV is one you'll want to have on your radar. It outpaces most projectors in the price-point, from the native 4K resolution to the on-board smart functionality.
You can use the Optoma UHD51ALV with all the popular voice control services. It's surprisingly easy to integrate it into your smart home. And it's just as easy to fit it into your physical space, too. The throw ratio is relatively short, so you don't need a lot of space to get a massive screen. The only thing we missed was a keystone adjustment—you'll have to position it straight-on to the screen.
You can watch all the current video formats with this projector, too. It supports full 4K resolution and true 3D. The inclusion of HDR10 compatibility is really the icing on the cake.
If your main concern is image quality, the Optoma UHD51ALV will satisfy your needs. It's a great option for any modern home theater and an excellent value in the best projectors under-$2,000 category.
True native 4K resolution
Compatible with Amazon Alexa and Google Assistant voice control
High contrast ratio for deep, true blacks
Enhanced, rich, true-to-life colors
3D compatible straight from Blu-ray
Doesn't include keystone correction
Not bright enough for use in high ambient light
---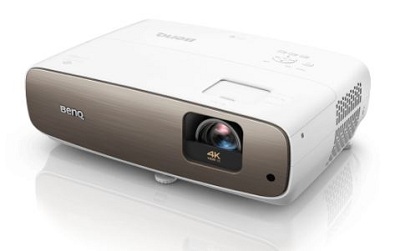 BenQ is a leading name in home theater projectors, so it's no surprise their name comes up a couple of times on this list. The HT3550 is an ideal option for designated home theaters. It's not the best projector if you have to contend with a lot of ambient light. For dark rooms, though, the picture and performance are both top-notch.
The BenQ HT3550 can work in rooms of any dimension. It has a short-throw ratio, a 1.3x zoom, and a vertical lens shift. They're calibrated at the factory so the image will be accurate straight out of the box. Setting it up is a breeze, and it comes with an array of different image modes so you can make the picture suit your content.
This is the kind of projector you'll want to leave in place once you set it up—while it's quick to adjust, it's not built for portability. As a designated home theater projector, though, it's well worth the investment. Click here to learn more about this projector.
10-element 4K lens gives a crystal-clear, sharp image
Multiple picture modes for more viewing options
Easy out of the box set-up
Flexible room placement options
High contrast ratio and color accuracy
Works best in dim to no light
---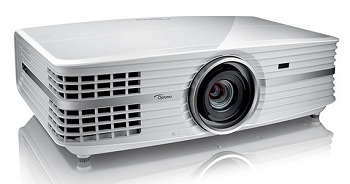 Optoma is another brand you've probably heard the name of if you've shopped for projectors before. They make a range of different projectors that are great for home use, one of which is this impressive 4K model. It not only gives you a brighter lamp and better contrast ratio than the Benq above, but it also costs a few hundred dollars less—definitely a strong contender for the best 4K projector under 2000. If you have a higher budget check the best 4k projectors list here.
The lamp on this projector uses some of the most advanced technology you'll find on the market. The DLP chip system means you don't have to do anything to align or set up the picture. The image you get will be sharp, clear, and detailed as soon as you unbox the projector, no matter the specifics of your viewing area. With a throw ratio of 2.22 (>>> Find out everything about top short throw projectors) and a screen as big as 140", along with vertical lens shift that makes it more flexible for different installations, it is a great option for big-screen viewing in pretty much any circumstance.
The most important thing is how the image looks, and this projector definitely looks great at any size and for any resolution. This is largely thanks to the UltraDetail technology that adds sharpness to the picture for impressively realistic images, no matter what the resolution of the content. The 3,000-lumen brightness ensures you'll be able to see that impressive image in any lighting conditions.
Great value at the price
Brightness of up to 3,000 lumens
Improved resolution of 1080p content as well as 4K UltraHD
Excellent color accuracy and contrast ratio
Vertical lens shift makes it more flexible
Long lamp life of 10,000 to 15,000 hours
Projector itself is on the larger side
Plastic casing feels cheap to some users
Optoma UHD60 4K Projector Definitive Review – Almost Perfect!
---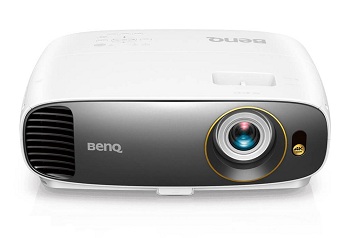 Most companies that have been working toward new innovations in projector technology focus on improving the projected image more than the physical object of the projector. While this is arguably the more important aspect of a projector, there's something to be said for improving the design. Where many high-end projectors are bulky, heavy, and difficult to install, the HT2550 from BenQ is surprisingly sleek and slim. This means it weighs less and takes up less space, making it easier to situate it in any room or situation.
Along with being one of the easiest home theater projectors to set up, this BenQ model also requires almost nothing in the way of maintenance. The lamp has an average life of over 15,000 hours, nearly ten times what you'll get from entry-level projectors, which could mean you never need to change it depending on how often you use your projector.
>>> Learn how to test projector's lamp
The projected image from this BenQ model is pretty incredible too, of course. It has HDR10 support and a proprietary auto HDR color system, along with a true 4K UltraHD resolution. There's a 1.2x zoom to make the best use of your space, giving you a clear image up to 200" wide depending on your placement. If what you want is a combination of ease and performance, this could be the best 4K projector under 2000 dollars for you.
Lightweight, compact design that's easy to install in any situation
Auto vertical keystone function makes it simple to set up
Cinematic color for absolute picture accuracy
True 4K resolution with 8.3 million distinct pixels
Extra-long lamp life of over 15,000
Easy to set up and install
Installed speakers are unsuitable for even casual use
Color saturation at times is too high
---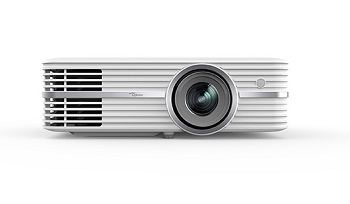 Finally, we'll bring another model from Optoma to your attention. It also happens to be the least expensive option on this list, over five hundred dollars cheaper than the first model reviewed above. If you're already looking in this price range that's likely not as important to you as the performance, but then again there's no reason to spend more if this one gives you all the features you're looking for. The stats on this model are certainly quite similar to other projectors that cost hundreds of dollars more and can be a great way to get 4K resolution at a great value.
Let's start with those stats we mentioned. The lamp in this projector can give you up to 2,400 lumens and it takes advantage of the same HDR10 technology that you'll get with the pricier models in the Optoma catalog. It also gives you true 4K UltraHD and a contrast ratio of 500,000:1—not as high as some of the models on this list, but plenty to give you vibrant colors and deep, dynamic blacks.
What's really impressive about this projector, though, is that it's a high-performance system with very fast operation. There's virtually no lag, meaning it will work just as well for gaming ( >>> Our guide of top 4k projectors for gaming) as it will for watching movies and TV shows. The sharpness of the image and flexibility of the zoom and lens shifting functions make it an ideal all-purpose projector, suitable for every application in your home.
One of the most affordable 4K projectors on the market
Suitable for gaming as well as home theater use
Color accuracy and contrast on par with pricier models
Highly detailed images with true 4K resolution
Bright enough to be seen with some ambient background light
Some users report difficulty connecting devices through HDM
---
Best 4K Projector Under 2000 – The verdict
We like all four of the options on the list above, honestly, and each for different reasons. In terms of our overall pick for the best 4K projector under 2000 dollars, though, we have to go with the Optoma UHD60. It's one of the more affordable options on the market, but as great as that is it's not the main reason we picked it. The Optoma UHD60 is a powerful projector with a fantastic image quality that's easy to install and use—the perfect model for any home theater. The truth is, though, you could make an argument for any of these four being the best projector in the price range. Whichever way you go, you'll get true 4K resolution at any size—and for a great price. If you have a slightly higher budget – check Viewsonic ls700 4k review here.
REFERENCES AND FURTHER READING