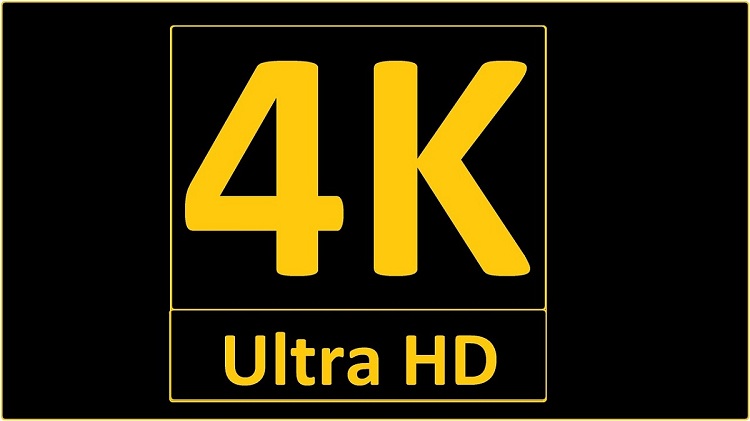 First, there was standard definition, then there was HD—and now there's 4K UltraHD. 4K is quickly becoming the standard resolution option for televisions, especially for higher-end versions from the top companies.
Ultra HD resolution gives you a remarkably sharp and life-like image. The best news is, you don't have to spend a fortune to get it. But what's the best 4K projector under 2000 dollars? We've sought to answer that question by reviewing five of our favorite choices on the list below.
The short answer is, there's no one best choice for everyone. It all depends on where and how you plan to use it. Let's look at some of the most important factors to consider when you're choosing a projector for your home.
Best 4K Projector Under 2000 – Top Picks for 2021:
| | BenQ HT3550i | Optoma UHD30 | Epson Cinema 3800 Pro | Optoma UHD50X | BenQ TK850i | Optoma UHD52ALV |
| --- | --- | --- | --- | --- | --- | --- |
| | | | | | | |
| Resolution | 3840x2160 | 3840x2160 | 1920x1080 4K w/pixel shifting | 3840x2160 | 3840x2160 | 3840x2160 |
| Brightness | 2,000 ANSI | 3,400 ANSI | 3,000 ANSI | 3,400 ANSI | 3,000 ANSI | 3,500 ANSI |
| Contrast ratio | 30,000:1 | 500,000:1 | 100,000:1 | 500,000:1 | 30,000:1 | 500,000:1 |
| Input Lag | 51ms | 16ms | 29ms | 25ms | No data | 75ms |
| Throw distance | 3.2' - 16.4' | 4.2' - 33.0' | 6.2' - 28.8' | 4.0' - 26.6' | 3.2' - 24.6' | 3.9' - 26.6' |
| Screen size | 30" - 200" | 34" - 302" | 40" - 300" | 34" - 302" | 30" - 300" | 34" - 303" |
| Price | Check on Amazon | Check on Amazon | Check on Amazon | Check on Amazon | Check on Amazon | Check on Amazon |
Brightness
Natural light is the enemy of a projected image. The more light coming from lamps and windows in your viewing area, the harder it is for the projector's beam to compete. If you have a completely dark home theater, you can use a projector with a brightness as low as 1,000-1,500 lumens without loss of picture quality. For most spaces, though, a projector this dim just won't cut it.
You can find projectors as bright as 6,000 lumens, but honestly most people don't need a lamp that bright. If you want to keep the lights on at a normal level while you watch TV or play games, you'll want a projector in the range of 3,000-4,000 lumens. While you may still need to close the blinds in the daytime, you won't have to go to extreme measures to darken the space.
Brightest projector under $2,000: Optoma UHD52ALV
Installation Flexibility
Projectors take a bit more planning and space than TVs. Aligning the image can be tricky for new projector users, and the best projectors offer features to help make it easier. If you plan to mount the projector on the ceiling, vertical keystone correction is a necessity. Other options like zoom and lens shift can be very useful in fine-tuning the alignment to the screen.
A projector's throw distance is a factor here, as well. This is a measure of how much space you need between the lens and the screen to get a given image size. The shorter the throw distance, the easier it will be to install in a wider range of spaces.
Most flexible projector under $2,000: BenQ TK850i
Gaming Suitability
There are two main specs a gamer needs to look at: input lag and frame refresh rate. The input lag determines how long it takes commands given to the projector to reach the screen. Anything above about 60ms will be noticeable by the player. That can be incredibly frustrating for any kind of fast-paced gaming. Serious and competitive gamers should look for an input lag of 30ms or lower. Click here if you want to check the best 4K projectors for gaming
When it comes to frame refresh rate, you want something operating at 60Hz or higher, with a minimum of 60fps (frames per second). This will prevent any choppiness or compression artifacts on-screen, which can be just as annoying for the player as a high lag. A high contrast ratio is also helpful, giving you the most clarity in dark areas of the screen.
Best projector for gaming under $2,000: Epson 3800
Smart Home Integration
A smart home theater lets you control your system with your voice, create custom light and sound settings, and more. The option of content streaming through Bluetooth or Wi-Fi is another handy feature many smart projectors offer. Projectors like the BenQ HT3550i have support for Alexa and Google voice control systems, though just what you can do with these systems varies from one projector to the next. The Optoma UHD52ALV takes this a step further with IFTTT compatibility, giving it a more robust range of options when it comes to smart home theater integration.
Best smart projector under $2,000: Optoma UHD52ALV
Full Reviews
BenQ HT3550i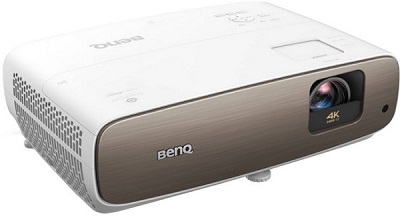 The picture quality of the BenQ HT3550i is particularly impressive at this low price point. Its true 4K resolution is backed by a high native contrast and a 6-segment color wheel with HDR-PRO tone mapping. All of this means a crisp, detailed image with cinema-quality color that's both vibrant and accurate to the source material.
The BenQ HT3550i is a smart projector, too. The built-in Android interface is linked to the Google Play store, giving you access to more than 5,000 apps for watching movies, playing games, or listening to music. It also supports Amazon Alexa and Google Assistant voice control systems, although their use is limited to voice searches and doesn't have the playback controls you'd need for full smart home integration.
Something else we love about the BenQ HT3550i: it's easy to set up and use. It's ready to go right out of the box and the colors are calibrated at the factory so you don't have to waste time fiddling with settings before you start watching. You'll need about 8-9 feet for a 100" screen, less space than many standard-throw projectors, and the inclusion of adjustment options like lens shift and keystone correction gives you even more flexibility during installation.
Pros
Sharp, detailed image with true 4K resolution
Cinematic color (95% of DCI-P3 color space)
Built-in Android TV system for direct streaming
Supports screen mirroring through AirPlay and Chromecast
Fast, flexible installation
Cons
Comparatively low lamp brightness
Limited commands through voice control
---
Optoma UHD30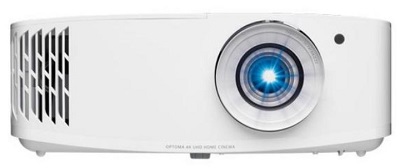 Gamers will want to look at the Optoma UHD30 when they want the best projector under $2,000. The Enhanced Gaming Mode on this model has a 16ms lag time for near-instant response. With a 240Hz refresh rate, your gameplay will always be smooth and free of blurs or skips.
The Optoma UHD30 is an excellent projector for home theater use, as well. It takes 4K resolution to whole new heights with the UltraDetail technology. An 8-segment color wheel and Dynamic Black technology for a high contrast ratio combine for a picture that's vivid and sharp in both bright and dark areas of the screen.
We also like the flexibility of the Optoma UHD30. It has both VGA and HDMI inputs, so you can use all your content sources, and includes important image adjustment options like vertical keystone correction and zoom, speeding up the set-up. The throw distance is on the longer side so you will need a decent-sized room to get a big picture. It's great in a living room or family room, with a high lamp brightness so you won't need to worry about the room's ambient light. For a more detailed review of the Optoma UHD30 click here
Pros
Low input lag is great for gamers
4K resolution with UltraDetail technology
Dynamic Black enhancement for high contrast ratio
High brightness for use in any light level
Easy to install and adjust
Cons
Weak built-in speakers
Longer throw distance (10-12 feet for 100" screen)
---
Epson Cinema 3800 Pro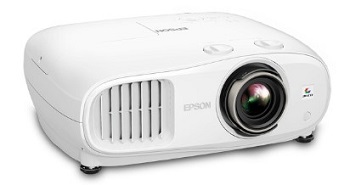 The approach to 4K on the Epson Cinema 3800 is different than that used by other manufacturers above. The native resolution on this projector is HD (1080p). It then uses a processing system known as pixel shifting to create the Ultra HD resolution. This is paired with a 3LCD chip technology that provides accurate HDR10 color without the image issues that can be caused by color wheels.
The Epson 3800 is another option that's great for gamers. It uses 12-bit digital video processing and has a frame rate of 60 per second to keep your game smooth. The input lag is low, too, down to 16.7ms with the right settings.
This is a heftier projector and isn't as portable as some of the other options, though it does have a wide enough range of screen sizes to conceivably use outdoors. With a brightness of 3,000 lumens, it's not ideal for bright rooms but can cope with moderate levels of ambient light. The only issue of the Epson 3800 is with the sound. Its fan is a bit loud on higher performance levels and can easily overwhelm the 10-watt speakers. Plan to use an external sound source with this projector. Click here for our full review of Epson 3800
Pros
3 chip projector eliminates rainbow effect and other color issues
4K picture through pixel-shifting
12-bit digital processing creates smooth transitions
Low input lag with high frame rate
Bright enough for most uses
Cons
Loud fan can overwhelm the built-in sound
---
Optoma UHD50X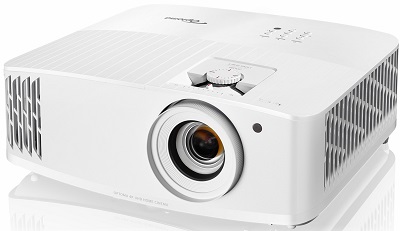 The Optoma UHD50X just might be the most versatile projector under $2,000. This starts with its powerful 3,400 lumen lamp, which is bright enough to use in even well-lit rooms without a worry. Its wide connectivity includes less-common inputs like VGA along with HDMI and USB and it has all the image adjustment features you need, including a vertical lens shift and wide 1.3x zoom. All of that means it's easy to set up in any home.
Another thing that makes the Optoma UHD50X so versatile is its gaming performance. The input lag measures as low as 16ms in Enhanced Gaming Mode, and only goes up to about 25ms when you switch to 4K resolution. Its 240Hz refresh rate gives you the same responsive performance on-screen, eliminating issues like frame tearing and motion blur that can interrupt your playing sessions.
From a picture quality standpoint, the Optoma UHD50X has the performance home theater enthusiasts are looking for. This includes true 4K resolution with a high dynamic contrast ratio for crisp details and rich black levels. For the color, it uses an 8-segment color wheel with UltraDetail enhancement. This impressive performance across content types makes it an ideal choice for multi-use media spaces.
Pros
Native 4K resolution with support for HLG and HDR10
No motion blur thanks to high processing speed
Excellent color and contrast
Bright lamp works in any light level
Responsive enough for fast-paced gaming
Wide zoom, lens shift, and keystone correction
Cons
No smart features or direct streaming
Relatively long throw distance
---
BenQ TK850i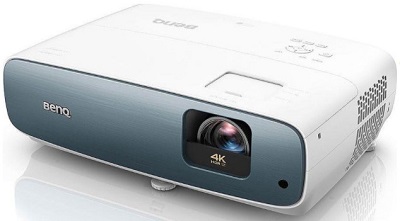 Here's another great option if you want a smart projector. The BenQ TK850i uses the same Android TV interface as the TK3550i above, letting users stream music and videos directly through the projector or mirror content from another device through Chromecast or AirPlay. It also has the same support for Alexa and Google Assistant voice searches, though with the same limitations—it's lacking the playback controls that smart home users look for.
The BenQ TK850i is a great choice for both dedicated home theaters and more versatile spaces like living rooms. It's particularly impressive for watching sports, with great detail even for fast-paced sports like hockey and dedicated viewing modes that optimize the picture settings for indoor or outdoor sports. While the color gamut is narrower than other projectors on the list, the Enhanced HDR Tone Mapping makes up for this, and we found the picture both vibrant and accurate.
As to the installation, the BenQ TK850i is relatively flexible. Its 3,000-lumen lamp is paired with Dynamic Iris technology, maximizing the output and limiting the impact of ambient light on the picture. The 10% vertical lens shift and vertical keystone correction make it fairly easy to install in almost any space. For our more-indepth  review of BenQ TK850i click here
Pros
High resolution and contrast
Dedicated sport modes optimize picture
Built-in Android TV interface
Compatible with Chromecast and AirPlay
Supports Google and Amazon voice searches
Cons
Voice control is limited to searches
Not a great choice for gaming
---
Optoma UHD52ALV

Last but not least, we bring you Optoma's take on the smart 4K projector, the UHD52ALV. If you like customizing your smart home through IFTTT recipes, you'll love the IFTTT support of the Optoma UHD52ALV. It also supports both Alexa and Google Home voice control systems, with a wider range of commands than many smart projectors, including playback control for USB content.
The Optoma UHD52ALV offers the same flexibility in the set-up. It can access content through HDMI, USB, or VGA. A bright 3,500 lumen lamp lets you put it in any room. For adjusting the picture, there's a 1.3x zoom and a 15% vertical lens shift. You can get a clear picture with less than 4 feet of distance, though you'll need about 10 feet for a 100" screen. It's bright enough for most spaces, however, so it can easily replace the TV in your living room.
The picture quality on the Optoma UHD52ALV is among the best you'll find in this price point. It has a wide color gamut, compatible with both HDR10 and HLG systems. The contrast ratio is impressive, too. The color depth is stunning across the screen, even in darker areas. It's a truly immersive viewing experience, with fast processing from the Texas Instruments chipset that makes all the action on screen smooth and life-like.
Pros
Compatible with voice control
Supports IFTTT for advanced smart home integration
Wide connectivity options
Vibrant, accurate colors with high contrast ratio
Bright enough to use in any space
Cons
---
Best 4K Projector Under 2000 – The verdict
For most users, the Optoma UHD52ALV (>>> Check on Amazon) will be the best all-around choice for a living room or home theater. It has a high picture quality, is easy to install and use, and supports smart home theater technology. Having said that, gamers will probably want to look at the Epson 3800, Optoma UHD50X, or Optoma UHD30. All three have a fantastic picture quality for movies and TV but also give you a low input lag, as well as high processing speeds and contrast ratios.
Hopefully, this breakdown has helped you figure out the big differences between these projectors. They're all affordable ways to bring Ultra HD quality to your home. Whatever your home theater projector needs, one of the options above will fit the bill!
REFERENCES AND FURTHER READING: