If you're looking for a reasonably-priced 4K projector, Optoma and BenQ are two brands you want to consider. Both offer a number of models in the under-$2,000 category that deliver Ultra HD sharpness in a user-friendly package, along with a range of helpful features ideal for gamers or smart homeowners. Comparing the Optoma UHD50x vs. BenQ TK850i, we find the UHD50x to be the better projector overall for most users. (>>> Find current price on Amazon) On the other hand, though, the BenQ TK850i offers some features you won't find on the Optoma UHD50x. It ultimately comes down to your set-up and how you plan to use the projector. Let's take a closer look at how these two models compare on a feature-by-feature basis.
Optoma UHD50x vs BenQ TK850i Side by Side:
| | Optoma UHD50x | BenQ TK850i |
| --- | --- | --- |
| | | |
| Resolution | 3840x2160 | 3840x2160 |
| Brightness (Lumens) | 3,400 ANSI | 3,000 ANSI |
| Contrast Ratio | 500,000:1 | 30,000:1 |
| Input Lag | 16 - 25 ms | No data |
| Throw Distance | 4.0' - 26.6' | 3.2' - 24.6' |
| Screen size | 34" - 303" | 30" - 300" |
| Speakers | 5.0 Watts Mono | 5.0 Watts × 2 |
| Price | ProjectorScreen.com | BHPhotoVideo.com |
Picture Quality
Both the Optoma UHD50x and the BenQ TK850i have native 4K resolution and a bright lamp designed to enhance and optimize the contrast. Color depth is the main difference between them from a picture standpoint
The BenQ TK850i has a fairly broad color gamut, spanning nearly the entire Rec. 709 spectrum. The 8-segment color wheel on the Optoma UHD50x broadens this range, and the on-screen color is more saturated and vibrant than with the BenQ TK850i. We also found the contrast to be a bit sharper on the Optoma UHD50x, with richer black levels and better detail in darker areas of the picture.
Better picture: Optoma UHD50x
Gaming Performance
The BenQ TK850i can be used for casual gaming. Its input lag measures in the 50-60ms range depending on the picture settings. That means what you see will be about two frames behind your input on the controls—an acceptable amount of lag for some, though it may be distracting in fast-paced reflex-based games.
The Enhanced Gaming Mode on the Optoma UHD50x gives players a low 16ms input lag suitable for any game type or style. Its responsive 240Hz processor ensures smooth on-screen action with no compression or other display issues. This makes it a top choice for gamers of all levels.
Better gaming performance: Optoma UHD50x
Smart Features
Here's where the BenQ TK850i has a leg up over its competition. It has smart features you won't find on the Optoma UHD50x, including a smart TV interface for direct streaming and support for screen mirroring through Airplay or Chromecast. The inclusion of Google Assistant voice control also makes it a better option if you want to integrate your projector into a smart home entertainment system.
Better smart features: BenQ TK850i
Optoma UHD50x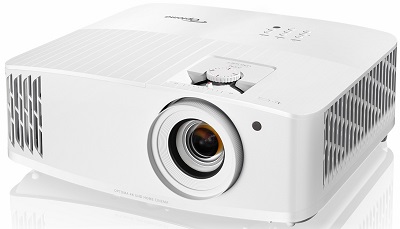 The Optoma UHD50x is designed for multi-use applications, performing well for both home theaters and gaming. Since it has true native 4K resolution, you'll get more than 8 million on-screen pixels, and that means an impressive level of detail, depth, and realism. This is enhanced by Optoma's Dynamic Black technology, which optimizes the lamp's output to maximize contrast. For color, it supports both HDR10 and HLG, and the 8-segment color wheel gives it a wide color gamut.
The gaming performance of the Optoma UHD50x is equally impressive. Enhanced Gaming Mode drops the input lag to 16ms, but even for 4K content it's lag is around 26ms. That's less than one frame behind, and won't be noticeable for all but the most serious gamers. The high frame rate of the UHD50x helps here, too, with 240Hz processing for full HD content.
However you plan to use it, the Optoma UHD50x is easy to install. It does have a relatively long throw distance, which may be a concern for smaller spaces. As long as you have enough space, though, the easy manual zoom and lens shift controls give you a good amount of flexibility during installation. You don't need to be an A/V expert to get started with this projector, either. Its plug-and-play operation, well-labeled input panel, and intuitive menu navigation make it a user-friendly option for any home theater. Read our more detailed review of the Optoma UHD50x
Pros
True native 4K resolution
Excellent contrast with Dynamic Black
Easy and flexible installation
Responsive with a low input lag
Bright lamp can be used for lights-on viewing
Cons
Needs a lot of space for a large picture
No built-in smart features
---
BenQ TK850i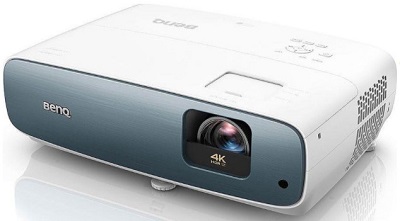 The compact, streamlined design of the BenQ TK850i makes it a great choice for those who want a portable projector. It's both lightweight and durable, letting you take it outside for backyard movie nights along with using it in home theaters and media rooms. The fast, easy set-up helps here, too, with features like lens shift and keystone correction to better align the image to the screen.
The BenQ TK850i supports both HDR-PRO and HLG technology for high color accuracy from all content sources. This gives a fairly wide color gamut, covering about 98% of the Rec. 709 spectrum. Its 3,000 lumen lamp keeps the picture vibrant and sharp even with the lights on, while Dynamic Iris lens technology maintains a sharp contrast and high resolution at all screen sizes.
For smart home users, the BenQ TK850i has built-in voice control capability through Google Assistant. This projector is smart in its own right, as well, with an Android TV interface that's connected to the Google Play Store so you can download your favorite streaming apps (Netflix being the notable exception, as it's not available for BenQ projectors). The TK850i also supports screen mirroring from Android devices, giving you even more options for how you watch your content. Read our more detailed review of the BenQ TK850i
Pros
Sharp 4K picture with Dynamic Iris contrast
HDR10 and HLG support with Enhanced Tone Mapping
Smart interface with Google Play store access
Supports Airplay and Chromecast for wireless mirroring
Compact and portable design
Voice control through Google Assistant
Cons
Android TV interface doesn't support Netflix
Input lag too high for serious gamers
---
The Verdict
With its vibrant color and responsive gaming performance, the Optoma UHD50x is an ideal projector for multi-use spaces like living rooms and media rooms (>>> Check on ProjectorScreen). Its fast frame rate isn't just great for gamers, either. It also prevents motion blur and other issues when you're watching sports and fast-paced action sequences, making it an excellent all-around projector no matter what you like to watch.
Conversely, the smart features of the BenQ TK850i are convenient and expand its versatility in regards to how you access content. It can still be used for casual gaming, as well, even if it's not quite as responsive as the UHD50x. Whether you'd rather have the low input lag or smart features like voice control, both projectors will give you sharp 4K resolution at an excellent value.
REFERENCES AND FURTHER READING