Optoma and BenQ are two of the top names in home theater projectors with good reason. Comparing the Optoma UHD38 vs BenQ TK850, they seem very similar on first inspection. Both produce a high-contrast true 4K image, with the connectivity and brightness you need in a modern home entertainment set-up, and they sell in a similar price point.
Looking at all the factors, the Optoma UHD38 will be the better option for most users, especially those who want to use their projector for gaming (>>> Check on Amazon). That said, the BenQ TK850 has its strengths, and could be the right choice for some. Let's look at the main differences so you can see which one matches your needs.
Optoma UHD38 vs BenQ TK850 Side by Side:
| | Optoma UHD38 | BenQ TK850 |
| --- | --- | --- |
| | | |
| Resolution | 3840x2160 | 3840x2160 |
| Brightness (Lumens) | 4,000 ANSI | 3,000 ANSI |
| Contrast Ratio | 1,000,000:1 | 30,000:1 |
| Input Lag | 4.2ms | 83ms |
| Throw Distance | 4.0' - 32.7' | 3.2' - 24.6' |
| Screen size | 33" - 300" | 30" - 300" |
| Speakers | 10.0 Watts Mono | 5.0 Watts × 2 |
| Today's Best Price | | |
Brightness
Either of these projectors will work just fine in most indoor light environments. The 3,000-lumen lamp of the BenQ TK850 can produce a crisp, fully-saturated image in low to moderate ambient light. Basically you can leave the lights on while you watch, though you likely will still want good curtains on any windows in your viewing area if you're watching during the daytime. The more powerful 4,000-lumen lamp of the Optoma UHD38 makes it a better choice for well-lit spaces, rooms with lots of windows, or indoor/outdoor use.
Brighter projector: Optoma UHD38
Throw Distance
While both the UHD38 and TK850 are standard throw projectors, there is a lot of variation within that range. With the Optoma UHD38, you'll need 11-12 feet between the lens and screen for a 100" image. On the BenQ TK850, that drops to around 9 feet. That gives the BenQ more flexibility for use in smaller spaces, as well as a more flexible setup overall.
Shorter throw distance: BenQ TK850
Gaming Performance
While picture quality is important for gamers, the projector's responsiveness is arguably a more crucial consideration. All projectors have a slight delay between the user input and what you see on the screen. This is known as input lag, and once it reaches around 60ms the user will be able to notice it. If you're just navigating content menus, it likely won't be too annoying, but it can make reflex-based games a challenge to play. The 83ms lag of the BenQ TK850 is too high for even most casual players, and knocks it out of consideration for serious gamers. (Check out our roundup review if you are in search of the best gaming projector.)
The Enhanced Gaming Mode of the Optoma UHD38 drops the input lag down to 4.2ms in 1080p, and a still-reasonable 16.7ms in 4K. This is paired with a fast frame refresh rate, eliminating motion blur or other image issues, for an overall smooth playing experience for any style of game.
Better gaming performance: Optoma UHD38
---
Optoma UHD38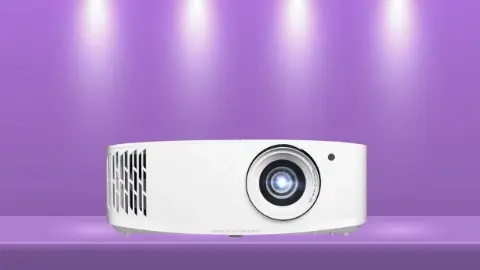 The Optoma UHD38 uses a 4K DLP display that produces the full 8.3 million pixels you expect from Ultra HD resolution. Along with this, it uses Dynamic Black contrast and UltraDetail technology to further enhance the image, resulting in a picture that's sharp with true-to-life color that truly pops off the screen.
The combination of features on the UHD38 make it the ideal choice for multi-use home entertainment setups. It has dual HDMI inputs and a VGA in for content, as well as an audio mini jack output if you want to connect external sound sources. Its combination of a low input lag and high frame refresh rate make it just as suitable for gaming as it is for watching movies. The bright lamp, meanwhile, is perfect for spaces like living rooms and game rooms, where you may not want to turn the lights off just so you can watch a show or play a game.
The lack of installation flexibility is the main weakness of the Optoma UHD38. This is partially due to its long throw distance, which limits its use in smaller rooms. It also doesn't have many options for aligning or adjusting the image placement, with a narrow 1.1x manual zoom and no lens shift options. It does have 2D keystone correction to square the image, but you'll still need to be fairly precise during installation to avoid headaches with the screen alignment.
Pros
4K resolution with HLG and HDR10 support
Dynamic Black contrast
Full 3D compatibility
Bright lamp works in any light level
Super low input lag for gamers
Cons
Needs a lot of space
Not a lot of image adjustment options
---
BenQ TK850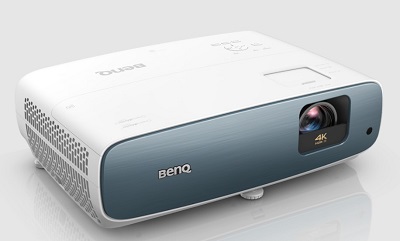 From an image quality standpoint, there's nothing to complain about with the BenQ TK850. The 10-element lens array and DLP display combine for a crisp, detailed image, while the 4-segment color wheel covers most of the DCI-P3 spectrum that's the current high-end media standard. For contrast, it uses a Dynamic Iris system with HDR-PRO support. It also uses BenQ's Auto Tone Mapping and Auto Color Mapping technology, further enhancing the color and realism of the image.
The BenQ TK850 also offers good versatility and flexibility when it comes to the viewing area. While it's not as bright as the UHD38, its 3,000-lumen lamp is plenty strong enough for most indoor spaces, and still allows for lights-on viewing. Its throw distance is on the shorter side for a standard-throw projector. Combined with features like a 10% vertical lens shift and 1.3x zoom, this gives it a faster, easier, and more versatile installation process.
Unfortunately, the BenQ TK850 isn't as great for gamers as it is for movie buffs. Its input lag is too high for serious players, and even most casual players will find it annoying if they're playing first-person shooters and other fast-paced games. Click here for our more in-depth BenQ TK850 review.
Pros
Sharp 4K resolution with HDR-PRO contrast
Auto Tone Mapping for exceptional color performance
Full HD 3D
Bright enough lamp for most indoor environments
Flexible set up with reasonable throw distance
Cons
---
The Verdict: Optoma UHD38 vs BenQ TK850
For gamers, the Optoma UHD38 is the obvious better choice, and its brighter lamp will be a plus for many users, too (>>> Find on ProjecorScreen.com). That said, the shorter throw distance of the BenQ TK850 is an advantage for smaller spaces, and combined with its wider image adjustment features gives it an easier overall installation. Choosing the right one comes down to your space and how you plan to use the projector.
Related Comparisons: